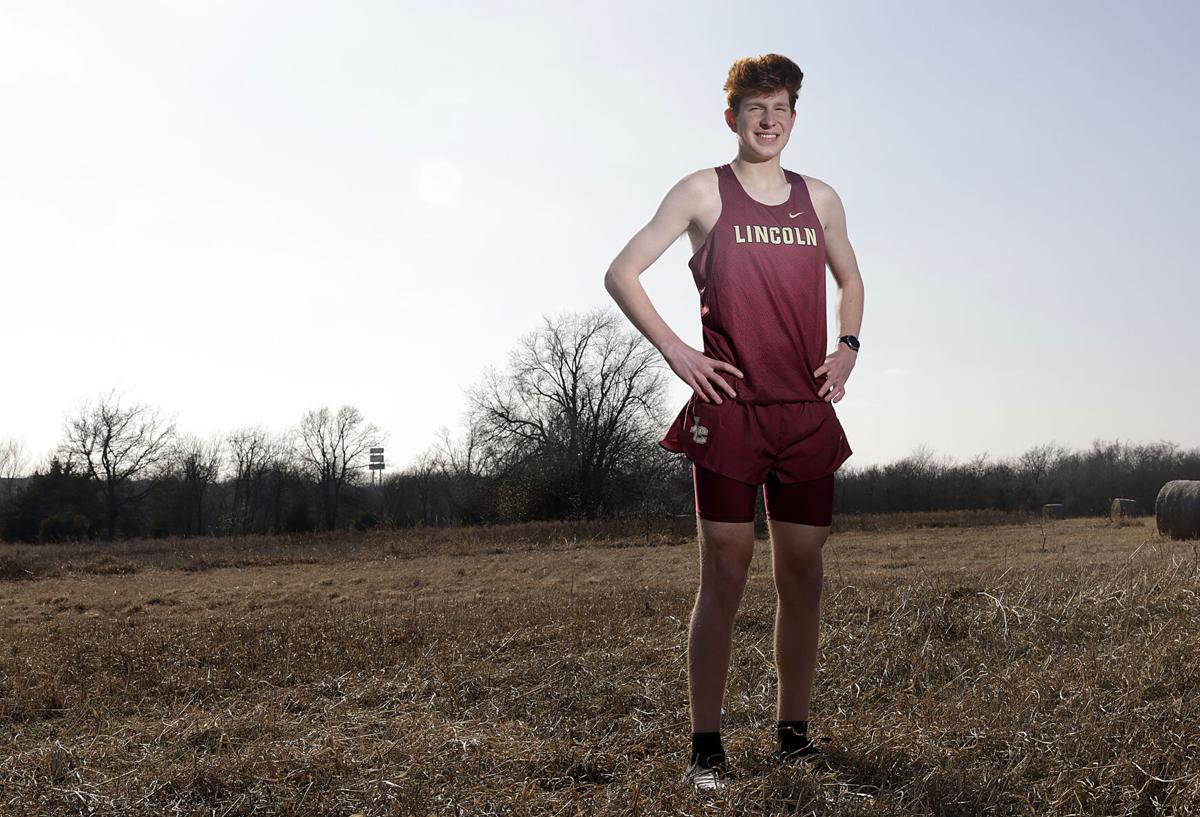 The Lincoln Christian boys and Cascia Hall girls claimed Pinnacle Conference championships Saturday at Holland Hall.
Lincoln's boys finished with 24 points, beating Metro Christian by 27 points. The Bulldogs' Andrew Smithwick led the way with a winning time of 16 minutes, 1 second, beating Holland Hall's Ike Walker by 40 seconds. Lincoln Christian's Jaxson Brooks (16:52), Ethan Martin (17:30), Lukas Bury (17:49) and Asher Harris (18:21) all finished in the race's top nine.
"We knew we had a shot going in to the meet, but winning our conference against some of the top teams in the state meant a lot," Lincoln Christian coach Stephen Lewelling said. "The Pinnacle Conference has three top-five ranked teams and talented individuals as well. The joy our team runs with and how they encourage each other is contagious; they can't help but want to work for one another."
Cascia's girls won with 34 points and beat Regent Prep by eight. Avery Gonzales of Cascia recorded a time of 11:56 and finished first overall.
Under coach Brittany Robison's watch, Bristow has been a constant threat to claim a state championship trophy. The Purple Pirates haven't done it quite yet, though.
But Bristow is back in this year's state tournament aiming to change that. The Purple Pirates will embark on their Class 4A state tournament trek on Thursday with an opening-round game against Tuttle in Oklahoma City.
"I've got some of the best-natured kids who want to win so badly that they overthink and over-swing," Robison said. "They're just trying to do too much versus trusting what they've built since T-ball. You love them for it, but composure will be key. If we can show up with the right mindset and poise we've got a great chance to win every time."
Setting the tone for Bristow (30-6) is junior pitcher McKenna Ingram, who surpassed the 300-strikeout mark earlier this week. She is currently sporting a 0.62 ERA with 27 wins in the pitching circle, while hitting .374 with 34 RBIs.
Sophomore shortstop Ava Yocham is carrying a .429 batting average, along with 11 triples, 24 RBI and 24 stolen bases. Junior center field Kinzie Williams is hitting .400 with 23 stolen bases and a .446 on-base percentage.
"The girls' bats seem to be squaring up at the right time," Robison said. "We seem to gain a better understanding of situational hitting each game. These kids listen and make adjustments which is critical in this game — every pitcher, every situation is different and we've started to do a better job adapting and executing."
Fourth-ranked Lincoln Christian will be going for its fourth straight state championship when it begins Class 4A state tournament play Friday in Shawnee. The Bulldogs will take on fifth-ranked Holland Hall in the quarterfinals, after originally being slated to face Catoosa before the Indians were removed from the state tournament field for using an ineligible player during regional play.
If Lincoln Christian is able to snag its fourth title in a row, one player will have been a part of every team — Chloe Ricke. The senior setter started her varsity career in the state tournament of 2018, and she has been a key component of the team every since.
"She had never played in a varsity match," Lincoln Christian coach Deidra Rader said. "But I literally put her in to serve in the championship. She went in and got an ace on her first serve."
This season, Ricke has 589 assists and 74 kills, while Jessica Kaste has added 530 assists.
"Chloe is a disciplined athlete that brings a work ethic to practice that holds her teammates accountable," Rader said of Ricke. "She has found her voice as a leader this season as well, bridging the history of our program that she's been a part of while partnering with this senior class to paint their own unique legacy."