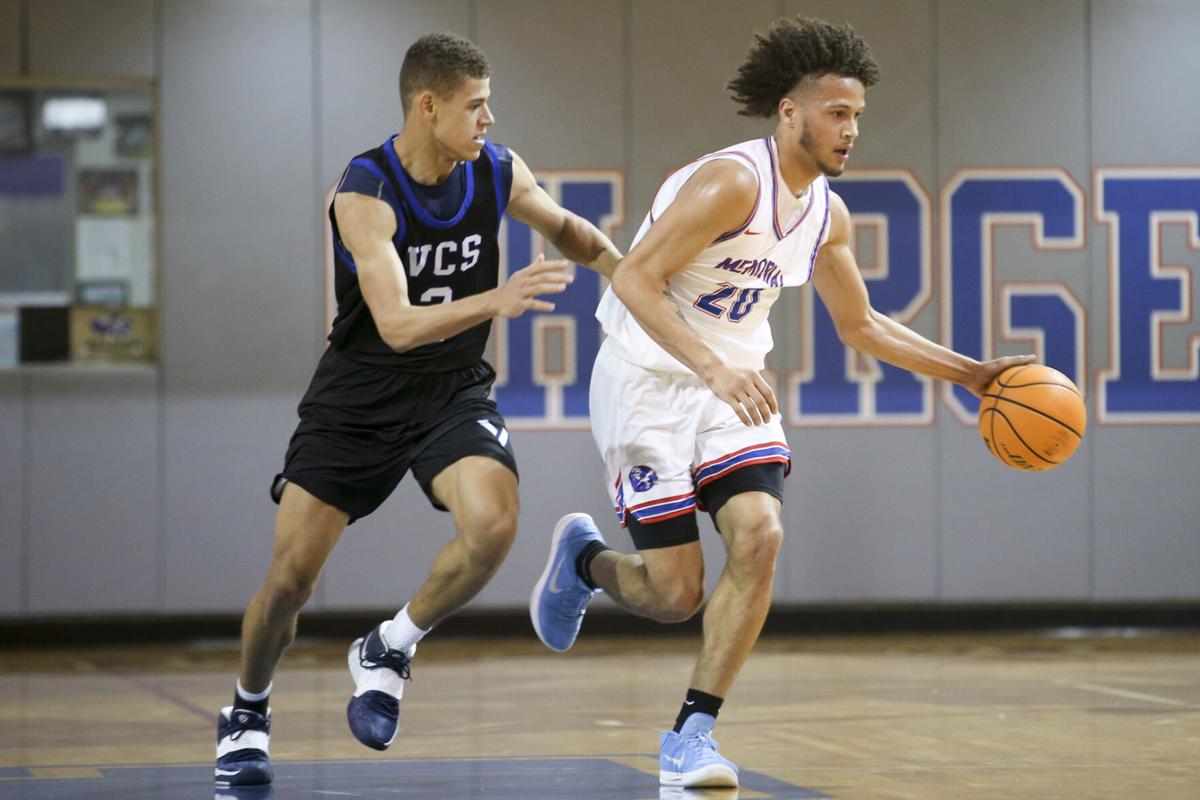 Where: Owasso High School (Thursday-Friday), ORU Mabee Center (Saturday)
Tickets: $5 (per game Thursday-Friday), $7 (Saturday)
2020 champion: None (tournament canceled)
No. 1 Midwest City Carl Albert (20-4): The Titans' losses have been to 5A No. 2 Del City (twice), 4A No. 1 Kingfisher and 4A No. 2 OKC Heritage Hall. They avenged the Heritage Hall loss and defeated 6A No. 4 Norman North. Coach Jay Price's team has an average winning margin of 38.3 points in the playoffs despite losing leading scorer Antonio Watson due to a broken foot. They start five seniors — 6-3 guard James Locke (14.5 points per game), 5-11 guard Curtis Rose (10.3), 6-foot guard Maurice Cudjo (9.9), 5-9 guard Jaden Harrell (5.3) and 6-4 forward Quentin Woodson (11.4). Carl Albert will be rested for Friday's semifinals after receiving a quarterfinal bye due to Rogers withdrawing due to COVID.
No. 2 Memorial (17-3): Coach Bobby Allison's Chargers split two regular-season games with Lawton MacArthur and they are on opposite sides of the bracket. Starters are 6-0 junior guard Ty Frierson (17.0 ppg, 5.6 assists), 6-6 junior forward Bradyn Hubbard (13.3 ppg, 9.8 rebounds), 6-4 junior forward Killian Spellman (13.3 ppg, 9.4 rpg), 6-3 sophomore guard Seth Pratt (11.8 ppg, 5.6 rpg) and 5-11 senior guard Juwan Provitt (3.3 ppg). Top reserves include Dannon Lundy (6.8 rpg) and Montae Collins.
No. 3 Lawton MacArthur (21-2): Coach Marco Gagliardi's Highlanders have a 17-game winning streak. Danquez Dawsey, a 6-2 senior who averages 20 points, leads a five-guard lineup that also includes 5-10 Arzhonte Dallas (18.0 ppg) and 5-10 Brandon Cowan (13.0 ppg). The Highlanders are the favorites on their side of the bracket to likely face Memorial or Carl Albert in the final.
No. 5 Shawnee (16-6): The Wolves are state qualifiers in consecutive seasons for the first time since 1962-63. Tanner Morris, a 6-3 junior guard, is the leading scorer at 14.8 points. Isaiah Willis, a 6-7 senior, averages 11.4 points and 8 rebounds. Jaylon Orange, a 5-9 junior, averages 11. 6 points and 4 assists while Joe Maytubby, a 6-4 senior, produces 10 points and 7.3 rebounds.
No. 6 Sapulpa (11-10): Coach Rickey Bruner's Chieftains are more dangerous than their record indicates after playing primarily a 6A schedule. Jackson Skipper, a 6-7 senior forward, averages 21 points and 8 rebounds. The Chieftains have a deep bench and were strengthened in the area tournament by senior guard Te'Zohn Taft's return. They have wins over 6A state qualifier Broken Arrow and Shawnee. Other key players include Brandon Niyah, Mason Dement, Vernon Durant and Deshawn Courtney.
No. 8 Coweta (14-6): Coach Brandon Maddux's Tigers are in the state tournament for the fourth time in seven years, but are looking for their first state win since 1996. Their lineup includes a pair of 5-9 sophomore guards — Na'Kylan Starks (13.6 ppg, 4.3 apg) and Mason Ford (7.0 ppg), plus three senior forwards — 6-6 Jacob Mills (13.1 ppg, 7.3 rpg), 6-4 Brady Robl 5.6 ppg) and 6-3 Tryson Doherty (5.30 ppg). Tye Lair, a 5-11 junior guard, averages 10.5 points.
No. 18 Ardmore (11-8): Coach Kyle Jessie's Tigers are in the state tournament for the first time since 2015 and are the biggest surprise of this year's 5A playoffs. They only have seniors — 6-3 forwards Elijah Franks (6.0 ppg) and Chadre McGee (8.0 ppg). Four of their top six players are guards under 6-feet — DD Coleman (18.0 ppg), Jordyn Brown (13.0 ppg), Dion Brown (12.0) and Dakaree Scott (6.0).