Before delving into the reasons why Erik Madrid is worthy of front-page treatment, you should know that he apparently is an incredibly good-natured guy. He seemed that way when I spent time with him last week, and his coaches and teammates are unanimous in their testimonies.
"Everybody likes Erik and he's a joy to coach," says Rudy Garcia, now in his 28th season as the Union basketball head man.
Being a sweet person is a beautiful characteristic, but that alone usually won't command Page 1 consideration.
This is why Union basketball junior Erik Madrid is on the front page: His age is 16 and his height is 7 feet. When he's on the court, he's a 330-pound magnet for attention. All eyes are on the biggest player in Tulsa County.
His nickname, of course, is "Big E." He became known as Big E when he was a 6-foot fifth-grader.
For the season overall, Madrid averages 12 points and six rebounds per game. During Friday's Union victory over Jenks – 65-64 in double overtime at the Union Multipurpose Activity Center – he had 12 points and eight boards while playing a season-high 28 minutes.
"Over the summer, we played together with Team Griffin on the AAU circuit," explained Union junior Cedric Dixon, who scored 18 points against Jenks. "(Madrid) got in better shape and now he has really improved this season."
Asked about the value of having a 7-foot offensive target in the low post and such a lengthy defender in the paint, Dixon replied, "It's a pressure reliever. If the defense is pressuring me, I can just throw it up high to Erik. On defense, he's like a tall brick wall."
When Jenks' Kason Evans drove the baseline and floated toward the rim, Madrid was on the spot with textbook defense. Big E didn't move into the shooter and kept his arms straight above his head.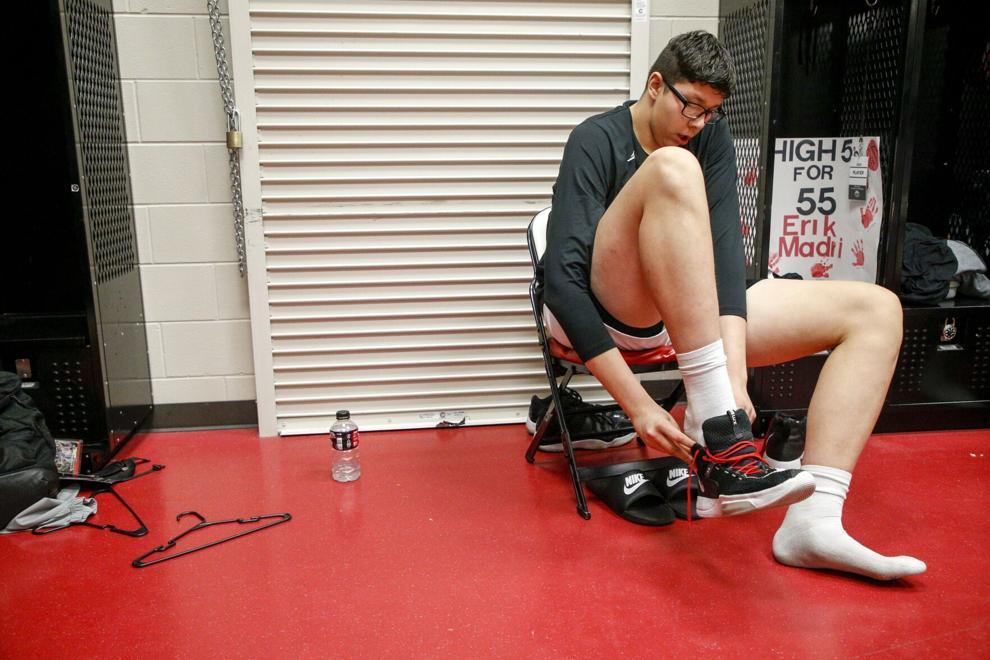 On that play, Madrid established position between Evans and the rim. Madrid became that defensive "wall," as Dixon put it – blocking the Evans shot with both hands and without jumping. The rejection triggered a Union transition that finished with a Justin Chappell layup.
"As Erik's conditioning got better last season, he got more minutes," Garcia said. "His size creates so many match-up issues."
During the 2022 summer, Garcia continued, "there was quite a transformation from where he had been during the (2021-22 season). Our strength coach does a lot of work with Erik. During the next offseason, there are some things we'll do to amp it up even more."
Madrid turns 17 next month and may grow even more. He is the oldest of four Madrid siblings, the youngest of whom is a pre-K student.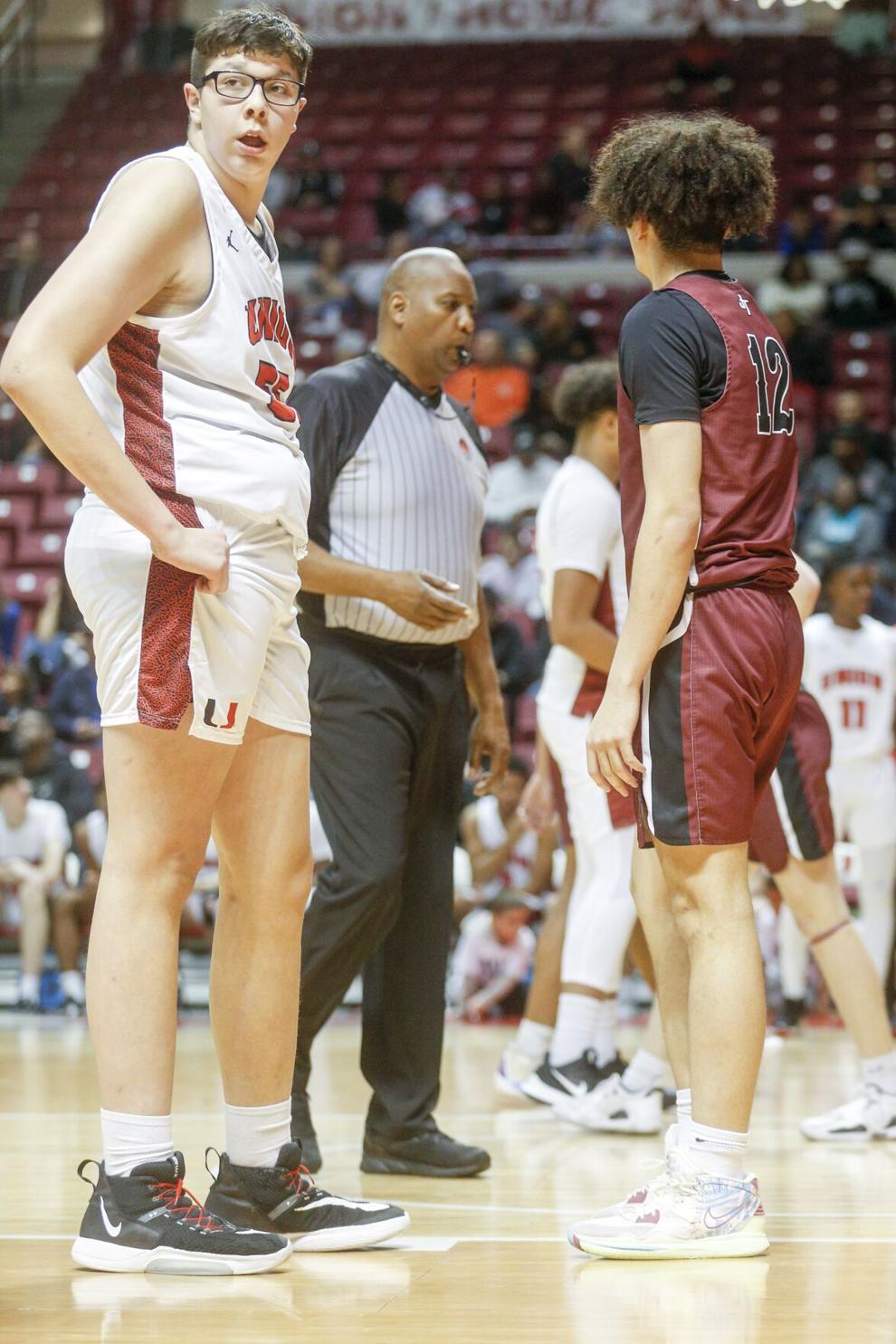 "Erik is such an easy-going kid," Garcia said. "We've tried to get a little bit of a mean streak in him. I remember when he was younger, we would finish a practice and he'd be picking up cups and trash off the floor. He felt like that something he should do."
During a tournament last season in Jefferson City, Missouri, Madrid was so popular with little-kid fans that he was asked to sign autographs. There were "Big E! Big E!" chants during Union's games in that event.
Madrid shared this additional nugget: "Pickleball has become my second-favorite sport. My aunt introduced me to pickleball two years ago."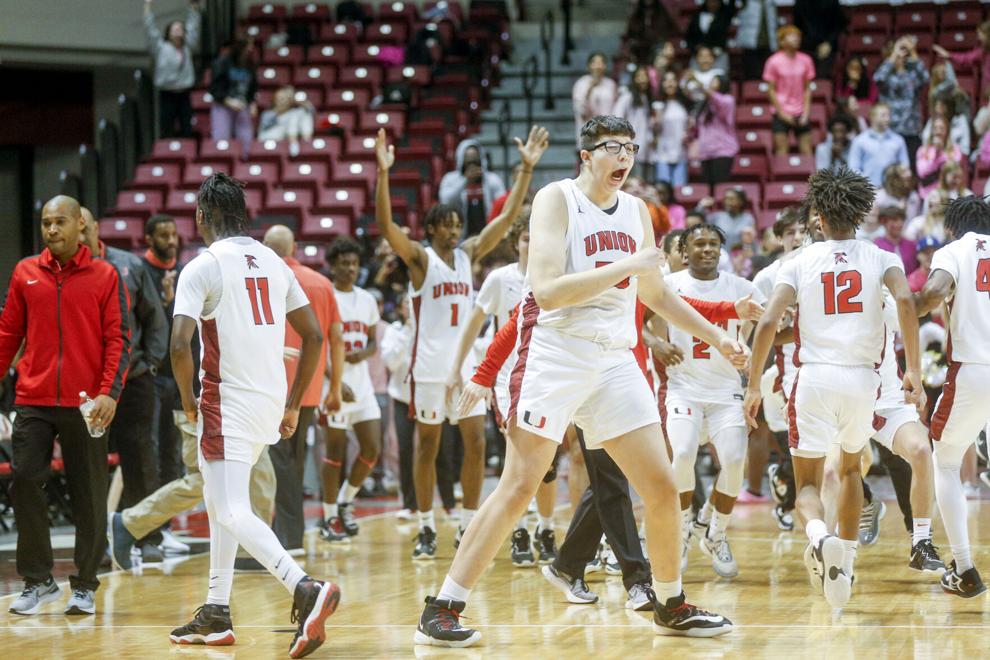 Big Country similarities
It's common for high schools to cheat a little on their athletes' measurements. If a quarterback is 5-foot-11, he'll be listed at 6-1 on the roster. A 6-4 basketball player might be listed at 6-6.
With Madrid, there is no embellishment. He's every bit of 7 feet and his wingspan measures at 7 feet and 4 inches. When his arms are fully raised, his fingertips are about 10 feet above the floor.
Physically and in some regards athletically, Madrid today looks like Bryant Reeves looked as a Gans High School junior in 1990.
Reeves went from having been a tiny-school unknown to being recruited by Indiana's Bobby Knight and Oklahoma State's Eddie Sutton. Reeves signed with OSU, was given his now-famous Big Country nickname and led the Cowboys to the Final Four.
I'm not declaring that Erik Madrid is the second coming of Bryant Reeves, but there are undeniable similarities. Like Reeves, Madrid has great hands.
Madrid says he would like to become an auto mechanic one day (and it's a smart aspiration because mechanics are paid well), but before that he wants to play college basketball. His strength and conditioning must improve. The development of mid-range scoring would be a fantastic asset.
If Big E could master a Tim Duncan type of 12-foot shot from either edge of the paint, he would be impossible to defend at the high school level.
"We haven't asked him to do much in the way of mid-range shooting," Garcia said, "but if he can develop that and then improve his conditioning, doors will open.
"He has piqued the interest (of several college coaches). Erik has a ton of upside. Great potential. College coaches should start getting on Erik now. His body will change. His academics are good. Someone will want to take a chance on him. Give him a redshirt year, let him get stronger and you never know what he might become."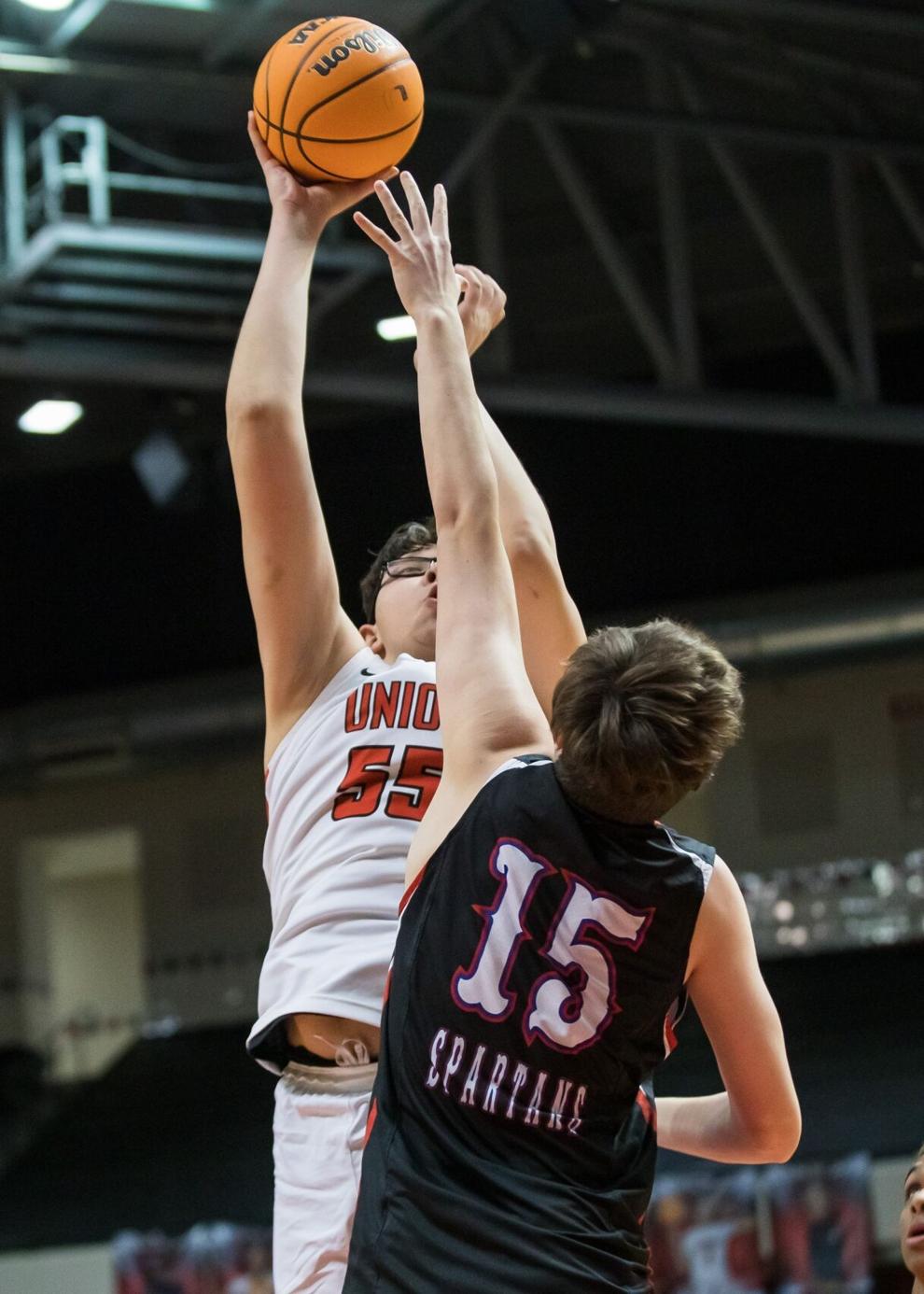 Inconsistent officiating
Madrid towers over 6-5 Shea Seals, the former University of Tulsa star and assistant coach who now is a Union staff member.
When I watched a recent Union-Bixby game, Madrid was fouled 50 times and yet the whistle rarely was blown at Union's offensive end. With shoulders, elbow and knees, defenders would attempt to push Big E off of his position in the low post.
You watch and think, "How on earth is that not a foul?"
"Sometimes, I do get frustrated," Madrid confessed. "The stuff that guys do to me — I can't do it to them at the other end of the court. If I do it, it's a foul. We're going the other way.
"I'm just trying to play the game. Sometimes, those calls happen at a key time in the game."
Ultimately, it was Madrid who fouled out of that Bixby game. Bixby's Parker Friedrichsen was great that night and the Spartans prevailed. One of the Madrid foul calls was an over-the-back call on a rebound. He touched no one on that play. The 7-footer simply used his remarkable reach to pluck a one-handed rebound.
"That's what I've told officials several times: 'Don't penalize Erik just because he's big,' " Garcia said. "When he gets frustrated and pushes back, then of course, it's a foul. We teach him to keep his emotions in check, but it's hard for a young guy to understand that.
"If a defender tries to displace someone, yes, it's a foul. I know the officials have a hard job, but I think kids are allowed to push and shove on Erik because he's so big. If contact is within the rules, then so be it. If it's not within the rules, it's got to be called. You might say, 'Well, Erik's a big kid, so he can handle that contact,' but it's not fair."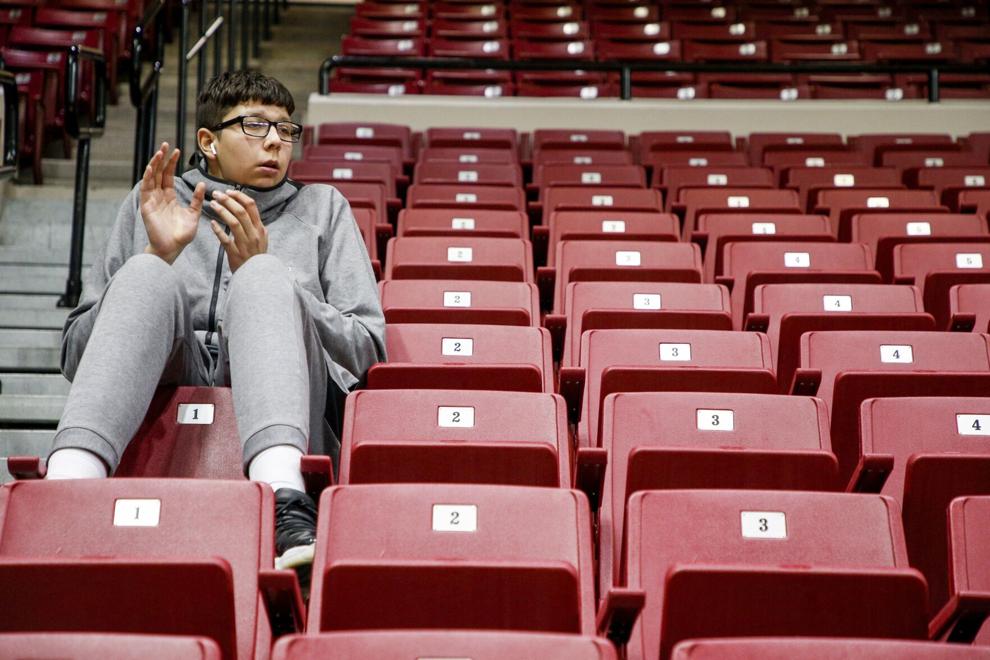 Shoes are a problem
Big E celebrated the New Year with the Jan. 3 acquisition of his first car — a 2006 Chevy Impala with 115,000 miles. I asked whether the driver's-side seat was modified to accommodate a 7-foot operator, but Madrid says his Impala already had ample headroom and legroom.
"It's comfortable," Madrid said. "We looked at different cars and then looked at trucks, and then one day I thought, 'Let's look at the Impala.' I'd heard good things about that car. It fits me. It's pretty cool for what it is."
Finding shoes that fit — it's an altogether different challenge.
Here's the problem: Big E wears an extraordinarily large basketball shoe. A size 19. You can't just surf the mall and find size 19s. See for yourself on various shoe websites. Size 19s are hard to find.
If most people agree that there are positive aspects of the name-image-likeness movement that allows college and also high school athletes to receive money and benefits, then everyone would agree that Madrid deserves an upgrade on shoes.
Madrid's current game shoes are basic Nikes. They're not the LeBron or Kyrie or KD type of signature shoes that are so common on high school courts. Madrid's game shoes are, he says, three years old.
I've spoken with some basketball people who have shoe-company relationships, and those people are making efforts to make this happen: gifting Erik Madrid with quality basketball shoes. I marvel at how many high school athletes seem to wear a different shoe for every game. Meanwhile, Big E rolls in a pair of three-year-old Nikes.
"Some shirts, I can find at J.C. Penney because they have a tall-and-big section," said Madrid, who wears a size XXXL tall in shirts and jackets. "Other times, there are websites that sell clothes for bigger guys."
When I mentioned the NIL possibility of scoring some big-time shoes, Big E replied, "That would be amazing."
After this column is published, I'll send tulsaworld.com links to the publicity contacts at Nike, Adidas, Under Armour and New Balance.
My hope is that someone steps up with several pairs of fresh shoes for such a pleasant young guy and an intriguing athlete.