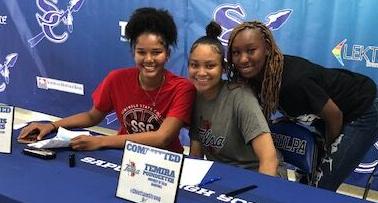 Sapulpa girls basketball standout Temira Poindexter got a surprise after committing to play at the University of Tulsa last month.
One day after she talked with former Hurricane head coach Matilda Mossman about her decision, Mossman phoned to say she was retiring after 10 years at the helm.
"I was like, `What, really?' But it all worked out," Poindexter said Monday at the Chieftain Center as she signed letter of intent with the Golden Hurricane.
TU hired Angie Nelp last week as Mossman's replacement. She is a former Canadian High standout and was associate head coach at Arizona State last season.
"I like her. She seems nice and it seems like she's doing good so far," Poindexter said. "She told me I was stuck with her, so that's really good."
The 6-foot-2 Poindexter averaged 20.6 points and 5.3 rebounds while shooting 43% from 3-point range as a senior, leading the Chieftains to the Class 5A state championship.
She was joined Monday by senior teammates Alexis Lewis and De'Shawnti Thomas, who also signed college letters.
Lewis, a 5-foot-11 forward, averaged 11.7 points and 4.5 rebounds.
Thomas, 5-foot-9 point guard, averaged 2.5 points, 3.5 rebounds and 2.8 assists. They are heading to Seminole State and Seward County (Kansas) Community College, respectively.
"They were tremendous leaders for us," coach Darlean Calip told about 30 friends, parents and family members gathered for the occasion. "I want to personally thank them for buying into our system. Without them, we wouldn't have been state champions."
Poindexter considered offers from UALR and Arkansas State, among others. But she admitted her heart was with TU.
"I knew Tulsa was the spot for me. My dad went there and it's close to home and everybody told me it was a good fit," she said.
Her father, 6-foot-11 Ray Poindexter, is a 1992 Sapulpa High All-Stater who played for the Golden Hurricane in 1995-96.
"Following in the footsteps," he said Monday. "At least she has a (championship) banner to hang up there. That puts her ahead of me."