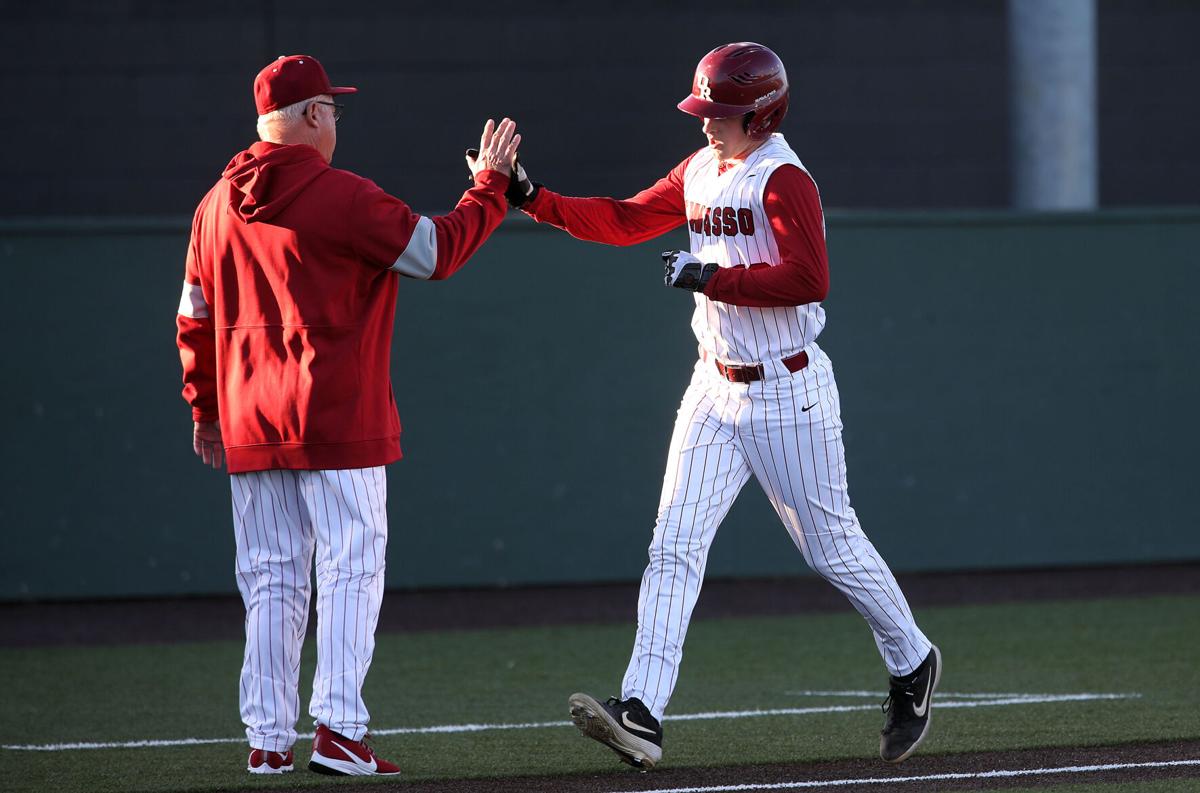 ---
Owasso pitcher Brennan Phillips was nearly unhittable in the month of March, and that's no April Fool's joke.
The junior left-hander struck out 20 in a 3-0 win over Jenks to start the season, threw his first varsity no-hitter against Booker T. Washington and even struck out 15 in his only loss, 5-2 to Union on March 22.
Phillips struck out 14 in Monday's five-inning, 12-0, no-hit win over B.T Washington. The Hornets managed two batted balls — one a lineout to right and another that resulted in an error.
He has 72 strikeouts through 29 innings, an average of nearly 2½ per inning. He has been named the first Tulsa World high school baseball player of the week.
Hitters are absolutely guessing right now because Phillips has an arsenal of pitches and spots them well, coach Larry Turner said.
"Most of the time, certain counts would dictate what's coming next, but Brennan has the ability to throw any of his pitches for a strike at any time in the count," Turner said.
Phillips said his favorite pitch is a cutter he can throw in the low 80s that runs in on the fists of right-handed hitters.
He hit the ground running March 1, allowing just two hits and outdueling Jenks standout and Oklahoma State signee Brooks Fowler, 3-0.
Phillips accounted for all but one out with strikeouts in the seven-inning game. The other out came on a ground ball to third. The Trojans managed four batted balls. The other three went for two hits and a dropped pop fly. Only two reached the outfield.
"I had no idea I had that many strikeouts," Phillips said. "When they first told me, I didn't believe it. It didn't sink in until I got home that night."
Turner remembers the first time he saw Phillips.
The pitcher was in the third grade when he showed up for a Rams camp.
"He was so advanced over the other kids his age that you thought if he would continue to improve, he had a chance to be really good — and he certainly has," Turner said.
Phillips has worked to develop his pitches and control with Owasso pitching coach Jason Stump and Denver and Bobby Bundy, father and brother, respectively, of 2011 Rams standout Dylan Bundy, who is heading into his sixth MLB season and second with the Los Angeles Angels.
Turner said he was reminded of Dylan Bundy, always a weight-room and workout fanatic, by the way Phillips prepared for the 2021 season.
"He's a guy who gets it, like Dylan did," Turner said. "He always works out extra, runs at night and does what he has to do to recover between starts. When the season started, he was already in midseason form and he gave an unbelievable performance."
Also unhittable
Regent Prep senior right-hander Parker Whittle threw a no-hitter with 16 strikeouts Saturday as the Rams defeated Barnsdall 5-0 in the final of the Panthers' tournament.
The game was shortened to six innings because of a time limit, meaning the Oklahoma Christian University commit accounted for every out but two with strikeouts. He has 33 Ks in 16⅓ innings.
Seth Streeter went 2-for-3 with three RBIs.
Tightly packed
Jenks provided another twist in what shapes up as an entertaining District 6A-3 storyline by defeating Union 8-2 Tuesday after falling to the same team 11-1 Monday night.
The comeback win prevented the fourth-place Trojans (5-3) from falling three games behind first-place Bixby (7-1) while Union (6-2), which gave Owasso its first losses of the season last week, fell back into a tie with the Rams for second.
Union may have an advantage over the others because it has played all three (including a split with Bixby) and likely won't face another contender unless Sapulpa (3-4) gets into the mix. Bixby still has games with Jenks (April 12-13) and Owasso (April 19-20).
Tiger prowling
Pryor shortstop Brooks Miller was batting .489 (22-for-45) with four home runs, 25 RBIs and 11 stolen bases after Monday's 17-5 win over Edison.
The Tigers are 13-5 overall and 6-0 in District 5A-4 play. Miller has signed with Neosho County (Kansas) Community College.