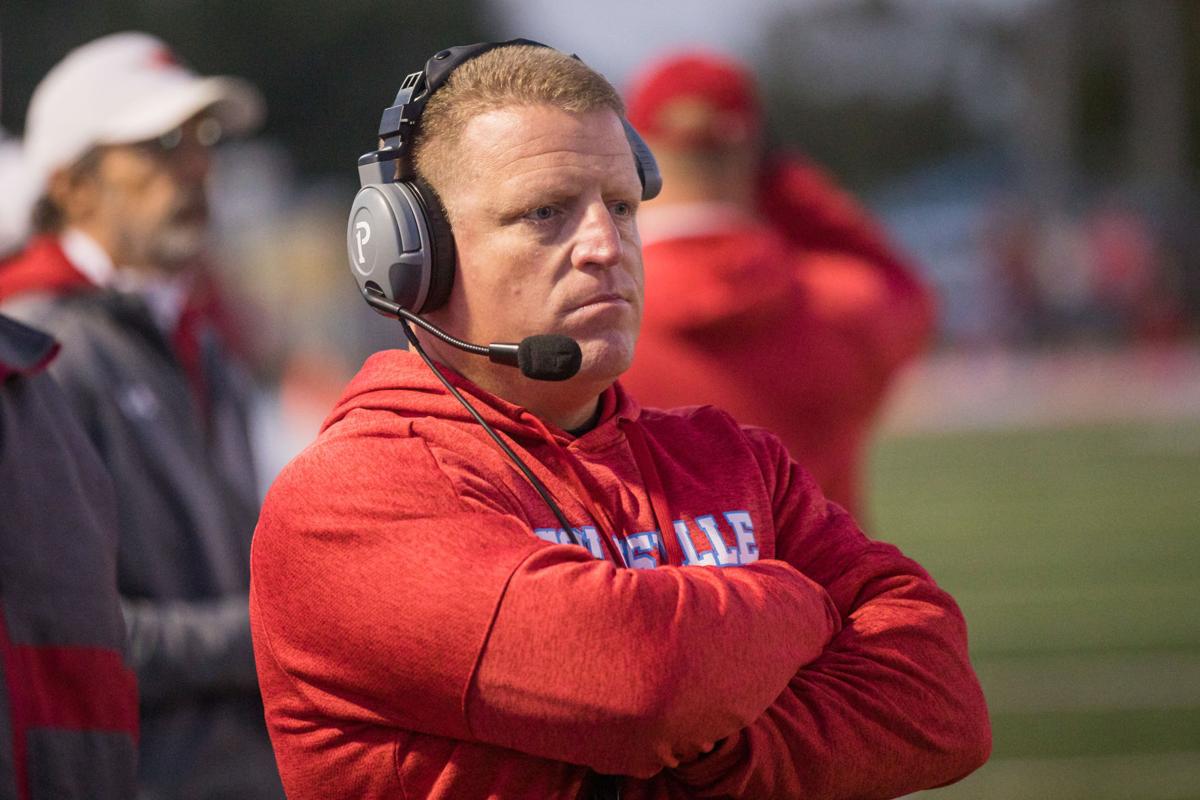 Collinsville's Kevin Jones is among several area coaches in contention for statewide awards to be handed out during this week's Oklahoma Coaches Association convention.
As football coach of the year for OCA Region 7, Jones is one of eight finalists for state coach of the year in football. Other region winners in football include Cushing's Rusty Morgan (2), Stigler's Chris Risenhoover (3) and McAlester's Forrest Mazey (6).
The OCA will announce 2020-21 statewide winners in 17 categories, along with the 2019-20 winners, not previously disclosed because last year's convention was canceled due to the coronavirus. This year's convention started Saturday and runs through Thursday at the Marriott Southern Hills.
Winners in football, basketball, wrestling, golf, tennis, swimming and volleyball will be announced at each sport's corresponding All-State match. Winners in other categories will be announced during the OCA's annual business meeting, 11 a.m. Tuesday at Marriott.
All-State matches in golf and swimming kick off the week's action Monday — golf at Cherokee Hills Golf Club (8:30 a.m.) and swimming at Edmond's Mitch Park YMCA (6:30 p.m.).
All-State matches in tennis and volleyball are Tuesday at the University of Tulsa's Michael Case Tennis Center (5:30 p.m.) and Bixby High School (6 p.m.), respectively. Wrestling and girls basketball are 7 p.m. Wednesday at Bixby and Jenks, respectively. Boys basketball is 7 p.m. Thursday at Jenks and the football game is 7 p.m. Friday at Oklahoma Baptist University in Shawnee.
Jones guided Collinsville to an 11-1 record in 2020 and the school's fourth state-semifinal appearance in his 11 years at the helm. The Cards scored 583 points, a one-year school record, averaging 48.6 points per game.
Other 2020-21 area finalists include Broken Arrow's Beau Wallace in boys basketball; Union's Joe Redmond, Kellyville's Jim Upshaw and Fort Gibson's Chuck London in girls basketball; and Union's Shawn Newkirk, Kellyville's Kevin Nance and Fort Gibson's Gary Edwards in baseball.
Listed below are OCA region winners for the 2019-20 and 2020-21 academic years:
1: Bob Ward, Thomas-Fay-Custer 2: Rusty Morgan, Cushing 3: Chris Risenhoover, Stigler 4: Bret Tyler, Frederick 5: Matt Weber, Marlow 6: Forrest Mazey, McAlester 7: Kevin Jones, Collinsville 8: Kyle White, Edmond Santa Fe
1: Jeff Williamson, Woodward 2: Bob Nelson, Morrison 3: Lee Ott, Oklahoma Union 4: Fletcher Reed, Snyder 5: Kirk Harris, Marlow 6: Jon Hadley, Varnum 7: Beau Wallace, Broken Arrow 8: Lenny Hatchett, Del City
1: Grant Givens, Weatherford 2: Jim Upshaw, Kellyville 3: Chuck London, Fort Gibson 4: Brad Thrash, Cheyenne/Reydon 5: Brian Lester, Tuttle 6: Chris Brown, Howe 7: Joe Redmond, Union 8: Jenni Holbrook, Jones
1: Kris Webb, Vici 2: Kevin Nance, Kellyville 3: Gary Edwards, Fort Gibson 4: J.W. Gillett, Canute 5: Breck Draper, Tuttle 6: Ead Simon, Roff 7: Shawn Newkirk, Union 8: Mike Lowe, Harrah
1: Corey Duncan, Weatherford 2: Albert White, Cushing 3: Izack Wilson, Jay 4: Cason Montgomery, Hobart 5: Andy Howington, Marlow 6: Kyle Bohannon, Ada 7: Tyson Bowling, Glenpool 8: Andy Schneider, Edmond North
1: Jacob Miller, Woodward 2: Russell Longbrake, Perkins-Tryon 3: James Henson, Wagoner 4: Maurice Mayfield, Lawton Eisenhower 5: Kristen Finn, Tuttle 6: Tanner Dupree, Durant 7: Charlie Brown, Broken Arrow 8: Mike Morton, Edmond Santa Fe
1: Lloyd Vedder, Woodward 2: Ray Tankersley, Bristow 3: Clayton Blevins, Muskogee 4: Mark Dabelstein, Altus 5: Phil Barnes, Duncan 6: Toby Sanders, Byng 7: Tyler Ashley, Union 8: Duncan Fugitt, Edmond North
1: Jim Bob Coleman, Watonga 2: Kelly Brown, Stroud 3: Darron Hummingbird, Wagoner 4: Tanner Thompson, Cache 5: Greg Dillard, Purcell 6: Chris McGowan, Kingston 7: Sean Tesar, Collinsville 8: Carl Hawkins, Edmond Santa Fe
1: Jacob Miller, Woodward 2: Dusty Hancock, Cushing 3: Brad Hall, Oklahoma Union 4: Colt Allison, Hobart 5: Sean Hushbeck, Comanche 6: Chad Colbert, Allen 7: Scott Dean, Skiatook 8: Tom Snider, Edmond North
1: Ashley Hicks, Geary 2: Lindsey Russell, Kellyville 3: Jeanetta Lockwood, Wagoner 4: Courtney Tyler, Frederick 5: Julie Clapper, Tuttle 6: Jarah Atkins, McAlester 7: Leslie Van Meter, Owasso 8: Erin Berger, Edmond North
1: Luke Thompson, Mooreland 2: Kaleb Hoffman, Ripley 3: Blake Dunn, Coweta 4: Terri Brierton, Lawton Eisenhower 5: Rebecca Cobb, Tuttle 6: Missy Rogers, Latta 7: Shane Eicher, Owasso 8: Rhonda Lawson, Edmond Santa Fe
1: Danny Green, Kingfisher 2: Jonathan Clay, Mounds 3: Ryan Green, Eufaula 4: Paula Mallow, Geronimo 5: Sara Jones, Purcell 6: Markus Carr, Byng 7: Randall King, Broken Arrow 8: Lindsey Mudgett, Choctaw
1: Jim Bob Coleman, Watonga 2: Debbie Williams, Sapulpa 3: David Spears, Tahlequah 4: Bryce Abbe, Merritt 5: Mikey Eaves, Marlow 6: Josh Sawyer, Byng 7: Blake Collins, Owasso 8: Stephanie Lewis, Edmond Santa Fe
1: Tom Williams, Piedmont 2: Corey Harp, Sapulpa 3: Tony Ramos, Coweta 4: None 5: Karen Yarbrough, Tuttle 6: Laurie Smith, McAlester 7: Robin Biggins, Glenpool 8: Larry Lanham, Choctaw
1: Lyndsay Watts, Enid 2: None 3: Leslie White, Fort Gibson 4: Linda Wiginton, Altus 5: Yvonne Kennedy, Chickasha 6: Meredith Roberts, Ada 7: Lynne Gorman, Union 8: Kirk Norman, Carl Albert
1: Justin Savage, Chisholm 2: Jeff Wintz, Stroud 3: Zac Weber, Claremore 4: Jarod King, Fletcher 5: Richard Collins, Tuttle 6: None 7: Isaiah Washington, Union 8: Larry Tettleton, Edmond North/Sequoyah
1: Buddy Husted, Texhoma 2: Jake Avery, Bristow 3: Scott Lowe, Fort Gibson 4: Staci Wilson, Sayre 5: Mandy Clay, Purcell 6: Willis "Duce" Lee, Broken Bow 7: Chabon Childers, Broken Arrow 8: Tommie Griffin, Del City
1. David Kerr, Pond Creek-Hunter 2. Russell Cook, Pawnee 3. Rob Gilstrap, Adair 4. Faron Griffin, Cache 5. Brad Ballard, Tuttle 6. Tommy Bare, Kingston 7. Loren Montgomery, Bixby 8. Kyle White, Edmond Santa Fe
1. Jared Reese, Kingfisher 2. David Page, Pawnee 3. Travis Cannady, Adair 4. Nicholas Gable, Duke 5. Kenny Bare, Velma-Alma 6. Keith Quaid, Kiowa 7. Clay Martin, Jenks 8. Shane Cowherd, Edmond Memorial
1. Kevin Lewallen, Lomega 2. Darlean Calip, Sapulpa 3. Jeff Oliver, Eufaula 4. Jeremy Tharp, Hydro-Eakly 5. Aaron Weast, Comanche 6. Jon Hurt, Vanoss 7. Joe Redmond, Union 8. Jenni Holbrook, Jones
1. Brad Gore, Enid 2. Rance Plunkett, Stroud 3. Gerald Osborne, Pryor 4. Mike Wendt, Mangum 5. Erik Hughes, Duncan 6. Josh Williams, Varnum 7. Larry Turner, Owasso 8. Ryan Phillips, Edmond Santa Fe
1. Trent Holland, Enid 2. Kyle Blevins, Sapulpa 3. Micco Charboneau, Wagoner 4. Jimbo Smith, Cache 5. Matt Surber, Tuttle 6. Nik Turner, Shawnee 7. Ray Weis, Jenks 8. Benny Coleman, Choctaw
1. Shane Pinckard, Woodward 2. Mason Baade, Stroud 3. Chris Henderson, Claremore 4. Maurice Mayfield, Lawton Eisenhower 5. Justin Shaw, Dickson 6. Tanner Dupree, Durant 7. Vicki Hughes, Jenks 8. Brock VanCleave, Edmond North
1. Tim Greeff, Woodward 2. Benjamin Lutz, Ponca City 3. Mike Larimer, Claremore 4. Mark Dabelstein, Altus 5. Darren Cobble, Duncan 6. Toby Sanders, Byng 7. Tyler Ashley, Union 8. Charlie Hibbard, Putnam North
1. Matt Hart, Thomas 2. Rusty Atkins, Stillwater 3. Eric Wiens, Claremore 4. Kenda Reeves, Hobart 5. John Inman, Lindsay 6. Josh Sawyer, Byng 7. Steve Patterson, Union 8. Jay Reaves, Choctaw
1. Jay Wood, Kingfisher 2. Bob Wood, Stroud 3. Brad Rogers, Adair 4. Marty Curry, Sterling 5. Sean Hushbeck, Comanche 6. Mike Snyder, Seminole 7. Zach Duffield, Owasso 8. Andy Rasmussen, Edmond Santa Fe
1. Pam Johnson-Fields, Guthrie 2. Lindsey Russell, Kellyville 3. Angie Citty, Stigler 4. Jennifer Hohmann, Hinton 5. Lori Karpe, Lindsay 6. T.K. Fuller, Ada 7. Leslie VanMeter, Owasso 8. Erin Johnson, Okla. Christian School
1. Keith Coleman, Piedmont 2. J.T. Freeman, Morrison 3. Jeff Turtle, Sequoyah Tahlequah 4. Ken Morrell, Duke 5. Sarah Jones, Purcell 6. Keith Quaid, Kiowa 7. Randall King, Broken Arrow 8. Janey Chartney, Edmond Memorial
1. Troy Bullard, Shattuck 2. Lezli Robinson, Stroud 3. None chosen 4. Paula Mallow, Geronimo 5. None chosen 6. Andy Powell, Dale 7. Brett Morgan, Union 8. Lindsey Mudgett, Choctaw
1. Jim Bob Coleman, Watonga 2. Cheyenne Castillo, Kiefer 3. Adam Klucevsek, Chouteau 4. Troy Rayner, Hobart 5. Jason Schroeder, Pauls Valley 6. Cale Eidson, Madill 7. Toby Hummingbird, Union 8. Jay Reaves, Choctaw
1. Randy Roth, Okla. Bible 2. None 3. Victoria Giron, Claremore 4. Kim Seibold, Cement 5. Amanda Lard, Duncan 6. Julia Holland, Shawnee 7. Ian Bullen, Broken Arrow 8. Jaclyn Burroughs, Edmond North
1. Lindsay Watts, Enid 2. Heather Harris, Ponca City 3. Connie Dean, Fort Gibson 4. Michael Shive, Altus 5. Yvonne Kennedy, Chickasha 6. Valarie Colburn, Shawnee 7. Diego Henao, Jenks 8. Tammye Bishop, Putnam North
1. Derek Patterson, Kingfisher 2. Scott Holt, Mannford 3. Zac Weber, Claremore 4. Thomas Tucker, Altus 5. Jennifer Gay, Washington 6. A.J. Mason, McAlester 7. Ray Danzy, Union 8. Larry Tettleton, Edmond/Sequoyah
1. Erick Robinson, Cashion 2. Tim Hinds, Stroud 3. Brock Thomas, Adair 4. Chad Hussey, Mangum 5. Greg Manning, Pauls Valley 6. Steve Freeman, Shawnee 7. Joel Witcher, Union 8. Matt Groves, Edmond Santa Fe