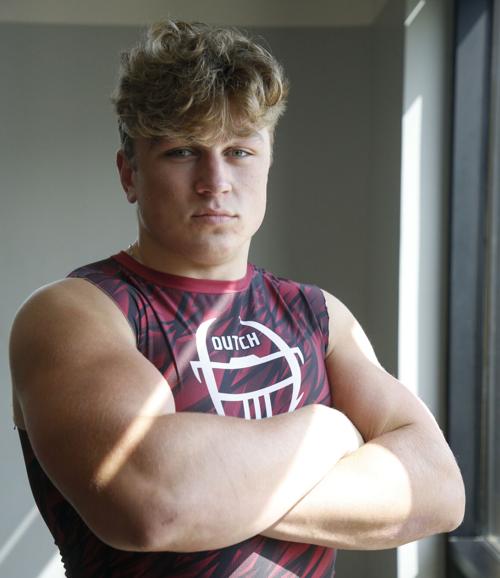 1. Mason Williams Bixby, QB, Sr. (1)
Completed 24-of-38 passes for 313 yards and three touchdowns in a 51-20 win at Sand Springs. It was a milestone game as he reached career passing totals of 8,000 yards and 100 TDs. In six games this season, is 116-of-171 for 1,422 yards and 17 touchdowns. Has led the Spartans to two Class 6AII state titles and a 29-game winning streak. Career passing totals: 562-of-796, 8,138 yards, 100 TDs.
2. Qwontrel Walker Stillwater, RB, Sr. (2)
Carried 19 times for 166 yards and four TDs in a 70-17 rout at Lawton. In five games this season, has 113 carries for 1,157 yards and 19 TDs. Stillwater's career rushing leader is No. 9 on the state's all-time list with 6,878 yards and has 96 TDs overall. A 2019 World All-State selection as he rushed for 2,018 yards and had 33 TDs overall.
3. Braylin Presley Bixby, RB, Jr. (3)
Caught four passes for 102 yards, had 14 carries for 64 yards and three TDs overall against Sand Springs. In six games, has 106 rushes for 852 yards, 34 catches for 397 yards and 20 TDs overall. Last year, had 1,607 total yards and 27 TDs, including the winner in the 6AII state final.
4. Bryce Drummond Pawhuska, QB, Sr. (4)
North Texas commit accounted for 403 yards and eight TDs in a 68-35 win over Rejoice Christian. Completed 24-of-35 passes for 301 yards and two TDs, and had 16 carries for 102 yards and six touchdowns. For the season, he is 141-of-193 for 2,466 yards and 34 TDs, has 370 rushing yards and 12 TDs, and accounted for 26 two-point conversions. Career passing totals: 7,926 yards, 91 TDs.
5. Emaud Triplett Owasso, LB, Sr. (5)
Had eight tackles, assisted on a safety and had a pass breakup in a 43-13 win at Southmoore. In six games, the Army commit has been in on 59 tackles with 23 solos, four QB hurries and three sacks. Was an All World defensive player of the year finalist in 2019 as he helped the Rams win the 6AI state title.
6. Grant Lohr Jenks, RB/S, Sr. (6)
Jenks' game against Edmond Santa Fe was canceled. In five games, has 81 rushes for 603 yards and six TDs, nine receptions for 128 yards and two TDs, seven solo tackles and 16 assists with 4½ sacks. In 2019, had 63 tackles and two playoff interceptions, including a pick-6.
7. Owen Ostroski Holland Hall, DE, Sr. (8)
Was involved in four tackles with one sack and four QB hurries in a 31-7 win over Berryhill. For the season, the Army commit has been in on 42 tackles with 21½ for losses, 10 sacks and 23 QB hurries. Has 305 career tackles with 100½ for losses and 39½ sacks.
8. Isaac Smith Wagoner, DE, Sr. (7)
Tulsa commit sat out the past two games with a bruised knee but is expected to play Friday against Oologah. Season totals of 47 tackles, six sacks and 14 QB pressures. Also has one reception for 6 yards. Last year, had 122 tackles, including 24 for losses and 13 sacks, and 30 QB pressures to help the Bulldogs reach the 4A semifinals.
9. Jayden Patrick Jenks, WR/CB, Sr. (9)
For the season, has produced TDs as a receiver, rusher, passer and defensive back. In five games, has 12 catches for 292 yards and five TDs plus 10 solo tackles. Also holds on placekicks and returns kicks. In 2019, had 48 tackles and scored on a punt return.
10. Gage Laney Owasso, S, Sr. (10)
Recorded a season-high five tackles against Southmoore. Has school records of nine interceptions for the season and 17 in his career. Also has 18 tackles and seven pass breakups. A three-year starter, he was the All World readers selection in the preseason as the metro's top defensive back.
— Barry Lewis, Tulsa World
Get in the game with our Prep Sports Newsletter
Sent weekly directly to your inbox!