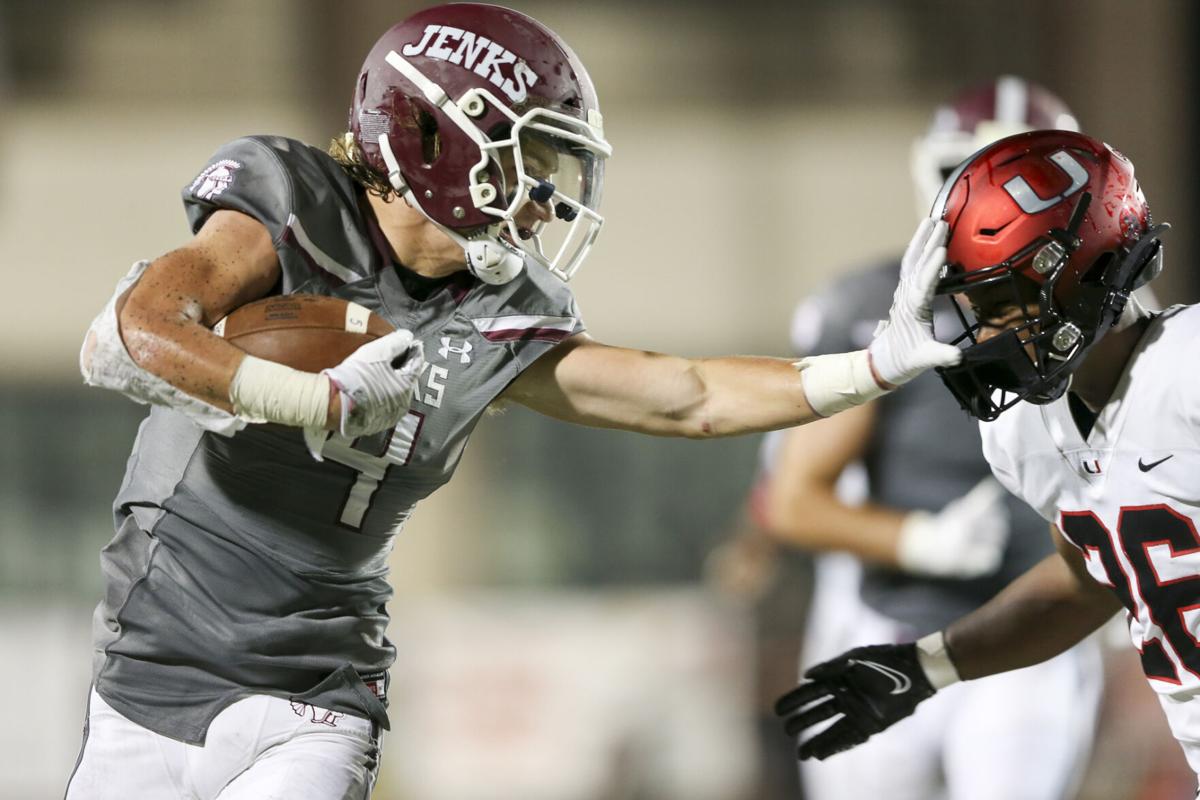 1. Mason Williams
Bixby was off last week. In two games, he has completed 44-of-65 passes for 415 yards and seven touchdowns. Has led the Spartans to two Class 6AII state titles and a 27-game winning streak. Career passing totals: 490-of-690, 7,131 yards, 90 TDs.
2. Qwontrel Walker
Had 24 rushes for 260 yards and four TDs in a 62-21 win at Mustang. For the season, has 53 carries for 503 yards and nine TDs. Stillwater's career rushing leader with 6,203 yards and 86 TDs overall. A 2019 World All-State selection, he carried 212 times for 2,018 yards and had 33 TDs overall.
3. Braylin Presley
Bixby was off last week. In two games, has 35 rushes for 287 yards, 19 catches for 161 yards and seven TDs overall. Last year, had 1,607 total yards and 27 TDs, including the winner in the 6AII state final.
4. Kendal Daniels
Beggs hasn't played the past two weeks. In the opener, the Texas A&M commit caught four passes for 57 yards in a 36-8 loss to Lincoln Christian. Last year, had 125 tackles and scored on three of his six interceptions, and caught 38 passes for 46 yards and five TDs to help Beggs reach the 2A semifinals.
5. Bryce Drummond
Pawhuska didn't play last week. This season, the North Texas commit has completed 39-of-61 passes for 755 yards and 10 TDs, and also passed for eight 2-point conversions. Also has 21 rushes for 110 yards and two TDs, plus five tackles, and is averaging 45.5 yards on four punts. Career passing totals: 6,195 yards, 67 TDs.
6. Emaud Triplett
Army commit didn't play because of illness in a 32-6 win at Broken Arrow. In two games, has been in on a team-high 18 tackles, had a sack and two QB hurries. Was an All World defensive player of the year finalist in 2019 as he helped the Rams win the 6AI state title.
7. Isaac Smith
Tulsa commit had 11 tackles and three QB hurries in a 22-10 win over Tahlequah. A week earlier in the opener, had three sacks and a fumble recovery. Last year, had 122 tackles, including 24 for losses and 13 sacks, and 30 QB pressures to help the Bulldogs reach the 4A semifinals.
8. Keuan Parker
B.T. Washington, DB, Sr. (7)
The Hornets didn't play last week. A week earlier, Arkansas commit had a key pass defend in the end zone in the final moments to save a 15-13 win over Del City. Last year, had 45 tackles, 14 pass breakups and two interceptions.
9. Owen Ostroski
Holland Hall, DE, Sr. (9)
Committed to Army on Tuesday. Was involved in five tackles with 2½ for losses and had three QB hurries in a 48-6 win at OKC Casady. For the season, has been in on 16 tackles with nine for losses, two sacks and seven QB hurries. Has 279 career tackles with 88 for losses and 31½ sacks.
10. Grant Lohr
Carried 14 times for 70 yards and a TD, caught two passes for 14 yards and was involved in five tackles, including two sacks, in a 28-0 win over Union. In three games this season, has 40 rushes for 283 yards and four TDs, caught five passes for 90 yards and a TD, and has six solo tackles, 12 assists and 4½ sacks. In 2019, had 63 tackles last season and two playoff interceptions, including one returned for a TD.
— Barry Lewis, Tulsa World