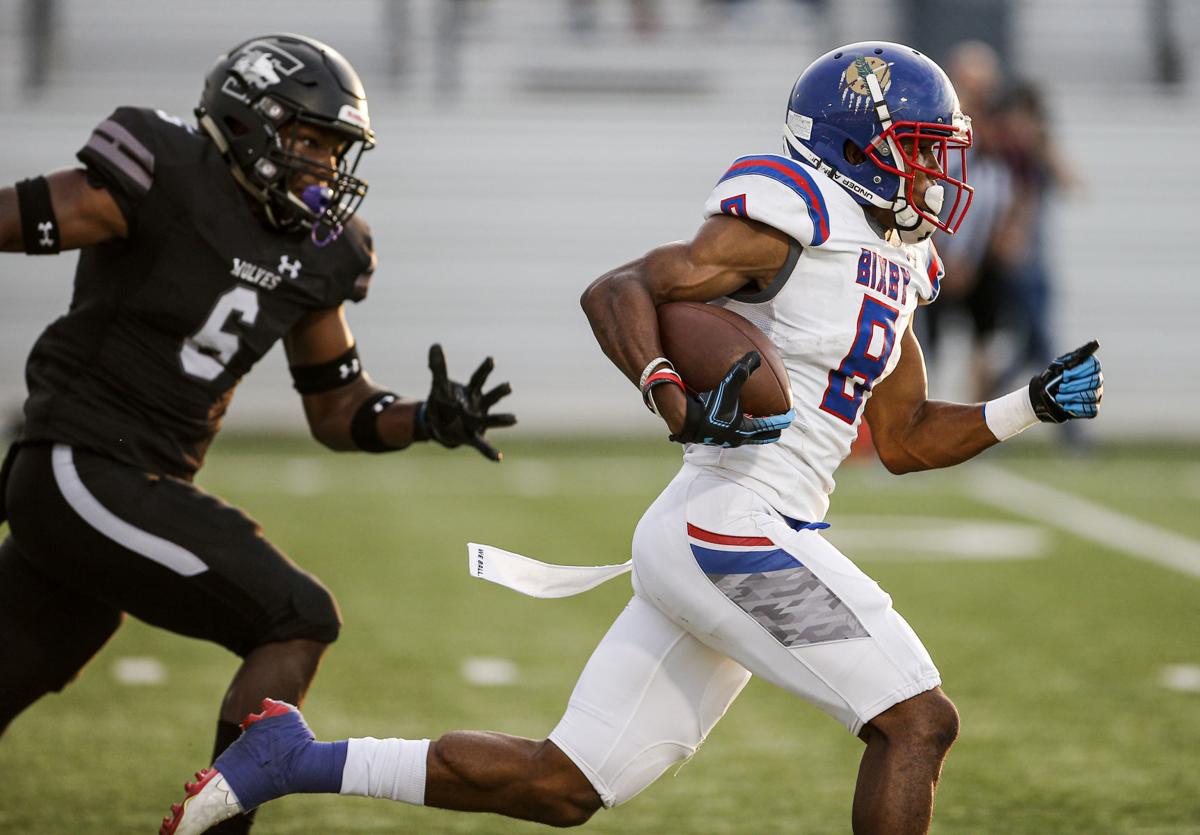 Each week, the World will update its ranking of the top 10 metro high school football players. Rankings are based on performance this season, previous years' accomplishments and potential. Below are the updated rankings with the players' preseason position in parentheses:
1. Sevion Morrison
Nebraska commit will open his 2019 season Friday against Sapulpa. A World All-State selection and All-World offensive player of the year finalist in 2018. Had 232 carries for 2,728 yards and 39 touchdowns overall, setting Edison records.
2. Brennan Presley
Oklahoma State commit caught 17 passes for 237 yards and six TDs in a 77-44 win over Mansfield (Texas) Timberview. Was a World All-State selection last year with 67 catches for 1,081 yards and 16 TDs overall to help Bixby win the 6AII state title. On defense, had six interceptions.
3. Andrew Raym
Broken Arrow, OT/DT, Sr. (2)
Had 12 pancake blocks in a 42-13 win over Mansfield (Texas). Also played 15 snaps on defense with one QB pressure. BA coach David Alexander said, "He played great. He's special." Oklahoma commit is a two-time World all-state selection. An All-World offensive player of the year finalist in 2018.
4. Isaiah Jacobs
Carried 23 times for 201 yards and a TD in a 47-34 win at Bentonville (Arkansas) West. Also had four catches for 66 yards and a pancake block. In eight games last season, rushed for 1,024 yards on 151 carries and scored 10 TDs, and caught 27 passes for 296 yards.
5. Myles Slusher
Broken Arrow, DB, Sr. (6)
Scored on a 55-yard interception return in the win over Mansfield. Also deflected two passes, including one that was an interception returned for a touchdown. Had five solo tackles and an assist. Had the game-saving, goal-line interception in the 2018 6AI state final. Committed to Oregon in April.
6. JJ Hester
B.T. Washington, WR/DB, Sr. (5)
Will announce his college commitment Thursday. His 2019 season opened with a 19-0 loss to North Little Rock. Had 61 catches for 1,145 yards and 10 TDs over the past two seasons. Was the MVP of the 2017 6AII title game.
7. Eli Williams
TCU commit opens the season against Edison on Friday. Dual-threat QB accounted for 2,395 yards and 27 TDs last year as he helped the 6AII Chieftains post a 7-4 record and earn their first playoff berth since 2013.
8. Jack Wright
Regent Prep, WR/DB, Sr. (8)
Opens season against Prue on Friday. Last year, had 81 catches for 1,843 yards and 34 TDs to help the Rams reach the Class B state title game, where he rushed for four TDs. As a DB, he had 10 takeaways and 68 tackles. A 2018 All-World offensive player of the year finalist.
9. Walker Niver
Opens Friday against Verdigris. Last year, helped the Pirates win the 2A state title and was an All-World defensive player of the year finalist and All-State selection. Had 80 tackles and 10 sacks. Also rushed for eight TDs.
10. Montrell Cozart
Bishop Kelley, DL, Sr. (10)
Opens season Friday against Booker T. Washington. A 2018 All-World and World All-State selection after he recorded 128 tackles, including 47 solos, with seven sacks as he helped the Comets reach the 5A semifinals.