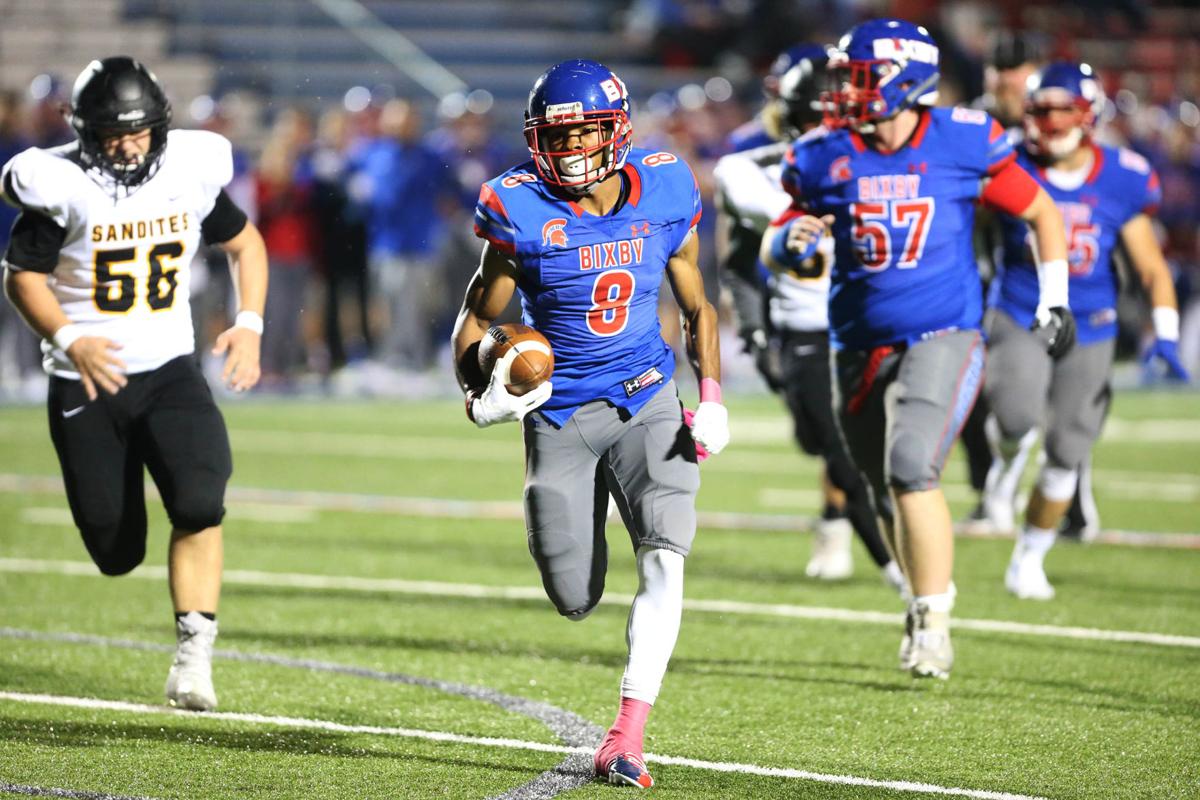 Each week, the World updates its rankings of the top-10 metro high school football players, based on performance this season, previous years' accomplishments and potential. Edison's Sevion Morrison has been No. 1 all season, but after he was held out for most of Week 7's game and all of Week 9's, that opened the door for Bixby's Brennan Presley, who has moved up to the top spot after a trio of stellar performances. Here are the new rankings with the players' previous week's position in parentheses:
The Oklahoma State commit had eight receptions for 119 yards and three touchdowns and also scored on an interception return in a 64-6 win at Shawnee. For the season, has 57 receptions for 1,118 yards and 20 TDs, 17 tackles and four interceptions. Career totals: 191 receptions for 3,051 yards, 45 total TDs and 13 interceptions.
Nebraska commit holds Edison record with 5,206 career rushing yards. For the season, Morrison has 143 rushes for 1,396 yards and 21 TDs. A 2018 World All-State selection and All-World offensive player of the year finalist. Had 232 carries for 2,728 yards and 39 touchdowns overall in 2018.
Broken Arrow, OT/DT, Sr. (3)
The Oklahoma commit and two-time World All-State offensive lineman caught the first pass of his career — an 8-yarder for a TD, in a 45-8 win over Edmond Memorial. Had a rushing TD in last year's home regular-season finale. On defense this season, he has two solo tackles, five assists, four quarterback hurries and a pass breakup. Selected to the 2020 Under Armour All-America Game and Polynesian Bowl.
Completed 15-of-20 passes for 224 yards and three TDs against Shawnee. In nine games, has connected on 155-of-202 passes (77%) for 2,513 yards and 37 TDs for the 6AII No. 1 Spartans. Career passing totals: 367-of-514 (71%) for 5,738 yards and 73 TDs.
Regent Prep, WR/DB, Sr. (5)
North Dakota commit had seven receptions for 193 yards and four TDs, three tackles and a sack in a 56-6 win over Summit Christian. Holds the national high school record for career TD catches (103). For the season, he has 26 catches for 813 yards and 17 TDs. Last year, had 81 catches for 1,843 yards and 34 TDs to help the Rams reach the state title game, where he rushed for four TDs. As a DB, he had 10 takeaways. A 2018 All-World offensive player of the year finalist.
Completed 18-of-24 passes for 303 yards and six touchdowns and also had a rushing TD in a 69-6 win at Putnam City. For the season, he is 142-of-189 (75%) for 2,401 yards with 34 TDs. Also has four rushing TDs. In 2018, completed 111-of-168 passes for 1,821 yards and 19 TDs as Stillwater reached the 6AII final. Son of OSU head coach Mike Gundy.
Tahlequah's career rushing leader carried four times for 101 yards and a TD in a 54-8 win at Memorial. For the season, has 173 rushes for 1,393 yards and 19 TDs. In his career, he has 438 carries for 3,395 yards and 43 TDs overall. On defense this season, he has seven tackles and on special teams has 164 kick return yards.
Metro Christian, QB, Sr. (9)
Completed 16-of-20 passes for 231 yards and four TDs plus three rushes for 68 yards in a 42-0 win over Kansas. For the season, he has completed 123-of-195 passes (63 percent) for 2,179 yards and 27 TDs. Also has 64 carries for 774 yards and 11 TDs, and has two interceptions as a safety. For his career, has passed for 7,560 yards and 69 TDs, and rushed for 1,480 yards and 26 TDs.
Sidelined last week with an ankle injury suffered in the Week 8 game. For the season, has 142 carries for 1,340 yards and 23 TDs overall. Has 5,043 career rushing yards.
Had nine tackles and two sacks, and one carry for 10 yards in a 56-6 win at Dewey. In eight games, he has 42 tackles, including four sacks, and three fumble recoveries, plus 25 rushes for 310 yards and eight TDs. In 2018, helped the Pirates win the 2A state title and was an All-World defensive player of the year finalist and All-State selection. Had 80 tackles and 10 sacks. Also rushed for eight TDs.
Get in the game with our Prep Sports Newsletter
Sent weekly directly to your inbox!