SHAWNEE — Claremore receiver Dylan Kedzior was overlooked when the rosters were initially announced for the Oklahoma Football Coaches Association's All-State game, despite career totals of 148 catches for 2,463 yards and 30 touchdowns.
Kedzior, an alternate selection, proved he deserves to be mentioned among the state's elite, as he caught five passes for 70 yards and two TDs for the East in a 21-13 loss to the West on Saturday night at Oklahoma Baptist University's Crain Family Stadium.
"I had a lot of fun and (was) really happy to be a part of this," Kedzior said.
Kedzior, a Northeastern A&M signee, also showed a hidden talent — kicking. He never got a chance at Claremore, which has two kickers good enough to be in the All World rankings the past two summers. On Saturday, Kedzior, who plays soccer in the spring, booted the opening kickoff out of the end zone for a touchback. He also averaged 40.8 yards on four punts and was good on 1-of-2 extra point kicks.
"Dylan did a super job tonight kicking, punting, catching the ball, running the ball," Claremore coach Jarrett Hurt said about Kedzior. "He scored every point for the East and showed what he can do. He has a bright future ahead of him at NEO. I'm super proud of the way he ended his (high school) career."
Both of Kedzior's TDs were thrown by Stillwater's Gunnar Gundy, who produced 206 total yards. Gundy plans to walk on to his father Mike Gundy's Oklahoma State football program in 2021.
"He's great. He throws a perfect ball. He was awesome tonight," Kedzior said about Gundy. "He is so smart. I wish I could have more snaps with him. He is a great quarterback."
The East's second-leading receiver also was an alternate, Sperry's Joe Whiteley, who had four catches for 62 yards. His 41-yard catch set up Kedzior's first TD late in the first half.
"It was great," Whiteley said of his All-State experience. "I was super excited (when he got the invitation last month to play) and jumping with joy. Final game, didn't get the 'W,' but it was fun. Had a great time, it was a blessing."
Whiteley plans to play baseball at Eastern State but hasn't ruled out playing football again.
Estimated attendance in the seating area was 2,000 — the maximum allowed with social distancing due to the coronavirus pandemic. There were several hundreds more standing along the fence.
"The world is going through a tough time right now, but we definitely showed that football can be played. Everybody played hard," Whiteley said. "We've got to get back to normal."
Added Hurt, "This showed high school football can be played and that the fans are hungry for it. It was a great game."
Kedzior (offense) and Vian linebacker Elijah Wright were selected as the East's players of the game. Wright had five tackles, including a key fourth-down stop for a loss on the opening possession.
On defense, other East standouts included linemen Blake Corn of Tahlequah and Walker Niver of Sperry. Each had six tackles and Corn produced a sack.
The West's offensive player of the game was Weatherford quarterback Trent Ratterree, who  completed 15-of-19 passes and produced 198 total yards.
Midwest City Albert defensive back Jay'veion Traylor of Midwest City Carl Albert was named as the West's top defensive player with two second-half interceptions.
Kedzior caught a 34-yard bomb from Gundy to end the third quarter as the East took a 13-7 lead. But the West answered with a 10-play, 69-yard drive capped by Moore running back Jayce Gardner's 2-yard TD run. Lindsay's Kaden Merrell kicked the extra point for a 14-13 lead with 8:31 left.
Two minutes later, Taylor's 46-yard interception return set up Ratterree's 9-yard TD pass to Bethany's Sam Brandt.
The East's last drive ended with Gundy's fourth-down pass from the West 30 being intercepted by Chisholm's Nate Edwards.
The West opened the game with a 17-play drive that ended when Wright stopped Bethany's Sam Brandt for a 3-yard loss on fourth-and-3 at the East 8.
However, the West wouldn't be denied the end zone on its second possession as Ratterree scored on a 1-yard run in the second quarter's opening minute. The six-play, 80-yard drive was ignited by Ratterree's 30-yard pass to Tuttle's Parker Ross.
With 2:14 left in the first half, Gundy connected with Kedzior in the left corner of the end zone for a 22-yard TD. Kedzior, however, missed the extra-point kick and that left the West ahead 7-6 going into halftime.
The touchdown was set up by Whiteley's 41-yard reception after Gundy completed a 4-yard pass to Bixby's Luke Creeger to convert a fourth-and-1 gamble from the East 29.
Before the game, a moment of silence was observed for three who died during the past year — for Jenks' Allan Trimble, Roland's Waymon Potts and Jacie Cochran, wife of Cashion assistant Cale Cochran.
W: Jaxon Ratterree 1 run (Kaden Merrell kick)
E: Dylan Kedzior 22 pass from Gunnar Gundy (kick failed)
E: Kedzior 34 pass from Gundy (Kedzior kick)
W: Jayce Gardner 2 run (Merrell kick)
W: Sam Brandt 9 pass from Ratterree (Merrell kick)
Rushing: East — Gunnar Gundy (Stillwater) 5-27, Grant Elerick (Stroud) 3-9, Cameron Gunville (Seminole) 2-8, Dylan Kedzior (Claremore) 1-2, Dae Dae Leathers (Tahlequah) 3-7, Jimmie Coleman (Muskogee) 3-2; West — Jayce Gardner (Moore) 11-41, Jaxon Ratterree (Weatherford) 8-36, Gus Smith (Stratford) 5-14, Austin Fisher (Noble) 5-14; Sam Brandt (Bethany) 4-3.
Passing: East — Gundy 13-22-1, 180 yards; G.Elerick 5-11-2, 11 yards; West — Ratterree 15-19-0, 162 yards; Fisher 7-12-0, 45 yards; Brandt 1-3-0, 9 yards.
Receiving: East — Kedzior 5-70, Joe Whiteley (Sperry) 4-62, Luke Creeger (Bixby) 4-17, Garrett Mitchell (Pryor) 2-22, Justin Murphy (Jenks) 1-13, Gunville 2-1; West — Brandt 7-62, Kaden Merrell (Lindsay) 5-43; Parker Ross (Tuttle) 2-45, Ben Lawson (Bethany) 3-40, Tag Allen (Marlow) 2-10, Gardner 2-14, Price Daube (Sulphur) 1-14, Stephen Singleton (Lindsay) 1-4.
---
Gallery: View action from the OFBCA All-State football game
ALL STATE FOOTBALL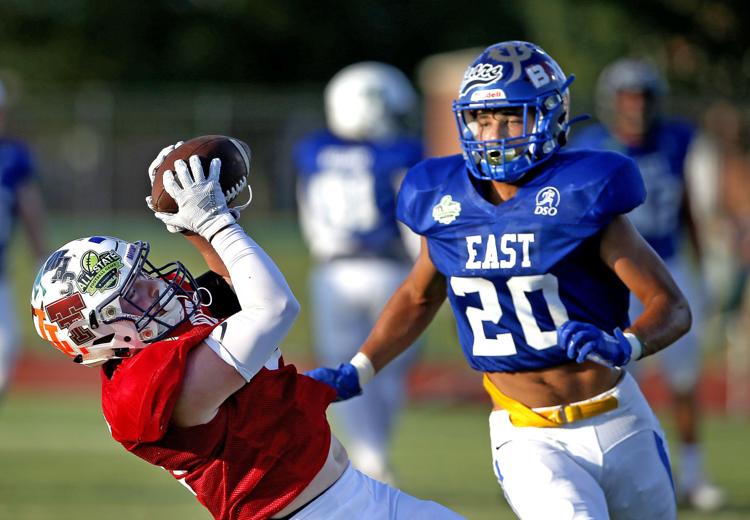 ALL STATE FOOTBALL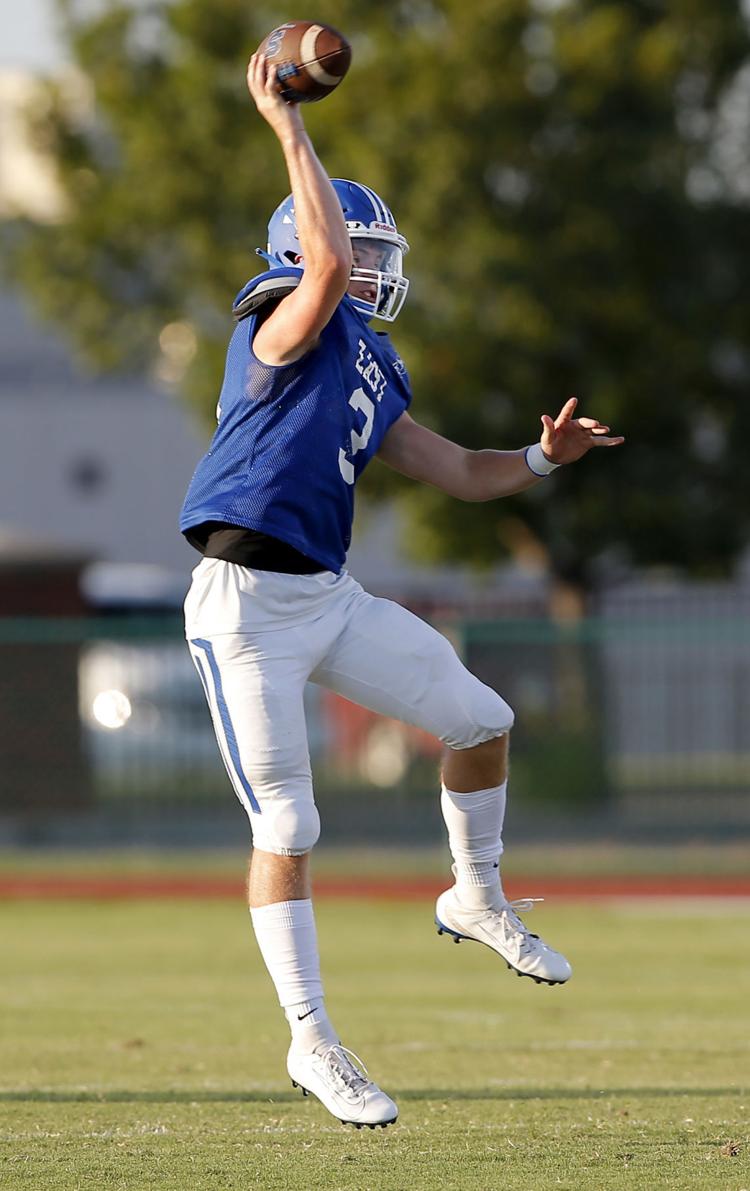 ALL STATE FOOTBALL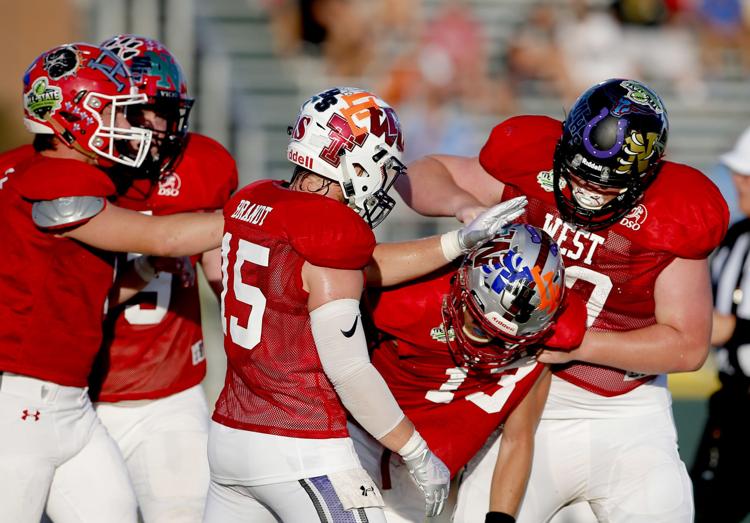 ALL STATE FOOTBALL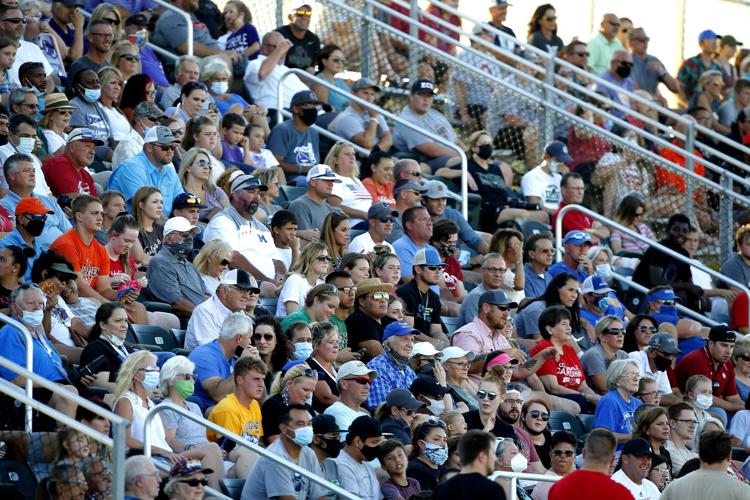 ALL STATE FOOTBALL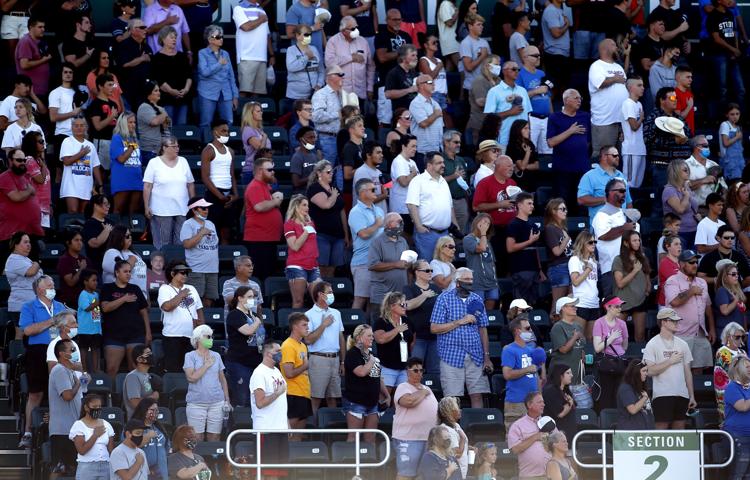 ALL STATE FOOTBALL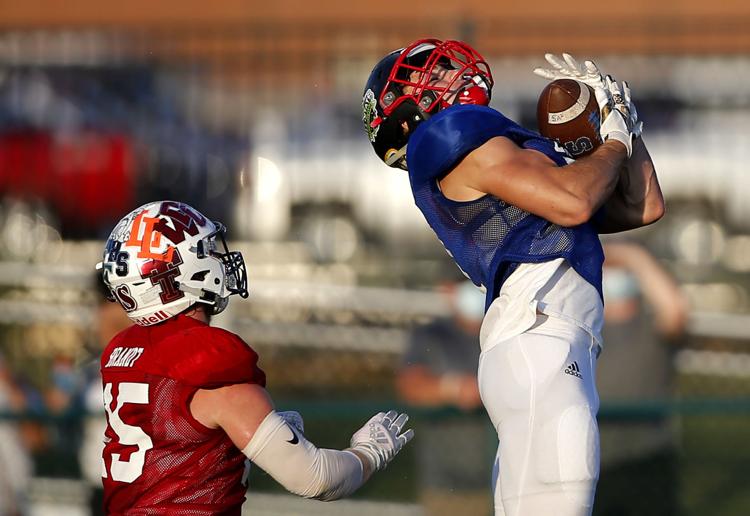 ALL STATE FOOTBALL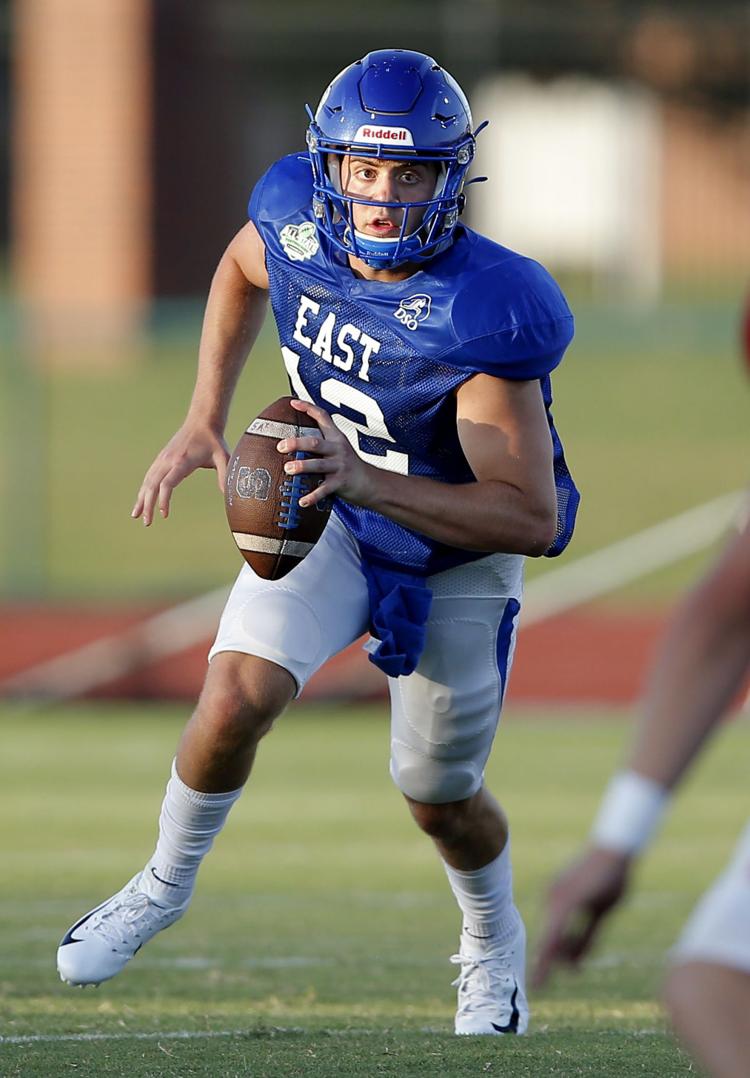 ALL STATE FOOTBALL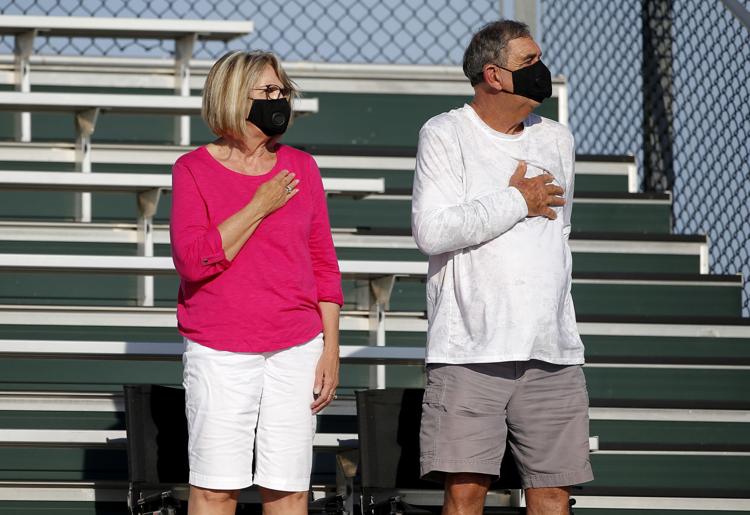 ALL STATE FOOTBALL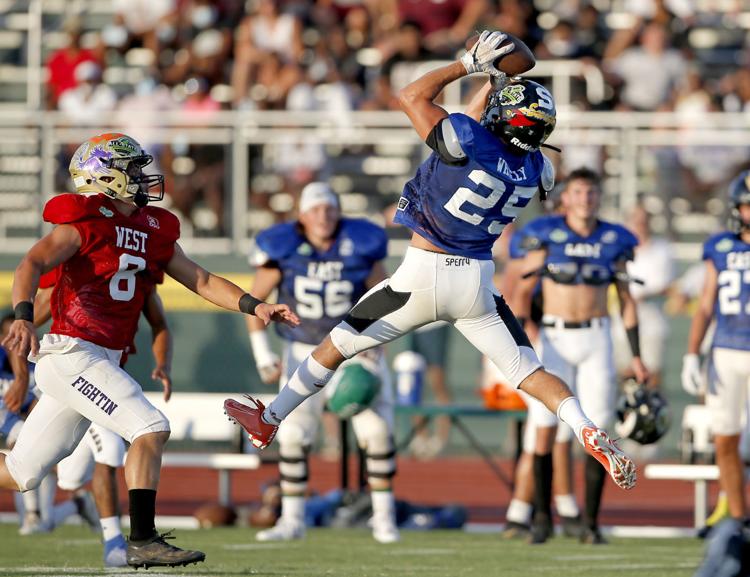 ALL STATE FOOTBALL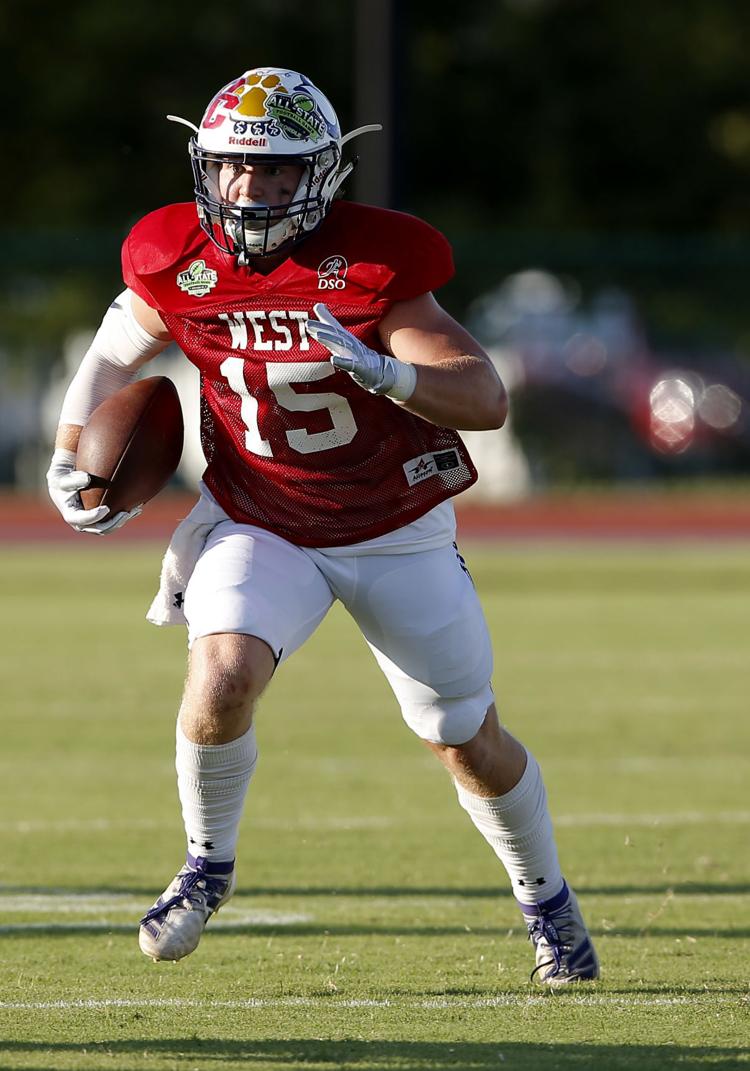 ALL STATE FOOTBALL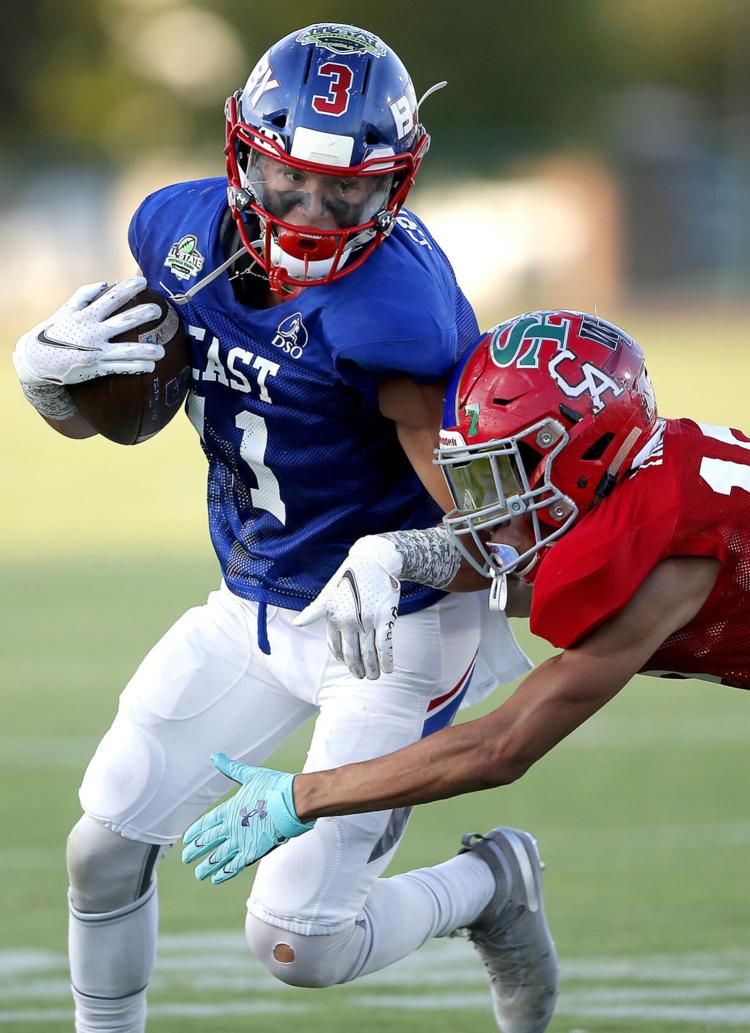 ALL STATE FOOTBALL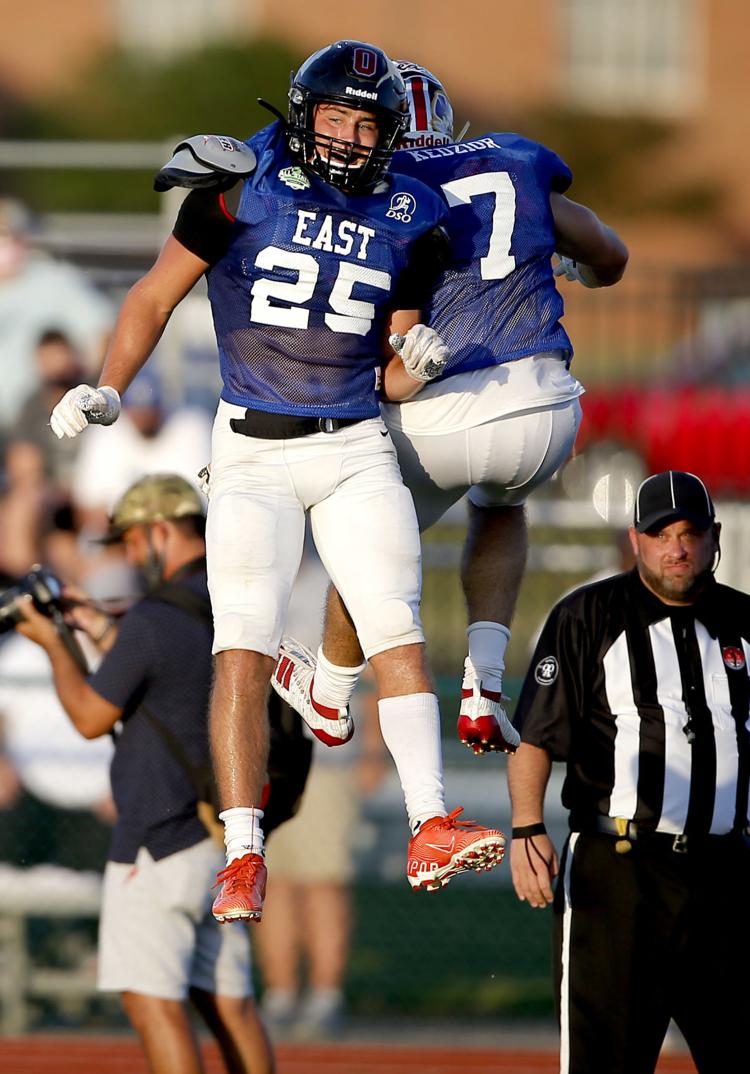 ALL STATE FOOTBALL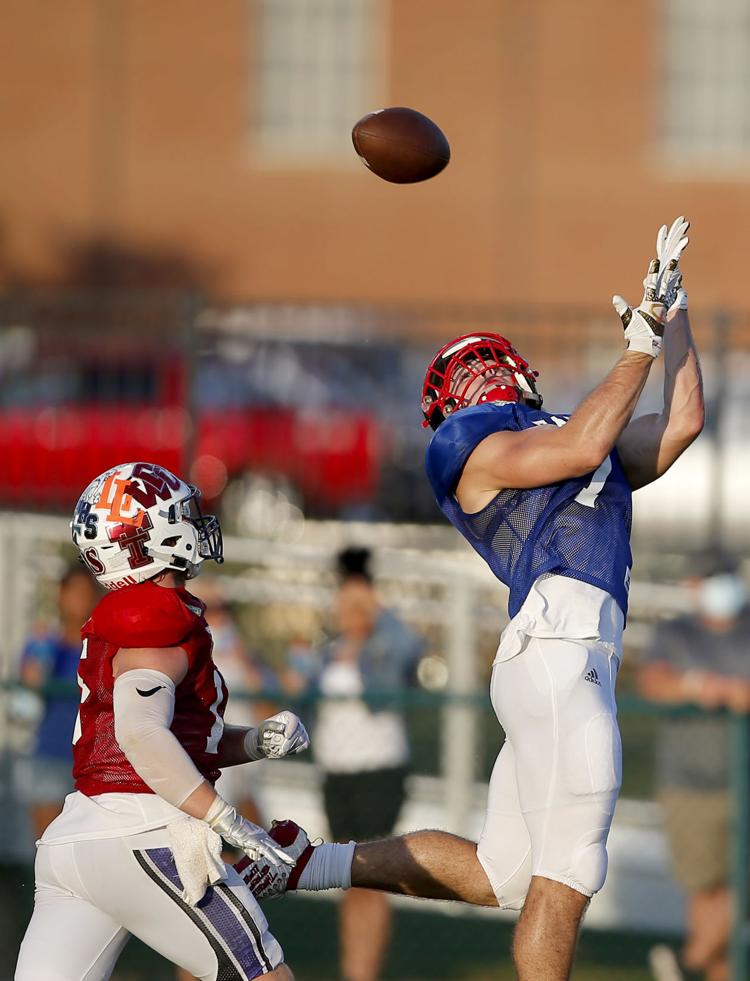 ALL STATE FOOTBALL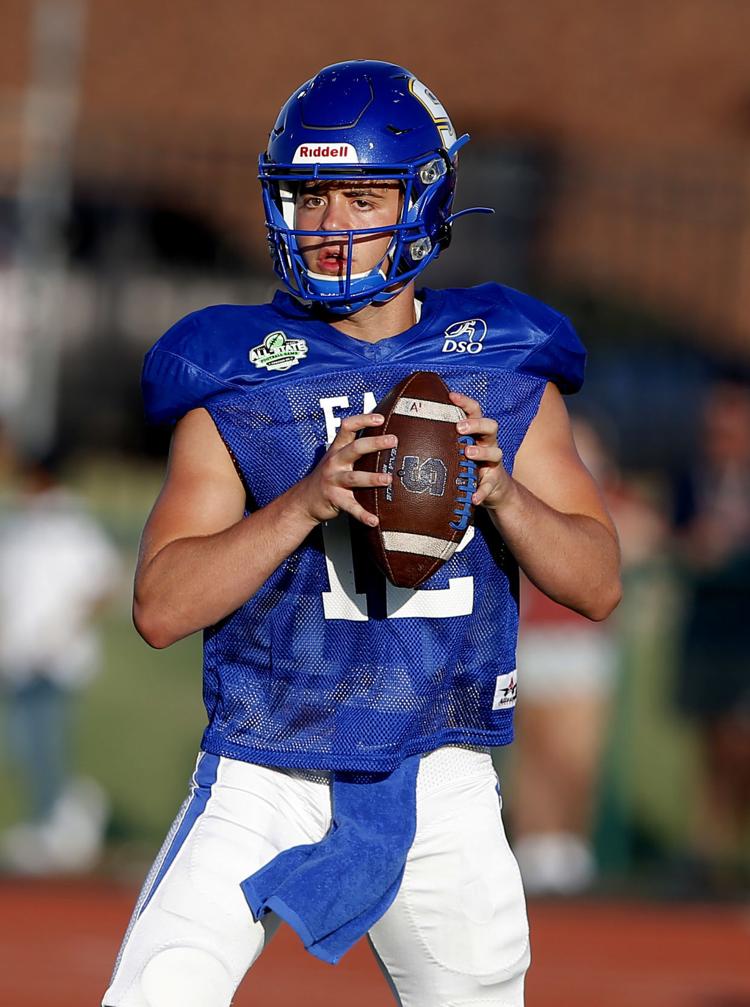 ALL STATE FOOTBALL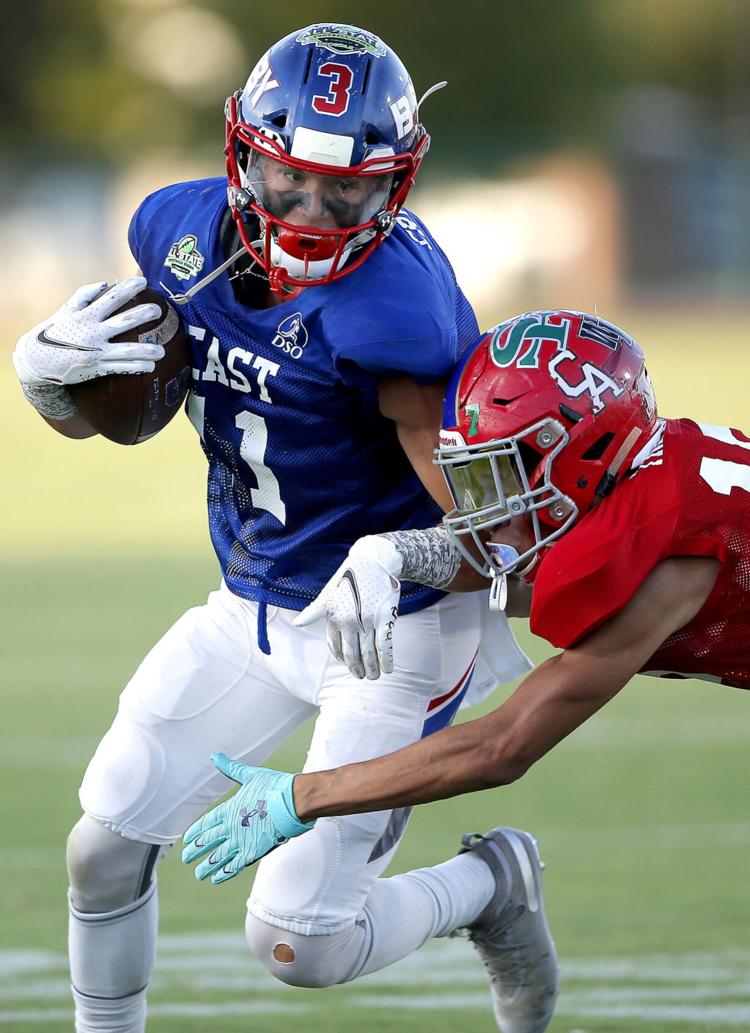 OKPrepsExtra.com: Home to everything high school sports