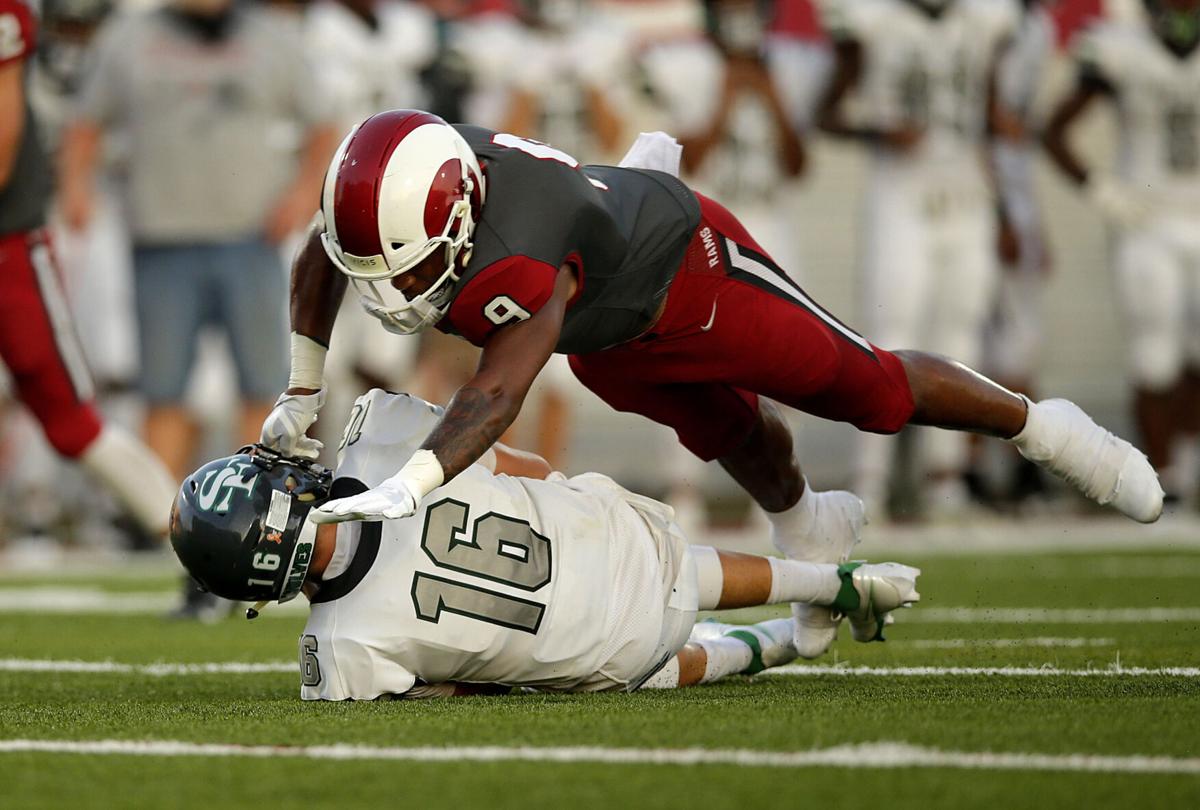 ---
How was the World's All-State team chosen?
Attempts were made for Tulsa World All-World/All-State forms to be emailed to all schools, and their head coaches were asked to nominate their players. In addition, there were invitations in print and online for coaches to submit nominations if they had not received a form. Players from all grades were eligible, a significant difference between the World's All-State team and the Oklahoma Coaches Association's selections that include only seniors. The OCA's All-State selections are scheduled to be announced Monday.
Three of the 26 players on the World's All-State first team are juniors — Bixby running back Braylin Presley, Edmond Santa Fe receiver Talyn Shettron and Choctaw defensive lineman Desean Brown. Shettron was on the All-State second team last year. All three of the juniors who were first-team selections last year — Stillwater running back Qwontrel Walker (a second-team selection as a sophomore), Owasso linebacker Emaud Triplett and Vian defensive lineman Solomon Wright — were repeat selections this year. The second team has seven juniors and two sophomores — McAlester running back Erik McCarty and Edmond Santa Fe offensive lineman Jon Ashford.
A player did not have to be nominated by his coach to be honored, but a coach's nomination can be a key factor as to whether a player was chosen. It's difficult for a player to be recognized if he is not nominated or if a team does not submit statistics to the Tulsa World. I made the final decisions on All-State and the All-World honors that were published Saturday.
The selections came after reviewing the nominations and consulting other World writers/correspondents and some coaches. Decisions were based primarily on 2020 performances, although career achievements were given some consideration.
When will the player of the year be announced?
Selections of the metro's top offensive and defensive players are announced during the All-World Awards event — this school year's is scheduled June 29. The five offensive and five defensive finalists were published in Saturday's paper. All 10 of those finalists were automatically named to the World's All-State first team. Announcing an All-State player of the year now could give away the All-World winners. This year's All-State winner will be selected next summer.
Why was Jenks' Keith Riggs selected coach of the year?
All nine coaches who won state titles would have been deserving of that award, including All-World winner Tag Gross, who led Class 3A Holland Hall to a 12-0 record and its first gold ball, and last year's All-World winner, Jared McCoy, who may have done an even better job this season than last while leading Metro Christian to a second consecutive 2A state title. Jake Corbin, who led Choctaw to its first state final since 1960, also was a candidate. But Riggs receives the World's state honor, an award that his Jenks predecessor, Allan Trimble, won four times, after leading the Trojans to their first state title since 2015 in a year when most experts predicted Owasso would come away with the gold ball.
What were the toughest decisions in selecting the first team?
It was an exceptional year again for quarterbacks, strong arguments could have been made for 6-8 players at that position. Three quarterbacks made it on to the first team with Midwest City Carl Albert's Ben Harris slotted as the punter and Pawhuska's Bryce Drummond, who also was a punter and defensive back, designated as the all-purpose player. Excelling at more than one position also was a key factor in some other decisions. It was tough to leave several of the second-team selections off the first team, including Bishop Kelley's Owen Heinecke and Lincoln Christian's Kolbe Katsis — a pair of All-World first-team picks. It also was a strong year for defensive linemen.
How many teams and classifications are represented on the World's first team?
The first team includes players from 18 schools, with Jenks and Owasso having three each, followed by Bixby, Stillwater, Wagoner and Choctaw with two each. Nine players came from 6AI, seven from 6AII, three from 2A, two each from 5A, 4A and A, and one from 3A. The second team included players from 16 other schools as well as one from Class B — Joey Fowler of state champion Dewar.