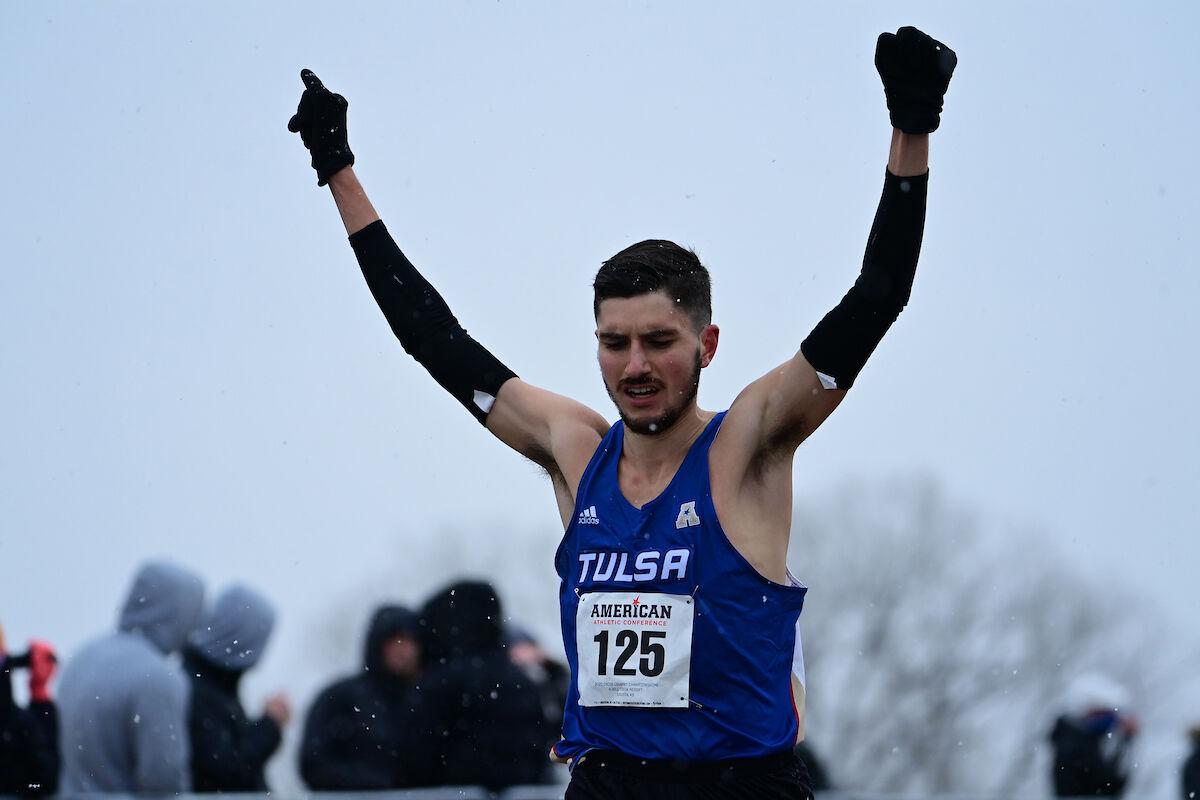 Patrick Dever became Tulsa's third individual track and field NCAA champion as he shattered a 42-year old meet record by more than 19 seconds in the 10,000-meter run late Wednesday night at the NCAA Outdoor Championships in Eugene, Oregon.
Dever's time of 27:41.87 led 10 runners that finished faster than the previous meet record of 28:01.30, which was set in 1979. His time was also a personal best and a school record, topping his previous mark by 46.26 seconds (28:28.13) set earlier this season at the Hayward Premiere (April 2) and the previous school mark by 26.1 seconds set by Marc Scott (28:07.97) in 2015.
"It feels pretty surreal to be an NCAA Champion," Dever said in a news release. "I knew I was capable of something special, but I didn't know for sure I could do this. It is cliché, but it really is a dream come true, and to replicate Marc Scott's success was great. I'm going to race the 5,000 as a bonus and whatever I can do to get as many points for the team is the main goal for sure."
"I discussed it with my coach beforehand and we were going to see how Wesley Kiptoo (Iowa State) went out and judge where we were going to sit based on how many people went with him. I thought a lot of people were going to go with him and you either go with him or you don't have a chance. I just tried to get on the rail and relax as much as possible, and save something for the home stretch."
"I felt like he had a shot to win it, but it is one thing to believe it and another to go out and do it," Tulsa assistant coach Taylor Gulley said. "There is a really good student-athlete from Iowa State, Wesley Kiptoo, that goes out aggressive and sets a crazy pace that is hard to hold onto. If the majority of the pack went with him we wanted to go too, but they settled into a rhythm pretty quickly. From about the 5,000 to 7,000 meter mark the race slowed down and then with about 400 meters to go about 11 guys had a chance to win it, but Patrick held contact and stayed on the rail coming into the home stretch. The front two guys drifted and he passed on the inside lane, and he capitalized on it and had a phenomenal last 50 yards. I don't know if he could have run any better of race."
Tulsa's other NCAA track champions were Chris O'Hare in the mile run in 2012 (indoor) and Scott in the 10,000 in 2017 (outdoor).
"It is very surreal when you think about our success," Gulley said. "With the student-athletes we've had that have come through our program and the things they have done with Chris O'Hare, Marc Scott and now Patrick Dever it is phenomenal. These guys are tremendous student-athletes, but even more important is that they are great guys. Patrick has worked hard to get this and it is a testament to the team and our culture that we've built at Tulsa."