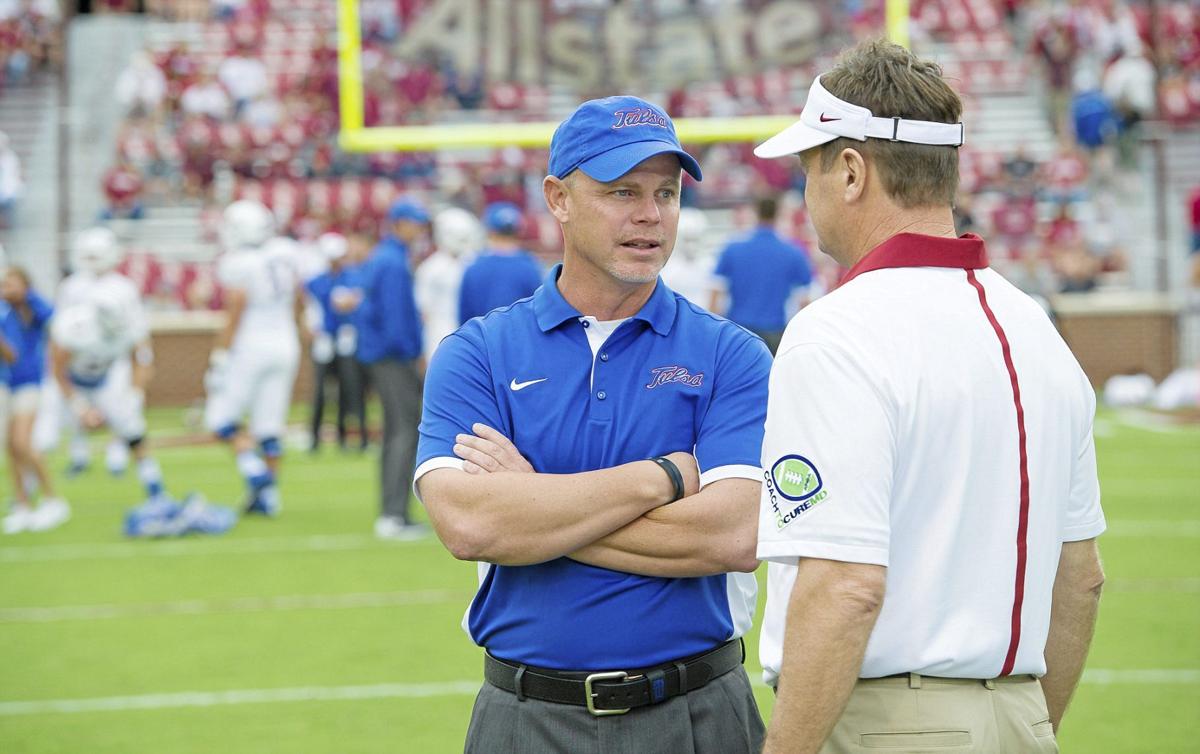 When the University of Tulsa played at Ohio State five years ago, the crowd of 104,410 was by far the largest for a game in Hurricane history.
Despite the ninth-ranked Buckeyes coming off a defeat against Oregon last week, Ohio Stadium is expected to again have close to 100,000 fans Saturday afternoon.
"Playing in front of large crowds, we do that quite often," coach Philip Montgomery said. "That's not part of it (as much as) the tradition and the legacy that they have around their place. It's a special place in college football.
"That being said, we've been out there before, played there before. I think it's more about our guys enjoying the opportunity to go and compete at the highest level."
With the exception of the 2020 season that saw limited attendance because of COVID-19, the Hurricane has played in front of road crowds of at least 50,000 people every year under Montgomery. For last week's loss at Oklahoma State, the attendance was 52,127.
Asked to compare the atmospheres of venues his teams have played in, Montgomery said: "We've been to a few places. Oklahoma State's crowds are always good. They start banging on the paddles and it's right there on top of you.
"OU's got good crowd noise and it's difficult for you to play in. Playing down in Austin (at Texas) is difficult. At some point in there to me the noise level is what it is, right? … Is it greater (at Ohio State) than in other places we've been at? I don't think so, but I know that they're going to bring a lot of noise and we've got to be prepared for it."
Assuming the stage isn't too large for TU, the other major challenge is effectively running an offense as the road underdog in front of 100,000 noisy fans. Avoiding false-start penalties is always a concern in large stadiums.
"Obviously, the noise is going to be a factor, but I feel like just as long as we lock in to the snap count and we get a great clap from Davis (Brin), I don't really think it'll be that big of an issue," offensive lineman Dylan Couch said. "But obviously, with the stadium that big, it's something you're definitely emphasizing throughout the week and something that you're definitely thinking of as an offense."
Photos: Tulsa at No. 23 Oklahoma State
Tulsa at Oklahoma State
Tulsa at Oklahoma State
Tulsa at Oklahoma State
Tulsa at Oklahoma State
Tulsa at Oklahoma State
Tulsa at Oklahoma State
Tulsa at Oklahoma State
Tulsa at Oklahoma State
Tulsa at Oklahoma State
Tulsa at Oklahoma State
Tulsa at Oklahoma State
Tulsa at Oklahoma State
Tulsa at Oklahoma State
Tulsa at Oklahoma State
Tulsa at Oklahoma State
Tulsa Oklahoma St Football
Tulsa at Oklahoma State
Last chance offer: $1 for six months