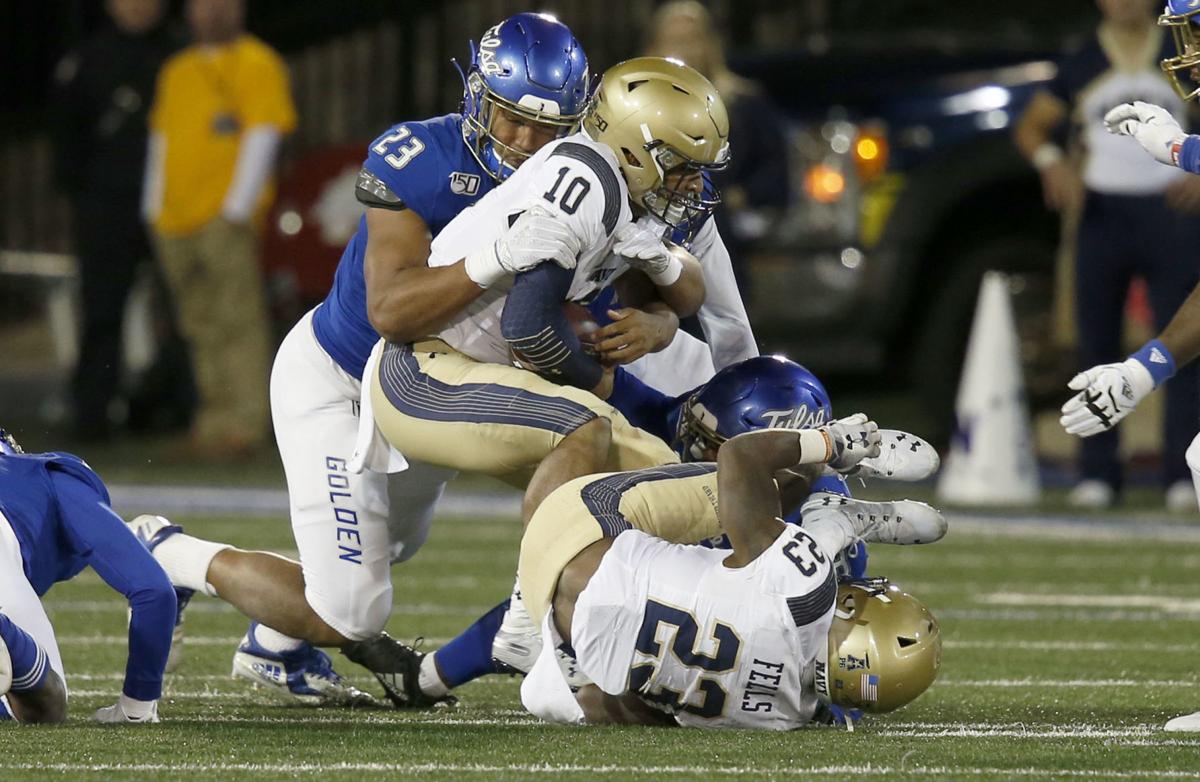 After going through four bags of IV fluids in the visiting team's locker room, University of Tulsa linebacker Zaven Collins knew his day was done.
Collins played slightly more than a half in the season opener at Oklahoma State — the only game for the Hurricane in September — and put on a show.
"I thought to myself before the game, I can kind of put it on reserve and try and last the whole game, or I can just go all out," Collins said.
Having spent two weeks in quarantine because of potential COVID-19 exposure, Collins practiced only two days leading up to the OSU game. The result was a severe case of cramps that hit during the third quarter.
"I knew coming into it, I was kind of unprepared physically as far as my legs being underneath me," he said. "I was off for two weeks and had to go back home, so I wasn't in the right shape I needed to be to play that full game. We knew we were only going to get about 40 plays out of me."
Making the most of those plays in an attempt to upset the No. 11 team in the country, Collins didn't dwell on thoughts about how he would be limited.
"I just went out there and played," he said. "I was so zoned in. That's what I focused on — doing my job and being a football player. ... After the game, I saw the stats and I was like, whoa. That was kind of a shock. It kind of surprised me."
On the field for nine series in the 16-7 defeat, Collins recorded four tackles for lost yardage including three sacks. In terms of per-game production, he leads the nation in those two categories.
"I thought that was probably the best half of football I've seen him play," TU coach Philip Montgomery said. "He was really all over the place — in the backfield, dropping into coverage, fitting things, tackling well."
Midway through the third quarter, Collins made a tackle on the far sideline and stood up. His right knee started to quiver.
"I was like, that's not good," he said. "I knew I was about to cramp. I played a few more plays with my right quad kind of cramping up on me."
His legs locked up and he headed to the locker room, barely making it inside before his whole body locked up. He spent the next hour in misery, unsuccessfully trying to get hydrated enough to return.
"At that point I'm not only putting myself in jeopardy, but if I'm not 100 (percent) I would rather have a guy out that is 100 instead of me," Collins said.
After a career-best outing that drew national attention, Collins was quick to point to his teammates, attributing success to the defense working as a unit.
"The three sacks I got weren't because I was unreal," he said. "I've got three guys up front taking on double teams all day long. If they weren't getting double-teamed, they'd have a guy getting to me."
A former quarterback and safety at Hominy High School, Collins has blossomed into an NFL-caliber linebacker early in his junior season.
"I think it's the natural progression for him," Montgomery said. "We expect Zaven to continue to have those types of games."
Kelly Hines
918-581-8452
Twitter: @KellyHinesTW
Be the first to know
Get local news delivered to your inbox!