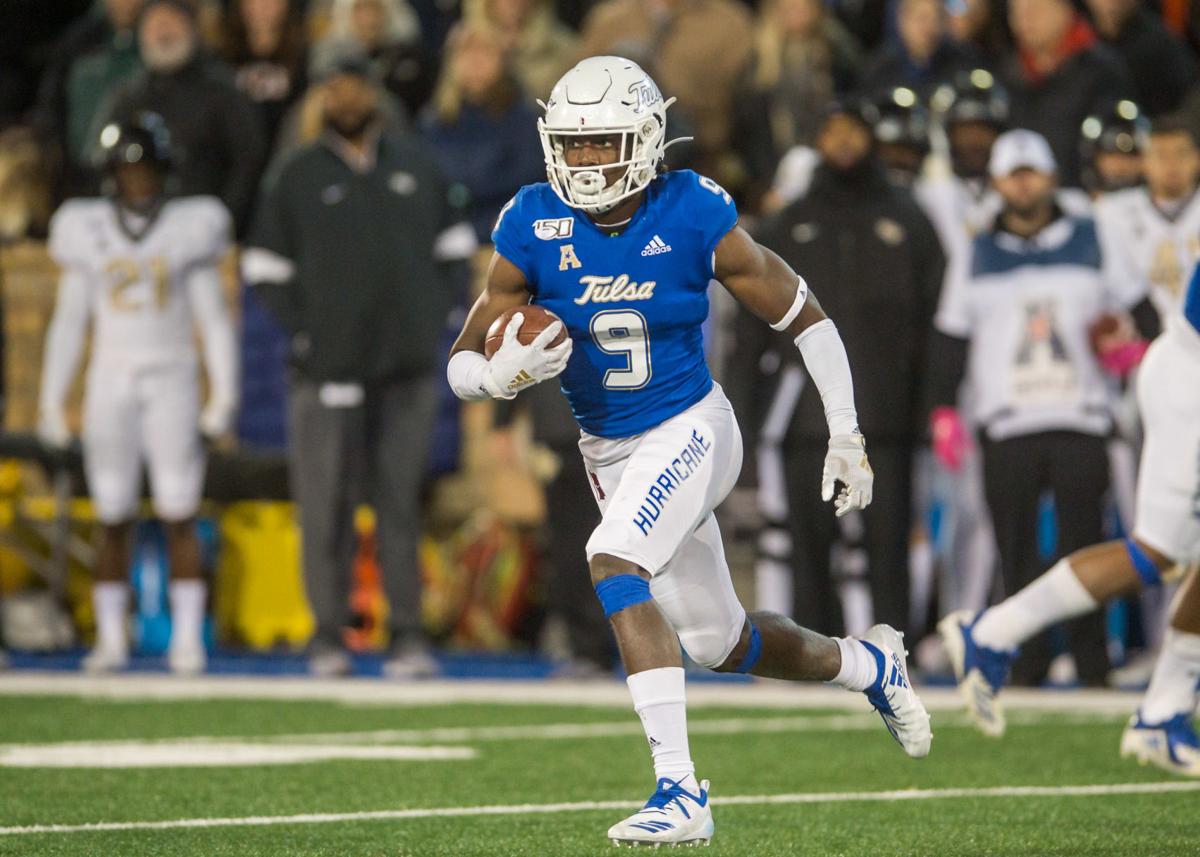 Of course it was Reggie Robinson II.
When UCF took over on offense in a tie game with 7:39 left Friday night, someone on the University of Tulsa's defense had to make a play or fortunes would go the same way for the Golden Hurricane again.
Two weeks before — the last time TU played in Chapman Stadium — the defense let Memphis score with 4:26 left to take a 42-41 lead it never lost. The Hurricane drove down the field to set up a 29-yard field goal on its next possession, but Jacob Rainey missed as time expired.
When the game was over and defensive players answered questions about what had just happened, they kept going back to the drive that Memphis scored to take the lead.
"We definitely could have won it by stopping them and not letting them score on defense," linebacker Zaven Collins said then. "If they don't score, they don't win."
Friday, Rainey missed again — this time from 35 yards with 7:39 left. That's when UCF got the ball. Then, three plays later, Robinson made the kind of play that TU players were saying they needed two weeks prior.
Robinson intercepted Dillon Gabriel's pass, returning it 24 yards to UCF's 18-yard line. The play ultimately set up a 23-yard field goal for Rainey that ended up being the game-winner in TU's 34-31 victory that halted a five-game losing streak. Coincidentally, the last time TU won a game — against Wyoming on Sept. 21 — it was again the defense that came up huge to secure the win, as Robinson recovered a fumble that linebacker Cooper Edmiston forced with less than a minute left to play.
"We talked this week — and we talked today, primarily — but just about those opportunities, and we've been talking about this throughout the year," TU coach Philip Montgomery said. "But, in the course of games, you get opportunities, and momentum starts to switch, or you've got it and you have to do everything you can to hold onto it. You can't take a deep breath. You have got to continue to put your foot on the gas. On the sideline, we kept talking about that all night, 'Here is another opportunity, here is another opportunity.'
"I thought our defense — and our team in general — just really rose up to those occasions."
Robinson, a redshirt senior cornerback, has emerged as TU's biggest playmaker during a stellar three-week stretch. Against Memphis, Robinson led the Hurricane in tackles with 12. The next week against Tulane, he pulled in two interceptions. Then there was his clutch interception against UCF.
When Cristian Williams picked off Gabriel earlier in Friday's game, he was the first TU player other than Robinson to record an interception this season. Of the Hurricane's five interceptions this season, Robinson is responsible for four of them, as well as a blocked kick and fumble recovery.
"It really started last year when I got injured," Robinson said. "I knew that time is not always on my side, so I had to take that into account and came into this season with a mindset to try harder than I ever have, try new things and take more risks. I think that has paid off for me this season."
Dekota Gregory
918-581-8355
deko
@tulsaworld.com
Twitter: @dekotagregory