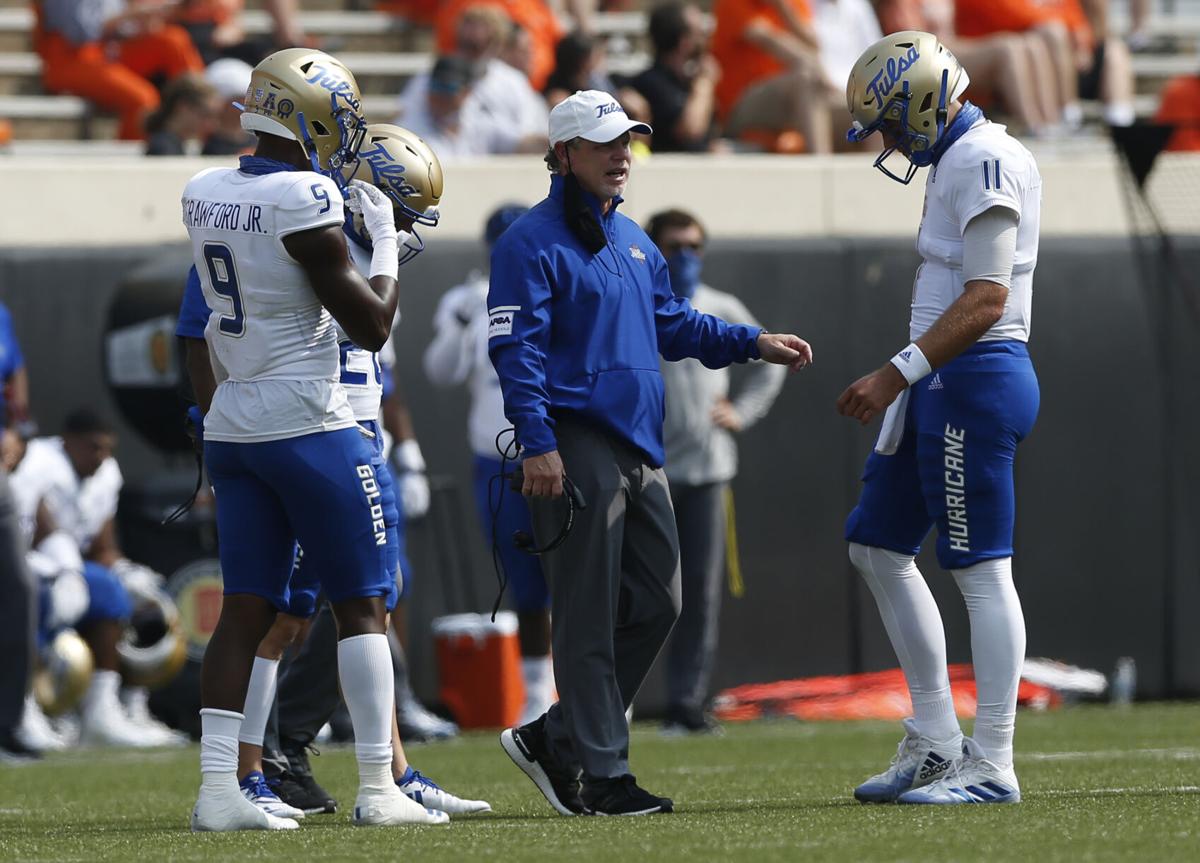 After an error-filled performance in Saturday's season opener, the University of Tulsa was left to wonder what could have been.
If not for a significant preseason disruption, would the Hurricane have been better prepared to play No. 11 Oklahoma State?
If not for the first game being canceled, would the team have been more disciplined by Game 2?
In the 16-7 loss, TU displayed a stunning amount of ineptitude and ineffectiveness, totaling 15 penalties for 120 yards and going 0-for-11 on third downs.
"I've never been one to make excuses," coach Philip Montgomery said. "We're going to get better. There's definitely a lot of things on this tape that we are going to learn from and continue to get better from."
Despite a variety of mistakes, the Hurricane led 7-3 and could have won in the final minutes. But the head-scratching moments remain a prevailing takeaway instead of potential positives of a hard-fought defeat that could carry the team into the next game, scheduled for Saturday at Arkansas State.
There was a delay of game penalty out of a timeout taken to avoid a delay of game penalty.
There was a timeout called as freshman place-kicker Tyler Tipton successfully booted a field goal through the uprights, then a failed fourth down after the field goal was taken off the board.
"We came over here to be aggressive," Montgomery said. "I think we were 23½-point underdogs or something like that. At that point right there I just felt like we could tie the game up, but it was just a three-point lead.
"I felt like we needed a little bit of a spark and I felt like we had an opportunity to go get it. We're not going to play scared and we're not going to play timid. We took a chance, rolled the dice and just didn't come up with it."
On five of the 11 third-down attempts, TU needed at least 10 yards to move the chains. One of the few times it was third-and-short, the delay of game penalty followed and led to a punt.
"We've got to be better on third down," Montgomery said. "We were awful on third down (today). We've just got to continue to get better. We had things open that we didn't hit. We hurt ourselves with some penalties on some things.
"We ended up in too many third-and-long situations and even in our third-and-short situations we've got to come off the football and get yards. Some of that was assignment misses that we've got to get corrected. Some of it's just loading down and getting it done."
Quarterback Zach Smith got going on the lone touchdown drive, connecting on a pair of beautiful throws to Keylon Stokes and Josh Johnson. He appeared out of rhythm at times, likely because of recently missing two weeks of practice for COVID-19 quarantine.
"I was out for 14 days," Smith said. "I got back this last Tuesday for practice. I missed a little bit of time there, but I've still got to play better and get better for next week and the rest of the season and start rolling.
"It's tough not practicing and then coming back. But I got two real practices in before we played, and I felt like I had some good practices, but came out here and just didn't have the day that I wanted."
If the game had been played a week earlier as scheduled, Smith would not have been able to participate. Linebacker Zaven Collins, who recorded three sacks Saturday, also returned from quarantine last week but missed most of the second half while getting fluids for cramping.
"I thought our guys played extremely hard and I don't think there's a guy in that locker room who didn't empty his tank for us," Montgomery said. "I think conditioning-wise, for the most part, most of our guys were pretty good. We had a few guys in there that still have a ways to go from a conditioning standpoint. I think all of those things played a factor."
Kelly Hines
918-581-8452
Twitter: @KellyHinesTW
Be the first to know
Get local news delivered to your inbox!