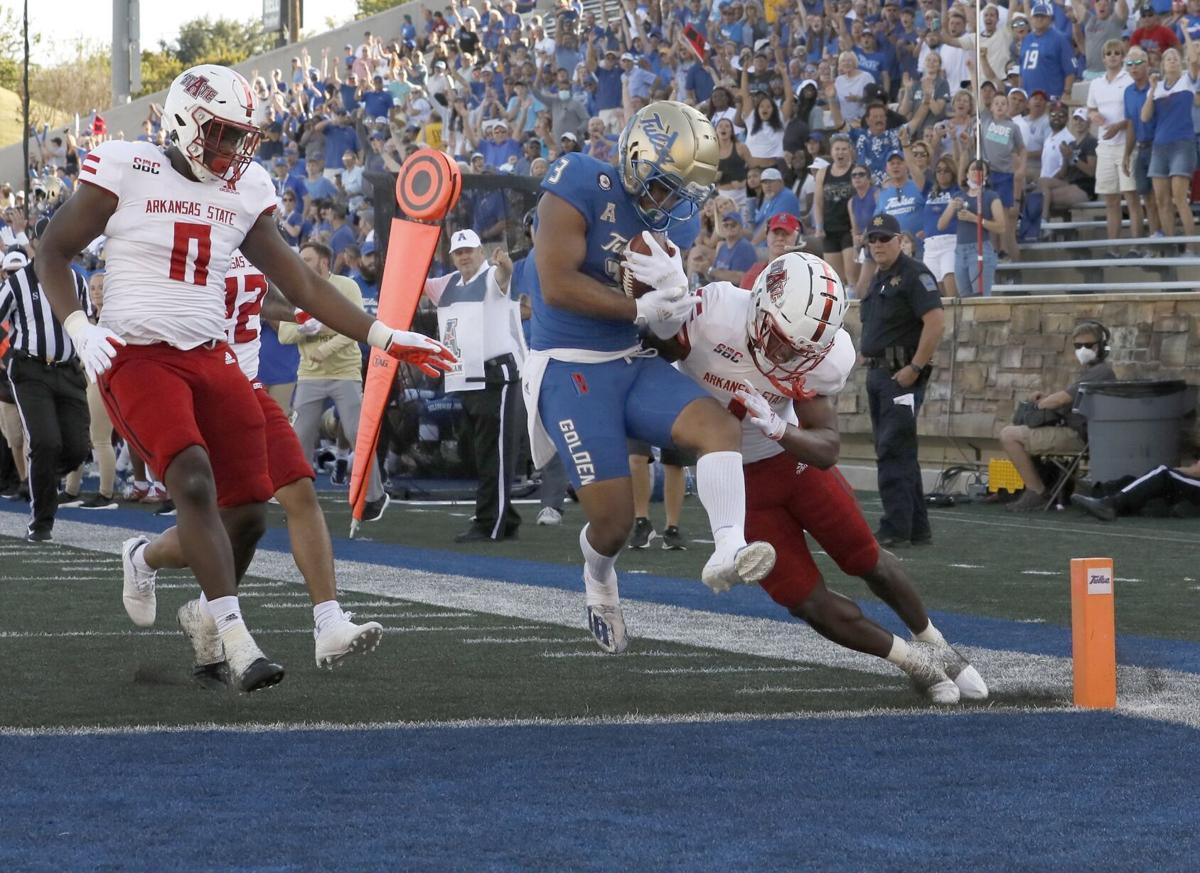 One player, one problem, one preposterous prediction and one pick for TU-Temple...
Tulsa running back Shamari Brooks
Late November isn't just about teams chasing goals but players chasing history. TU's goal is bowl eligibility. The Hurricane's history chaser is Brooks.
The Union alum has 3,491 career rushing yards. That puts him 24 away from Trey Watts at No. 4 on TU's all-time rushing list, and 45 away from Michael Gunter at No. 3.
Brooks is 160 yards from catching Tarrion Adams at No. 2. He has a good shot to get there Saturday afternoon, given Temple's No. 121 ranking among FBS run defenses.
The Owls are so porous defensively that Brooks could approach the 209 yards needed to reach 1,000 on the season. That would be really nice to see for a running back who rushed for 1,046 yards in 2019 before losing his 2020 season to a knee injury.
Check out the Owls' losses since Oct. 8: 52-3 to Cincinnati, 34-14 to South Florida, 49-7 to UCF, 45-3 to East Carolina and 37-8 to Houston.
Check out the opening passage in Mike Jensen's recent Philadelphia Inquirer column: "The question right now surrounding Temple's cavernous football troubles is a financial one. It's impossible to think a new university president and new athletic director, both with big-time football in their backgrounds, can look at the current state of the Owls and say, "Yeah, it's all heading in the right direction, this is so perfect.'"
The trouble here is TU plays infamously down to its competition. The Hurricane wouldn't be in their current 4-6 predicament if they had played even average football against UC Davis and Navy. But here they are.
Now here the Owls are. Brace yourselves.
ONE PREPOSTEROUS PREDICTION
TU rises up instead of shrinking down.
Brooks and Anthony Watkins run wild early. That allows Davis Brin to feel comfortable and settle into an efficient game, badly needed after his three-interception game at Tulane last week.
Joe Gillespie's defense gobbles up a Temple offense that has produced four touchdowns over its past five games. TU's special teams have a rare drama-free day.
The Hurricane gather much-needed momentum heading into their bowl-qualifying opportunity at SMU next Saturday.
TU drops Tulane in OT. See all our coverage here
See all our coverage from the week here: