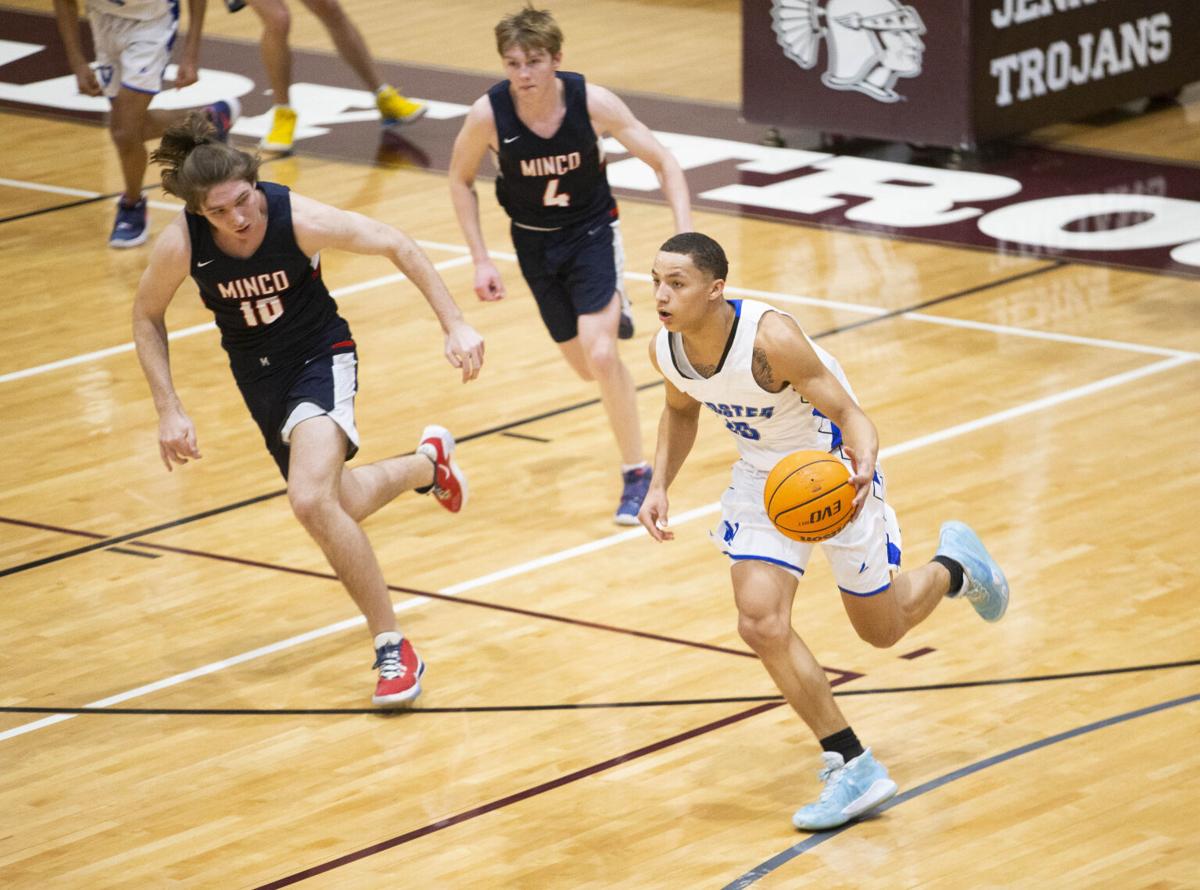 Can you imagine University of Tulsa basketball without Steve Ballard, Ed Lindblad, Tracy Moore, Brian Rahilly, Pooh Williamson, Shea Seals, Ray Poindexter, Eric Coley, Marcus Hill, Antonio Reed, Dante Swanson and Jason Parker?
They all played high school basketball in Oklahoma. They all signed with TU while still in high school, and in 1980-2003 they were members of Golden Hurricane teams that ranged from pretty good to very good to very, very good.
More recently, most TU rosters lacked impact players from Oklahoma.
Several recent TU rosters lacked any names from Oklahoma.
That list also would include OKC Heritage Hall's Trey Alexander (headed to Auburn), Edmond Memorial's Sean Pedulla (headed to Virginia Tech) and Kingfisher's Bijan Cortes (headed to OU).
When Pritchard signs with TU on April 14, he becomes the first Tulsa-area prospect to have signed with the Hurricane since Jenks' Bryson Pope in 2008.
Pritchard would become the first Oklahoma high school athlete to sign with TU since November 2011 (when then-Hurricane coach Doug Wojcik signed Edmond Memorial's James Woodard and Lawton Eisenhower's D'Andre Wright).
DaQuan Jeffries was a TU difference-maker in 2017-19, but the Edmond native didn't initially sign with TU. He transferred from Oral Roberts.
After having whiffed on or ignored Oklahoma recruits for so long, TU suddenly is back in the business of pursuing Oklahomans.
Current Oklahoma high school sophomores Trent Pierce (Union), David Castillo (Bartlesville), Jeremiah Johnson (Putnam City North), Parker Friedrichsen (Bixby) and Brandon Garrison (Del City) report on Twitter that they received offers from TU.
Rod Thompson starred at Beggs High School and played one season of junior-college basketball — at Northeastern Oklahoma A&M — before signing with TU in 1995. For several years, he coached Pritchard's Playing With Purpose AAU squad.
Thompson has an extensive knowledge of the Hurricane program and Pritchard's skill set.
"The impact is huge," Thompson said. "You've got to give Frank Haith and the Tulsa staff credit for recognizing (an opportunity). When you get a really good local kid, it builds momentum.
"When I look at the great Tulsa teams, for the majority of them, the better players were from Oklahoma and some were from northeastern Oklahoma."
The past couple of weeks have been wildly eventful around here.
For Oral Roberts, there was a magic carpet ride to the Sweet Sixteen.
There were NCAA Tournament victories for OU and OSU. Lon Kruger retired. Sherri Coale retired.
For Haith, ORU's Paul Mills and OSU's Mike Boynton, there were new contracts. All-American Cade Cunningham announced his jump to the NBA.
OU hired Loyola-Chicago's Porter Moser.
It's been a challenge to stay current on all that has transpired, but it's important that the Pritchard story doesn't get lost.
On March 25, there was the announcement that he had secured a release from the letter of intent he signed with Tennessee Tech in November.
Four days later, after a call from Haith, Pritchard announced his commitment to sign with the University of Tulsa on April 14.
The explanation from Pritchard, who averaged 22.9 points, 6.9 rebounds and 4.6 assists for a Webster team that surged to the Class 4A semifinals: "I really felt like (TU) was the best spot for me. I know going to Tennessee was going to be (difficult) — being out there by myself.
"I feel like I have a lot of support from the community and TU staff and everyone in Tulsa."
Webster coach Scott Bowman: "A lot of people have helped Anthony because he's basically been on his own."
Thompson: "A lot of people in Tulsa love this kid, and the TU fans will love this kid."
At the time that Pritchard was granted his release, Thompson says, there was no guarantee that TU or any other Division I school would respond with an offer.
"Anthony just knew he wanted to be closer to home," Thompson explained. "He was like, 'Let's see what happens.' He was ready for anything. He was ready for Rogers State. He just wanted to be close to home."
It's baffling that such a talented Tulsa athlete didn't get a scholarship offer from TU or from Oral Roberts long before Tennessee Tech even got involved.
"Offensively, (opposing defenders) can't stay in front of him. Defensively, he can win a game for you," Thompson said. "He went from being a really good player to a special player."
How did a "special player" slip through the cracks and have so few options during the November signing period? Because his development from good to "special" coincided with the pandemic.
If the summer of 2020 had been typical — with Pritchard and his AAU teammates competing in showcase events all over the country — he would have been seen by scores of major-college coaches.
As a 6-foot-3, 180-pound playmaker, Pritchard would have gotten no fewer than a dozen Division I offers.
After Tubby Smith became the TU coach in 1991, he rolled the dice on Williamson — an undersized recruit from Beggs. With the Hurricane, Williamson was the point guard for two Sweet Sixteen teams. In 1993, Smith signed the heavily recruited Seals from McLain.
Getting Seals led to a decade-long flurry of TU signings of significant Oklahoma players. The recruiting of Seals made it cool for other Oklahoma players to consider signing with TU.
Perhaps Pritchard also can be a trend-setter in that regard. His signing could be remembered as having been a game-changer for Haith and the Hurricane.