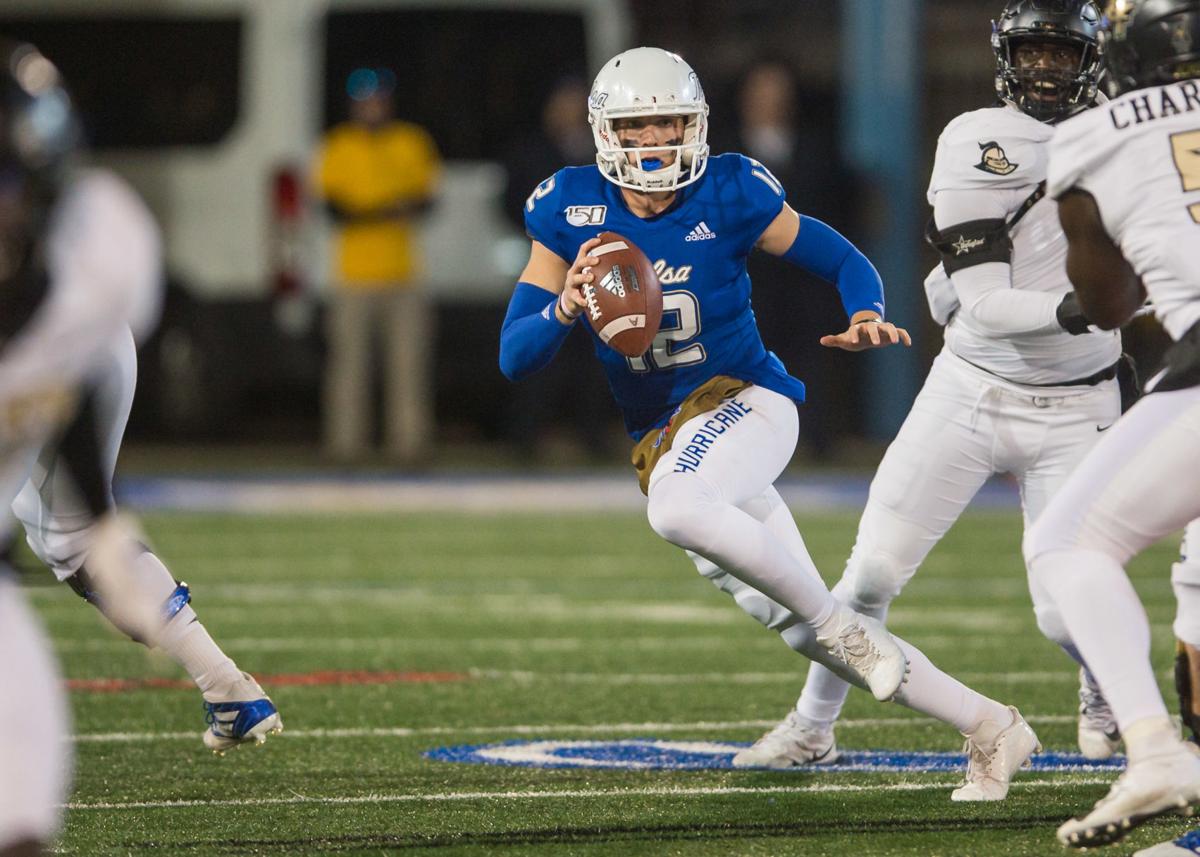 For 150 years, energy has been a defining characteristic of college football.
Sept. 21 was an energetic Saturday. Before the Wyoming-University of Tulsa game, the Chapman Commons area teemed with TU alumni and fans of both teams. A surprisingly nice number of Wyoming fans made the trip.
As Cooper Edmiston made an epic defensive play with less than a minute remaining, the Golden Hurricane celebrated a 24-21 conquest over a Cowboys team that today is 6-2 overall and 3-1 in the Mountain West Conference.
The Hurricane had emerged from a challenging nonconference schedule with a 2-2 record. There was the justifiable expectation that Tulsa would find a way to win four more times and secure a bowl trip.
Instead, there was a series of gut-wrenching losses, resulting from several examples of you've-got-to-be-kidding-me circumstances.
The Hurricane should have beaten SMU, but didn't.
The Hurricane could have beaten Cincinnati, but didn't.
The Hurricane should have beaten Memphis, but didn't.
Seven weeks after the happy Wyoming weekend, Tulsa hadn't again experienced the euphoria of victory. Its bowl hopes having crumbled with last week's loss at Tulane, the 2-7 Hurricane was a 16-point underdog against a 7-2 opponent — the Josh Heupel-coached UCF Knights.
From the H.A. Chapman press box on Friday night, I noticed that the Reynolds Center roof needs a good cleaning — and that no more than 7,000 spectators witnessed the UCF-Tulsa opening kickoff.
Within the stadium, the energy level at 6 p.m. felt like zero.
In this ESPN2-televised American Athletic Conference game, UCF twice led by 11 points and seemed destined to stack a few big plays and additional touchdowns. When Hurricane quarterback Zach Smith sustained a left-knee injury and would not be available for the second half, luckless TU seemed destined for a 10-game record of 2-8.
It all seemed bleak until Seth Boomer entered the game and carried Tulsa to an entertaining, improbable 34-31 upset of the Knights.
During his eight-game run as the TU starting quarterback last season, the former Collinsville star struggled at first, then settled into his role and was pretty good by the end.
It wasn't until the week of TU's season-opening trip to Michigan State that Montgomery decided on Smith as the starter. While Boomer handled the situation with class, he had to have been crushed by Montgomery's choice of Smith.
Instead of quitting or executing a dive into the transfer portal, however, Boomer dutifully showed up for every practice and remained ready if needed.
The Smith injury is not believed to be serious. He'll probably get the start when TU hosts Houston on Nov. 23, but on Friday night Boomer was needed and responded in the best possible manner.
When it became apparent that there would be no pronounced drop-off with Boomer on the field, everything changed. The energy that was here on Sept. 21 but seemed non-existent at the start of Friday's game — it was restored because Boomer completed important passes while not committing any turnovers.
With 10 minutes left to play, Boomer was asked to make a play on fourth-and-9 from the UCF 36. He made a big-time play in the middle of the field, finding Sam Crawford Jr. for a gain of 19 yards. On the next play, there again was a Boomer-Crawford connection — this time for 17 and the tying touchdown.
Boomer wasn't the only Tulsa hero. Hurricane cornerback Reggie Robinson II played very well with five tackles and three pass break-ups, but what he did with seven minutes remaining will be remembered as one of the more positive plays of the Tulsa season.
It was then that UCF's Dillon Gabriel was intercepted by Robinson, who popped a 24-yard return that set up Jacob Rainey for a 23-yard, game-winning field goal.
Earlier in the game, frustrated TU radio play-by-play voice Bruce Howard exclaimed, "My goodness! Can this TU team ever get a break?"
With 1:04 left to play, TU got a break. On a fourth-down run play from midfield, the Hurricane was stuffed short. Twenty-five yards downfield, however, a yellow flag had been dropped by the back judge.
UCF was penalized for having 12 men on the field. What an incredible mistake by a Knights team that entered with a 19-3 record since Heupel became the head coach. That penalty put the cap on a significant upset, and TU now is 5-0 all-time in home games against UCF.
If Boomer's decision-making and execution had been shaky, the result might have been turnovers and short-field chances to put this one away. His numbers were modest — 6-of-10 passing for 87 yards — but he was cool in relief of an injured starter and at his best when it mattered most.
Boomer's clutch response provided the energy necessary for Tulsa to end a miserable, five-game losing streak.
Bill Haisten
918-581-8397
Twitter: @billhaisten