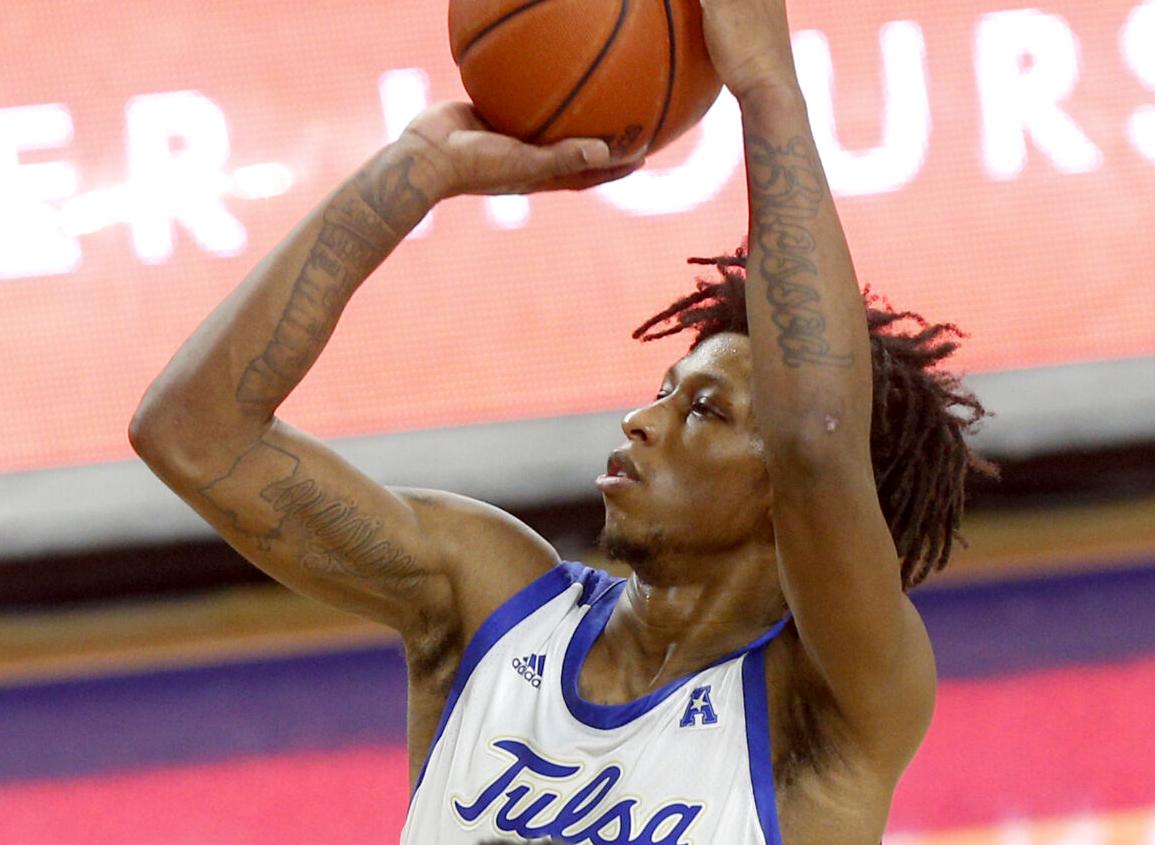 If the University of Tulsa basketball program can end a maddening streak of futility in Wichita State's gym, this Golden Hurricane team would be on track to score a significant distinction.
With a victory at Wichita State, which would follow really impressive road wins over South Florida and Cincinnati (along with the Dec. 29 conquest of then-fifth-ranked Houston), I believe this Tulsa team could develop into the best Tulsa team since 2003 — when the roster still was powered by players recruited by Bill Self.
Dec. 8, 2001: the date on which the Golden Hurricane beat the Shockers in Wichita, Kansas.
In that 82-76 win, then-TU star Greg Harrington was 6-of-6 on final-minute free throws and totaled 21 points. Dante Swanson, a Hurricane junior that season, added 11 points.
Since that night in 2001, Tulsa is winless in eight trips to Wichita.
Today, Harrington's age is 41. Swanson turns 40 this month. It's been that long since TU defeated the Shockers in Wichita.
With a 21-win finish and a share of the American Athletic Conference title, the Hurricane's 2019-20 season was a positive step. However, in the final game before the coronavirus shutdown of college basketball, there was an awful performance at Wichita. The Hurricane shot 34% overall and lost by 22 points.
This season's league schedule began with a 69-65 Tulsa home loss to Wichita State. The Hurricane is good in several key aspects of basketball, but 3-point shooting isn't a strength. It's a glaring weakness — a 29%-for-the-season weakness — and on Dec. 15 Tulsa was 8-of-31 on threes while missing 10 free throws.
Since that gut-punch of an experience, Frank Haith's seventh TU team rallied for a seven-point win at Memphis, the 65-64 triumph over Houston, a four-point win at Cincinnati and a 10-point, stress-free conquest of South Florida.
Brandon Rachal is a 6-foot-6 college guy with a pro-style game. With one second left in the Houston game, he converted on two free throws. Tulsa celebrated only the third win over a top-five-ranked opponent in program history.
While Rachal is the AAC's No. 3 scorer with a 16.2-point average and clearly defined as Tulsa's best player, he has a supporting cast of teammates who rise to the occasion.
At Memphis, Tulsa's starters were terrible. There's no other way to describe it. They were 5-of-26 on shots from the field and combined for just 20 points, but the response from Haith's bench was heroic.
Austin Richie, Rey Idowa and Darien Jackson totaled 36 points on 12-of-20 shooting, and from everyone there was superb defense. Memphis shot 32% and the Hurricane escaped with a 56-49 victory.
Tulsa senior Elijah Joyner was the MVP of the South Florida game. With 13 points and team-high totals in rebounds (seven) and assists (six), he played like a veteran of 102 college games.
The most remarkable aspect of the two most recent road wins: Tulsa never trailed at Cincinnati (where the Hurricane hadn't win since 1967) and never trailed at South Florida (against a Bulls team that had beaten Cincinnati and UCF).
My favorite of the Haith-coached teams was his 2016 NCAA Tournament team, but that was based more on having been really fond of Shaquille Harrison and James Woodard as players and people. Otherwise, that team lacked consistency from big men.
Last season's Hurricane commands respect because it did tie for a conference championship. With several of the same players on the current roster, this Hurricane feels like it has more winning substance.
I'm not sure which of the Haith teams was the most talented, but this one feels like it has the wherewithal to get to the NCAA Tournament and maybe even get a victory.
This statistic continues to define the last three decades of Hurricane basketball: In 1993-2003, there were eight NCAA Tournament appearances, 11 victories, two Sweet Sixteens and an Elite Eight. In 2004-19, there were two appearance and two losses. And four head coaches.
This statistic underscores how quickly a program can fall from a great level to irrelevance: For many years, the RPI was the most commonly referenced of college basketball rankings. In 2000, TU's Elite Eight squad was 20th in the final RPI. In 2003, after TU closed the season with an NCAA Tournament win over Dayton and one-point loss to Wisconsin, the Hurricane was 46th in the final RPI. Still pretty good.
Over the next three seasons, the program crumbled and attendance plummeted. Tulsa's final RPI rankings were 194th in 2004, 246th in 2005 and 206th in 2006.
It's been an annual struggle for TU to rekindle the magic of 1993-2003, but Haith resumes that quest on Wednesday, when he takes to Wichita a team of smart, cool players whose poise can make the ultimate difference in a close game.
The combination of that poise and unrelenting defense helps TU offset some of its problems with shooting.
At 7-3 overall and 4-1 in the ACC, TU trails Houston by a half-game in the league standings. I should mention that winning in Wichita wouldn't be easy. The Shockers are now without longtime and super successful coach Gregg Marshall, who two months ago was pressured to resign, but Wichita State has prevailed in six of its last seven games.
Actually, the Shocker team of today could be better than the Shocker team that smoked TU 79-57 in March.
Tulsa used to dominate this series. In 1991-2002, the Hurricane was 16-1 against the Shockers. Since the departure of most of the Self-recruited players, Tulsa is 2-14 against the Shockers.
For any team with any shot at a title, any league game is critical. With a positive result in Wichita on Wednesday, the satisfaction for Tulsa coaches, players and fans would run deeper. None of the current TU coaches or players has experienced a road victory over their most prominent conference rival.
If this current Haith team is what I think it is, it will manage the Wednesday game in a mature manner, driving through pockets of bumpy air. A win at Charles Koch Arena would give Harrington, Swanson and TU fans a reason to feel good in the moment and even better about the rest of the season.
For the 2020-21 Hurricane, winning at Wichita would be a memorable chapter in the process of becoming the program's most legitimate postseason-caliber team in 18 years.