"This is what God put her on earth to do — empower young females and to show God's love in everything she does. You've seen it for 30 years now, making them into great moms and great people in society." | DJ Gasso on his mom
---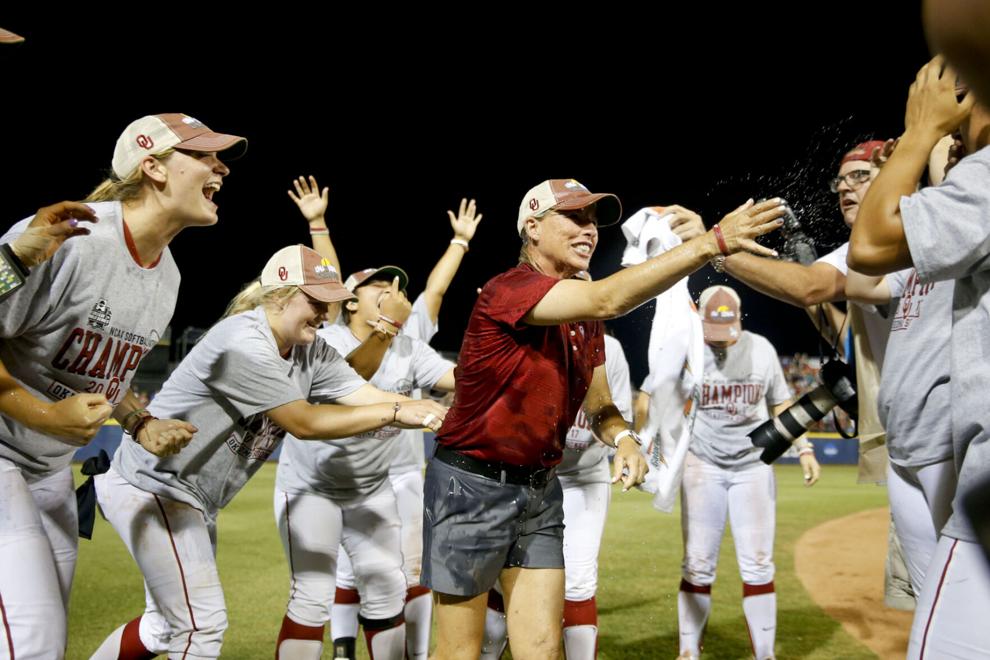 Patty Gasso hates to lose.
It doesn't matter if it is a national championship game against Texas or a fierce game of Uno versus her sons. Two newcomers to the Oklahoma softball program played Pickleball against Gasso during a recruiting trip. The coach defeated both.
It's the competitive trait she inherited from her mother, Janet Froehlich, who is bravely battling a cruel disease.
It's a passion she shares with her husband, Jim Gasso, who has loyally been by her side for 36 years.
It's what she's passed down to her sons, JT and DJ, who are young stars in the college softball coaching profession.
"Why would you waste your time writing about me?" Patty joked before a lengthy conversation with the Tulsa World.
It is because you are likely the best coach in OU history, regardless of sport. It's because you've won six national championships and your team is the heavy favorite to win a third consecutive title this season. It's because you are the first coach to earn a $1 million salary in college softball history.
It is because you've helped develop hundreds of young girls into women who have become community leaders, coaches and mothers.
And it is to answer this question: Who is Patty Gasso?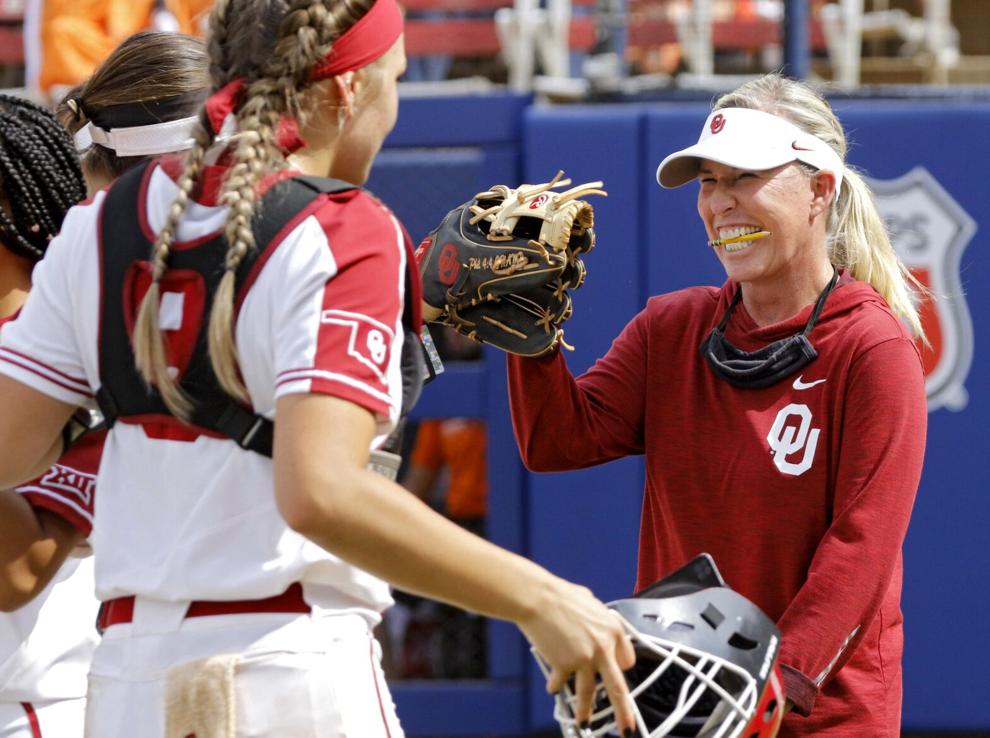 Californian and Oklahoman
If Patty Gasso falls asleep in the family living room, what's showing on the television?
The answer was a bit surprising.
"Sports or a reality show," said Jim Gasso, who is affectionately known as "Poppy" to OU players.
"The Real Housewives of Orange County. We know that area very well. Laguna Beach, Orange County, we know all that stuff."
Patty has been OU's softball coach since 1995. She's a Californian who has been adopted by her new home state. Last November, the 60-year-old was inducted into the Oklahoma Hall of Fame.
"This moment is surreal. To think a woman, a softball coach from California, would be inducted into the Oklahoma Hall of Fame, is just overwhelming. I'm truly humbled," Patty said during her induction speech.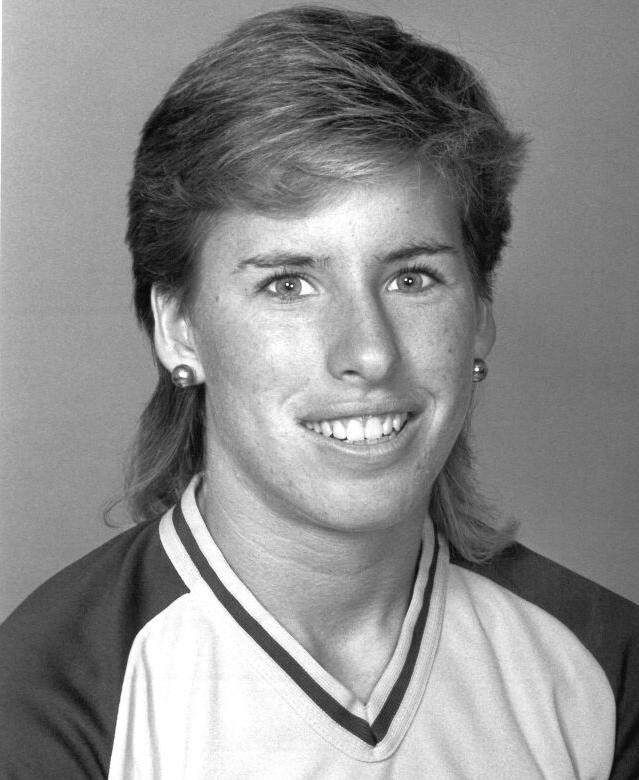 A talented shortstop at El Camino Junior College and Long Beach State University, she learned softball from her mother. She grew up next to Normandale Park, where playing to sundown was normal.
"My mom started coaching my softball team, which was filled with 10-year-olds. I was 7 so she lied about my age so I could get on the team," Patty said.
Southern California is where she learned the sport of softball, both as a player and a coach. It's where she takes her current OU teams for games in February and March.
It's where a drive around the Los Angeles area can spark instant memories.
It's where the loves of her life — softball and Jim Gasso — merged.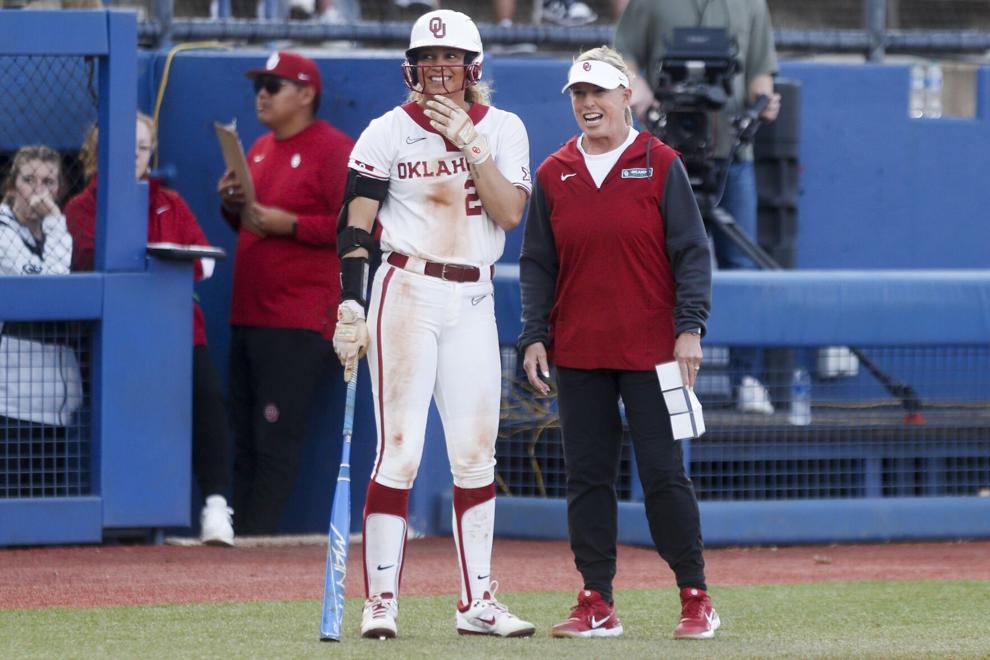 Her life's anchor
Fate worked extra innings to match Jim and Patty together.
Jim's older brother, Alfred, lived just a few blocks from where Patty grew up. He unknowingly walked by his future wife's home countless times when visiting his family.
Jim attended Banning High School in Wilmington. Patty graduated from Bishop Montgomery in nearby Torrance, which is just eight miles away.
Jim met Patty during his last semester after completing his football career at Long Beach State. She was in her first year at the southern California school.
The back of the Long Beach State campus is dedicated to athletics and recreation majors. There's a putting green where Jim saw Patty and his brother Alex talking to each other.
The next day, she walked into their shared class—a lecture course on motor development.
"That's the same girl!" he thought to himself.
Patty already knew a little about her future husband.
"So there was this guy in my class that sat in the back and he was the high school prankster who was in college," Patty said. "He would tell the professor 'you look great today.' He wanted to be the attention getter.
"I would be so aggravated by this guy but I would never turn around. I didn't know who was saying it. He was always in the back. But when I was with his brother and he walked by and I heard his voice, I thought 'That's the guy in class. No way.'
"That was my first impression."
Patty unknowingly attended a high school football game with her future husband playing for the other school: Banning vs. Bishop Montgomery.
It proves California can be big and small, at the same time.
Patty on the matchup: "Banning was known as kind of that rough side of town, the inner city … they were elite in football. At Bishop Montgomery, we were just a small school. I never in a million years would tell you I would be finding my husband from Banning High School."
Jim laughed when talking about the games: "The game would always be over by halftime. I would also say they knew our fight song better then we did. It was always a lopsided score."
When Patty was in her senior year, Jim had a chance to start his coaching career at New Mexico. He chose to remain close to his girlfriend.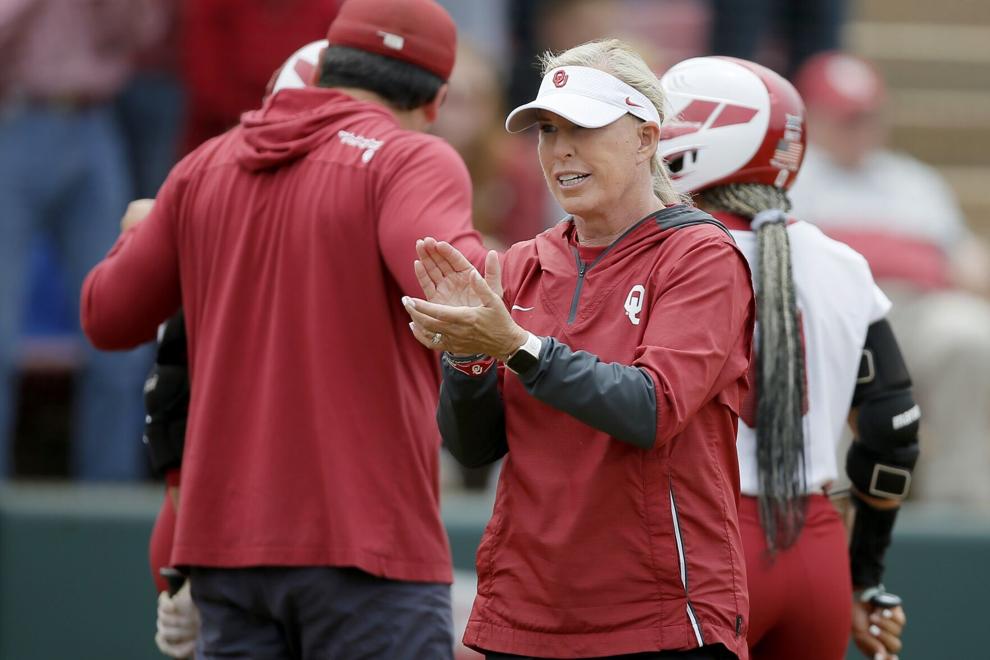 "That was a hard thing for him," Patty said. "He didn't do it because of our relationship. And that's something I think about: What would have happened if I would have gone? This would have turned out differently. It would have been more his career than mine. So he really sacrificed."
Their wedding was at the Redondo Beach Methodist Church with the Pacific Ocean as a backdrop. It was June 21, 1986, "the longest day of the year," as pointed by Jim as it coincides with the summer solstice.
Coaching remained in Jim's system. He would coach at Utah State, UNLV, Long Beach State, Pasadena City College and Fullerton Community College. The couple would take scouting trips together with baby son JT in tow. A few years later, DJ was born.
Patty became Long Beach City's softball coach before taking the Oklahoma job in 1995. Life changed when OU won the 2000 national championship. Patty had a home for life in Norman. Her husband became a community leader with an emphasis of working with kids.
He's recently been named the assistant general manager for the Oklahoma City Spark, a new pro softball franchise.
"I'm 100 million percent indebted to him for sacrificing his career for me. But he's such a good teacher. I'm just so happy that he's still working with young people. He's great," Patty said.
Mom
"She's not the mom that I know."
The OU coach's words draw silence. Patty's voice is cracking and tears are flowing while talking about her hero and role model.
Janet Froehlich has Alzheimer's Disease. It steals so much from an individual and their family.
There's comfort knowing that Froehlich's 84 years have impacted three generations down to her great grandchildren.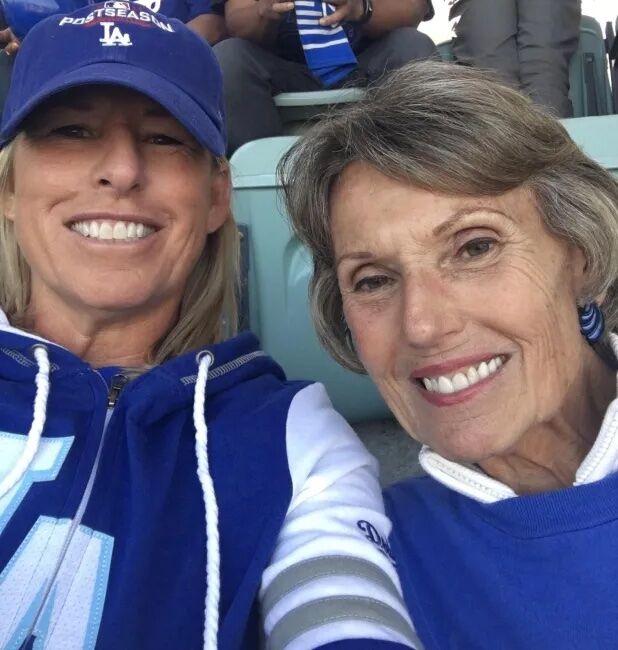 "Anytime I talk to Grammy or FaceTime or anything, she probably won't remember me but I always want to make her laugh," said DJ, who turned emotional when talking about his grandmother.
A conversation with Patty about her mother only lasts a few minutes. But each second hurts while learning about her everyday pain that also grips so many families across the nation.
Alzheimer's Disease is simply cruel.
"It's hard because she doesn't communicate," Patty said. "But she does know softball. She wants to watch it all the time. We turn it into something because it's such a horrible disease, but you have to make light of it with her. That's the only you can survive …
"This hurts so much because she doesn't know who I am. I don't want to feel that. That's not the way to go about it."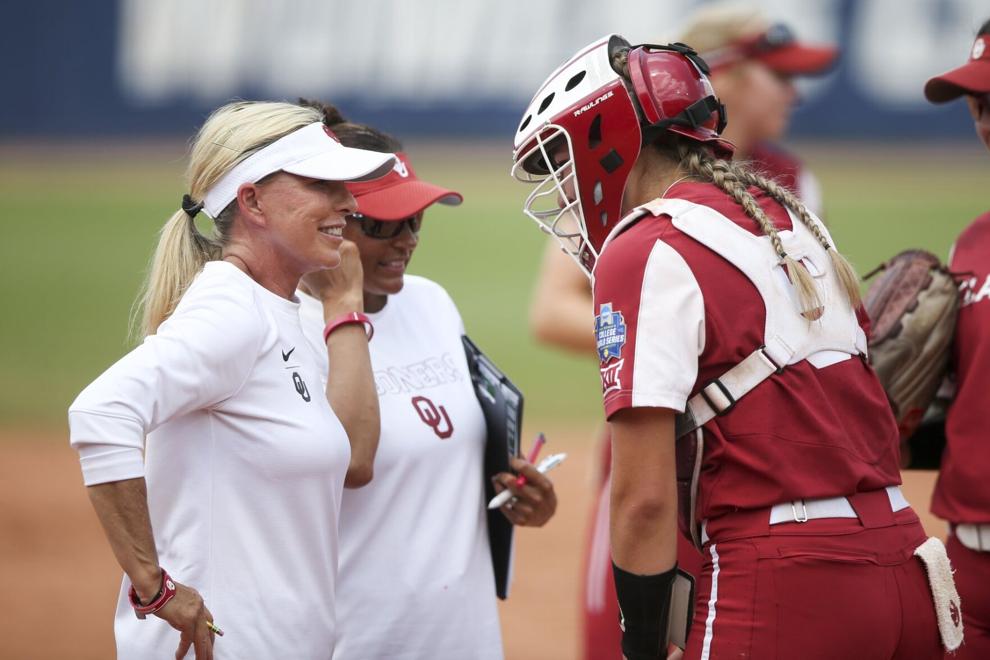 Making light of it is through a sport that's linked them together since that young 7-year-old girl played against older kids at the local park.
Froehlich's caregivers often play OU softball games on television. It's an opportunity for mom to see her daughter at work.
About six or seven years ago, when things were a little better, Patty called her mom. She was watching a repeat broadcast of an OU game and wondered how her daughter was on the phone at the same time.
"How are you able to talk to me right now? You are standing in the third-base coaching box," Patty was told by her mom. "I played it off and said I came in the dugout to call during the game.
"You have to play the game and you have to make it light."
Froehlich was a "closet athlete," Patty said. Growing up in the 1940s and 1950s, it wasn't cool for women to play sports. It was more about being social and cheerleading.
This mother-daughter duo listened to Vin Scully call Los Angeles Dodgers games and they also cheered for the L.A. Lakers.
Froehlich's work ethic rubbed off on her daughter. A single mom, she started as a secretary doing shorthand. Years later, she worked her way up to managing central services at a hospital, where she was in charge of ordering supplies.
When Patty got a job at Burger King, the family work ethic was passed down.
"I didn't have a way to get around. I would walk to work since it wasn't far from my house. And I learned that it was hard work. You have to move fast and you have to work hard," Patty said. "My mom was kind of in the same situation where she had to work hard, long hours. She didn't make a lot of money but she did it for all for us."
Even at 84, Patty's mom continues to exercise. It's a lifelong trait. Jim met his future mother-in-law after her aerobics class, which were popular in the 1980s.
When you watch Patty hitting softballs to her team during warmups, it's easy to see where her athleticism comes from.
"She walks every day," Patty said of her mom. "I think that's slowed down the progress (of advanced Alzheimer's Disease) and has kept her healthy."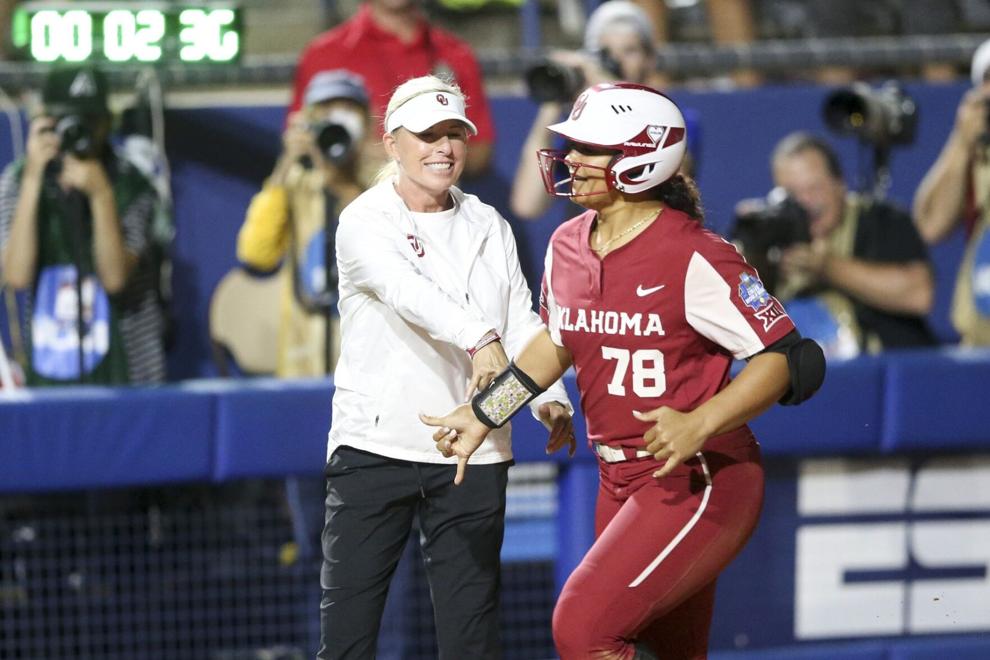 Trendsetter
Patty Gasso is the first college softball coach to earn a $1 million salary.
Talking about money isn't a popular subject of discussion with many coaches. That's understandable.
But when you make more than any coach in the sport's history, it's a topic of conversation.
Patty is a trendsetter. OU chose to reward her success with an unprecedented salary. That has a trickle-down effect to other coaches around the country.
Trendsetter isn't a word that the coach enjoys. She would rather it be about equality and fighting for what's right, which is something that she often preaches to her team.
Patty was told a few years ago that she was the voice of change. She didn't want it. She didn't think she was made for that.
"But there were other coaches ahead of me that had to fight for what I have now, so I had to carry that torch and carry on with that battle," Patty said. "I hope that I find someone who wants that torch and continue on with that battle versus me forcing it on anyone. There are other coaches in the game that are continuing to fight forward."
She gave this example — if you took a successful softball coach's resume and a baseball coach's resume who makes triple the amount in salary and don't put names on them, who deserves the higher salary?
"It's not about so much the salary I make. It's more about what's right and what's right for the future of the sport," Patty said. "Look at where it's going. We had 9,000 people at the Texas-OU game. It's going to another dimension. It's a lot of stress and a lot of pressure."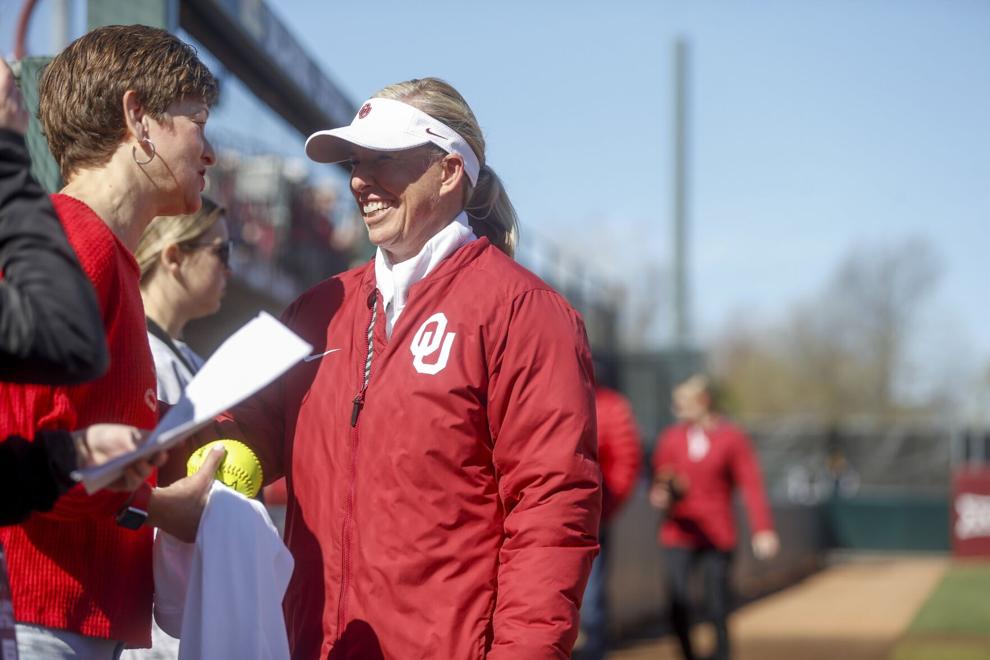 College softball numbers continue to rise on ESPN. At OU, donors are so excited about the program that a new $48 million stadium is being built. It's scheduled to open next season.
"There's a trickle-down effect in our sport, but also female coaches in other sports," Patty said. "Our tennis team is doing fantastic and people are paying attention now. Women's athletics is in the forefront right now and it's time to strike in the way of making sure that we're continuing to put great products on the field because people are interested and watching and investing.
"It's important for me to leave the future better than I had. The fight has been tremendously hard, but the University of Oklahoma has supported me. Someone behind this was (former) President (David) Boren. He believed in my career and did not want me to leave and showed it through changing my salary significantly."
Lights of her life
The door opens and little kids race into Jim and Patty's house yelling one word.
"Oma!!!" is what the grandkids call grandma.
It's so good to be wanted, Patty jokes, when they race into her arms.
They are the lights of her life. "Oma" spoils them and she won't apologize for it.
"She loves spending time with them," Jim said. "It's like a revolving door, making sure she sees them and spends time with them. She wants to spend time with them while they're growing up."
Joseph (6 years old), Grace (4) and Ava (7 months) are JT's children. Parker (6 months) belongs to DJ.
"Some women have told me that when you have grandkids, it's like a different kind of love, like you almost love them more than your own," Patty said. "I couldn't understand and believe it until it happened. It's just full circle. I'm looking at these little kids that look just like (DJ and JT)."
Those sons are making names for themselves in the college softball world.
JT, which stands for Jameson Thomas, has been on the Sooners' staff since the 2016 season. DJ (Daniel James), is in his third year on the Utah staff. Both are hitting coaches.
They grew up around the sport. All of the former OU players were like big sisters. Those relationships were bridged by their mother.
JT started relaying names of former Sooners who were family figures: Missy Panzer-Lombardi, Jennifer Jaime-Rocha (OU's current pitching coach), Christine Benyak, Brenda Rogers, Kim Young, Ashli Barrett, Christy Ring.
"That 2000 team beat me up, but I needed it. I still see them. I tell them, 'I swear I've changed.' They were a big part of my life growing up," J.T. said.
Competition drives this family, as evident by the first meeting between DJ's parents and his future wife Grace.
"We're a competitive family, right? There's always some type of competition whether it's playing Uno or being active. We played HORSE (on the basketball court). That's kind of my parents testing Grace," DJ Gasso said. "I'm going to get in your face, I'm going to talk smack when you're shooting. Grace played basketball at Fort Gibson with a couple of state titles. She's a little baller. She's holding her own pretty good. That's just part of our family."
"They'll take you out to the basketball court, we'll play HORSE, we'll talk smack to see what you've got and who you are. That's how we have fun, laugh and make memories."
More early success at OU meant more time dedicated to work. More championships meant more travel. The time away from her sons made Patty wonder if she wanted to continue coaching.
"They didn't want me to stop even when I said I'm not being a good mom to you," Patty said. "And to see this full circle moment where they're both involved … I never would believe they would both go into this. I'm so proud. Because both are so good, so very, very good. They're doing it right."
They don't get to spend much time together. Job duties force that. But when they do get together — Christmas was the last time — it's a reunion that's cherished.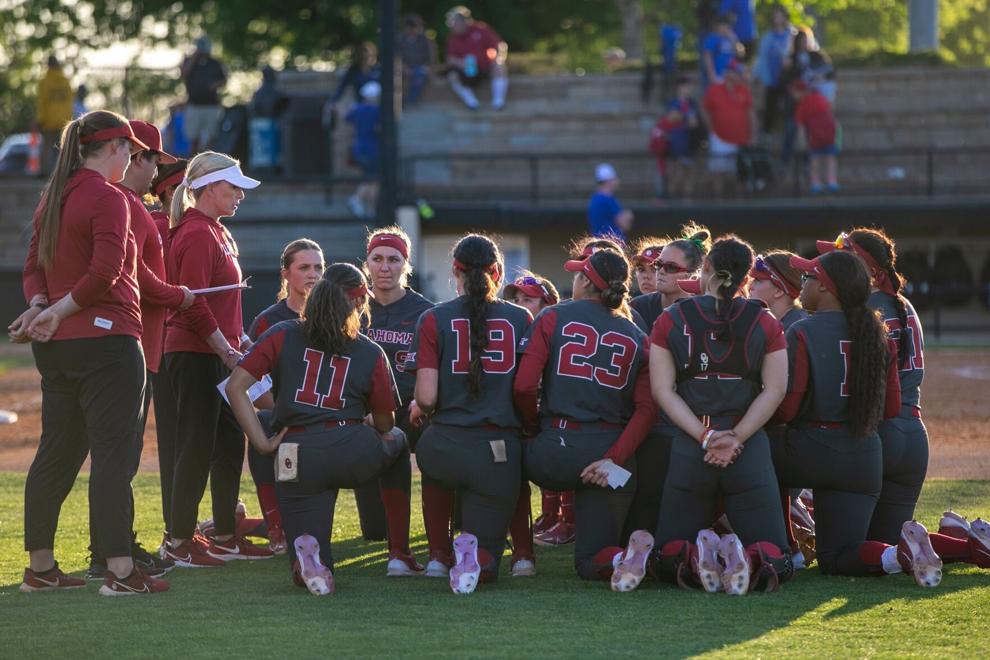 How long will she coach?
Patty's journey has lasted nearly three decades at OU. But will it end soon? How long will she coach?
"I do love it still. I love the competition. I love to practice. I love to push players in practice," Patty said.
Then she pauses for a few seconds.
"It's just so different. It is so different. Just five years later, it's so different. The stress and the pressure is at a completely different level."
OU hasn't lost more than five games in one season over the past three years. It's an amazing statistic. But yet after this season's first loss — a 4-3 setback at Baylor — followed by nearly three months of victories, some still wonder what happened in Waco?
Teams will lose games. No one goes undefeated. But the OU softball monster has been revving at such a high level, any setback draws attention.
"Let's be realistic. We are human. We are. It's just that you don't want to disappoint Sooners fan. You don't want to disappoint anybody," Patty said. "We live in this place of constant excellence. It's fun, but it's more exhausting than I could ever remember."
Patty points out the accessibility of college softball players. OU's reach is incredible. Many of the road opponents have set stadium records for attendance. But that should come with an asterisk. The majority of many venues are filled with Oklahoma fans.
There's always one more autograph and one more picture request during the OU players' walks to the bus. There's a demand for answers when things aren't perfect. It can be fun and tiresome — mentally and physically — for student-athletes and their coaches, she says.
Nurturing her players from girls into women and then seeing them excel in life are the biggest highlights of her career, she said. They remain a top priority.
"Coach Gasso really laid the foundation to be a powerhouse here. It doesn't happen if Coach Gasso doesn't coach OU. She's a mentor to me. She's a successful businesswoman. She's a mom. She's a coach," former Oklahoma All-American Lauren Chamberlain said. "She gets what she wants. She demands respect. All of those things I admire about her. But she's also one of the only people on campus that was my listening ear and knew what was wrong with me before I knew what was wrong with me. She's so much more than a coach. People see the wins with Coach Gasso. I see the family with Coach Gasso. She's incredible."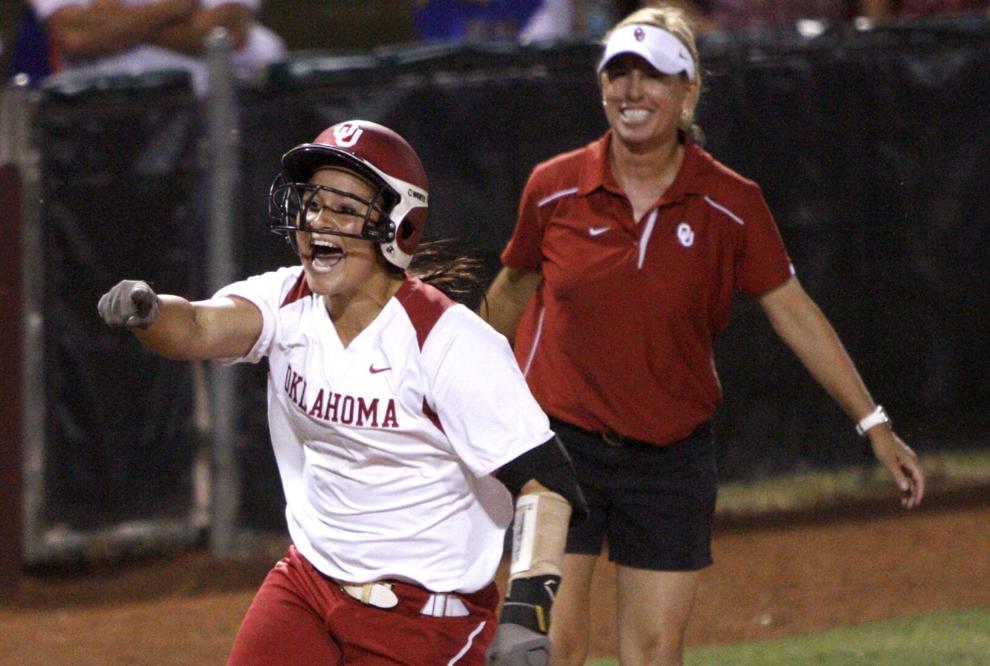 "It's been wonderful. Coming here, (her daughter Tiare Jennings from California) has been kind of shy and quiet. She plays defensively and offensively as she always has, but it's just her personality … coming here, she's come out of her shell a lot more. She's being led by a boss lady," Maria Jennings said. "She's able to learn from that and experience all of that. It's been fun seeing that progression. One thing I'm happy for Tiare, it's to experience this. She can now see the stuff that she needs to take to become a woman and know that it's OK to fight for what you want. She's her coach, her friend, her mentor … Coach Gasso is so inspiring to us as parents as well. I love that."
That's why she pins her concerns on their well-being.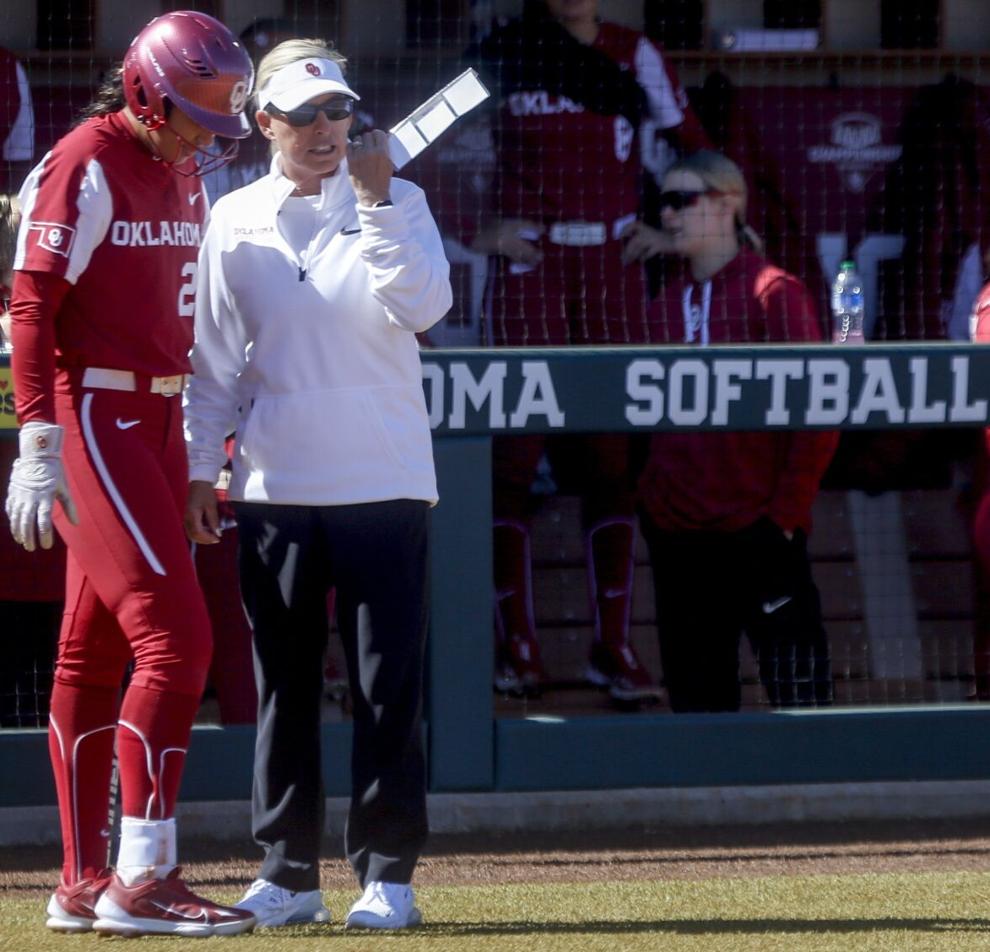 "I couldn't be more proud of these young women that are now business women owning their own businesses. They're in coaching. Many of them are mothers. When they come back as a group, it's just hysterical laughing and listening to them tell their stories," she said.
Those are the good times. And what about in her days to come?
Patty gives no timeline for her future. But she again brings up the current shift.
"That's where maybe the fun has gone away because it used to be such a free, just do-your-thing-and-it's-fun-and-you-walk-away-from-it. These days, you just don't."
Peace and tranquility
When Patty needs a break from the world, she takes a short walk outside and spends time in her yard.
Landscaping is important to her family, so gardening simply comes natural.
"It is a stress reliever," she said, before joking, "there are some times when, depending on what the outcomes have been, that I can dig up a whole garden."
Life can be intense, especially from February to June, the heart of college softball season.
"One thing that is hard these days is to get into my own thoughts by myself and not have outside noise. Sometimes I just don't like to talk a lot. When I can be the most creative and get my mind right is when I just take quiet time. I wish quiet time could come more often but it comes less often. Gardening or walking or just exercising, I look for peace," Patty said.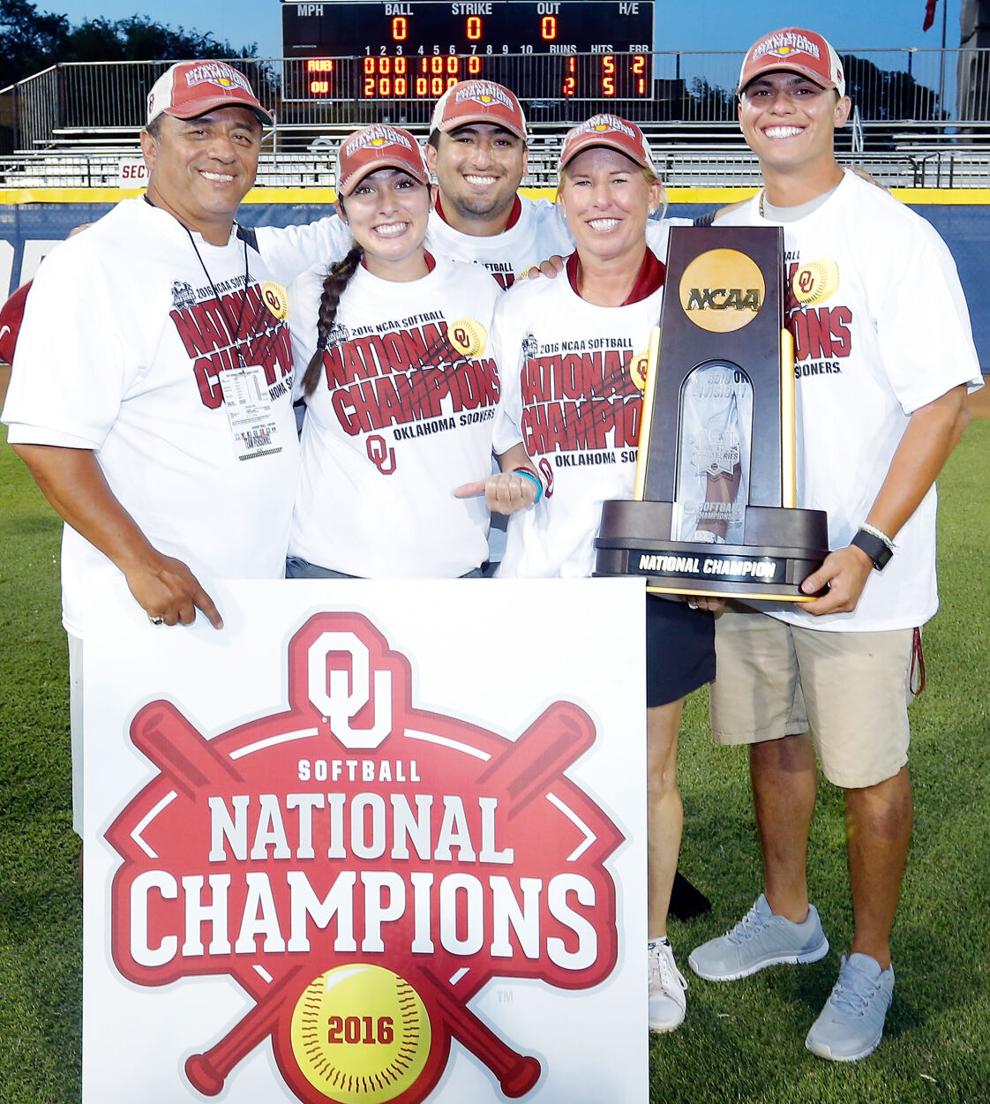 When COVID stopped everything in 2020, "she was on her hands and knees (working on the ground) for two weeks. It was insane," JT said. "She's always had a green thumb."
Jim recalled the first time he saw Patty working in the yard.
"When she was about to have JT, she was outside gardening," he said. "I remember saying, 'What are you doing?' She said, 'I got to do this.' That was her safe space."
The Gassos recently built a house on Lake Texoma. There haven't been many visits so far, which makes it even more relaxing during stays.
Patty's faith — first and foremost — guides her direction. It appeals to her players, some who unashamedly profess their beliefs.
It's been an important part of this journey.
DJ admitted there are times he wished she was at his games or could pick him up at school when he was growing up.
"Looking back on it now, this is what God put her on earth to do — empower young females and to show God's love in everything she does," DJ said. "You've seen it for 30 years now, making them into great moms and great people in society."
Jim says faith drew them to Oklahoma, where Patty started coaching in 1995.
"We had never dreamed about it. We knew nothing about our purpose. At the time, it was a 'blind faith' type of thing. It was a God moment. We didn't understand what we were supposed to do here. But we do now," Jim said.
When that retirement day does come, DJ doesn't think his mom will judge her time by the number of trophies.
"When you look back on her tenure at OU, I think the biggest thing that she takes away is just the lives she's affected," DJ said. "It's how she was able to spread the love of God to others, not necessarily the championships that they've won."