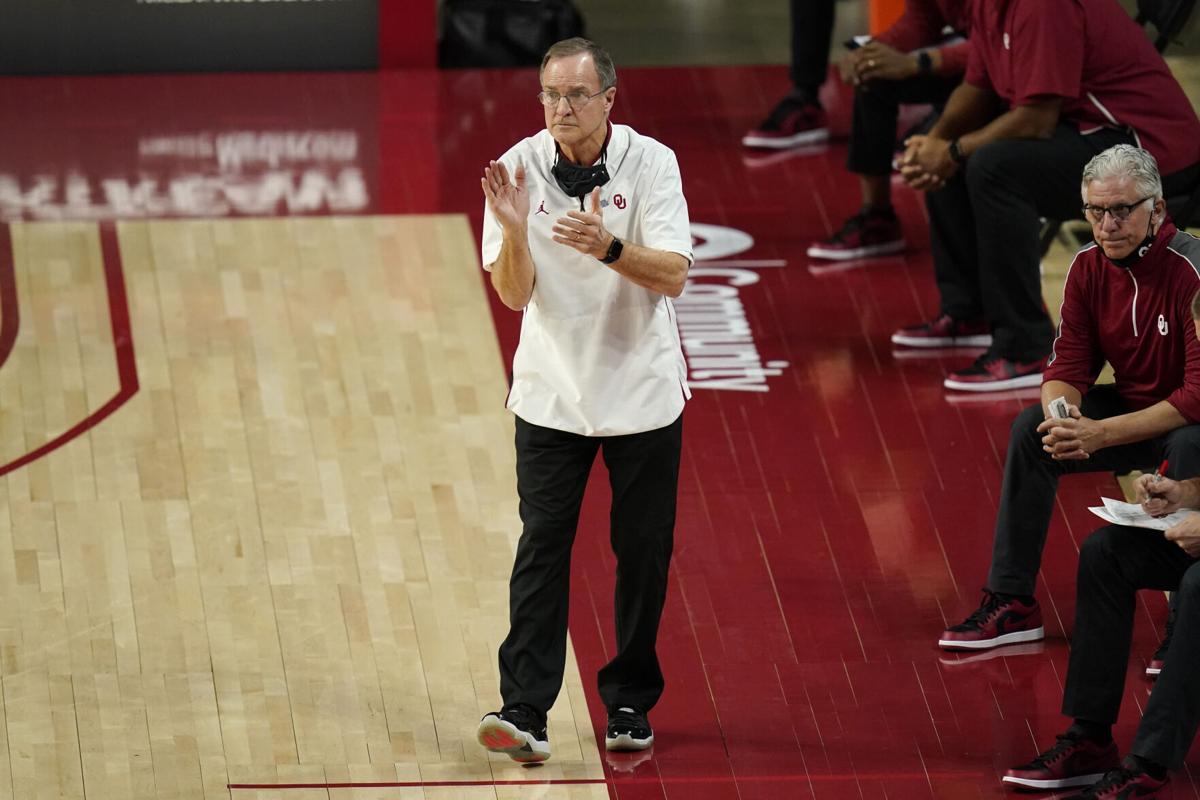 Oklahoma's countdown to March Madness is now shifting from weeks to days.
The Sooners will look to continue momentum heading into Tuesday's 8 p.m. contest at Kansas State. OU has won eight of its past nine games to surge to No. 7 in the latest Associated Press poll, which is the program's highest ranking since the 2017-18 season.
While there are some games remaining before discussion can focus on the postseason, are preparations being made for such an atypical season?
The focus isn't just with on-court preparation, but guarding against any COVID issues that could sideline the team and eat into a roster at the season's most important part.
"We have trust in these guys, for sure, but that doesn't mean we don't keep reminding them," OU coach Lon Kruger said. "We talk all the time — virtually every day — certainly after every ball game that what we've done up to this point doesn't mean we can relax and do things differently. We have to continue to be smart and disciplined and do the things that give us the best chance to avoid a positive test. We'll talk about that each day for the next month regardless of what's happened in the past."
Oklahoma (14-5, 9-4 Big 12) has played extended stretches without key players since early January. But during that same span, which it didn't have Brady Manek and Jalen Hill at one point, or Austin Reaves and Alondes Williams at another, the Sooners maintained their team success to reach the second-place spot in the league standings.
Fighting COVID risks moving forward, De'Vion Harmon said, will be important to maintain a full roster throughout the rest of the season.
"It's vital. It's very important to the season. The middle is getting towards the end with only, what, three conference games left and then the Big 12 tournament and March Madness," Harmon said. "So, it's super important. Everybody going into the little bubble as we say. Obviously, just staying safe, staying around each other and just locking in. We gotta lock in.
"We got a big opportunity coming up. We got big games coming up, so we can't really afford anyone to get knocked out right now, especially with COVID. But we've been doing a great job of that all year. We got to keep doing what we've been doing. I'm not too worried about that."
Kruger said the Sooners will have a full roster for the Kansas State road trip following good results after Monday testing.
"No surprises. Again that's something we talked about in our coaches meeting this morning that you're kind of anxious," Kruger said. "You almost stop worrying about it, but then on other occasions when we kind of stop worrying about it or thinking about it, all of the sudden we get a positive test. That's with every team in the country.
"It kind of becomes normal to test and get results and then all of the sudden when you get a positive test result, it gets your attention quickly. We are full strength for tomorrow."
The Wildcats (6-18, 2-13) are struggling this season but have Oklahoma's attention. K-State may be the last opponent on the Sooners' schedule that has a losing record this season.
"To us, it doesn't matter if we're playing an unranked team or a ranked team. It doesn't matter where they're at. Every game is a big game," Harmon said. "Got to approach every game the same, if not more, and go out there and compete. Have fun and compete. The job is to always win. That's always the personality of this team is to go out there and win ball games. If we win games, that's all that matters."