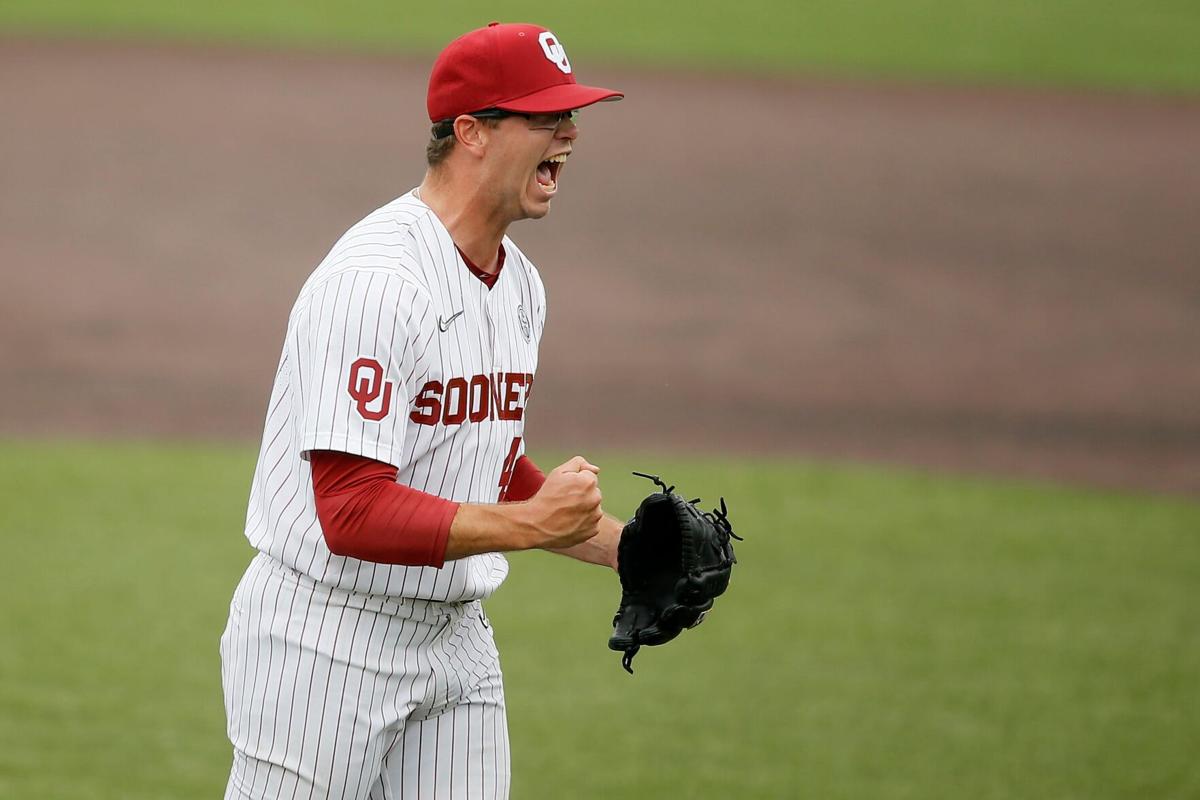 Oklahoma's Jason Ruffcorn typically slams the door on opponents late in baseball games.
On Saturday afternoon, the Sooners' closer entered in the third inning against Oklahoma State and, 111 pitches later, celebrated a 5-3 victory over the Cowboys at L. Dale Mitchell Park in Norman.
The home victory — combined with a 16-2 triumph over OSU in Stillwater on Friday night — clinched the Bedlam series for the Sooners. The schools complete the Big 12 set with a 4 p.m. game Sunday in Norman.
OU captured its first Bedlam series win since the 2016 season.
Ruffcorn's final pitch was clocked at 95 miles per hour as he struck out the side in the ninth inning to finish off the Cowboys. He registered 10 strikeouts in the contest.
When he took the mound in the ninth inning, did it feel like a typical appearance — a slim lead with the game on the line?
"I kept telling myself that I've done this for a while," Ruffcorn said with a smile during a postgame Zoom conference. "All I need is three outs — I can do this."
OU coach Skip Johnson stresses the mental standpoint of the game. He wants his pitchers to concentrate on every delivery to the plate.
Entering the ninth, Johnson said Ruffcorn told him "I want it."
Johnson's response to the redshirt senior? "OK, make sure you take it pitch to pitch."
Ruffcorn (4-1) threw a career-high 6 2/3 innings, easily surpassing his previous high of 3 2/3 innings against Baylor in 2019 and last Sunday against Georgia Southern.
The Sooners (21-20 overall, 6-8 Big 12) captured momentum in the seventh inning when Brett Squires hit an opposite-field, two-run home run to gain a 4-3 lead. Squires, who also hit a homer against OSU on Friday, now has five homers this season.
"Everyone just got lit. It was a whole lot of fun seeing everyone get hyped up for that one moment. Continuing that moment is what I was trying to do," Ruffcorn said.
Conor McKenna padded the lead to 5-3 with a two-out double that scored Brandon Zaragoza in the eighth inning.
The Sooners took a 2-0 lead in the second inning when Peyton Graham drew a bases-loaded walk followed by Jimmy Crooks' RBI single. OU opened the frame with three straight singles against OSU starter Justin Campbell.
OSU (24-14-1, 7-10) scored single runs in the third, fourth and fifth innings, featuring solo home runs by Campbell and Max Hewitt.
Kale Davis (0-2) took the loss for the Cowboys.
Oklahoma 5, Oklahoma State 3