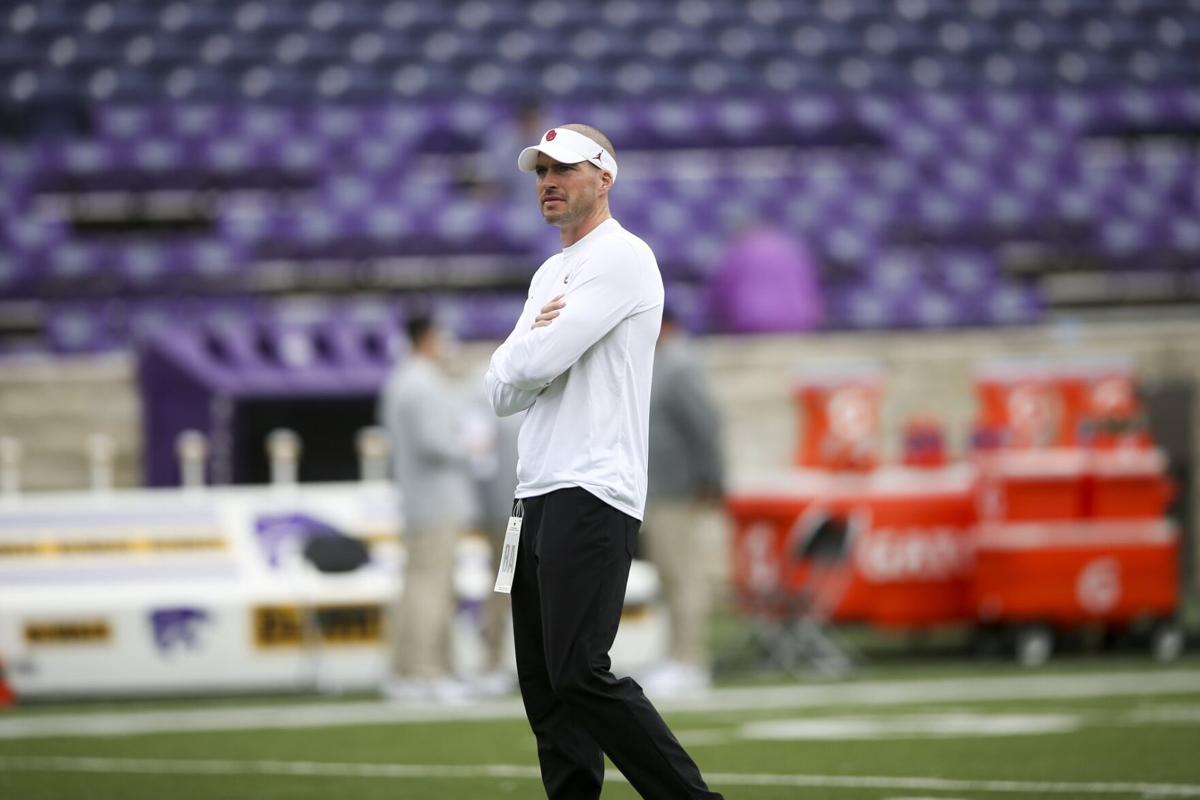 Oklahoma's Lincoln Riley — like some other college football coaches — is facing a different type of in-season distraction.
OU defensive coordinator Alex Grinch reportedly interviewed for the Texas Tech head coach position last Friday. Monday, the Big 12 school hired Baylor associate head coach Joey McGuire.
With coaches being fired during the season, assistant coaches being interviewed in October and November could become the nature of the business.
"Shane (Beamer) last year, Alex (Grinch) this year, we've had other guys at other times that have been interviewed or been in consideration for those jobs. They've always tried to do it with the respect of our team and our program. Whether it's waiting for a bye week or certainly doing it at the time that you feel like it's not going to be detrimental to the team," Riley said during Monday's Big 12 coaches conference call.
Beamer was hired by South Carolina last December and left the OU program to begin his duties as head coach. McGuire will stay with Baylor until the current season's completion.
"The good thing for us is that we've had quality coaches here that not for one second has any of that impacted their preparation or their coaching of their players, their position group, their unit, one bit," Riley said. "I don't really feel any impact, haven't in the previous years we've had guys do it. And I think our guys know that our coaches are all completely invested in this team and what we're doing right now."
Oklahoma will play at Baylor on Saturday. Kickoff is 11 a.m. in Waco, Texas.
Still healing
Riley was asked Monday about the health status of wide receiver Theo Wease and cornerback Woodi Washington.
"I don't know yet. They didn't do anything full with us last week. It's encouraging, but not to the point where we are giving them team reps or anything like that," Riley said. "Hopefully we can continue to push forward and the bye week was good for them. They are making good progress. It's still too early to say and probably a little bit of a reach right now."
Both have undisclosed injuries. Washington played in the season's first two games, while Wease suffered his setback during the preseason.
Impressive debut
Former OU quarterback Chandler Morris was named the Big 12's offensive player of the week after guiding TCU to a 30-28 upset victory over Baylor.
Morris, making his first career start, totaled 531 yards of offense (461 passing, 70 rushing).
Morris, Tanner Mordecai (SMU) and Austin Kendall (Louisiana Tech) are former OU backups who have starts at their respective schools this season.
"That was awesome to see (Morris) play so well. I know he's been waiting on his opportunity and got an opportunity and obviously rose to the occasion and moved around, made some big throws. It was good," Riley said. "I exchanged messages with him and the family that night, it was just really cool to see him do well. We've got a number of guys that have ended up in other spots and we've got a number of guys that are doing well in a number of places with obviously Chandler, AK, Mordecai, so always rooting for those guys."
Senior Day in Norman
The Big 12 announced the start time for the Sooners' home game against Iowa State on Nov. 20.
Kickoff will be 11 a.m. and the home finale will be broadcast on Fox.
Out of Oklahoma's first 11 games this season, six will have started at 11 a.m. including Tulane, Nebraska, Texas, Kansas, Baylor and Iowa State.