DALLAS — The 116th edition of the Red River rivalry will feature a graybeard quarterback against a young gunslinger with the Golden Hat at stake.
Oklahoma redshirt freshman Spencer Rattler will start his fourth college football game when the Sooners take on No. 22 Texas in Saturday's 11 a.m. contest inside the Cotton Bowl.
---
---
By comparison, Texas quarterback Sam Ehlinger will become the first Texas quarterback to start five games against the Sooners, a streak that includes the 2018 Big 12 Championship game.
Rattler has looked dynamic at times this season, but has been placed in difficult situations. In back-to-back losses against Kansas State and Iowa State, the quarterback was asked to bail out the team from fourth-quarter deficits.
It's a difficult task for even veteran quarterbacks. Rattler ended both comeback attempts with interceptions.
Texas coach Tom Herman has had to game plan against two Heisman Trophy winners (Baker Mayfield and Kyler Murray) and a Heisman Trophy runner-up (Jalen Hurts) over the past three seasons. He seems just as impressed with Rattler's ability.
"I think he's got a tremendous future," Herman said. "I think you see why he was rated where he was coming out of high school. He's got a really quick release and unbelievable arm strength. He can throw it off a bunch of different platforms and makes plays with his feet."
Rattler is tied second nationally in touchdown passes (10), ranks sixth in completion percentage (73.4%) and yards per pass attempt (10.4). He's averaging 325.7 yards passing per game.
Rattler is expected to become the sixth Oklahoma freshman quarterback to start an OU-Texas game, joining Sam Bradford (2007, 28-21 win), Rhett Bomar (2005, 45-12 loss), Justin Fuente (1996, 30-27 overtime win), Eric Moore (1995, 24-24 tie) and Tink Collins (1989, 28-24 loss).
Rattler experienced the OU-Texas game last season as a backup quarterback. It's a different world when taking the first offensive snap in such a heated rivalry.
Keeping Rattler calm will be the charge of his older teammates.
"I've talked to him about it. I've told him this isn't just a normal game. No matter what you want to believe, this game is always going to be more intense, more physical," OU captain Creed Humphrey said. "It's going to be a war for four quarters, no matter what. He's prepared for it. He's done a good job of preparing for it. I think he's up to the task for it."
OU coach Lincoln Riley said Rattler's emotional state, psyche and confidence is "rock solid" heading into the Texas game.
"He's a competitor. He knows he belongs in that arena. Of course, he's going to continue to get better as the years go on," Riley said. "One of the great examples (is) looking at the other sideline in this game. I think this will be the fourth different quarterback I've rolled out there with Sam on the other side. A ton of respect for him and the job that he's done in continuing to improve over the years."
Ehlinger has lost three of four games he has started against the Sooners but is expected to once again be a handful for the OU defense.
He is the fifth quarterback to start four straight seasons in the Red River game, joining Bobby Layne (1944-47), Peter Gardere (1989-92), James Brown (1994-97) and Colt McCoy (2006-09).
The senior has adapted strongly to new offensive coordinator Mike Yurcich, who used to guide the Oklahoma State attack. Ehlinger has thrown a nation's-best 14 touchdown passes this season while maintaining his power run game.
"The quarterback run game is one of the harder things to stop as a defense," OU linebacker DaShaun White said. "But I'm confident in our ability this week to stop the quarterback run game. Just because somebody's got to get free. That's what it comes down to. ...
"I'm confident in my guys. I'm confident in myself to be able to make plays. We'll be ready."
Ehlinger already has two rushes over 20-plus yards and is averaging 4.8 yards per carry through three games.
"The last couple of years, he's always given us a great game," OU linebacker Nik Bonitto said. "He's always fought. He's a really tough quarterback. And I think we're just gonna have to do a good job getting to him and making him feel pressure all day and just try to make him make bad decisions up front."
OU's defense made a statement in 2019's game with nine sacks. It may take a similar effort on Saturday to avoid a third consecutive loss.
"We're excited for the opportunity to right our wrongs," White said. "We're still very confident in who we are as a defense and feel like this is the perfect opportunity to flip the script."
---
Throwback Tulsa: A rivalry that began in 1900, here's every OU-Texas score
Oct. 10, 2020: Oklahoma 53, No. 22 Texas 45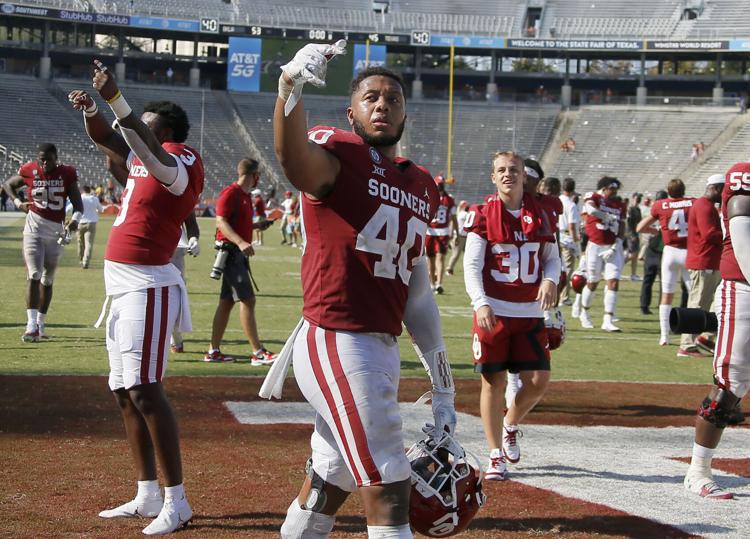 Oct. 12, 2019: No. 6 Oklahoma 34, No. 11 Texas 27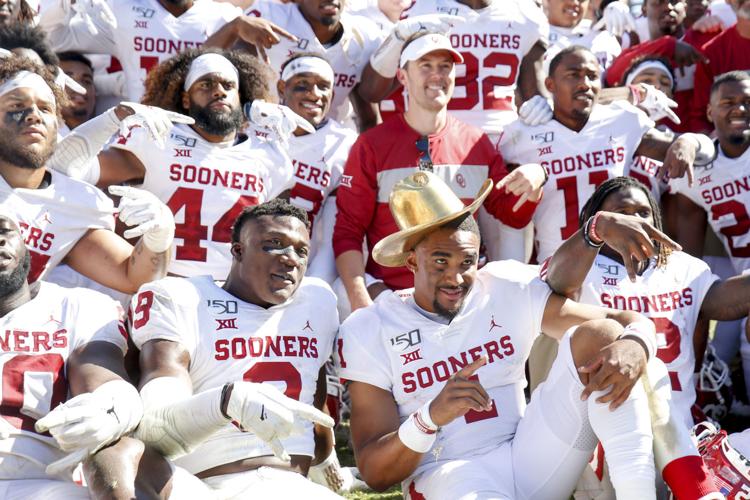 Dec. 1, 2018: No. 5 Oklahoma 39, No. 9 Texas 27 (Big 12 Championship)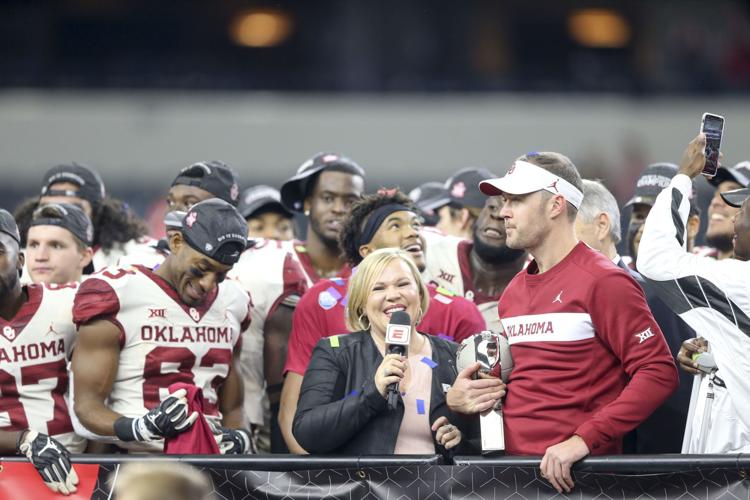 Oct. 6, 2018: No. 19 Texas 48, No. 7 Oklahoma 45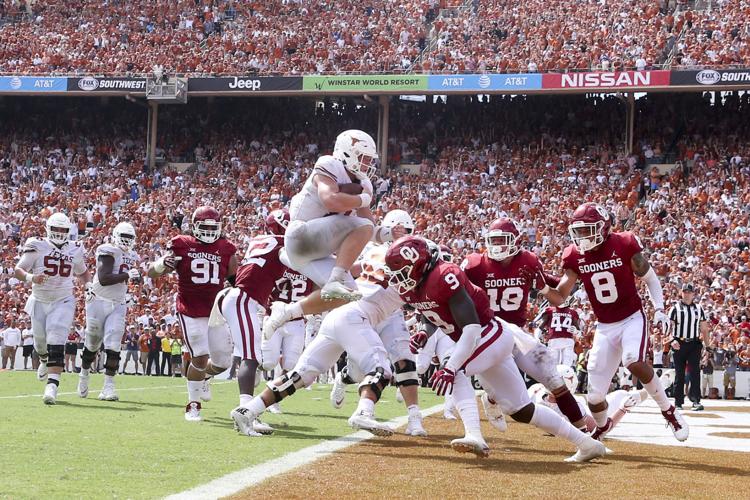 Oct. 14, 2017: No. 12 Oklahoma 29, NR Texas 24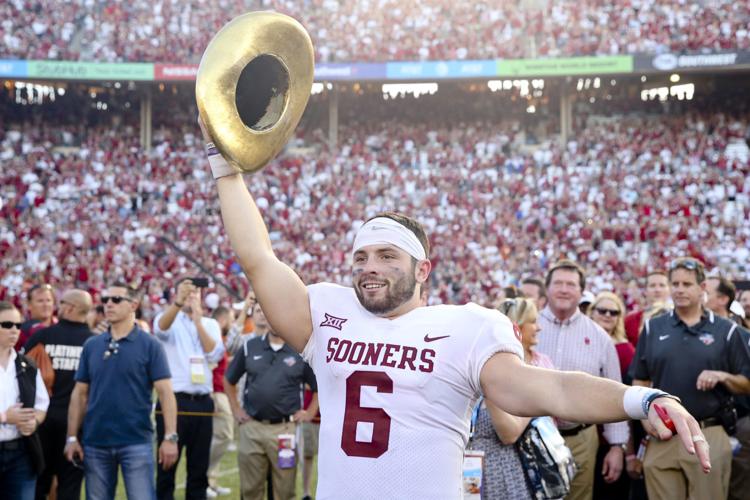 Oct. 8, 2016: No. 20 Oklahoma 45, NR Texas 40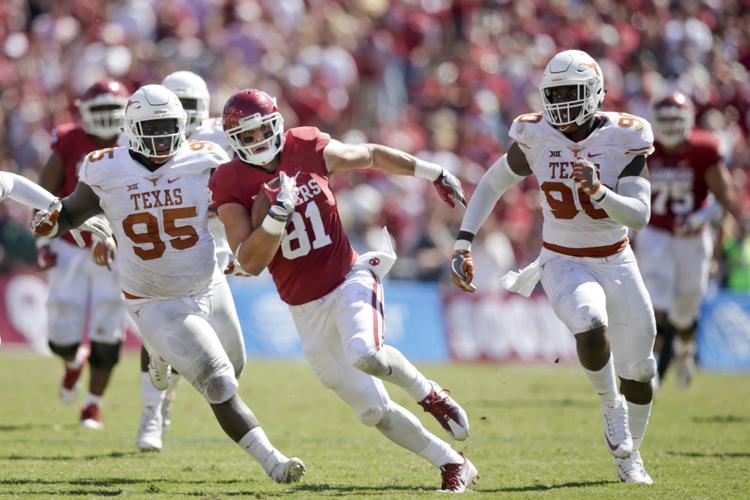 Oct. 10, 2015: NR Texas 24, No. 10 Oklahoma 17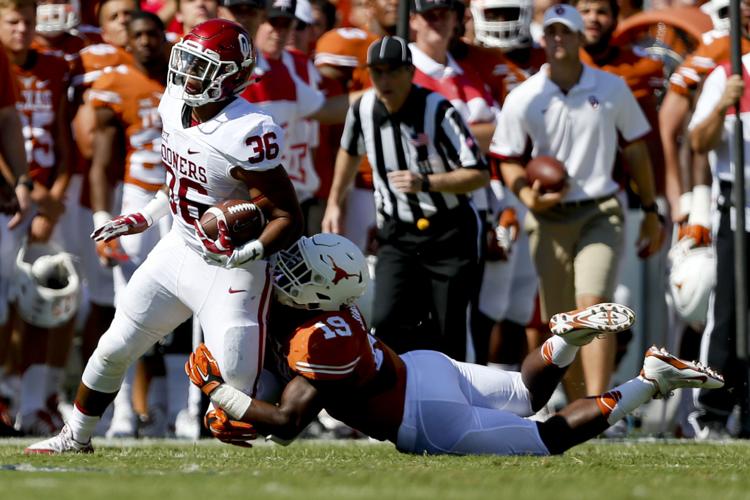 Oct. 11, 2014: No. 11 Oklahoma 31, NR Texas 26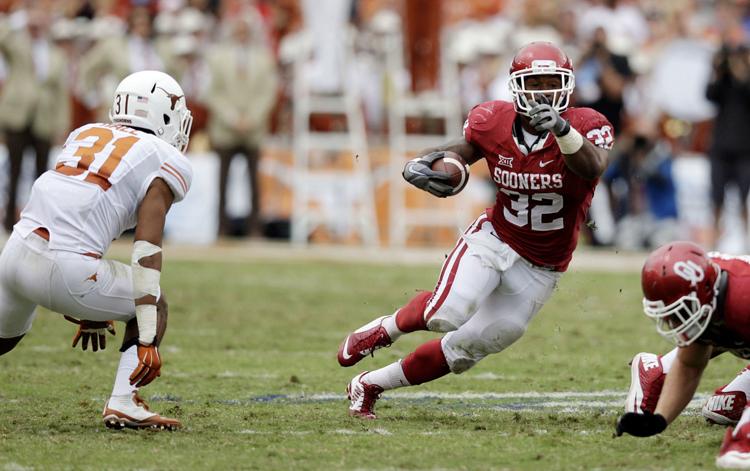 Oct. 12, 2013: NR Texas 36, No. 12 Oklahoma 20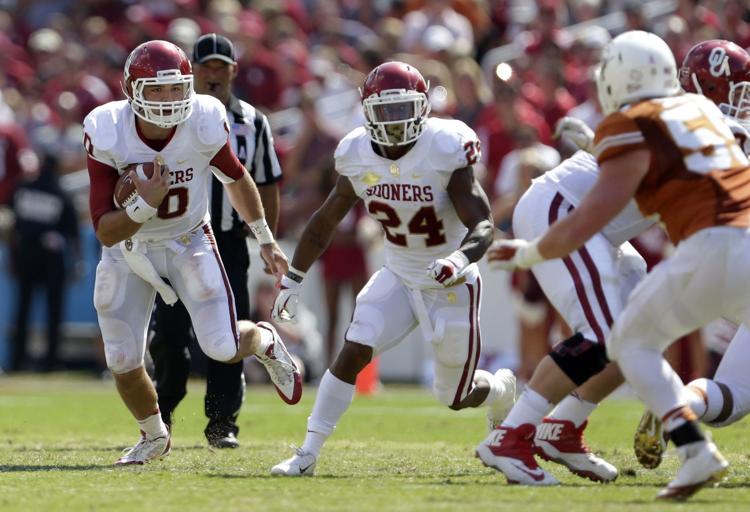 Oct. 13, 2012: No. 13 Oklahoma 63, No. 15 Texas 21
Oct. 8, 2011: No. 3 Oklahoma 55, No. 11 Texas 17
Oct. 2, 2010: No. 8 Oklahoma 28, No. 21 Texas 20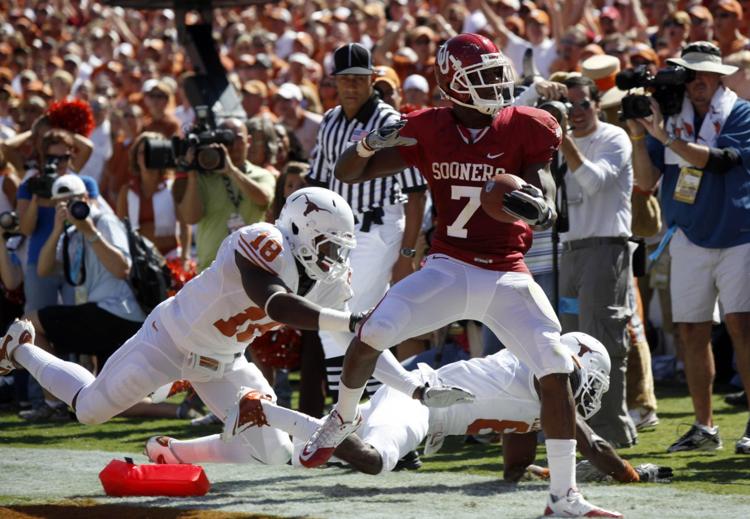 Oct. 17, 2009: No. 3 Texas 16, No. 20 Oklahoma 13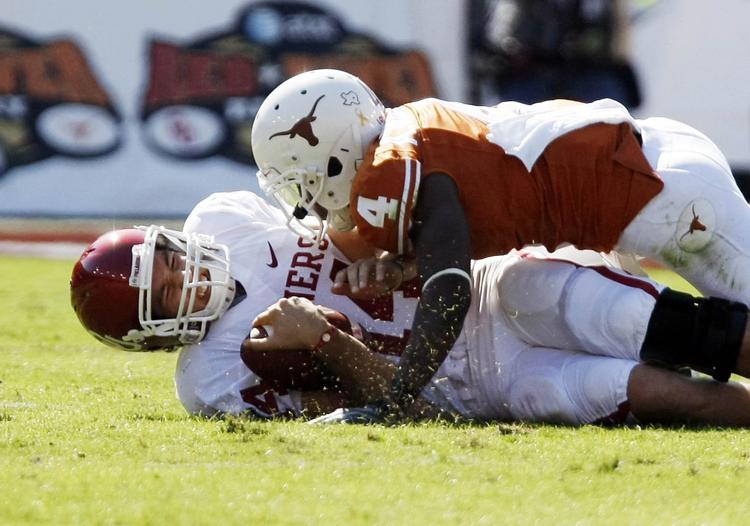 Oct. 11, 2008: No. 5 Texas 45, No. 1 Oklahoma 35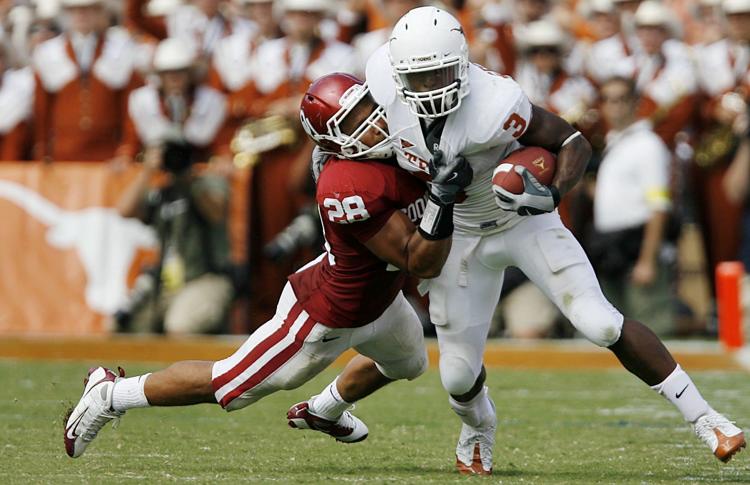 Oct. 6, 2007: No. 10 Oklahoma 28, No. 19 Texas 21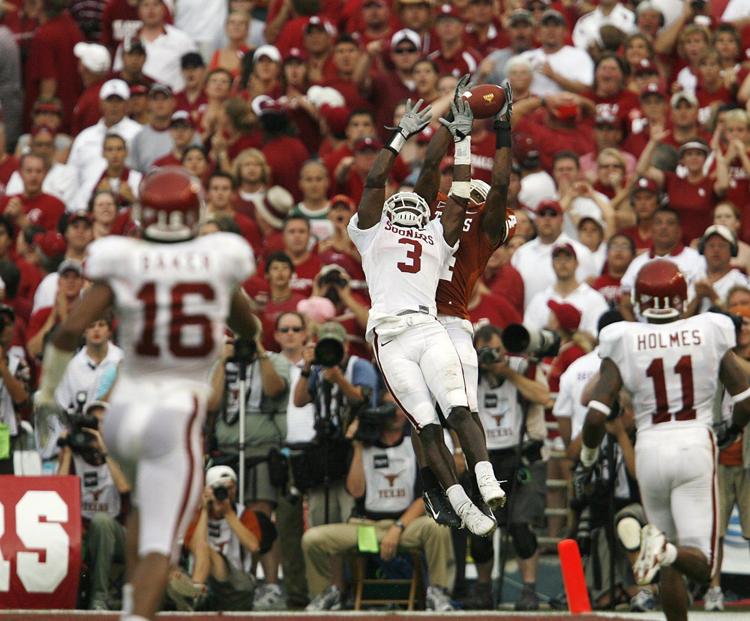 Oct. 7, 2006: No. 7 Texas 28, No. 14 Oklahoma 10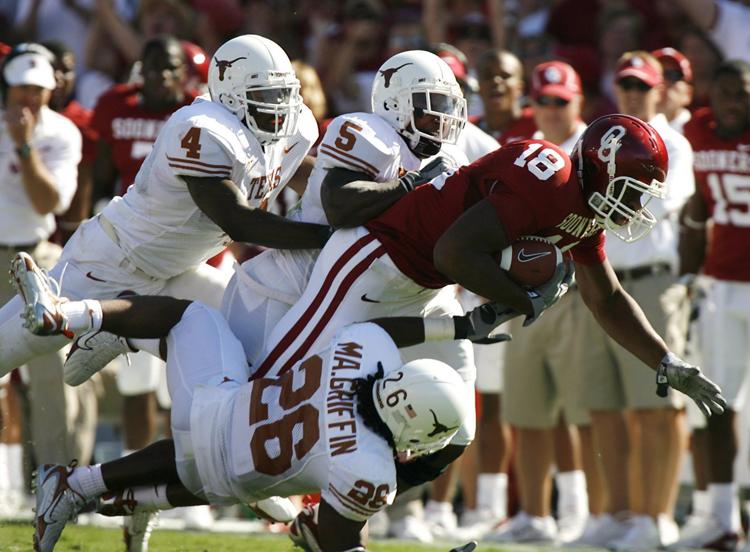 Oct. 8, 2005: No. 2 Texas 45, NR Oklahoma 12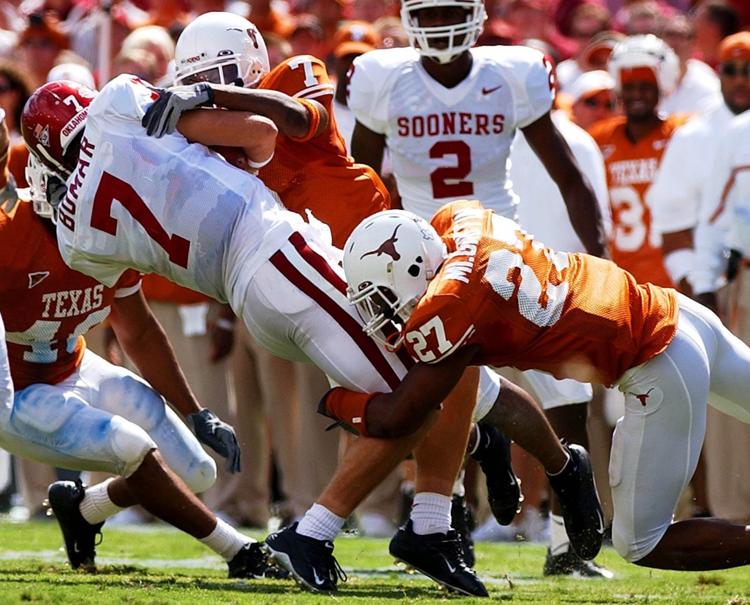 Oct. 9, 2004: No. 2 Oklahoma 12, No. 5 Texas 0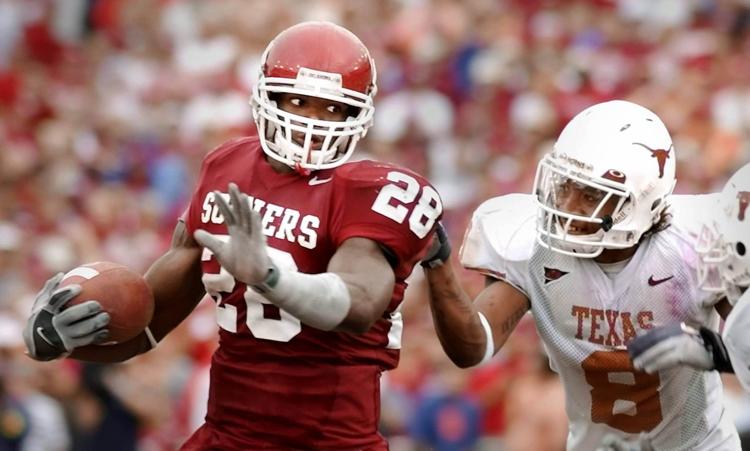 Oct. 11, 2003: No. 1 Oklahoma 65, No. 11 Texas 13
Oct. 12, 2002: No. 2 Oklahoma 35, No. 3 Texas 24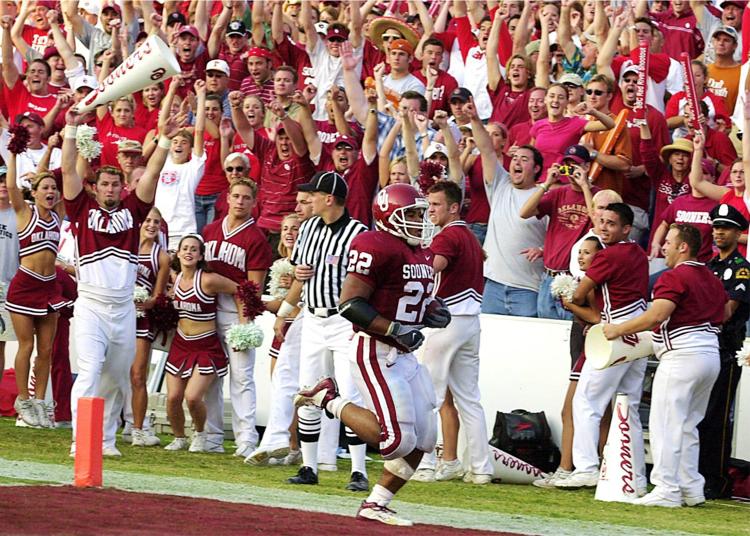 Oct. 6, 2001: No. 3 Oklahoma 14, No. 5 Texas 3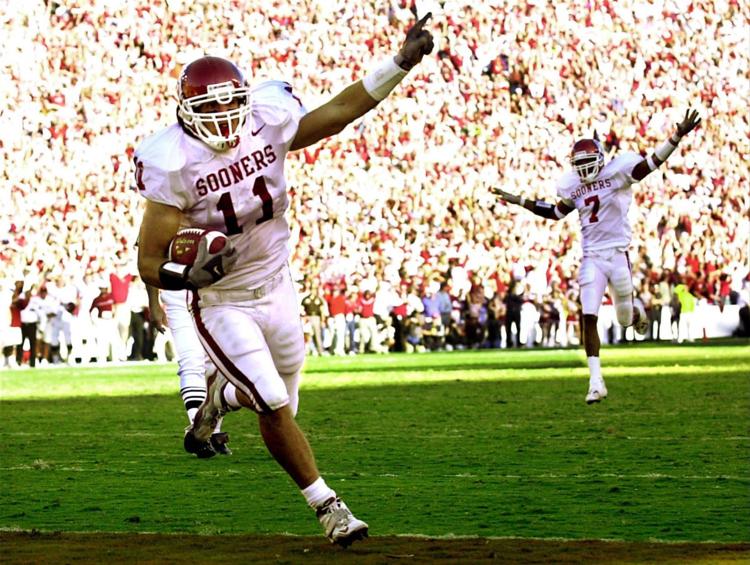 Oct. 7, 2000: No. 10 Oklahoma 63, No. 11 Texas 14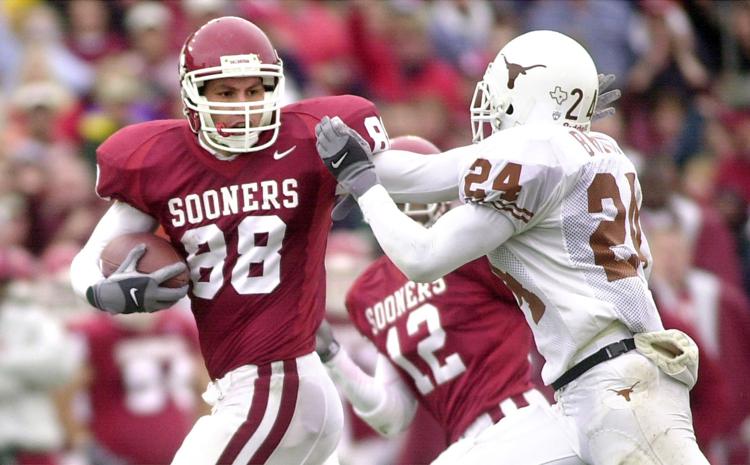 Oct. 9, 1999: No. 23 Texas 38, NR Oklahoma 28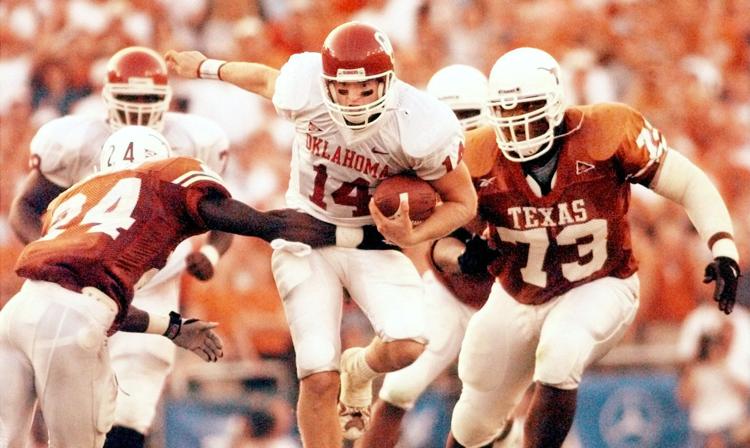 Oct. 10, 1998: NR Texas 34, NR Oklahoma 3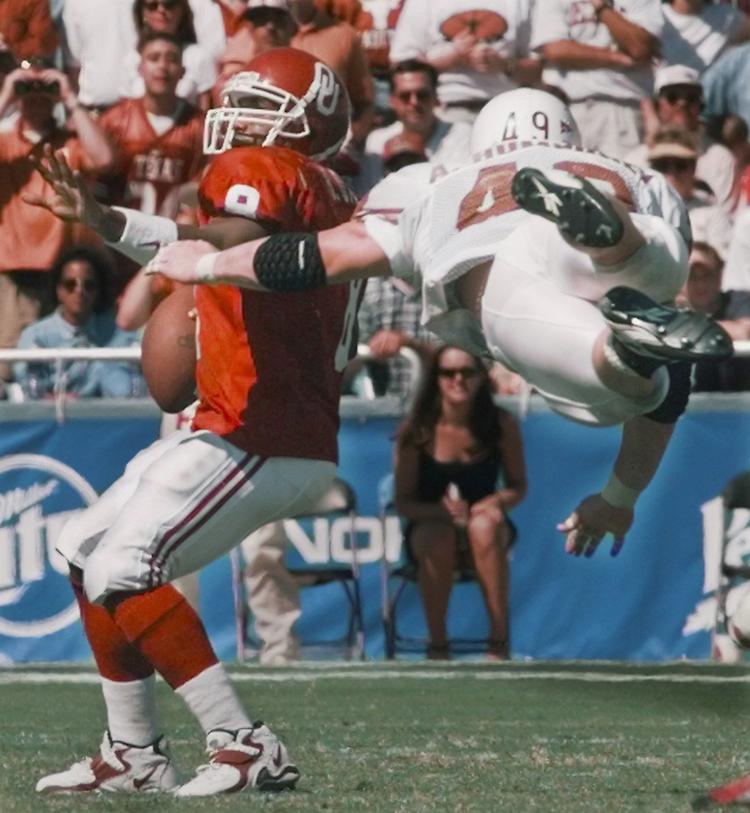 Oct. 11, 1997: NR Texas 27, NR Oklahoma 24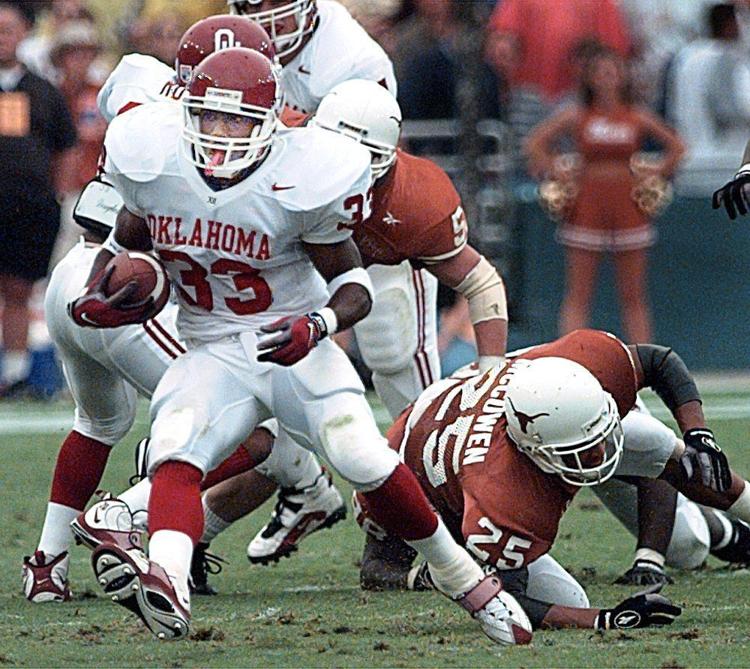 1996-1990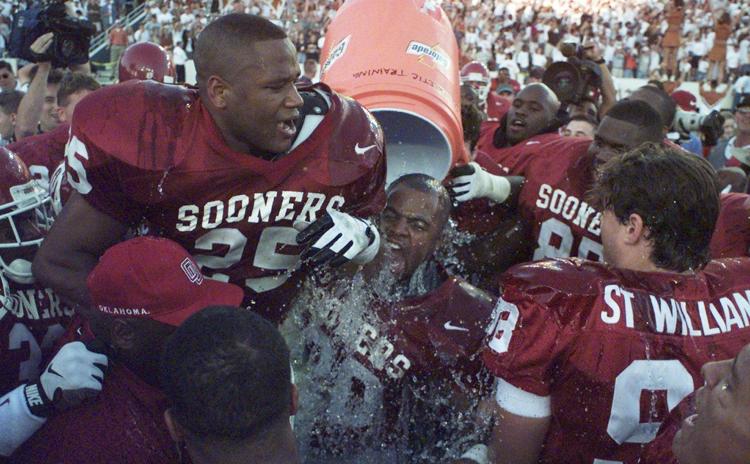 The 1980s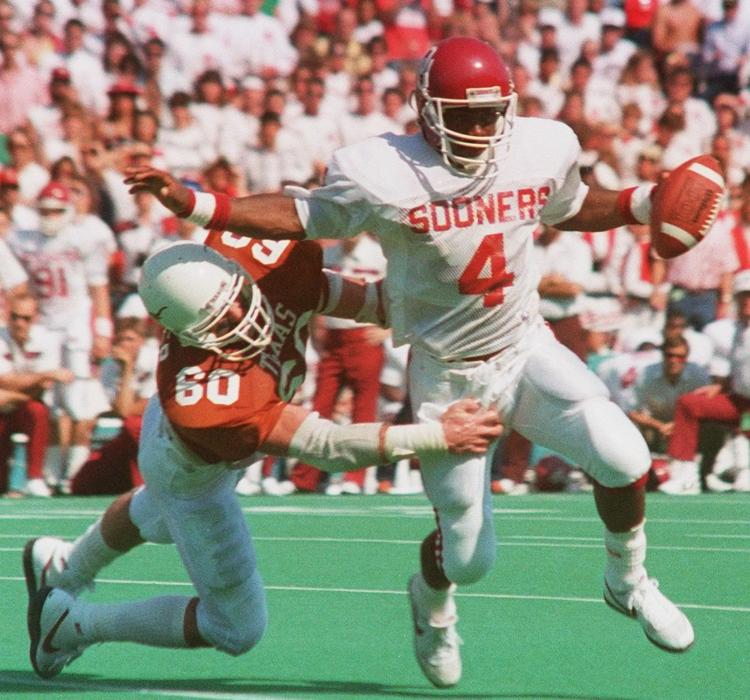 The 1970s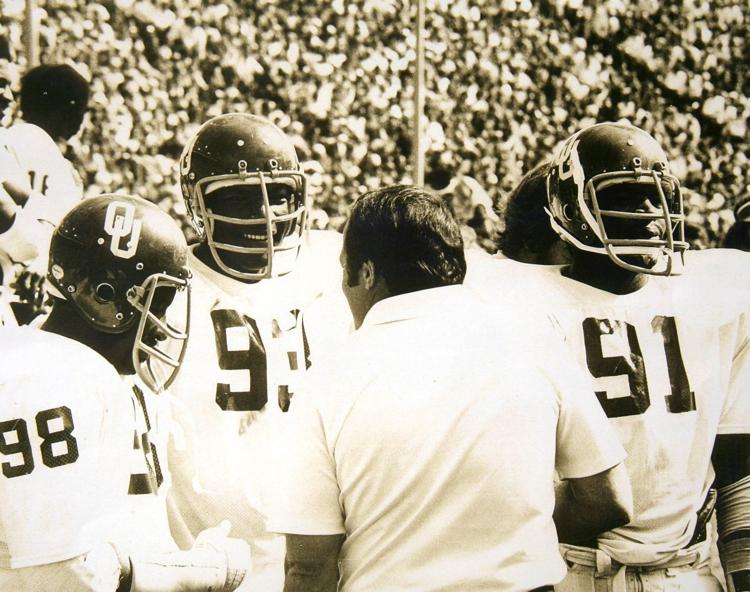 The 1960s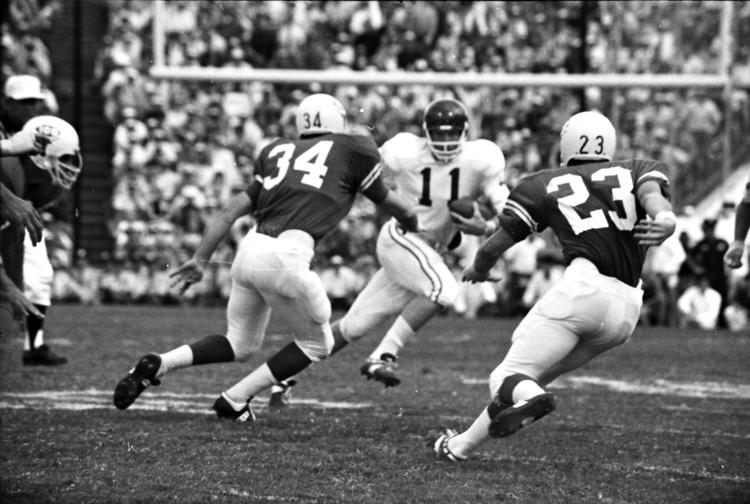 The 1950s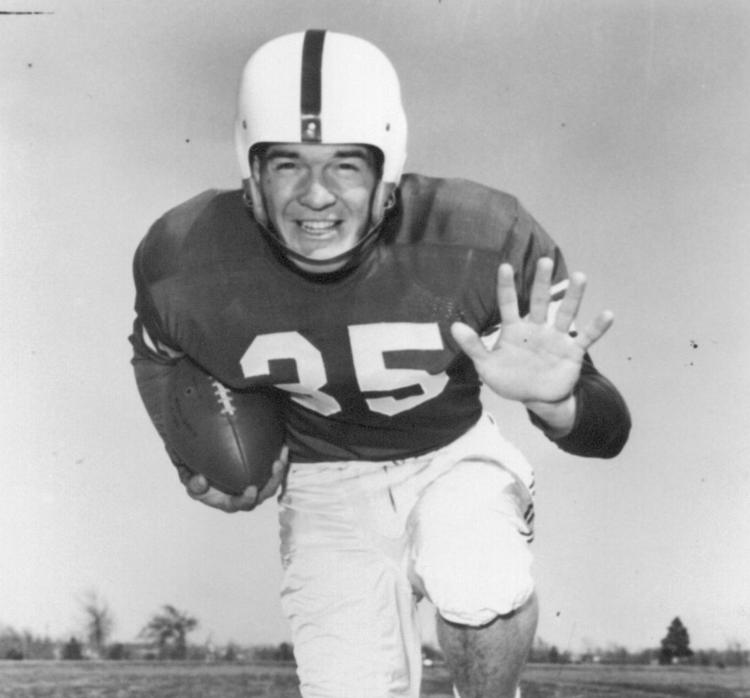 The 1940s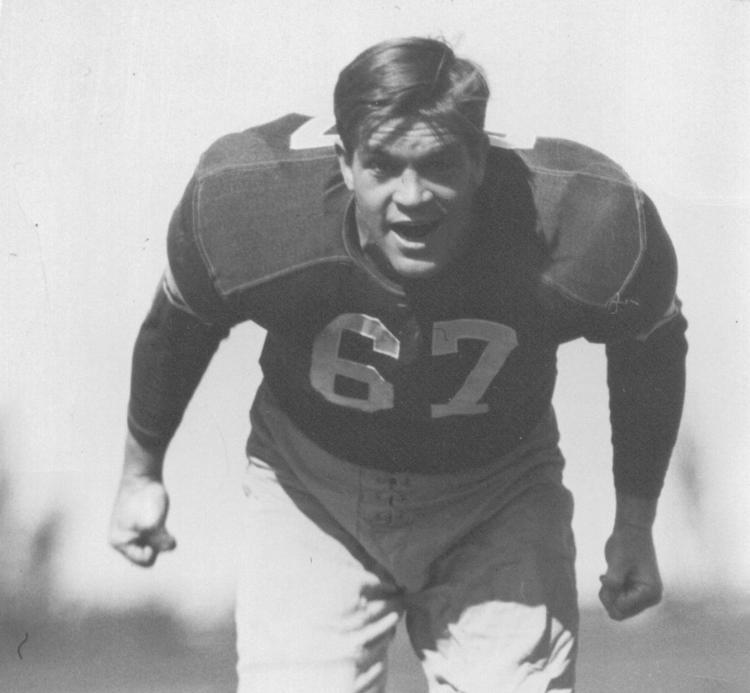 1939-1900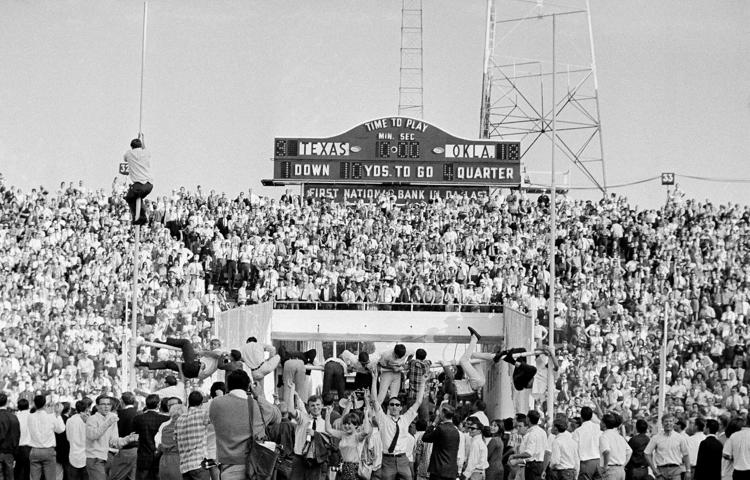 OUSportsExtra.com: Home to everything crimson and cream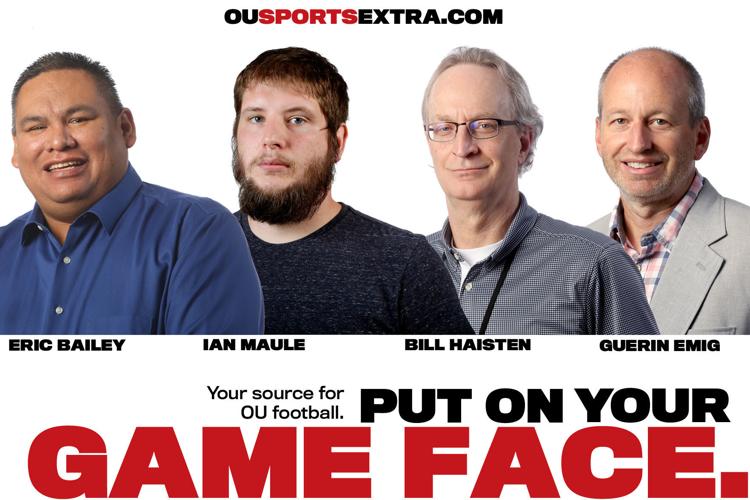 Texas coach Tom Herman gives his opening statement after the Longhorns loss to OU
OU coach Lincoln Riley talks after the Sooners win over Texas
Flipbook highlights of OU's win over Texas
Eric Bailey
918-581-8391
Twitter: @ericbaileyTW
Be the first to know
Get local news delivered to your inbox!