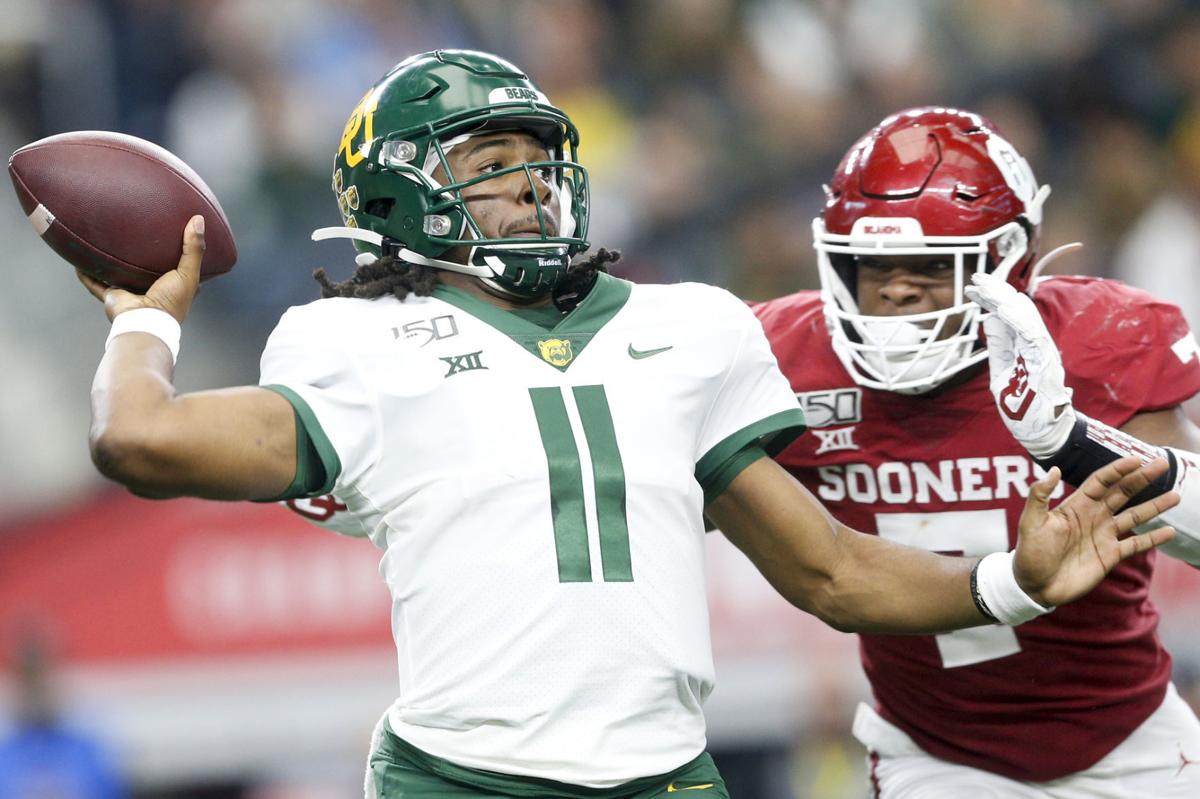 The much-anticipated return of Oklahoma's Trejan Bridges, Rhamondre Stevenson and Ronnie Perkins remains a mystery.
The three players now have missed six games, which is equal to a penalty for a failed drug test. Oklahoma hasn't officially announced that suspension from the NCAA, but multiple reports have indicated a failed test following the Big 12 Championship game last season.
OU will play at Texas Tech at 7 p.m. Saturday. If the penalty has been completed, they would be available for the Big 12 game. Rhamondre Stevenson's mother indicated on Twitter that she would be in Lubbock to watch the game.
Lincoln Riley declined to say the players were cleared to play during Monday's Big 12 coaches teleconference call.
"I don't have (an update)," Riley said. "This process is not as clear cut as you guys think it is or as I thought it was going to be. I'm not trying to play games. I'm not trying to do any of that. I do not know what their status is right now. It is not decided."
The three players have missed the Peach Bowl game against LSU and the first five games this season (Missouri State, Kansas State, Iowa State, Texas and TCU).
Texas Tech coach Matt Wells was asked during the same call if he has to game plan for the players, who would likely have an impact for the Sooners.
"You game plan for the scheme on offense and defense," Wells said. "Obviously if they get those guys back, they are all three very good players. They could probably help them, I'm sure, in several ways. But I think you try to prepare a little bit more for the scheme on both sides of the ball."
Perkins, a junior defensive end, was named to the Big 12 preseason defensive team after registering 13.5 tackles for loss including six sacks in 2019.
Stevenson, a senior running back, had six touchdowns and led the nation after averaging 8.0 yards per carry. Bridges, a sophomore wide receiver, had seven catches for 82 yards and two touchdowns and was an important player on special teams with six tackles on kickoffs to tie for second on the team.
Mims earns honor
Oklahoma freshman Marvin Mims was named the Big 12 co-offensive player and newcomer of the week on Monday.
The true freshman had four catches for 132 yards and two touchdowns for the Sooners in a 33-14 victory at TCU. His 61-yard scoring catch is the longest play from scrimmage this season for Oklahoma.
Mims also returned two punts for 42 yards, including a 38-yard return He was one of four players named to the Paul Hornung Award Honor Rolls this week. He ranks second nationally by averaging 17.9 yards per punt return this season.
Mims is tied for the Big 12 lead with six receiving touchdowns. No other freshman nationally has more than three scoring receptions. He needs one more to tie the school's single-season freshman record.
OU-KU game time set
Oklahoma will return home for the first time in six weeks when it hosts Kansas on Nov. 7.
A 2:30 p.m. kickoff time was announced by the Big 12 on Monday. The game will be broadcast on ESPN or ESPN2.
The Sooners have won 15 consecutive games against the Jayhawks, which is the longest active winning streak against an opponent. Each of those victories has been by at least 15 points, including last year's 45-20 triumph over the host school.
---
View from the sidelines: Oklahoma at TCU
Featured video: Spencer Rattler had a really good feel' against TCU, Riley says
Be the first to know
Get local news delivered to your inbox!