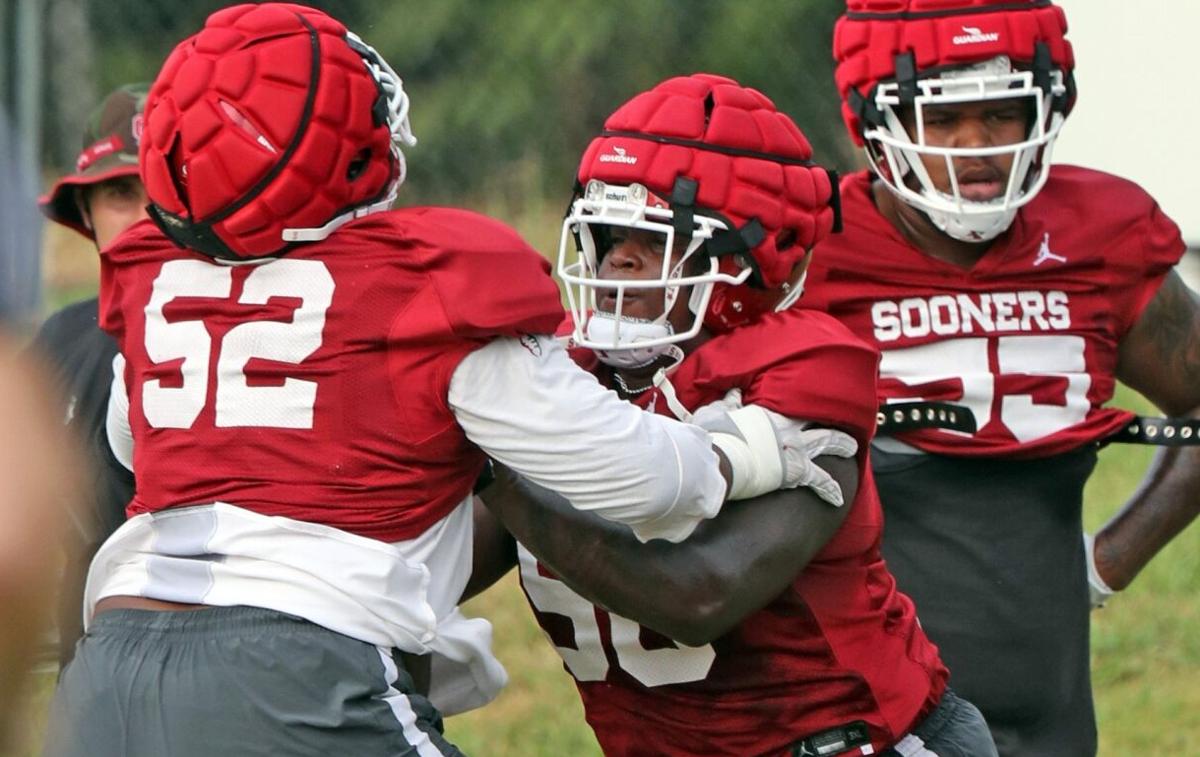 Overcoming bad days
During fall camp, no college football player strings together endless perfect days. There are good practices and bad workouts.
Oklahoma head coach Lincoln Riley says it's a fine line for coaches to encourage the younger players while also using those tough days as teaching moments.
"You work so hard throughout the year to be ready for camp and be ready to compete and play. You want them to take it personal. But at the same time, they've got to be ready to continue to move on," Riley said. "And one thing we stress to our guys, whether it's an old guy or a young guy, that's part of our evaluation process. We probably evaluate you harder and pay more attention after something hasn't gone your way."
Nothing's going to go a player's way all the time. But no matter what happens, Riley said, the coaches expect the best play after play after play.
The older players, who have lived the fall camp life for a few years, can also be voices of reason for the younger ones.
"I would say right now we do have a core of veteran/leadership type players that do that pretty well and certainly have been instrumental in helping our young guys understand the importance of it," Riley said.
New practice schedule
Oklahoma enters its second consecutive season with a new practice schedule.
OU has continued its schedule of morning practices with everything wrapped up by noon. Class schedules have been changed to coincide with the new plans.
Even before COVID hit last year, Riley says the idea was in place to change to morning workouts.
"When we looked at the week, the biggest thing was for us, we felt it was a chance to maybe just bring them up here one time a day," the OU coach said. "Typically, our evening practice schedules, when we did that previously, maybe in some ways were a little bit better for coaches because you had mornings to prepare. But what we found out was, it was tough to get the practice, lift and meetings, all that done in a block in the evening."
Brayden Willis, an H-back, enjoys the morning practices more than the evenings, which would finish up around 6 p.m.
"I don't really like waiting throughout the whole day to practice," he said. "I like getting up, that's the first thing on my mind in the morning. Eat breakfast and then kind of get going.
"You go through the day and a lot of different things can happen that can affect ball, so I like getting up, getting straight to it and then boom, afterwards, you have your academics, and it does help because you do have a lot of free time in the afternoon that you get to tend to your academics."
New look
Willis will wear No. 9 this season, trading in his former No. 81.
"After the injury last year, I just needed a new slate. I wanted to turn a new page and reinvent myself a little bit," Willis said. "I was a single-digit in high school. I just want to, for my last year, have a really good year and have a new page and reinvent myself a little bit."
Willis only played five games last year after suffering an injury in last year's home loss against Kansas State.
Linebacker depth
Oklahoma has a good number at linebacker. Depth could be an asset entering the 2021 campaign.
DaShaun White said the linebacker room is a "complete 180 flip" from where it was when he arrived in 2018.
"When I got to the room, it was talented, but there wasn't a lot of discipline. There wasn't a lot of just the way we do things now," White said. "We do a lot of extra work together. There wasn't a lot of that then. Now, every day we break out on 'LBU,' and that's like something we put our hearts into and we mean that. Regardless of who says they think it is or not, we're going to do our part."
For entertainment purposes only
Oklahoma opens the season with a Sept. 4 road game at Tulane. Kickoff is 11 a.m. for the contest broadcast by ABC.
It is OU's first season opener in an opponent's stadium since a 2012 trip to UTEP.
Oddsmakers have tabbed the Sooners as 26.5-point favorites.
— Eric Bailey, Tulsa World