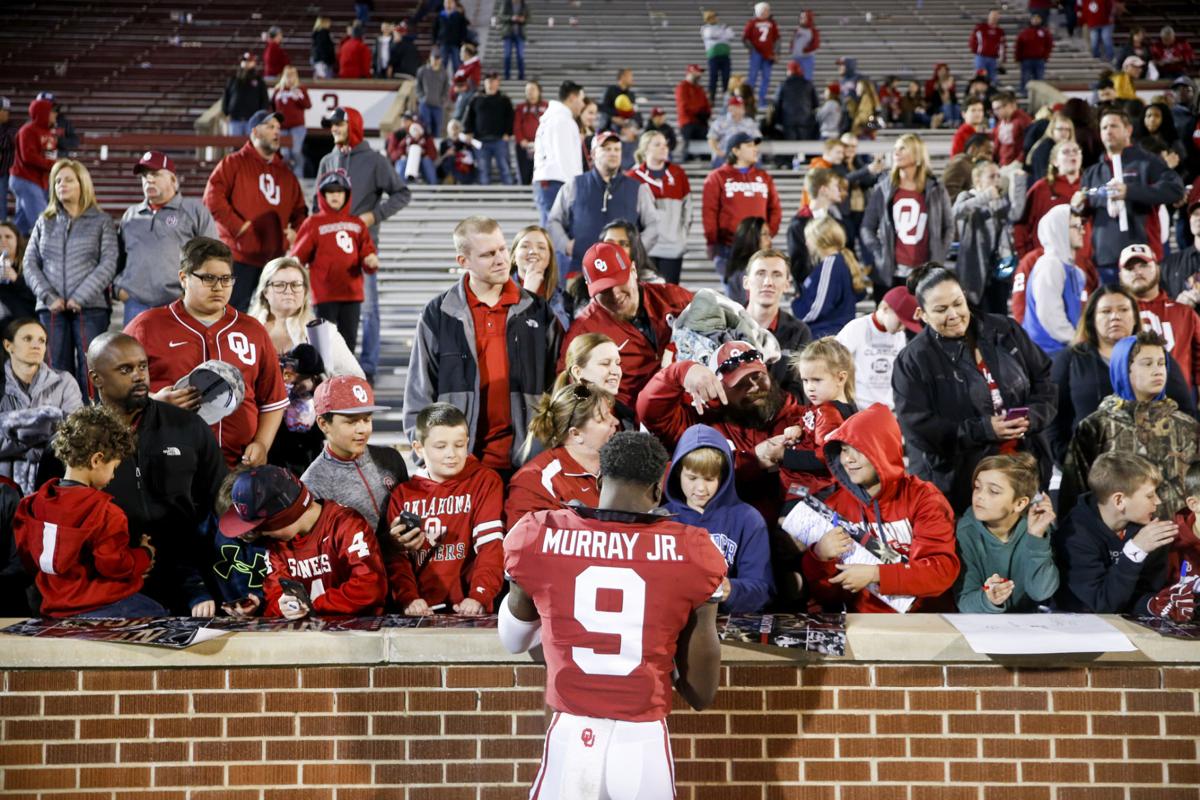 Joe Castiglione has an important message for Sooner Nation before the 2020 season kicks off at Memorial Stadium.
Protective wear will be required of fans at Oklahoma home football games, the director of athletics said Friday during a Zoom call with reporters.
"If we're able to have fans and have a game, there's going to be a masking requirement," Castiglione said. "To come into the stadium and to stay in the stadium, you have to be wearing a mask through the entire experience. That's just the way it's going to be."
Castiglione said he understands and respects that it may not be what people want to do, but "if you are going to come to a game at Oklahoma, it's going to be a requirement."
Oklahoma's team reported back to campus Friday and will resume fall camp practices. There was a COVID-19 test for each player upon his return.
"They will go through the same medical protocols they went through when they came back to campus," Castiglione said. "The same as our teams that are returning to the campus for the first time. They will all be tested and won't be permitted to practice or come in the facility until those test results are known.
"We're going to manage it the very same way we have with any of the other testing procedures. I can't get into speculating what it may or may not be. We'll just handle it as we previously said, and then if there are positive tests and if contact tracing is warranted because they were local, then we'll follow those protocols in a strict fashion."
OU had three consecutive weeks of tests without a positive result in July until last week, when one player registered a positive test.
Earlier this week, the school announced that its 2020 home opener will be Sept. 12 against Missouri State. Oklahoma is planning to allow 25% capacity — about 20,000 fans — at games. Masks are necessary upon entry.
"If you don't want to accept that, then you probably should make the decision not to come to the game," Castiglione said. "There's just not going to be any argument about that. It is what it is. It's a cloth that protects you and it protects others.
"Let's just embrace it. It's for a good reason."
Castiglione said the 25% capacity threshold for attendance could change as more information is learned.
"That's going to be a decision that we make collectively with our university administration, with our state and local health officials, with our local governments and also watching what's going on nationwide," he said. "There are things we are learning from each other and trying to apply it where it fits with what we are doing locally."
To help aid things, OU is exploring several ways to help fans on game day.
The school is trying to move to an all-digital experience from "driveway to driveway." An app will study traffic to help identify parking, concession stands and game information. The game program will be digital. There will not be printed programs.
OU has experimented with digital ticketing recently and now it will be implemented. It will help reduce ticket fraud and loss of tickets and make transferring tickets easier.
"I'm not sure what's going to happen to the people who are standing out front going, 'I've got two' or 'I need two,'" Castiglione said with a smile. "That was a cottage industry in itself, but I'm sure like any others, they'll probably find a way to adapt."
---
Video: Oklahoma public health advisory announced by Health Commissioner Dr. Lance Frye
COVID-19 basics everyone needs to know as the pandemic continues
Eric Bailey
918-581-8391
Twitter: @ericbaileyTW
Be the first to know
Get local news delivered to your inbox!