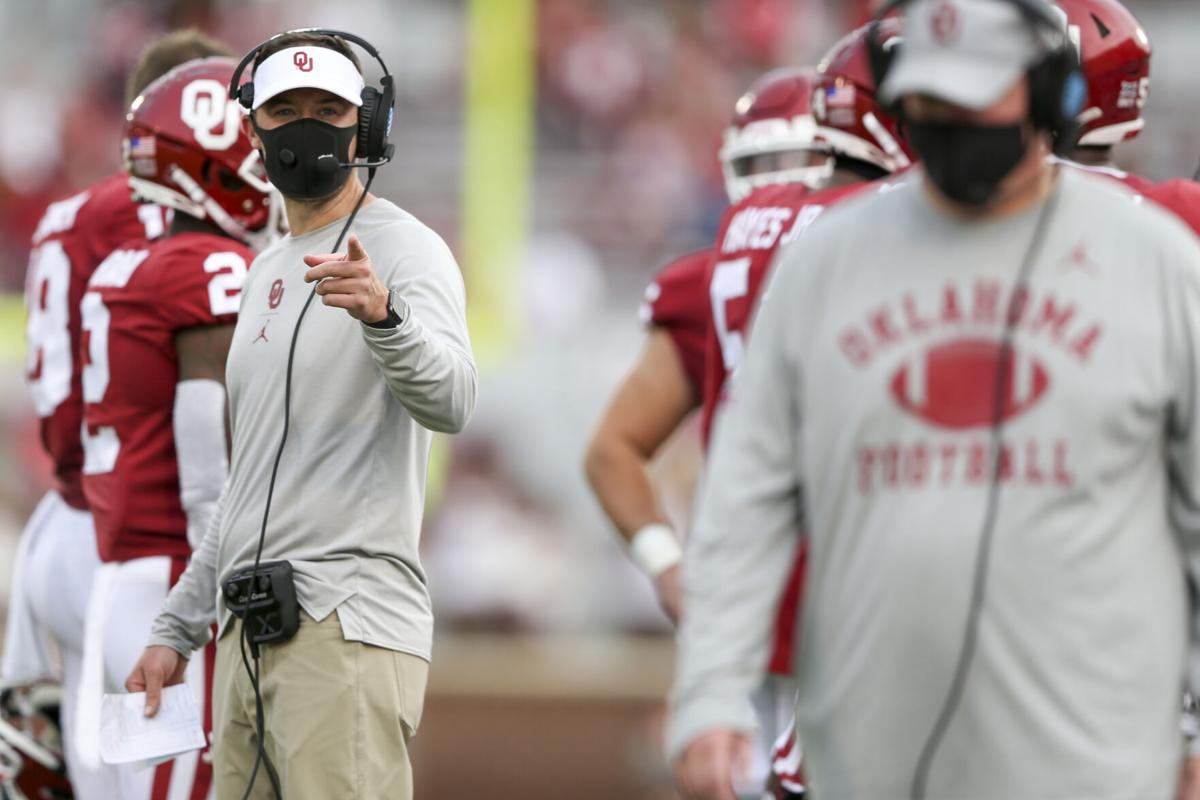 Was Lincoln Riley disappointed that so many of his Oklahoma players missed Saturday's 48-0 win over Missouri State?
"I was," Riley said during Monday's Big 12 coaches teleconference call.
The Sooners were without some key players in the season opener, including listed starters T.J. Pledger (running back), Anton Harrison (left tackle), Brayden Willis (H-back), Obi Obialo (wide receiver) and Gabe Brkic (kicker).
There was no official list released before the game with speculation, of course, surrounding COVID-19 results.
The only way to discover which players were missing on Saturday was doing a checklist of Oklahoma's 119-man roster. A Tulsa World sideline count during the game of players in uniform was 69, which is 50 short of the listed number on the pregame roster.
"I think at some point you become a little bit of a victim of some of the success that we had early. Obviously the more guys on the team that you've had that test positive throughout the year, it's obviously a lot smaller number of guys that you're testing," Riley said.
Oklahoma went the month of July with four consecutive testing periods with no positive results. Since the season started, the school isn't releasing statistics for the football program. Riley said last week that he doesn't want to give his team a "competitive disadvantage."
"Still, we've got to handle it better, regardless. We as a team, everyone, has got to (do) better. As we've seen, it can get out of hand or it can become a big problem so quickly," Riley said.
"Just one or two can turn into knocking so many people out so it's obviously something I've got to do a better job with (and) our players have got to do a better job with if we want to be able to have our full crew or close to it available for these Big 12 games."
There were 10 injured players on site and three players — defensive end Ronnie Perkins, running back Rhamondre Stevenson and wide receiver Trejan Bridges — remain suspended.
Riley chose not to confirm players who missed Saturday's win because of COVID.
Oklahoma didn't have any positive results during Friday's rapid testing, he said, saying that it was a culmination of what can happen with the contact tracing element.
One or two people can get knocked out in a hurry, he said.
Should there be a national standard for college football programs to publicly report COVID-19 positive test numbers during the season?
Riley said that's a tough question to answer.
OU is reporting the numbers to all teams that they play and mentioned that Missouri State was well-versed on tests on a day-to-day basis. Oklahoma is also reporting numbers to health agencies.
The coach's issue is with privacy.
"If I go out before a game and say well, we've had however many positives, then all the people that love to go dig and do this and that are going to fight like crazy to figure out who that is," Riley said. "And then you're talking about kids' medical records and things that players and families are very sensitive to.
"I just feel like that's my duty to protect that, while also of course making sure all the COVID protocols, people that we are required to report to know, opposing teams, all that. So that's the balance we're going to try to find with it."
Eric Bailey
918-581-8391
Twitter: @ericbaileyTW
Be the first to know
Get local news delivered to your inbox!