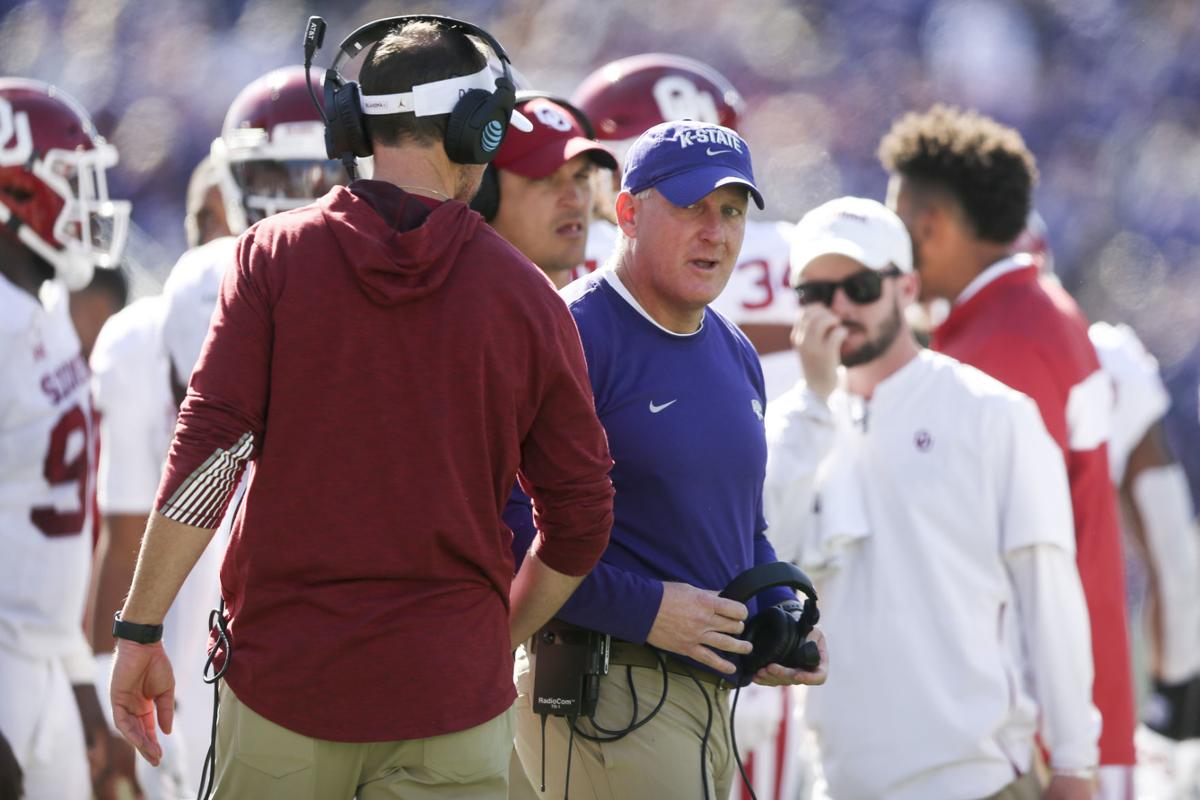 Oklahoma will open Big 12 play against Kansas State on Saturday. Kickoff is 11 a.m. 
Kellis Robinett covers Kansas State for the Kansas City Star and Wichita Eagle. He offered insight on the Wildcats this week.
How much did last year's victory over OU give confidence for the program and fans as the Chris Klieman era began?
Kellis Robinett: The Wildcats got off to a blistering start last season with a pair of blowout victories and a road win at Mississippi State, so I wouldn't say that was the moment Chris Klieman won over the fan base. But it was his first signature win with the Wildcats. Only one team beat the Sooners during the regular season last year, and it was K-State. It showed everyone what the Wildcats were capable of, even if they failed to play that well on a consistent basis. Combine that with eight victories and a bowl trip and Klieman had a heck of a first year in Manhattan.
What was the biggest takeaway from Kansas State's season-opening game against Arkansas State?
KR: This is going to be a wacky season. That was one of the strangest games I have ever covered. K-State had 30-40 players watching the game from the sideline in matching sweats. A defensive back changed positions and played 20 snaps at receiver. The starting center went down in the first quarter. Both of K-State's starting safeties were unable to finish the game. This season is going to be about survival as much as it is going to be about talent and coaching.
What is the biggest key for the offense to have success on Saturday?
KR: The Wildcats need to establish more of a ground presence than they did against Arkansas State when they rushed for a puny 91 yards. Maybe that means giving extra carries to Deuce Vaughn or getting Jacardia Wright more involved or sticking with five offensive linemen the whole game or asking Skylar Thompson to run. But K-State needs to do something different than it did two weeks ago in order to control the clock and make Oklahoma's defense respect play-action.
Who are some of the team leaders who anchor the Wildcats' defense?
KR: Wyatt Hubert is the team's best player and a threat to make a sack every time he lines up at defensive end. Justin Hughes (24) and Elijah Sullivan (23) are very experienced linebackers. Those are the three main leaders of the defense. But they will need lots of help to slow Spencer Rattler and Oklahoma's explosive offense.
How do you think Saturday's game will play out?
KR: Kansas State was a massive underdog last season and pulled off the upset, so never say never. But I don't see that happening again. The Wildcats are going to be missing a few key players in their secondary and it's unclear if starting center Noah Johnson will be ready to play. Skylar Thompson is also coming off an injury. That seems like too much for the Cats to overcome. Oklahoma will probably win and cover the spread.
Eric Bailey
918-581-8391
Twitter: @ericbaileyTW
Be the first to know
Get local news delivered to your inbox!