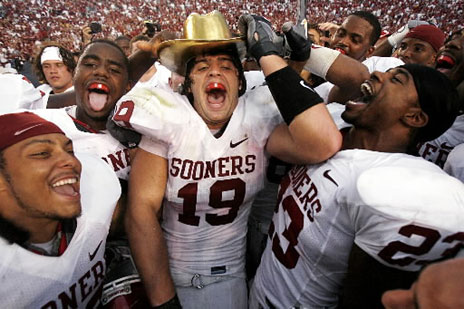 Joe Jon Finley's homecoming has been a special one.
The former Oklahoma tight end is moved from student to teacher on the Sooners' football field. He's in charge of the H-backs and tight ends with a goal of getting his players to experience the same passion that he's always had for his alma mater.
"It's great to get back home and be around Sooner football again," Finley said on Friday. "The excitement around Oklahoma football is different than anywhere else in the country. This is what I love. This is why I got in this business, to coach on the highest level and coach the best players, and that's what I'm getting to do right now."
Finley, in his first media interview since being named to his new role, said the opportunity to work with Lincoln Riley was a huge reason for making the move. He's kept tabs with Riley, the offensive coordinator (2015-16) and Riley, the coach (2017-present).
"Besides coming home and all of that good stuff, this is one of the best jobs in the country — probably the best job in the country as far as being on the offensive side of the ball," Finley said. "What Coach Riley has done here, everything that he's done speaks for itself. This guy's the best in the country at what he does and just excited to get around here and learn a new system."
Riley has been impressed with Finley, who took over the position group following Shane Beamer's move to South Carolina head coach.
There are strong assets in his room, including Jeremiah Hall, Austin Stogner and Brayden Willis. All have made big plays in seasons past.
"He's inheriting one of our most experienced groups on the football team, which I think is a great thing for a new coach and I think that group is taking to him well," Riley said. "He's got a great way about him and you can certainly feel that this guy really, really knows tight-end play at an elite level, and you can tell he played at an elite level.
"It's been a good, fresh perspective for us in our offensive room as coaches."
Finley played for the Sooners from 2004-07. He had 62 catches for 775 yards and 10 touchdowns during his four-year career.
He's also joined a staff that includes former OU players Cale Gundy, DeMarco Murray, Brian Odom and Calvin Thibodeaux.
"I like him. You can tell that he played tight end personally," Hall said. "There's some things he sees in our game that just somebody who, you would have to play the position to like understand what he's talking about. It's kind of convenient for him. He has an older room.
"It's kind of, 'let's go out there and play.' He's not micromanaging us. I like him. He's a cool guy. I'm glad we have him on board."
Finley's career path started at Los Fresnos High School when he coached for his older brother. He led the offensive line before returning to OU as a graduate assistant.
Finley left Norman for one final try for professional football and when it didn't work, former coach Bob Stoops brought him back as a GA. From there, he took full-time assistant jobs at Mississippi, Texas A&M and Missouri over the past five seasons.
He's looking forward to the future.
"I'm extremely fortunate to be in this spot that I am right now. At a certain point of my career, I thought that might be the future for me," Finley said. "I knew from the time that I was 3-4 years old that when I was done playing, I wanted to be a football coach. That will never change.
"I'll always be thankful for where I am at. My family is thankful. This is kind of the dream I'm living right here. I get to coach for the Oklahoma Sooners, the place I played and get a chance to chase championships every single year. It's a blast."