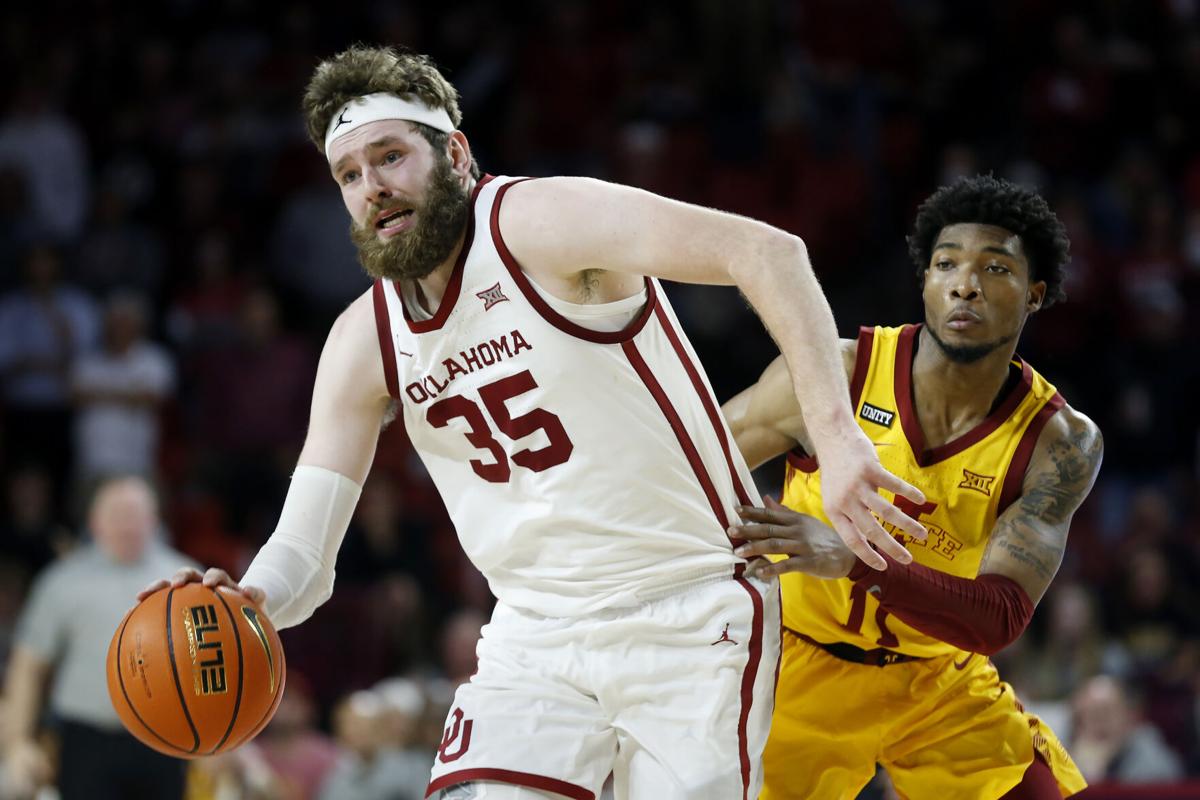 Oklahoma at TCU
3 p.m. Saturday, Schollmaier Arena, Fort Worth, Texas
Records: Oklahoma 12-4, 2-2 Big 12;TCU 11-2, 1-1
Three storylines
Bouncing back: Tanner Groves, Oklahoma's leading scorer, had a season-low three points on one shot attempt during OU's loss at Texas on Tuesday night.
How will he respond? The best source to ask is younger brother and OU teammate Jacob Groves.
"The big thing for him is just getting his confidence back," Jacob Groves said on Friday. "The day after the Texas loss, he was watching film with Coach (Porter Moser) and just dissecting the game and figuring out what he can do better.
"Obviously, it's a different level of play here. You can't just get by every night. It's not the Big Sky anymore, which is what we're used to. I think it's just the adjustment of every night is going to be a battle. So he did his thing. He's had a really good last two days of practice."
Hitting the midseason: OU is 16 games deep with 15 games remaining in the regular season.
Moser was asked about a mid-season report — does he consider the program where it needs to be at the halfway point or does the concentration remain one game at a time?
"The program is going to take care of itself if we're doing the things of where I want it to be. Our team, coaches, we're just consumed with getting better," Moser said. "We know it's gonna be like a seven-week heavyweight fight. You have to be able to take a punch, be able to punch back, be able to get off the mat.
"You have to be able to not get too high or too low. This league is unbelievable.
"But I know this, I love coming to practice each day because the guys have a great attitude of getting better every day. That's what I think about. I don't think about halfway marks or anything like that. You're on a journey right now to get your team better."
Balancing COVID: Oklahoma has been without multiple players due to COVID this season.
For Saturday, the team expects to have everyone including Akol Mawein, Rick Issanza and Alston Mason. Those three missed the Texas game.
The Groves brothers as well as Bijan Cortes have missed games due to COVID.
"It was really hard to go live preparing for Texas because we didn't have enough bodies to go live. We had nine, so you couldn't even go 5-on-5.
"Our whole scout team was out and we had some of our other guys that were out. So we didn't get a lot of live work headed into that Texas game. No excuses," Moser said.
"I think it does alter the practices that way. We've got some of the guys back, but it's going to be like this reality. You get a couple back and then you lose a couple.
"It's just a pendulum. We've just got to have a great mindset. Who's ready? Who's going to be on deck going into these games?"
— Eric Bailey, Tulsa World