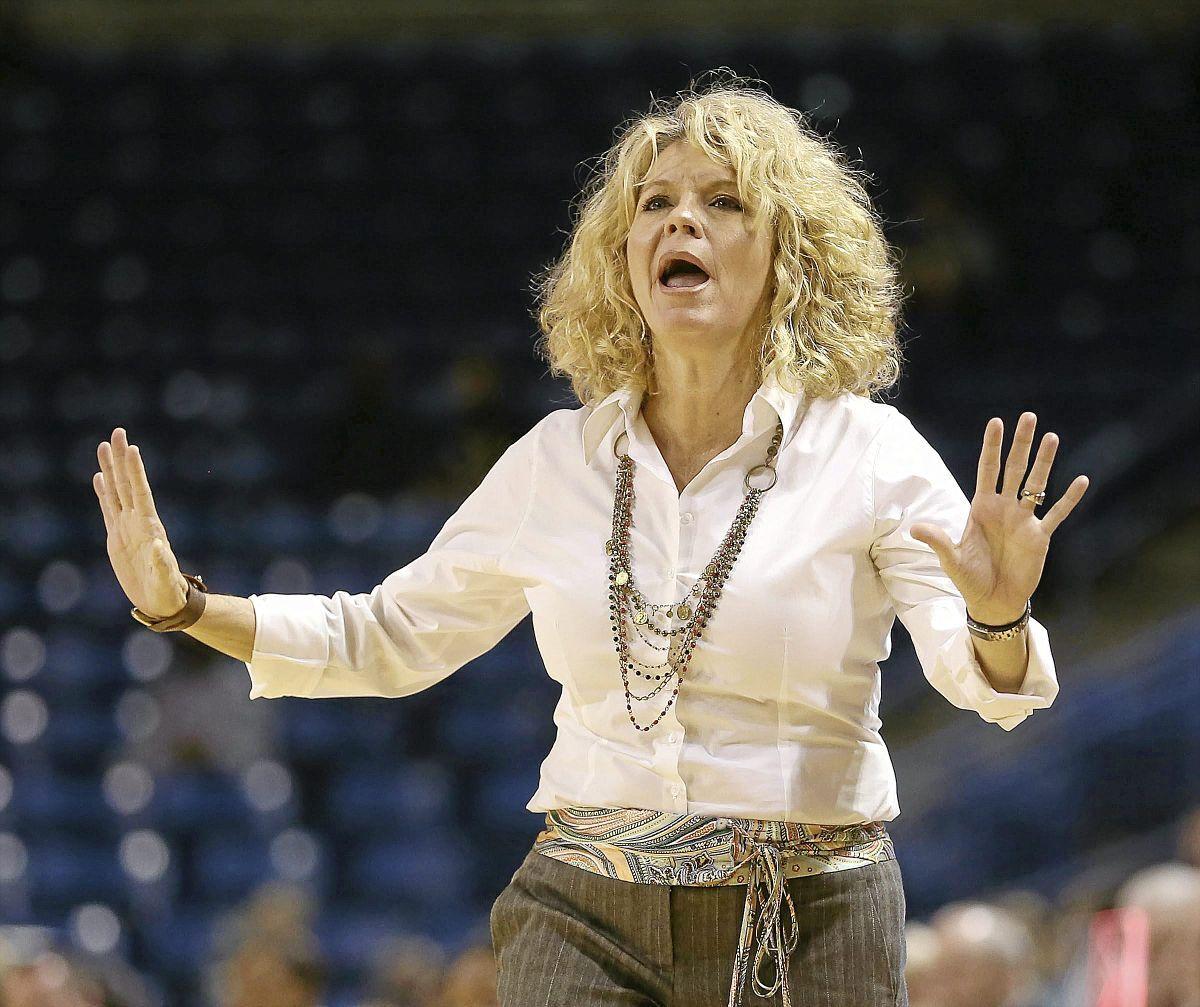 I laughed when my old pal Dave Sittler sent me the Texas Monthly story on the Texas State Fair going drive-thru this year — seriously, you can pay $65 for a two-hour drive through the fairgrounds next month to inhale fried chocolate mousse and take a selfie with Masked Big Tex.
I cried over the news of Chadwick Boseman's passing.
Mostly, though, I did a lot of thinking last week.
Like here
Last Friday as Lincoln Riley gathered his Sooners football team for a Black Lives Matter demonstration on campus, former OU women's basketball player Gioya Carter tweeted: "I wish I knew what it felt like to have a head coach at OU like this but instead my 4yrs there were filled with comments like 'You guys act like it happened to you.' 'If y'alls long braids hits one of my players in their face' as if the ppl in braids weren't her players."
Carter started for Sherri Coale's Sooners from 2013-17. Her tweet in reference to Coale was startling.
It set off a chain of events that continued with statements from Coale and OU athletic director Joe Castiglione Sunday night.
In a nutshell, Coale apologized and pledged to champion "diversity, equity and inclusion. Castiglione vouched for Coale's character and anticipated "important conversations" on the topic.
Still, that didn't exactly blunt the impact from Carter's tweet or the social media messages that followed from other African Americans who played for Coale.
Shaina Pellington, the 2018 Big 12 Freshman of the Year who transferred from OU in 2019, issued a long statement that included the passage: "It's hard to believe that your favorite coaches and institutions would be capable of such horrendous things, right? Well news flash, IT'S VERY POSSIBLE. It happened to me as well as many of my former teammates. It's still happening now!"
From Ijeoma Odimgbe, an OU reserve from 2015-19: "One thing about my sister (Carter)... she never speaks anything but facts."
From Jacqueline Jeffcoat: "Hey sis. I played for Sherri 2010-12. She hit me with several racist comments after we went to Monticello in Virginia... Thomas Jefferson's plantation. Told me to take down a post bc I felt strongly about it."
From T'ona Edwards, a Sooner from 2013-17: "Coach Coale: 'lets just keep everything vanilla."
Sunday morning, Carter shared Facebook messages from two more African Americans who played for Coale.
One from former Academic All-Big 12 guard LaNesia Williams included the passage: "We preach about being a family in the program. That's a facade. We see who was family. It's so clear and it's been clear."
The other from former All-Big 12 center Vionise Pierre-Louis included: "What is IMPORTANT here is that she (Carter), as an African-American Woman, was not supported in the aspect of social injustice when SHE was attending OU. And to be quite frank, neither was I."
Coale did tweet two messages supporting the racial justice movement in early June, including one where she mentioned being part of a "two-hour Zoom call with our team" and "I stand firmly with our athletes and our coaches through the pain, anger and confusion and am committed to being part of the change."
Ana Llanusa, OU's best and most visible current player, has been a daily social media advocate for racial justice. Her tweet last Friday: "We are demanding systematic change. Period."
Coale had supporters in the face of Carter's and others' comments. One was Jordan Woodard, an African-American starter on the 2016 OU men's Final Four team, who referred to Coale as a "mentor."
So this is both startling and complicated then. There are so many questions.
Has Coale done some recent internalizing and reached an epiphany on racial issues? Was there any dialogue between Coale and these former players about these issues when they were still in the program? Has there been some misunderstanding on either side?
Have we missed something all these years of Coale's exceptional record as coach and her program's exemplary record of community outreach? Is this an example of two incongruent things both being true?
If they are true, now what?
Sunday night's statements are a starting point, but this must advance way beyond a starting point.
This requires some explaining on Coale's behalf, much discussion between Coale and her past and present players, more discussion between Coale and OU's administration, and an attempt at some understanding.
And here
Oklahoma State defensive end Trace Ford informed reporters on a Zoom call last Wednesday of his bout with COVID-19.
"I had the symptoms," he said. "No taste, no smell, the headaches, the chills."
"I lost a lot of weight," Ford went on to say. "I weigh 240 right now, so I've only lost eight pounds, but I got out of shape. It was harder to breathe.
"I'm slowly getting back in better and better shape every day. But yeah, corona definitely took a toll on my body. I got a little weaker. But I'll be back. I'll be fine."
Ford's recovery is the main thing here.
His experience, though, reminds us that as we watch football games return, and we see hopeful signs that we can pull off a 2020 season, the virus lurks and it can be nasty.
It's great to see the sport return. I watched McLain beat Central and Central Arkansas beat Austin Peay Saturday. That felt refreshing.
Let's just remember to restrain our enthusiasm.
And here
Earlier this summer we were calling on universities to make Election Day Nov. 3 a mandatory day off for athletes. Now, professional sports organizations are opening arenas and stadiums as polling places.
I take this as progress. Still a long way to go given the anguish of our summer, but yeah, this is definitely progress.
Guerin Emig
918-629-6229
guerin.emig
@tulsaworld.com
Twitter: @GuerinEmig
Be the first to know
Get local news delivered to your inbox!