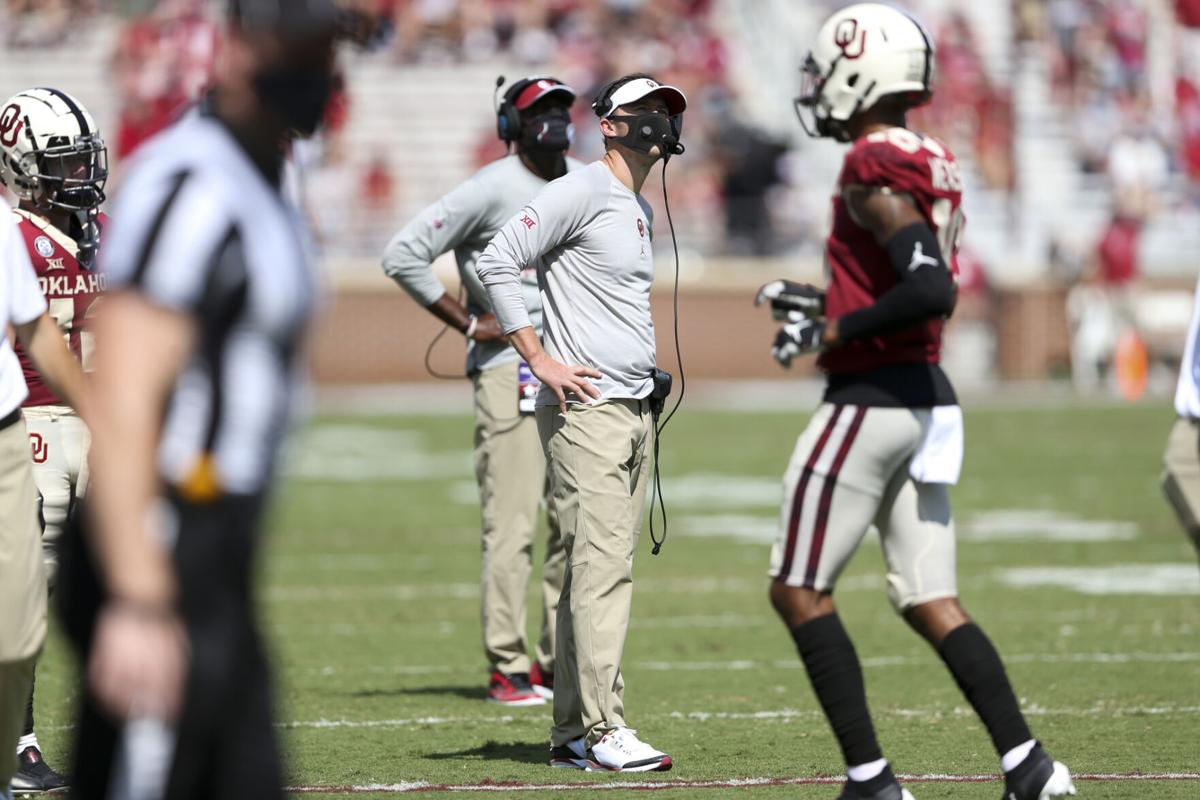 Chris Fallica, "The Bear" on ESPN College GameDay, shared the tweet in the aftermath of Saturday's disaster in Norman: "This is Oklahoma's 6th loss as a 20-point favorite since the start of the 2009 season. No other team has lost more than three in that span."
That fact made most OU fans cry.
It made some OSU fans laugh.
Was this the worst of the bunch?
The 2009 Sooners lost to BYU as 22-point favorites after Sam Bradford was knocked from the game.
The 2011 Sooners lost to Texas Tech as 29-point favorites after the other team's quarterback, Seth Doege, was out-of-body splendid.
The 2014 Sooners lost to OSU as 20-point favorites because Bedlam.
The 2017 Sooners lost to Iowa State as 30-point favorites because, their fans still insist, Mike Stoops.
Last year's Sooners lost at Kansas State as 23-point favorites when Chris Klieman's offensive scheme blew holes in Alex Grinch's defensive one.
You can blame Saturday, when a 28-point favorite lost two 21-point leads on all sorts of things. Some costly mistakes by a super-talented but still-learning quarterback. A substandard run game. Poor tackling and communication across the defense.
Also, Klieman kicked Grinch's and Lincoln Riley's tails again. He kicked them even harder when you consider the game was in Norman, the point spread was wider and his two-deep had been thinned by the coronavirus.
What this Saturday had in common with the previous five was its absurdity. It didn't make sense in Norman, Manhattan or neutral sites where they flipped on the game and couldn't believe what they were watching.
I think this one made less sense than OU's nonsensical defeats in '09, '11, '14, '17 and '18.
The only one in the debate, to me, is six-year-old Bedlam because that's the only other one the Sooners had in control. They led 35-21 midway through the fourth quarter before everyone wearing crimson lost their heads, Bob Stoops most of all.
The Sooners led Kansas State 28-7 and 35-14 at different stages of the third quarter. I watched from the OSU press box thinking, "They're sort of screwing around here," but never "They're sort of screwing around here and it's gonna cost them the game."
Until, that is, it actually cost them the game.
The only other time I got that vibe among the six capitulations in question was standing just beyond the Owen Field end zone, watching Tyreek Hill take that punt return right at me like he was racing Usain Bolt. The other four losses, something seemed amiss from the beginning.
Anyway, it was a stunning result that prompted Fallica's stunning tweet, and it took us back to a stunning realization about one of college football's best programs over the past decade:
For all of their success, the Sooners have somehow simultaneously mastered the art of the collapse.
OK. Let's go to Stillwater...
And he made me laugh
Thomas did a media session last Tuesday ahead of his Ring of Honor ceremony and confirmed he loved everything about his experience at OSU.
"It was very nice until my mom asked Jimmy, 'Are you gonna be here four years with my son?''" Thomas said of his old Cowboys coach. "Jimmy promised he was gonna be here four years with me. Two weeks later, he left and went to the University of Miami.
"My mom still today cannot stand Jimmy Johnson."
He made me think
Mike, the Twitter user who sent me this question about Thomas being the inaugural OSU Ring of Honor inductee during Saturday's victory over West Virginia: "Remind me why OSU didn't choose Barry Sanders first? Honest question. Is it because Thomas played in front of Barry and they're respecting him?"
I hadn't considered the reason, just that it seemed like a really good and long overdue idea. Sort of like giving Sanders a statue outside Boone Pickens Stadium.
I tweeted this idea as a compromise: "How about Thurman is the first in the Ring of Honor, and Barry is first with a statue."
He made me cry
He didn't mean to. Here's what happened...
Last Wednesday evening, the Oklahoman's Scott Wright asked Rodriguez on a Zoom call what it felt like to shoot toward an unsuspecting quarterback on a blitz.
"Let's just say it's like a buffet at Golden Corral," the Cowboys' linebacker said.
Then I remembered that the buffet, the great symbol of American gluttony, will never be the same. Not with the coronavirus lurking at every salad guard.
So pour one out (from the soft-serve ice cream dispenser) for Jason's Deli on Cherry Street, Panda Garden in Norman, Cinzetti's in Kansas City, the breakfast at the Marriott Convention Center New Orleans and, yes Malcolm, the Golden Corral.
May we discover new, inventive ways to stretch our stomachs to the limits of digestive possibility.
---
Featured Sports Video
Guerin Emig
918-629-6229
Twitter: @GuerinEmig
Be the first to know
Get local news delivered to your inbox!