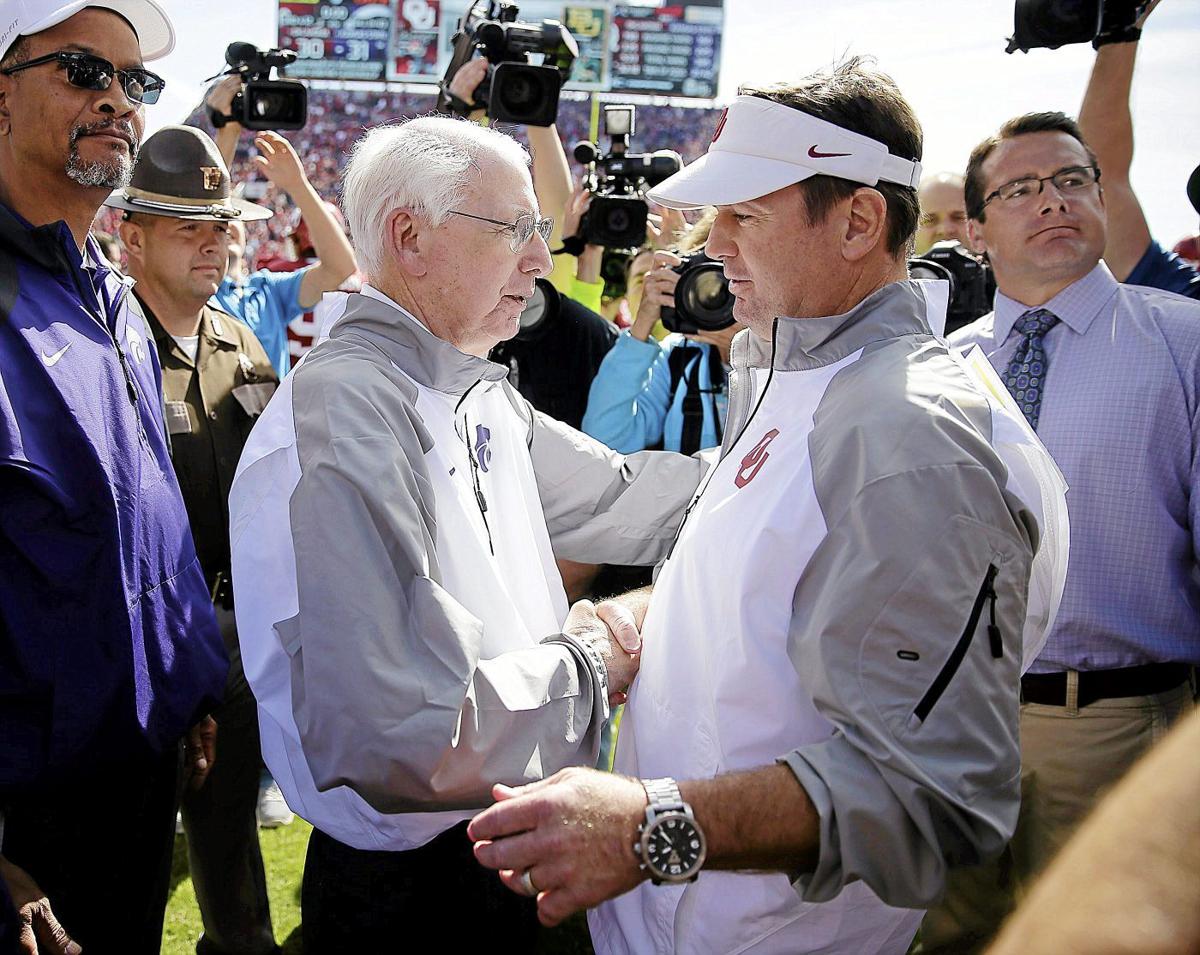 You already know what made me cry last week. Same thing that made you cry.
Thank goodness there was some thought and laughter mixed in...
This made me think
Kevin Wilson, Oklahoma's old play-caller who will coordinate Ohio State's offense in Monday's national championship, was on a media conference last Thursday when someone asked about the Sooners committing to the no-huddle before their 2008 season.
"Bob came in the offseason and said, 'I think we need to look at no-huddle,'" Wilson said of his old boss Bob Stoops. "I said, 'Coach, if you want to we need to change a couple things (about) the way we practice, because you've got to practice a certain way. I don't know if that fits the way you want to do things defensively.'"
This part of the story is familiar. Stoops and Wilson have always said it was Stoops who originated the idea of increasing tempo and taking advantage of the 2008 offense's unique blend of talent and experience, even if doing so might stress OU's defense.
What Wilson said next, however, is something I had never heard.
"I remember (Stoops) had coach (Bill) Snyder come down that year from K-State," Wilson went on. "He was out of coaching at that time and did a clinic. I met with coach Snyder and I said, 'Coach, I'm struggling because coach Stoops wants to go no-huddle and I think that might mess us up because we're really pretty good on defense. What do you think?'
"And he says, 'Well, because you've got a good offense I think you're going to get more at-bats.'"
Would the Sooners have committed to the fast break had Snyder said, "Slow your roll, Kevin?" Probably... Yeah, surely.
But isn't it interesting that Snyder confirmed the idea was a sound one?
Isn't it wild that the same guy who mentored the Stoops brothers, Brent Venables and Mark Mangino, and who affected so much of the great OU football reboot, continues to show his impact to this day?
This made me laugh
Wilson used to love dropping golf analogies in Norman, so it was no surprise to see his response to one of the first questions of Thursday's press conference: How does Justin Fields stack up to the best passers you have coached?
"I've been around some guys and I've coached the position, although never having played quarterback I don't know if I'm an expert on the throw part of it. I'd always dealt with quarterbacks as a golf-related guy," Wilson said, "who was more about what you see in their feet and how to process more than the throw."
And this made me laugh
Nick Saban's comments last Thursday when asked about his coaching roots.
"I have to give all the credit to Don James, who was my college coach (at Kent State), calling me in one day and saying, 'I'd like for you to be a GA,'" Saban said. "I immediately responded that I'm tired of going to school, I don't really want to go to graduate school, and I don't want to be a coach. So why would I do something like this?"
Why did Saban do something like become James' GA?
"My wife, Terry, had another year of school," he said. "I really couldn't go on and do anything else because she wanted to finish, and we wanted her to finish. And we had promised our parents that if they let us get married that we'd both graduate from college."
Saban fell in love with coaching, naturally. He and Terry stayed in love and stayed in good graces with their families.
And Saban eventually reached unfathomable graces in his profession.
Another thought
About last Tuesday's Heisman Trophy ceremony...
This season has offered us an excuse to reset a lot of things in college football that need resetting. The Heisman timetable is among them.
The presentation shouldn't occur before bowl season. Used to be you could award the trophy and gin up interest in the bowl lucky enough to feature the winner. Now that the winner is almost invariably in the College Football Playoff, that excuse is useless.
Whether it meant to or not, the Heisman Trust got that part right this year. Alabama receiver DeVonta Smith picked up his trophy after the New Year, after every game but the national championship, and not in the middle of December.
This part remained wrong: Heisman ballots were still due right after conference championship weekend.
There is no reason we can't wait to see what happens during bowl/CFP season before voting. Whether it makes a difference or not in that voting, and some years you can be sure it would, this is about plain common sense.
It is also about keeping up with the times. College football glamorizes the CFP more every year, so why not wait until it the playoff has concluded, or at least the semifinals have concluded, before voting for the sport's most glamorous award?