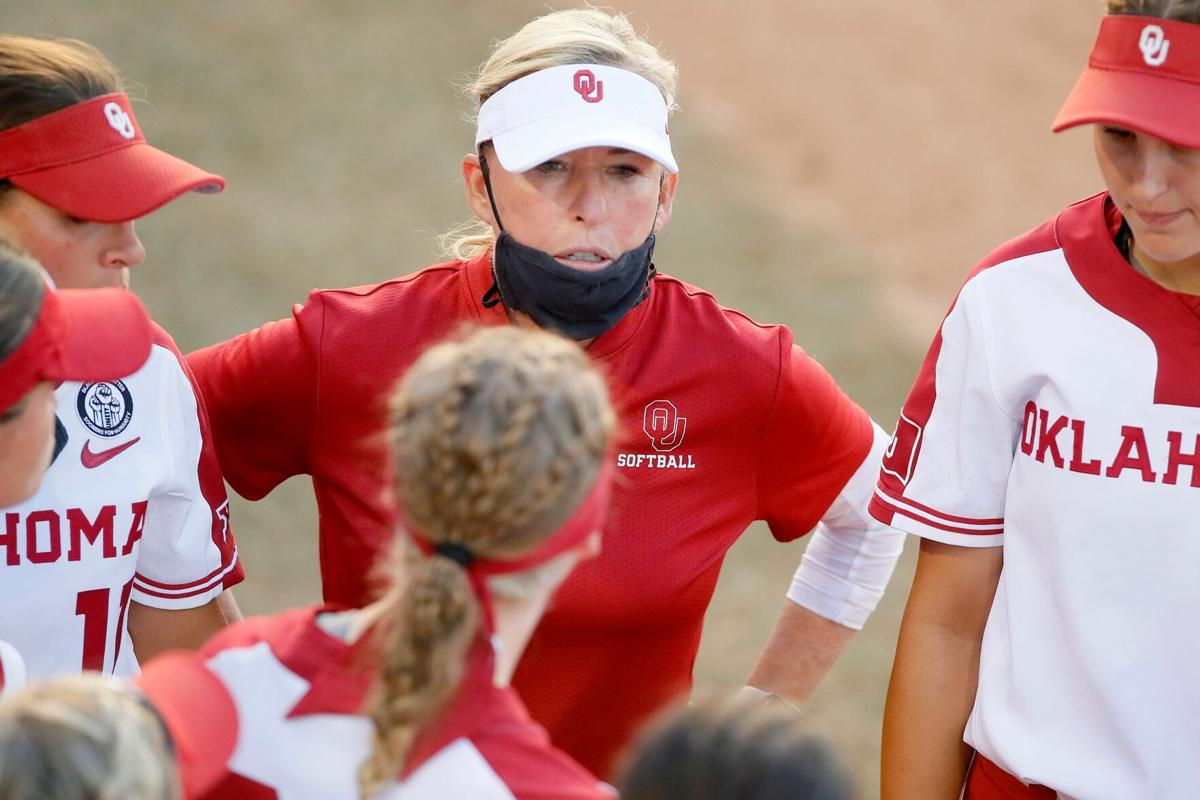 Patty Gasso got ejected. Oklahoma State told Jayda Coleman to sit down and shut up as Gasso was being ejected. Oklahoma won 6-4 to make Sunday's rubber game the one that will decide the Big 12 Conference championship.
And now it can be said: Softball represents the best of Bedlam right now.
Here are two teams separated by 80 miles and six spots in the top 7. Except it's a lot closer than six spots. No. 7 OSU is closer to No. 1 OU's equal than we thought, which means OSU is closer to national championship contention than we thought.
The Cowgirls are really, really good and just as steely. They had no business being in Saturday's loss, mustering just four hits, but they found a way to bring the winning run to the plate three times in the bottom of the seventh inning.
The Cowgirls have attitude. They absorbed a 4-1 deficit after Jocelyn Alo's bat flip home run in Friday night's series opener, and wound up sending four over the fence themselves to win 6-4. The celebrations after every home run, and at game's end after they had broken a 10-year Bedlam losing streak, were salty.
They absolutely should have been. Salty is what peak Bedlam is about.
Sizzling competitive juices is what peak Bedlam is about, and brother do we have them this weekend.
Alo broke her easygoing way with that bat flip Friday night. Gasso broke hers Saturday when umpires missed the fact that the reason OSU third baseman Sydney Pennington tagged out Coleman sliding into the bag in the sixth inning was because Pennington forced Coleman off that bag with her glove.
That Gasso got tossed during her argument was like watching grandfatherly Lon Kruger get tossed from a basketball game.
Bedlam can do that when it boils over.
When Coleman argued and then started back toward her first-base dugout, a few Cowgirls waved her on her way.
There is nothing wrong with acting on hard feelings and raw emotions during an in-state college rivalry. Now that Kenny Gajewski has a team that can not just test the Sooners but beat them, those feelings and emotions are pouring out all over this particular rivalry.
That's how this should be.
We aren't treated to much of this in football because Mike Gundy is 2-14 against OU.
Wrestling? Please. OSU's grip on Bedlam wrestling is tighter than OU's on football.
We don't get much of this in basketball because Kruger was on the Sooners' job the past 10 years. Asking him to poke Bedlam's embers was like asking Mister Rogers to throw a toga party.
Baseball? Not prominent enough right now.
But softball... Softball is prominent, the way these two teams play it.
Did you see Chyenne Factor, Hayley Busby, Kiley Naomi and Reagan Wright take their home run cuts off OU ace Giselle Juarez Friday night? My goodness.
Did you see Sooners 9-hole hitter Nicole Mendez launch one off the scoreboard Saturday afternoon? Did you see Coleman command center field defensively?
This was a series already revved up at the beginning of last week as OSU swept Texas. The Sooners destroyed No. 25 Wichita State 14-3 last Tuesday for their 30th run-rule win of the season, one in which historians can't fathom what Gasso's team is doing to college softball records.
There was Gasso's and Gajewski's 24-year history. There were the superstars they were sending at each other this year, including three (OU's Alo and Tiare Jennings and OSU's Carrie Eberle) among the 10 finalists for USA Softball Collegiate Player of the Year.
The scoreboard after two games reads as it should: OSU 1, OU 1. The Big 12 title remains for the taking. Game 3 goes off Sunday at 11 a.m.
Get to Cowgirl Stadium if you can, and if you can't get to ESPNU for the broadcast. Your chaplain will understand. Trust me.
Church will be there again next week.
Bedlam, at the level it should look and feel, will not.