OU athletic director Joe Castiglione hyped associate AD Kenny Mossman for his unsung role in scheduling the undercard games around the heavyweights. That was shrimp to a shark for a college football minutiae nerd like me.
I called Mossman to flesh out his role and the process.
"Before I got involved in scheduling, I was one of those people who would make the comment, 'Well, just do this. Just do that. Why can't we do that?'" said Mossman, an OU athletics staffer since 2001 and a more prominent scheduling administrator the past five years or so. "What you forget is that there are multiple moving parts to this. You can't just snap your fingers and line up the games you want to play. You have to work with other schools on dates and financial guarantees and television and a myriad other things. You've got so much to think about."
The head coach, for example. We'll get to Lincoln Riley's place in the process eventually, but first...
"Every school has a scheduling entry point. At OU I'm pretty much that person," Mossman said. "There are certainly conversations that occur AD to AD on scheduling, but people know who the scheduling entry point is at most schools. I get a lot of those calls.
"We try to tier our nonconference games. It's kind of a 'good/better/best' model. I particularly get those calls that fall into the 'good/better' category. Teams looking for guarantee games where they don't want a return date, or teams that might want to investigate a two-for-one, where they'll play two times in Norman or maybe one at their location. We have one of those coming up with Temple (2024 and '28 at OU, '25 at Temple). Normally, they'll contact us. Or we'll contact them."
A little more on the tier-ing...
"We normally start with the marquee game. That's really the cornerstone for the nonconference schedule," Mossman said. "We get those games plotted first in most cases...
"You're obviously not looking for the same level of competition for all three weeks of your nonconference. Ideally, what you like is a crescendo. Your team gets a game where they can develop here and build on that. Then they'll play a really good opponent. Then they're ready to go into conference play."
So Mossman makes calls, fields calls or even uses software developed by longtime ESPN scheduling guru Dave Brown to parse possible opponents.
"A delicate balance at just about every turn," he said.
Delicate? This is walking a tightrope over lava while juggling badgers.
There are financial considerations that can get dicey.
Mossman can't just call a lower-level FBS school, offer a million bucks to play one game at Owen Field and be done. They have their own finances to consider. They might shop around for the best payday, leaving high-level Power Five schools like OU to keep shopping.
Mossman must keep his own finances in mind. He can't negotiate a deal with a payout so hefty it leaves OU short of its bottom line. That could impact things like ticket prices.
There are fan considerations.
"We all recognize the entertainment landscape has changed. There is a higher bar now," Mossman said. "That's why you see premium seating, more suites and clubs, different concessions offerings. And ultimately that will probably be why you'll see a different approach to scheduling, generally speaking."
It's a little easier to keep fans, and revenue, coming with a more attractive schedule. A school that schedules an FCS nonconference opponent might make half the guaranteed payout it does to a low-level FBS, but at what cost of alienating fans due to the letters "F-C-S?"
As Mossman said, it is such a delicate balance. And that's before considering elements related to the unforeseen, like a pandemic.
"Or teams asking to move a game to accommodate a schedule change," Mossman said.
Then there is the competitive aspect.
"That's why we bring Lincoln into the conversation," Mossman said. "We want him to help educate us if he feels like he's ready to play this school at this time. We don't do this irrespective of the coach. He certainly gets a voice."
Riley wants a game where he can play a maximum number of kids. That keeps the backups engaged and takes advantage of recently relaxed redshirt rules.
Riley also knows the value of schedule strength as it relates to a College Football Playoff resume. His ADs are as aware of the competitive trends as he is.
"You're seeing more Power Five teams have multiple Power Five games in seasons," Mossman said. "It will be interesting to see if it continues to track that direction. That's something Joe and I have talked about."
Now we're adding timelines into the mix.
The OU-Clemson home-and-home is scheduled for 2035-36, typical of nonconference heavyweight bouts scheduled 15-20 years in advance anymore. How much advance time is necessary for the middleweights?
"Normally you would schedule those in a five-year-or-less time frame," Mossman said. "You want to stay ahead to the point where you still have a wide selection of teams you negotiate with, or to pick from to do a negotiation."
Mossman will take some potential opponents to Riley for input, and with an enviable advantage.
"I can have an idea about the schedule and tell you pretty much what Lincoln will say before I walk into his office in most cases," he said. "It's very much a coordinated effort, but we've been doing it together for long enough that we read each other pretty well."
Mossman and Castiglione have worked together for 20 years. They both worked with Bob Stoops nearly as long, and now have Riley's trust just as they had Stoops'.
That makes it easier to hammer out nonconference schedules, but not necessarily easy. We see three games every year and think: "Yeah, that fits. Simple enough."
"On its surface it's not terribly complicated," Mossman said, "but it can get complicated."
Beneath the surface are operatives like Mossman at places like OU, figures we don't often notice but certainly should every time a nonconference football game is played.
---
What did OU football coach Lincoln Riley say at his Feb. 3 press conference?
OU's Lincoln Riley on Brendan Radley-Hiles entering transfer portal
OU's Lincoln Riley on Tennessee transfers
OU's Lincoln Riley on transfer portal tampering concerns
OU's Lincoln Riley on how transfer portal impacted National Signing Day
OU's Lincoln Riley on Dennis Simmons promotion
OU's Lincoln Riley doesn't anticipate major changes to staff during 2021 offseason
OUSportsExtra.com: Home to everything crimson and cream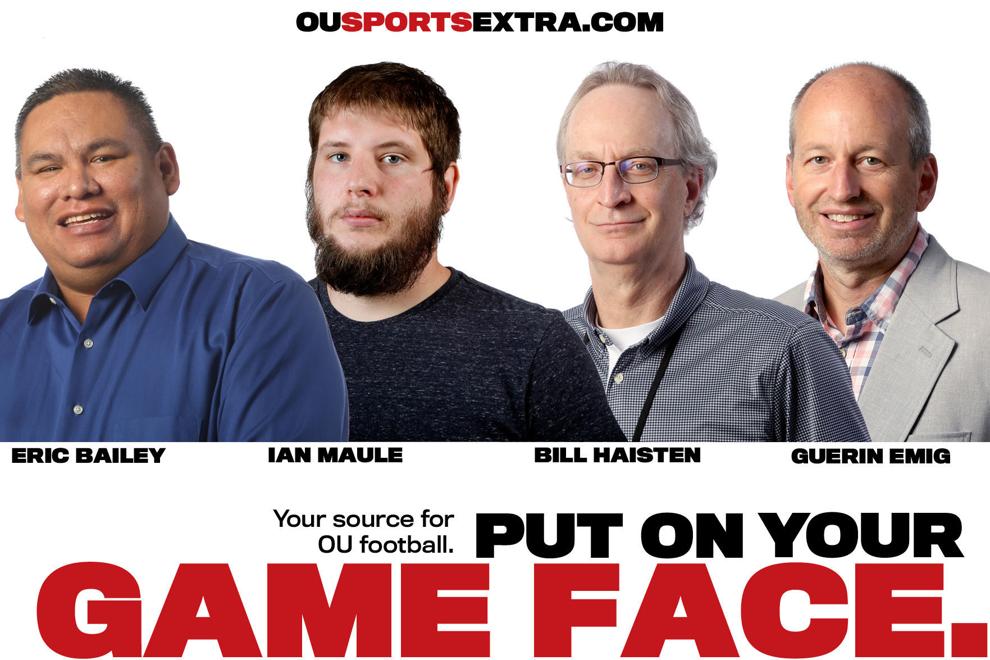 ---