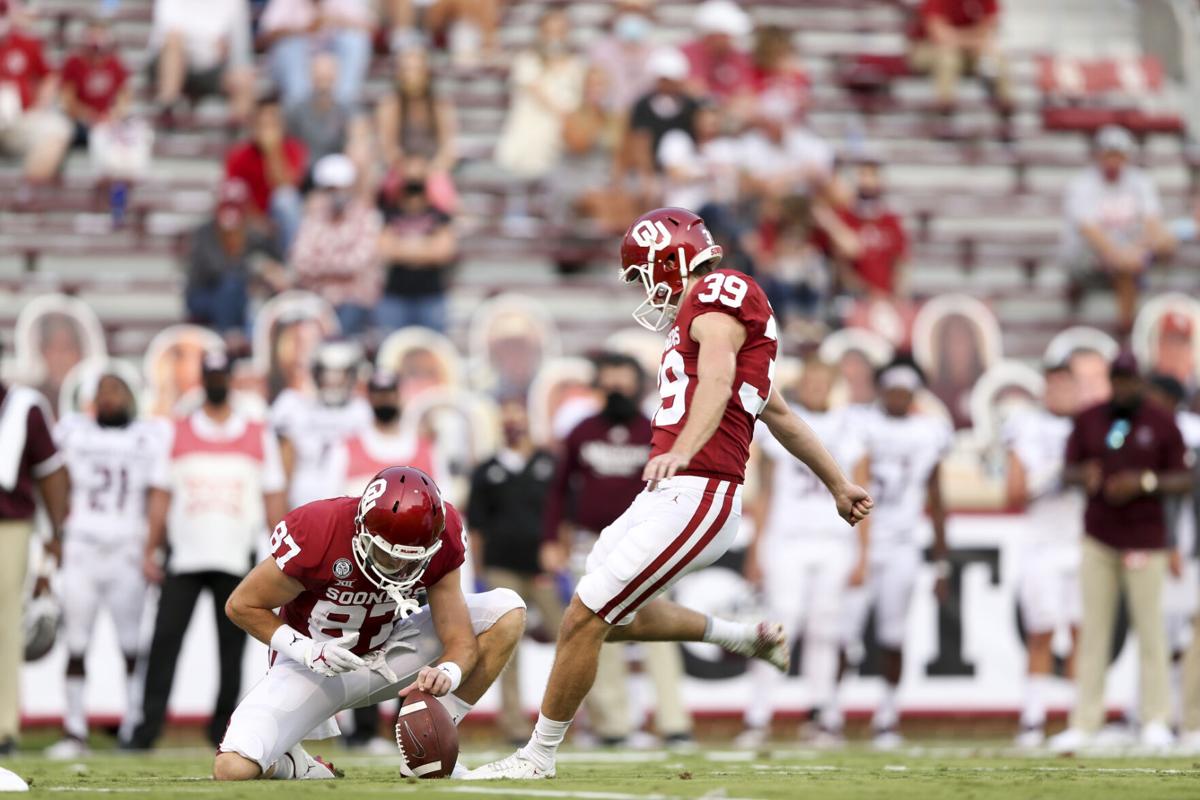 Like everything else in 2020, ranking Big 12 Conference football squads has a tendency to feel futile. You are judging teams on a massive curve based on the available players they have game to game, and the available players their opponent has.
But, like everything else in 2020, you trudge forward nonetheless seeking a semblance of normalcy.
Here's my first attempt at that...
Last game: Blanked Missouri State 48-0 Saturday night in Norman
The most underrated portion of OU's season-opening rout is that nobody appeared to get seriously hurt. Guard Tyrese Robinson left the game in the second quarter, but he walked to the sideline on his own power and without a limp.
Navigating this season is bad enough when you have to quarantine players. Teams that start losing starters to injury on top of that face dire problems.
So far, so good for the Sooners.
Next scheduled game: Sept. 26 vs. Kansas State, 11 a.m.
Last game: Blasted UTEP 59-3 Saturday night in Austin
Sam Ehlinger threw for five touchdowns in 2½ quarters. A text from a friend late Saturday night: "I think Yurich will be good for Texas."
Judging from the Longhorns' offensive show in their opener, new offensive coordinator/quarterbacks coach Mike Yurcich will be great for Texas.
Next scheduled game: Sept. 26 at Texas Tech, 2:30 p.m.
Last game: We haven't seen the Cowboys yet.
Next scheduled game: Saturday vs. Tulsa, 11 a.m.
Chuba Hubbard was asked last week about the 7-day delay of the season opener.
"Whether we play today, tomorrow, next week, five months from now, I'm going to be ready," he fired back.
This is a running back who piled up 256 yards and three touchdowns against the Golden Hurricane last year. To hear him speak so assertively last week is to imagine he might go for 356 and six scores Saturday in Stillwater.
Last game: It was supposed to be Saturday against Louisiana Tech. Two things intervened – COVID-19 and Hurricane Laura.
"With 95 percent of our city losing power for days, our student-athletes were forced to find places to stay and some even had family from south Louisiana that came northward to stay with them," La Tech AD Tommy McClelland said. "So many things that we were able to control for the month of August became out of our control, and I think the (COVID) numbers prove that it took its toll."
Next scheduled game: Sept. 19 vs. Houston, 11 a.m. in a game hastily arranged last week
Last game: Clobbered Eastern Kentucky 56-10 in Morgantown Saturday
Look, EKU is an FCS program that has now been outscored 115-10 in two defeats. This is hardly the stuff of Power 5 competition.
Still, the Mountaineers were without 11 suspended players. And this counts as progress: Alec Sinkfield and Leddie Brown both eclipsed 100 rushing yards one season after West Virginia finished third-to-last among FBS programs in rushing.
Next scheduled game: Sept. 26 at OSU, TBA
Last game: It was supposed to be Friday night against SMU. A coronavirus outbreak in the Horned Frogs' program changed that.
"I've probably said 'sanitize' a thousand times more than I ever said my whole life," TCU coach Gary Patterson said last week.
Sounds like he'll be saying it a thousand times more. At least.
Next scheduled game: Sept. 26 vs. Iowa State, TBA
Last game: Lost 35-31 to Arkansas State in Manhattan Saturday
A silver lining to the Wildcats' upset loss – Wayne Jones, the former Owasso Ram who was carted off the field during K-State's final defensive series, appears to be recovering.
"I had a great doctor's report and walked out of the hospital with a concussion and some minor things," Jones shared on Twitter later Saturday. "I think everybody for all their prayers. I'm at home right now relaxing."
Next scheduled game: Sept. 26 at OU, 11 a.m.
Last game: Lost 31-14 to Louisiana in Ames Saturday.
The first discouraging number from a miserable season opener for the Cyclones: Brock Purdy went 16-of-35 for 145 and an interception. You can't have that from a quarterback expected to jump into All-Big 12 contention this season.
The second: Matt Campbell is now 6-11 in September games at Iowa State. How does a coach with Campbell's sterling reputation have such a lousy track record in getting his team ready to start a season?
Next scheduled game: Sept. 26 at TCU, TBA
Last game: Held off Houston Baptist 35-33 Saturday night in Lubbock
The good – Tech's Alan Bowman did what Purdy did not. He made good on the promise of his returning to start at quarterback by throwing for 430 yards and a pair of touchdowns..
The bad – Houston Baptist quarterback Bailey Zappe threw for 567 yards and four touchdowns.
Dazzling passing game, despairing pass defense. Red Raiders football now and forever.
Next scheduled game: Sept. 26 vs. Texas, 2:30 p.m.
Last game: Lost 38-23 to Coastal Carolina late Saturday night in Lawrence
Les Miles in postgame: "I think we came into the stadium with the right mindset."
Submitted without comment: The Jayhawks trailed 28-0 after five possessions.
Next scheduled game: Sept. 26 at Baylor, TBA
Guerin Emig
918-629-6229
Twitter: @GuerinEmig
Be the first to know
Get local news delivered to your inbox!