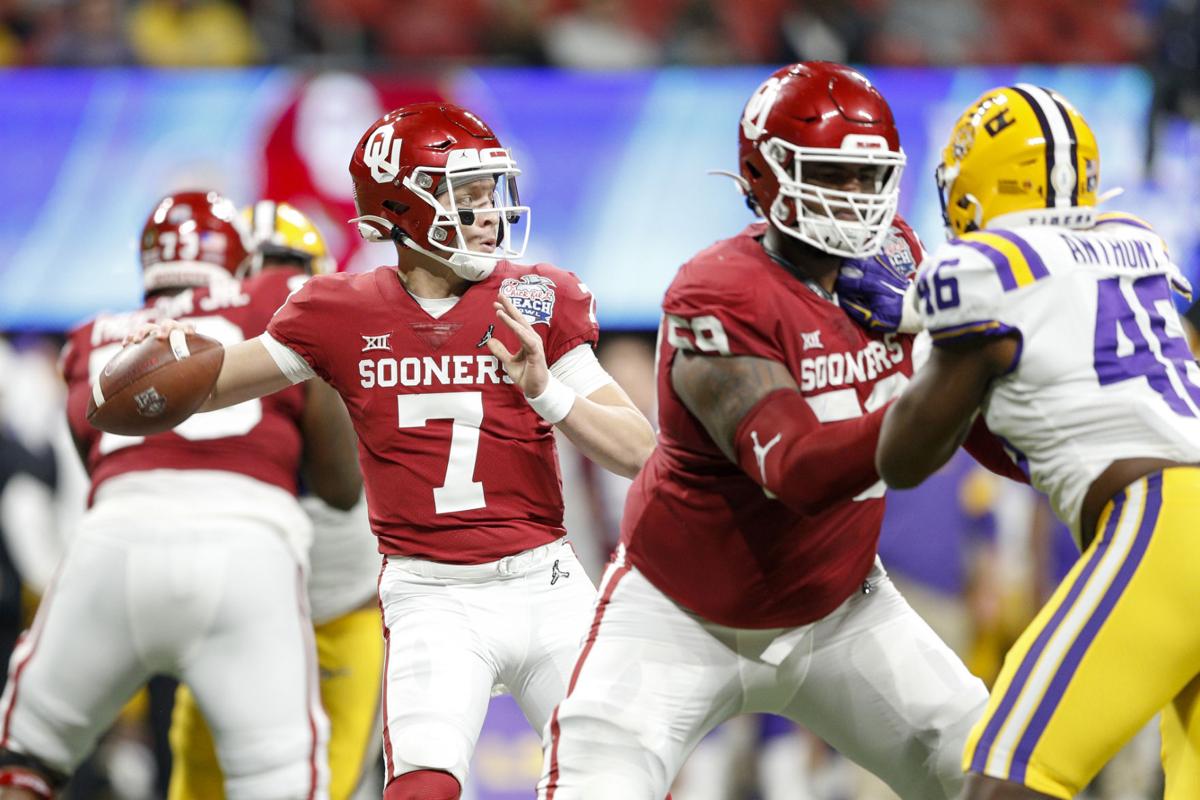 A story the magnitude of the one unloaded by the Houston Chronicle Wednesday, that Oklahoma and Texas had "reached out" to the Southeastern Conference and everyone is potentially "a couple weeks" from a resolution leads us to two statements, one pretty safe assumption, one question and a flood of fascinating, divergent answers as to what to think about this.
The statements are Oklahoma's and Texas'.
OU: "The college athletics landscape is shifting constantly. We don't address every anonymous rumor."
UT: "Speculation always swirls around collegiate athletics. We will not address rumors or speculation."
The similarities there are as obvious as the fact that neither Big 12 Conference flagship made the slightest effort to shoot down the Chronicle's report, or to pledge the slightest hint of allegiance to the Big 12. If he wasn't worried sick already, Big 12 commissioner Bob Bowlsby surely puked while reading those statements.
Something's happening here. I don't know any more than you what exactly that is just yet, but I don't believe it premature to ask a startling question.
Why on its red earth would Oklahoma leave the Big 12 for the SEC?
The Sooners control the most pivotal college sport in their conference, meaning they enjoy relatively safe passage to college sports' most lucrative event this side of March Madness, the College Football Playoff.
The Sooners recruit their region famously. They are secure competitively, culturally and geographically in the Big 12 footprint. Players' families can drive to road games and usually count on watching victories.
OU exerts influence at the Big 12 executive table thanks to its history, its brand and the fact that 23-year athletic director Joe Castiglione has probably been sainted by Bowlsby.
Castiglione has been one of the Big 12's biggest public advocates the past several years, enough to sweep away the doubt that former OU president David Boren once cast upon the league's viability and future.
This is because Castiglione's teams win beyond football. His palatial football stadium is perpetually sold out. His revenue reservoirs are deep. He lacks for no resources. His department is self-sustaining.
Why did Wednesday night arrive with no official Castiglione comment and virtually no OU pushback against the Chronicle's reporting?
Leading us to ask: Why would the Sooners make this move?
If you think hard enough, at least until anyone at OU says something definitive one way or the other, you can conjure as many reasons for the Sooners to go as stay. And without ever changing the elements in play.
The SEC agreed to a reported 10-year, $3 billion football and men's basketball media rights contract with ESPN last December. That's roughly $21.5 million per SEC school annually.
The Big 12 agreed to a 13-year, $2.6 billion deal with ESPN and FOX in 2012. That's roughly $20 million per Big 12 school annually.
The Lubbock Avalanche-Journal reported last May that ESPN and FOX balked at Big 12 efforts to renegotiate the contract ahead of its 2025 expiration.
We could read between the lines here.
Or we could take a basic route and surmise OU might prefer that extra $1.5 million annually — on the surface before any final renegotiation by either conference, and without consideration of what the two leagues' digital packages might net.
I wouldn't scoff at any figure as drop-in-the-bucket. A million bucks, and the prospect of several more million in a different conference, can go a long way toward assuring an athletic department's financial stability and long-term sustainability, especially after suffering through a pandemic.
Something else about money... We all discovered the importance of home-game revenue during the pandemic season of 2020. Castiglione has a 129-game (non-pandemic) sellout streak to fall back on, but for how much longer in this home television studio era, a reality he has long worried about?
OU's Big 12 home schedule last year featured Kansas State, Kansas, Oklahoma State and Baylor. Arkansas' SEC home schedule last year brought in Georgia, Ole Miss, Tennessee, LSU and Alabama.
Which one do you think fans would rather spend luxury suite money on?
Now let's pivot to OU playing those teams. No way the Sooners maintain their Big 12 football grip on the SEC.
And while that seems a load to give up, we should consider a few things.
The Sooners just waxed Florida in the Cotton Bowl. They should have beaten Georgia in the 2018 Rose Bowl. They did beat Auburn and Alabama in the 2017 and '14 Sugar Bowls. They beat Tennessee in 2014 and '15.
That doesn't erase OU's humiliating 2-year-old Peach Bowl loss to LSU, or the 3-year-old Orange Bowl loss to Alabama. The Crimson Tide would likely exert some control on the Sooners in a 16-team SEC.
They are recruiting nationally under Riley, even dipping into SEC states for talent. They are trying desperately to close their gap behind SEC defenses.
This wouldn't be some suicide mission. When you consider the College Football Playoff is likely to sprout from four to 12 teams as early as 2023, OU's migration becomes even more reasonable, competitively speaking.
The road trips are a little less convenient in that case, but it isn't like Riley must stop signing Oklahoma and Texas talent. Certainly not with the Longhorns and Texas A&M Aggies on the SEC bill.
As for OU's loss of Big 12 influence, there's no doubt the SEC runs through the Deep South, not the Deep Southwest. But bind OU, Texas, Texas A&M and Arkansas in a Deep Southwest SEC voting bloc — I know, I know... Horns and Ags mix like Mike Leach and Woody Hayes — and the Sooners might not feel like Delta House pledges.
There are so many ripples here. Grants of rights. Buyouts and vote-ins. The digital explosion among college sports consumers. The autonomy explosion among college sports power brokers, rushed by the NCAA's waning authority over both legislation and ideology.
Could be the waters calm over the next several days like they did in 2011, when many of us felt pretty good that OU and Texas were Pac-12 bound, before we all lived out a 10-year Big 12 resuscitation.
Could be this is the Sooners and Longhorns throwing their weight around, like they tend to do in their current league, for leverage sake.
Could be I'll file away this column for later use, since there are relevant issues here regardless of timeline.
At any rate, good on the Chronicle for an engrossing piece of journalism, one that has us all thinking deeply right now.
Guerin Emig: Sooners, Cyclones dominate my preseason All-Big 12 football ballot
Quarterback: Spencer Rattler, Oklahoma
Running back: Breece Hall, Iowa State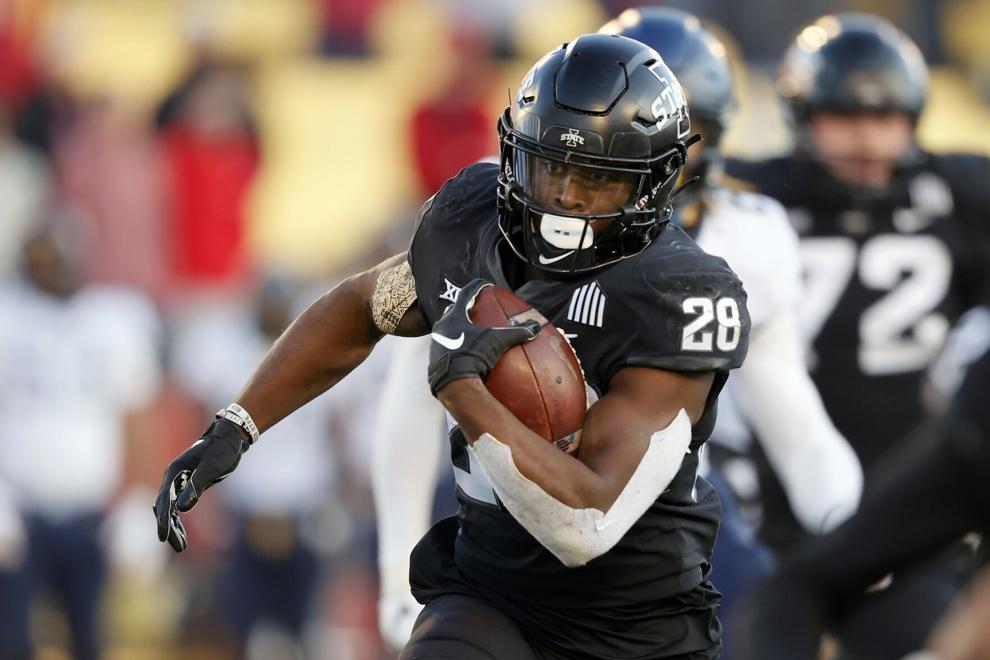 Running back: Deuce Vaughn, Kansas State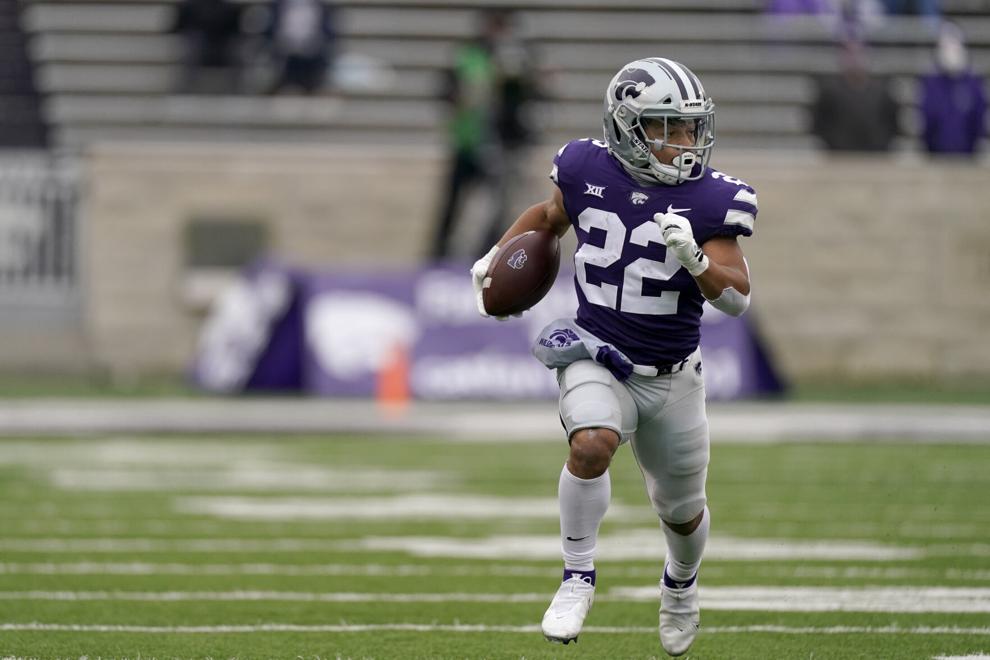 Fullback: Jeremiah Hall, Oklahoma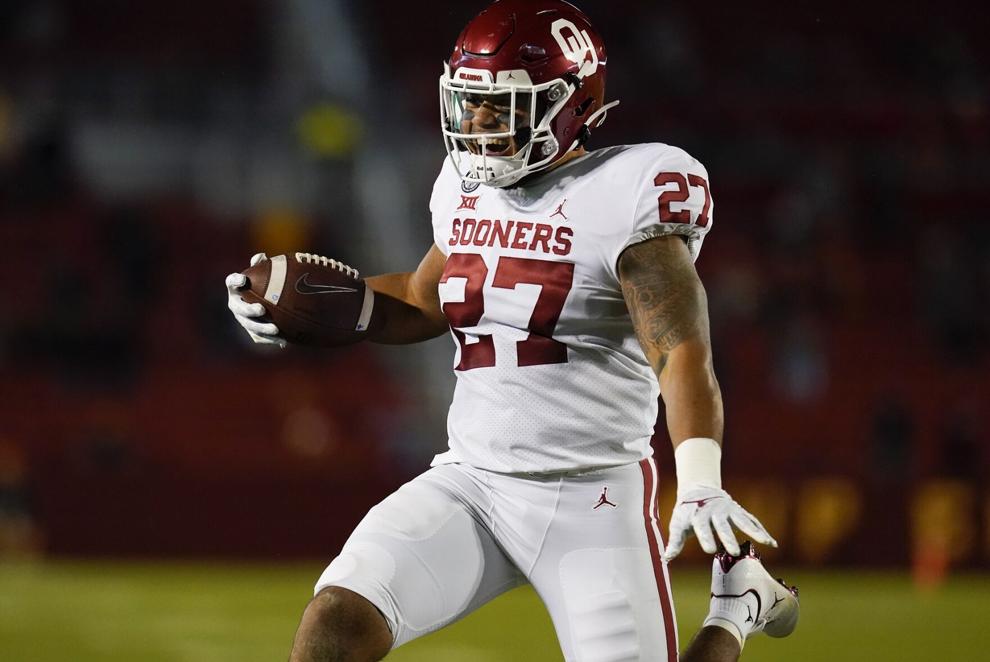 Wide receiver: Erik Ezukanma, Texas Tech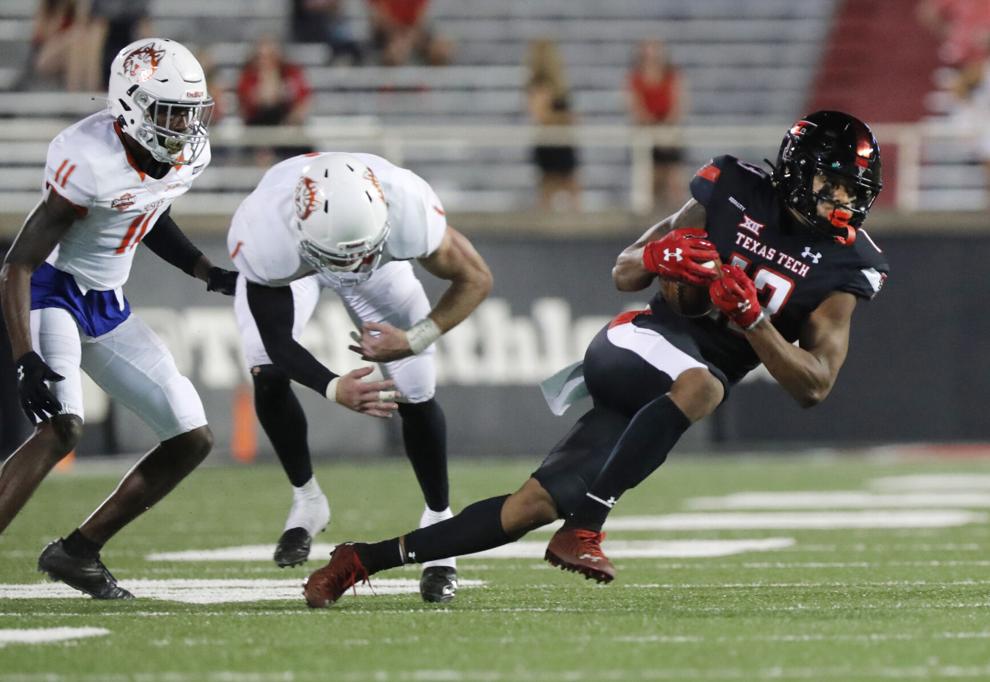 Wide receiver: Xavier Hutchinson, Iowa State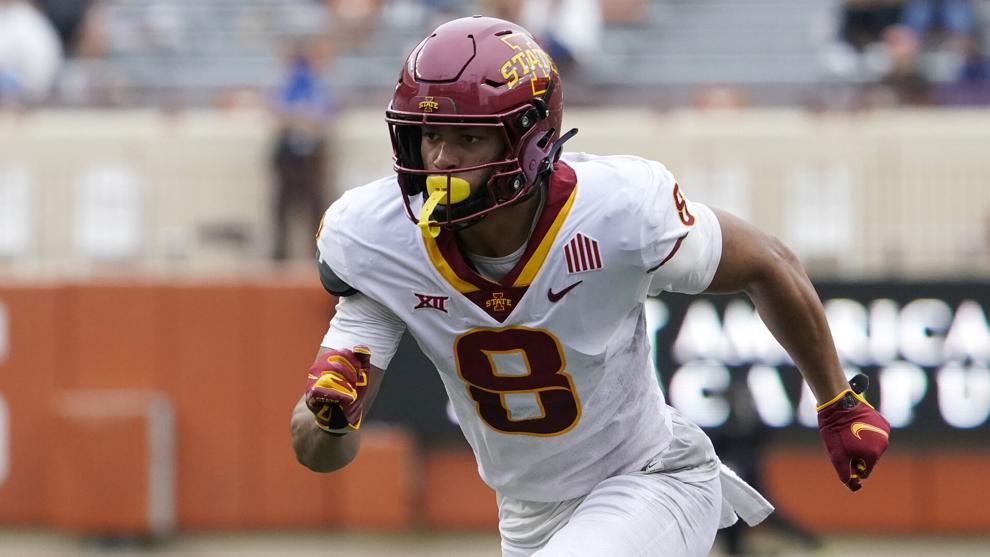 Wide receiver: Marvin Mims, Oklahoma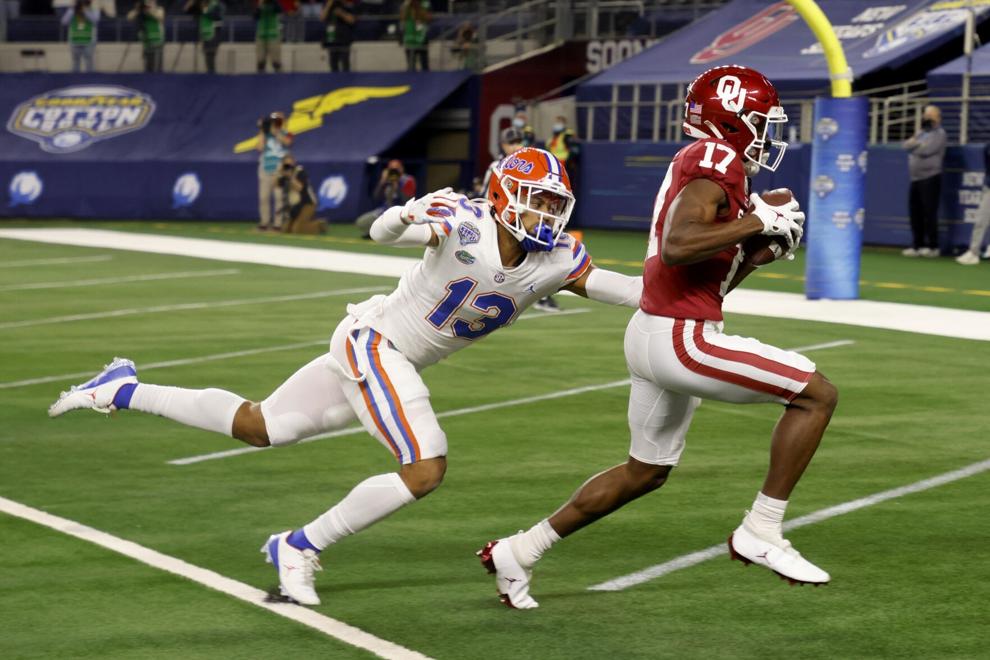 Tight end: Charlie Kolar, Iowa State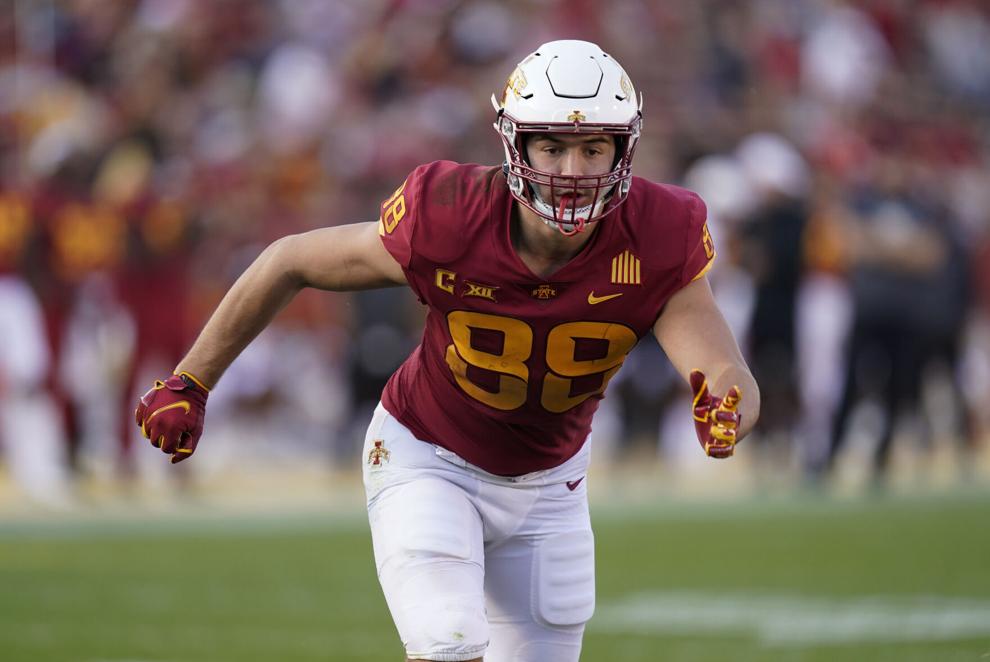 Offensive linemen: Dawson Deaton, Texas Tech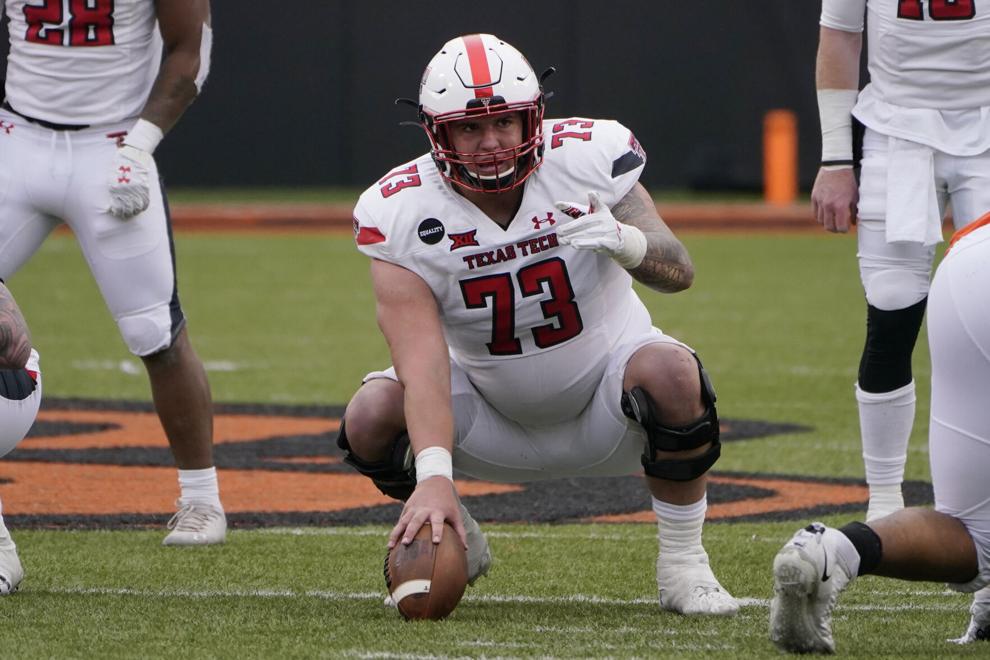 Offensive linemen: Trevor Downing, Iowa State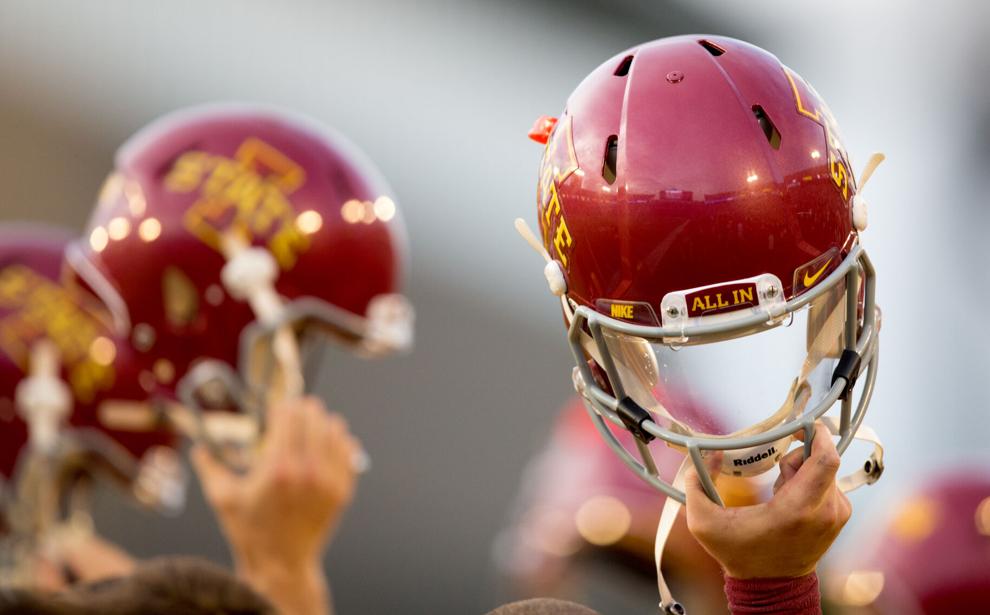 Offensive linemen: Marquis Hayes, Oklahoma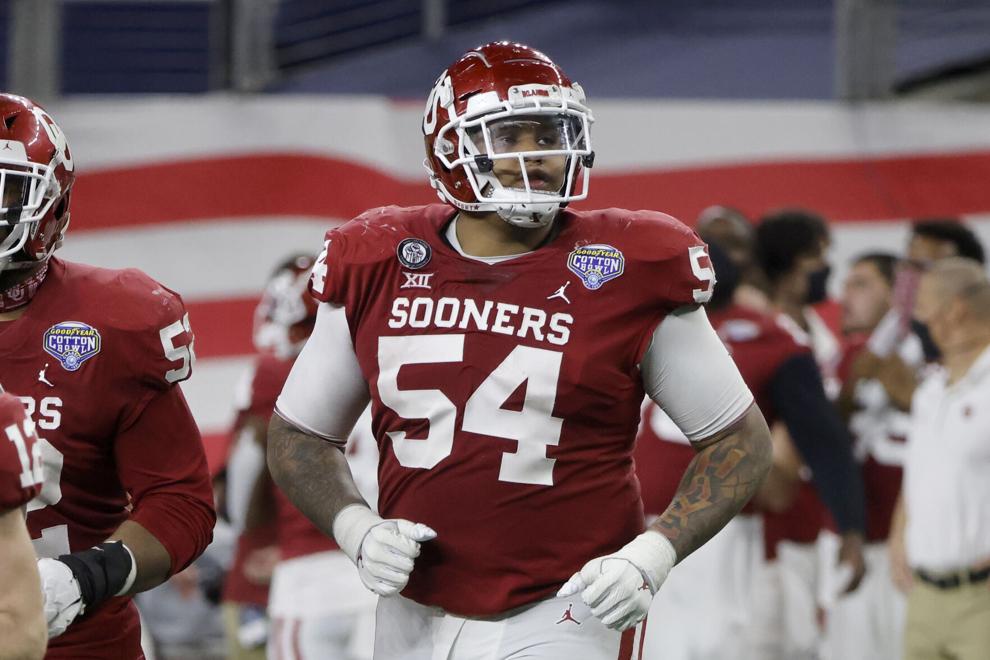 Offensive linemen: Colin Newell, Iowa State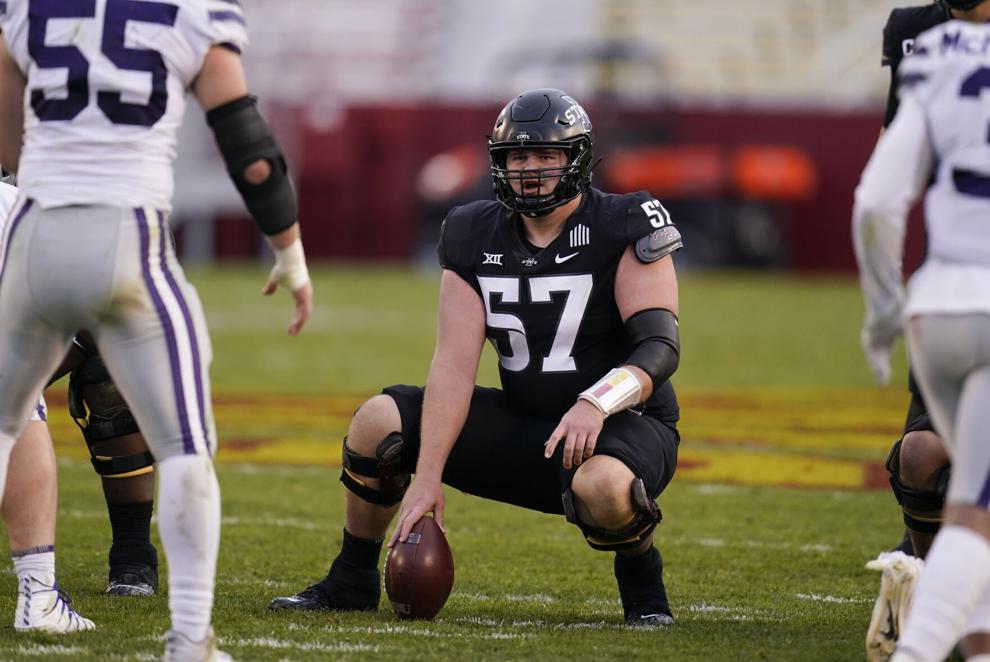 Offensive linemen: Josh Sills, Oklahoma State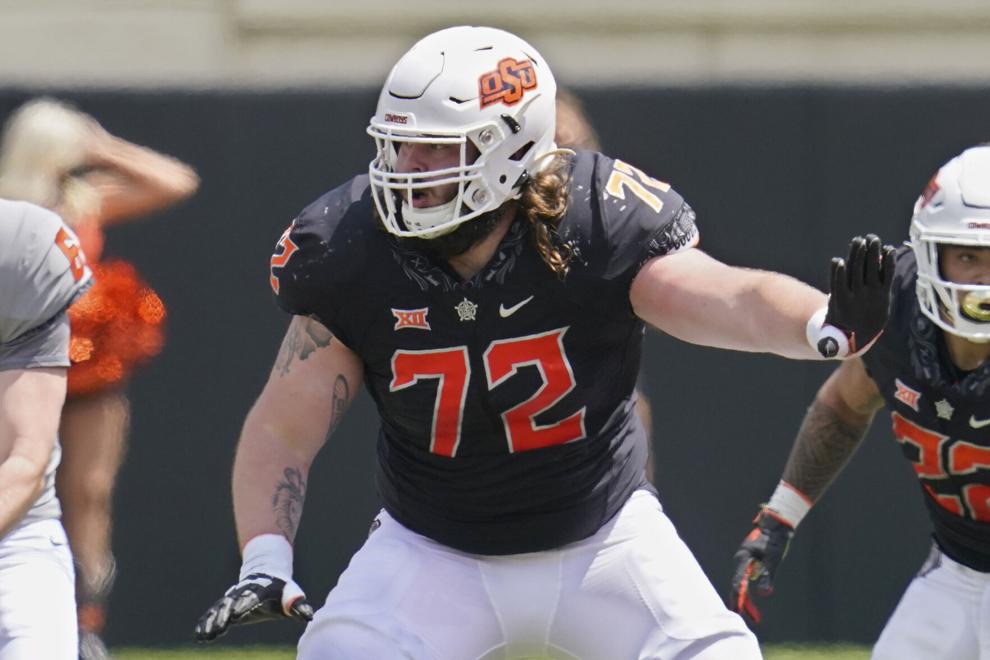 Defensive line: Ochaun Mathis, TCU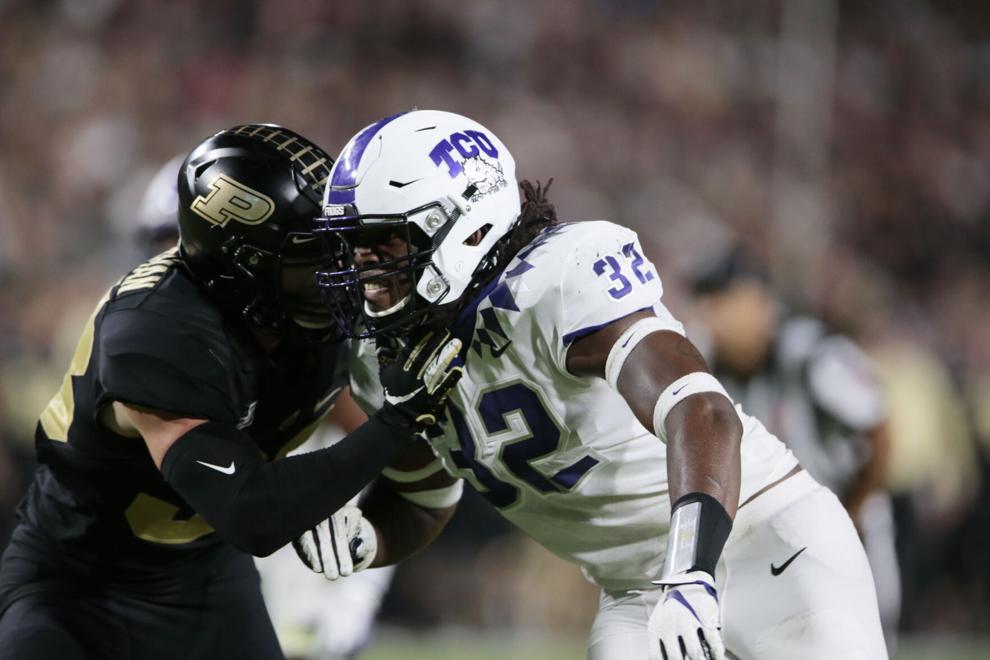 Defensive line: Will McDonald, Iowa State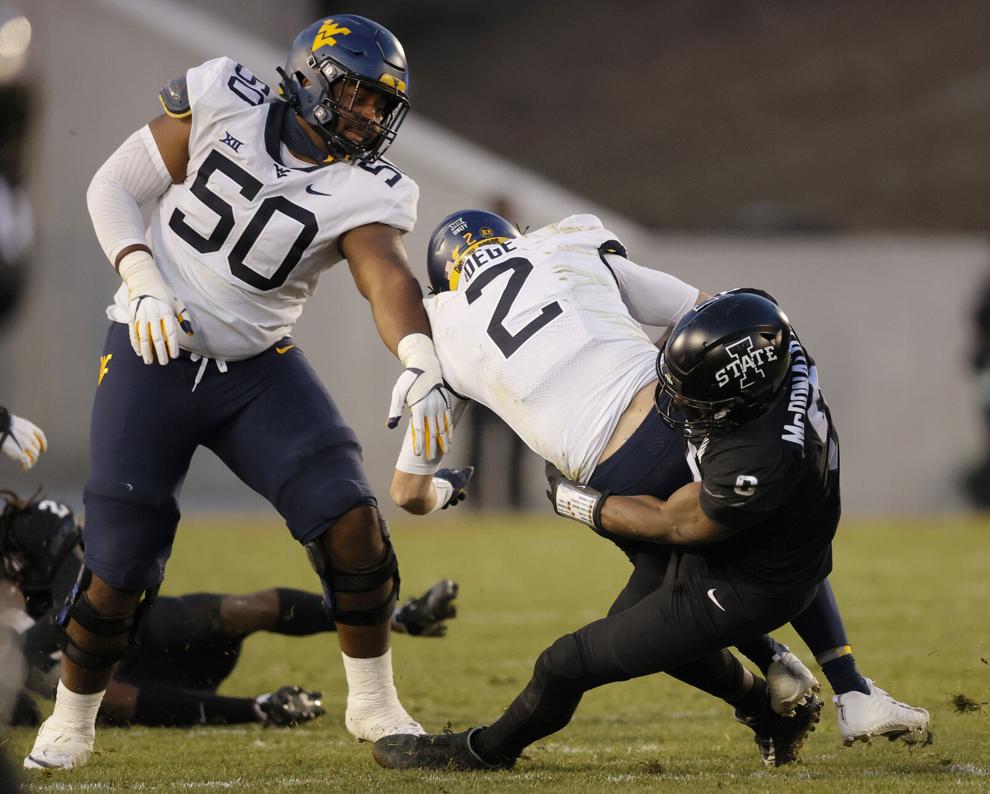 Defensive line: Dante Stills, West Virginia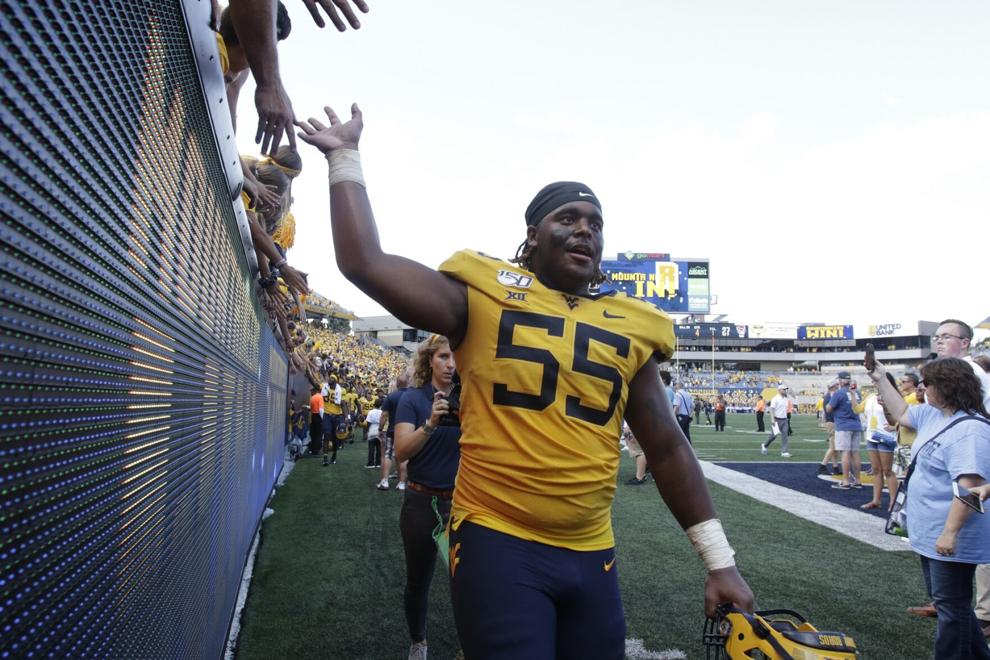 Defensive line: Isaiah Thomas, Oklahoma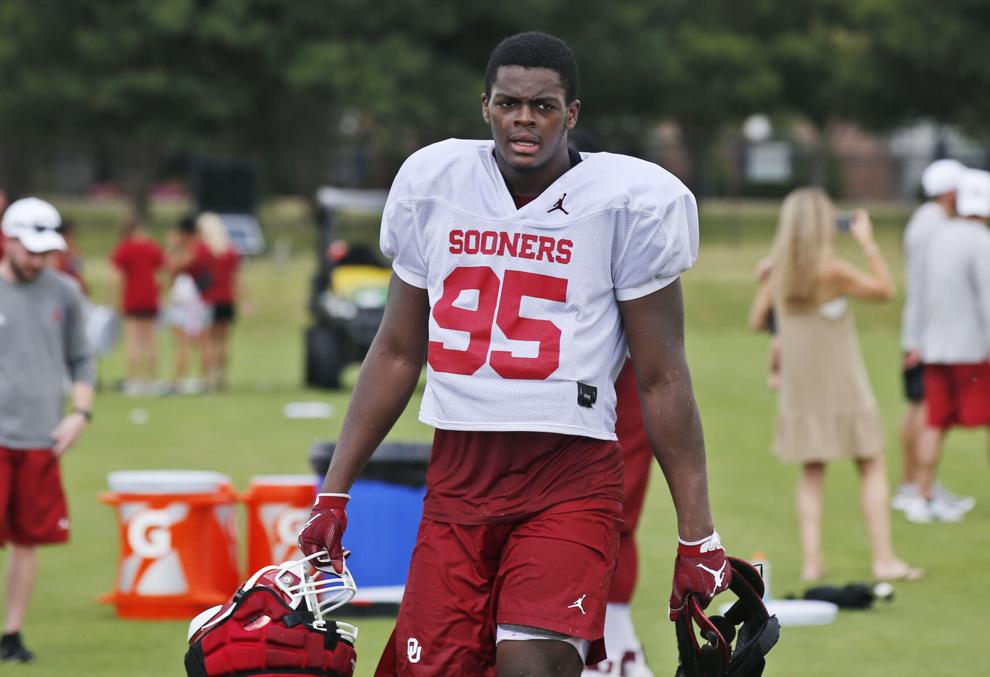 Defensive line: Perrion Winfrey, Oklahoma
Linebacker: Nik Bonitto, Oklahoma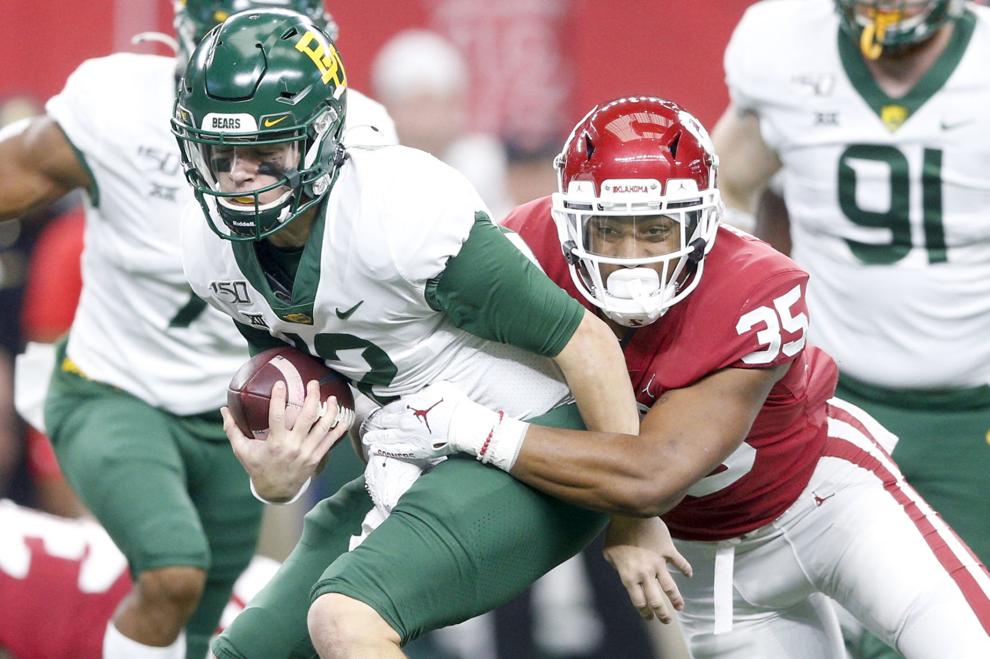 Linebacker: Malcolm Rodriguez, Oklahoma State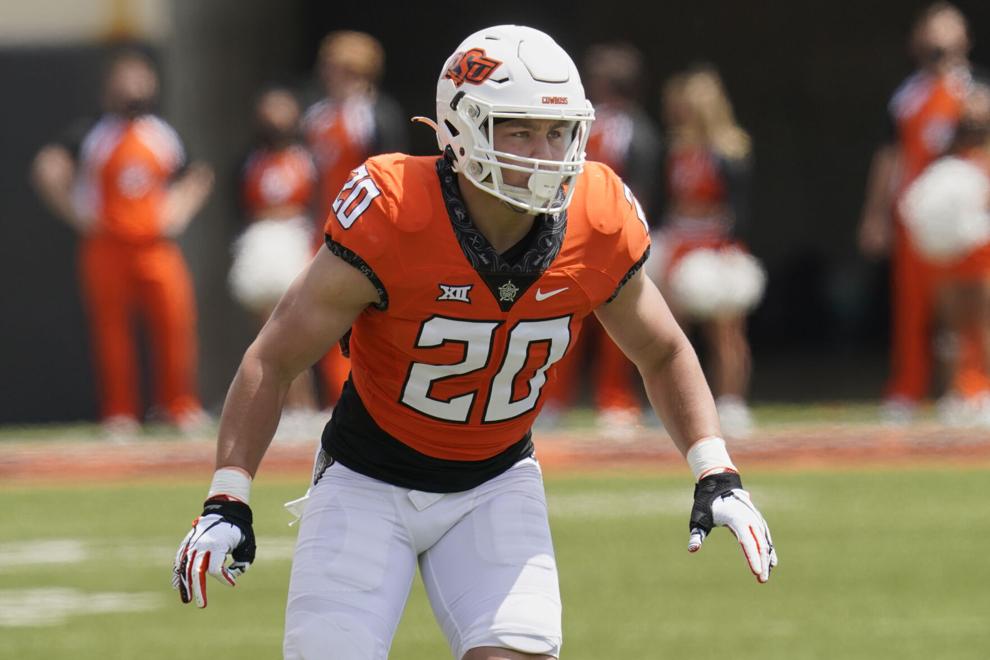 Linebacker: Mike Rose, Iowa State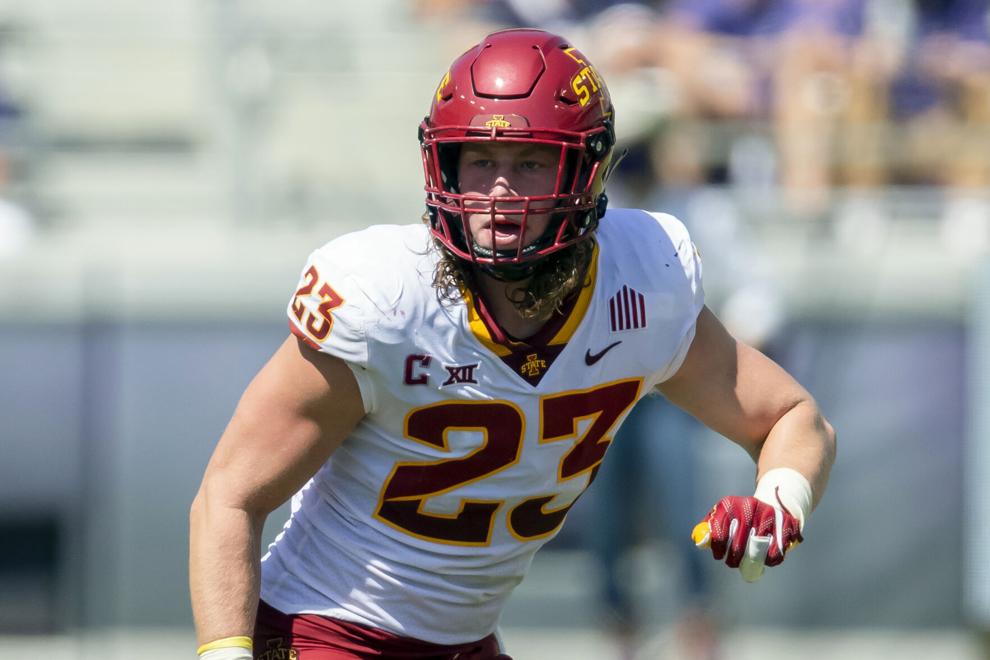 Secondary: Greg Eisworth, Iowa State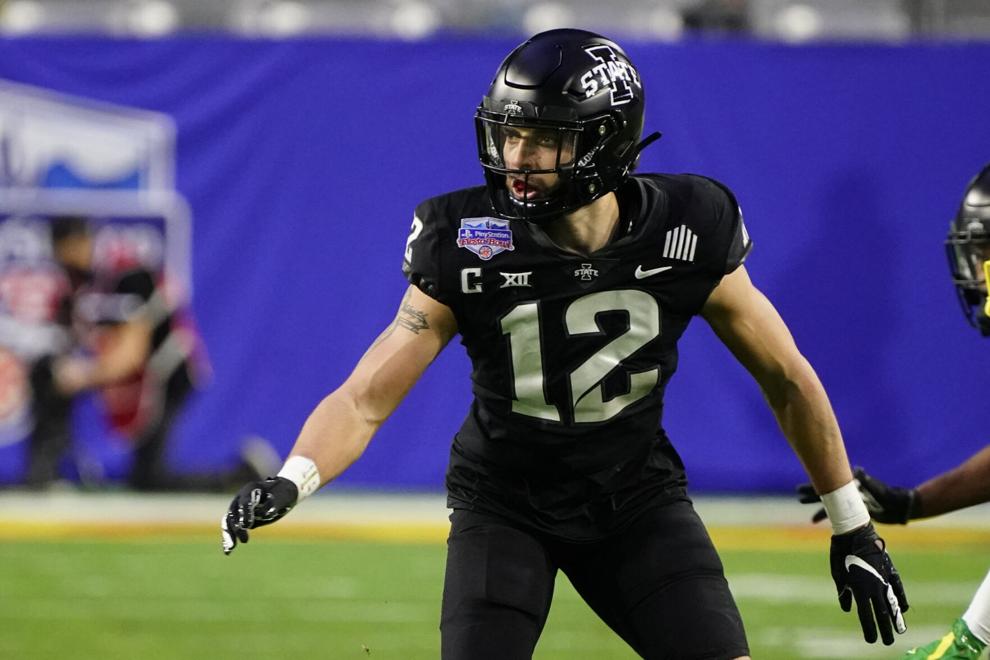 Secondary: Kolby Harvell-Peel, Oklahoma State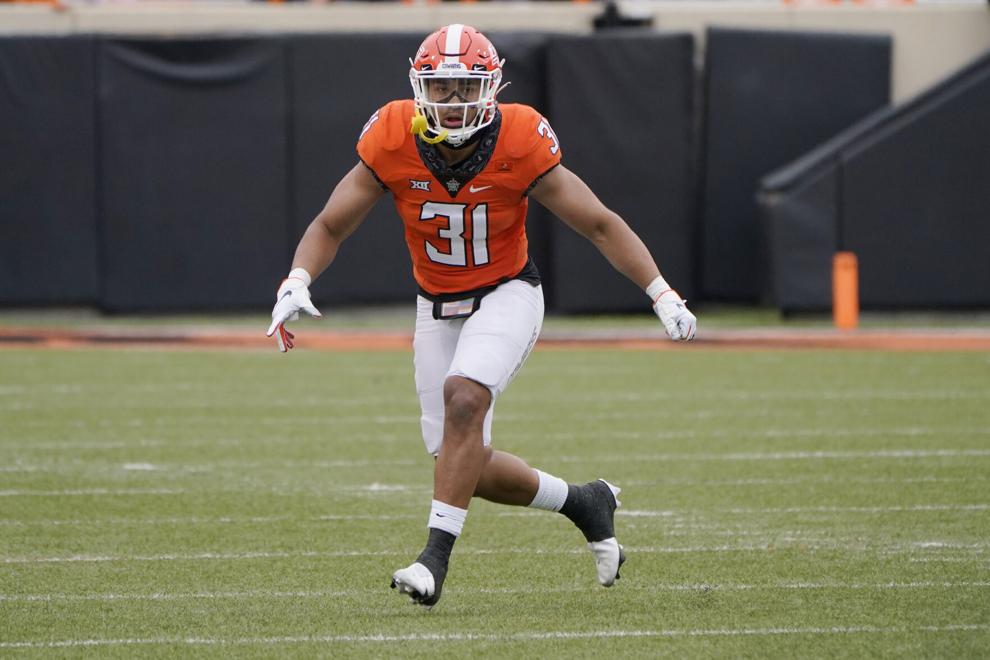 Secondary: D'Shawn Jamison, Texas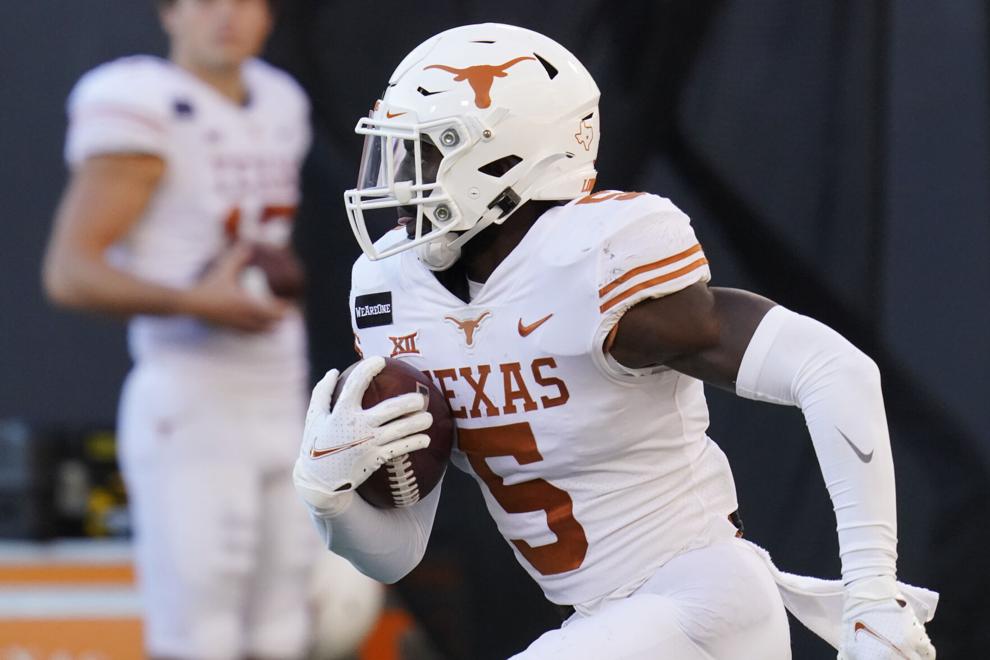 Secondary: Anthony Johnson, Iowa State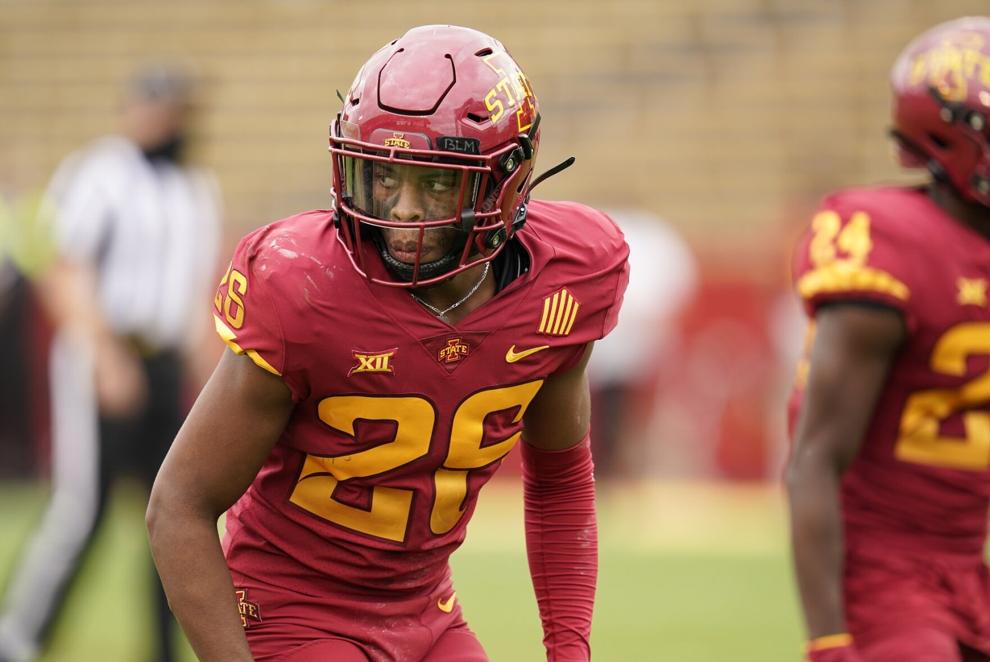 Secondary: Jalen Pitre, Baylor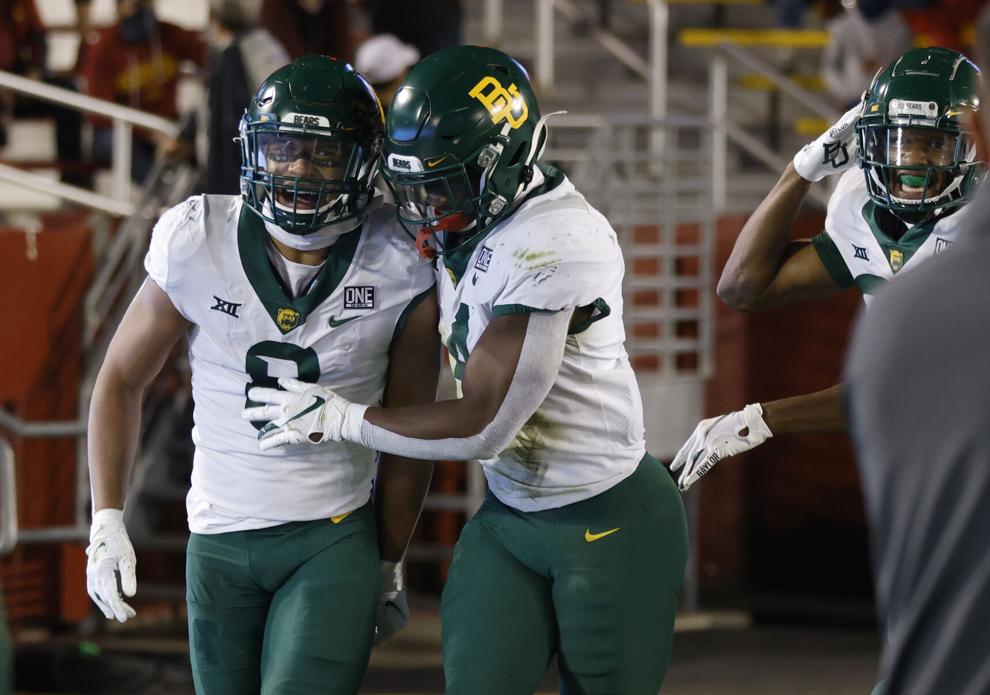 Punter: Austin McNamara, Texas Tech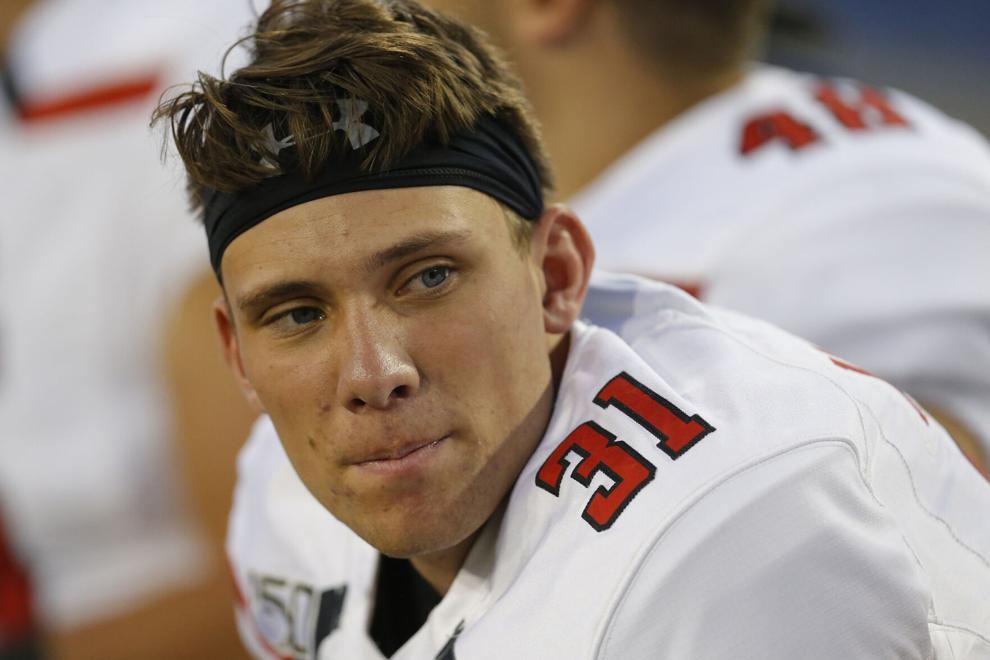 Offensive Player of the Year: Rattler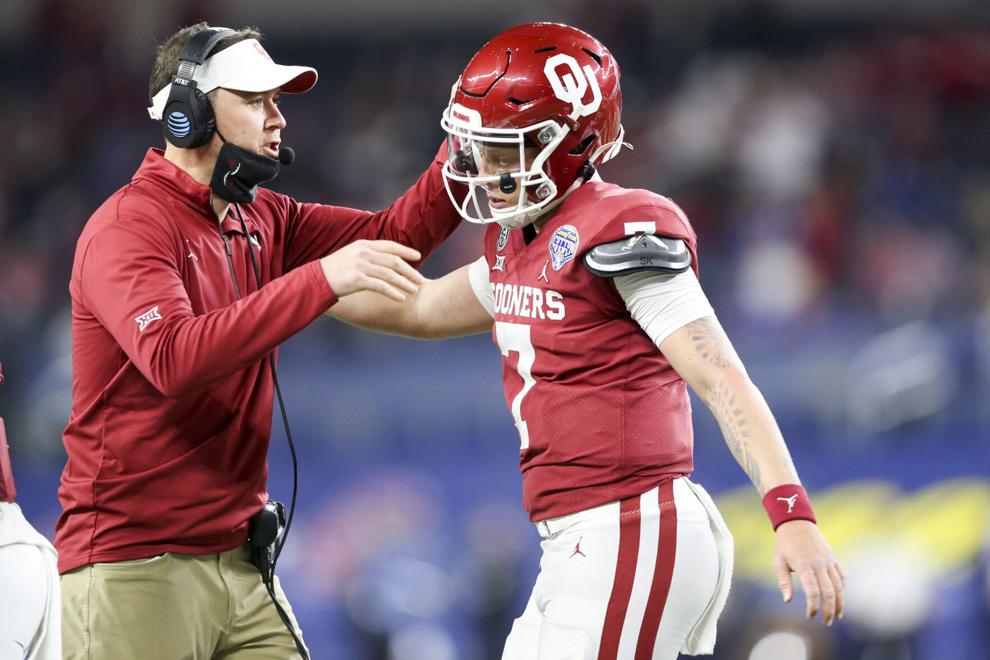 Defensive Player of the Year: Rose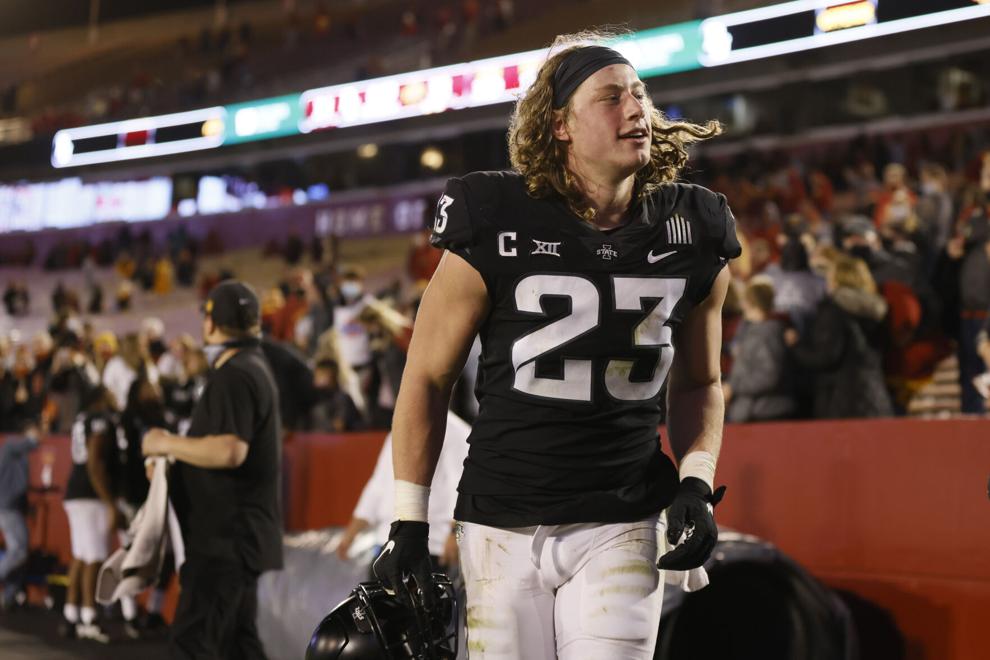 Newcomer of the Year: Shough
Digital Offer: $1 for six months