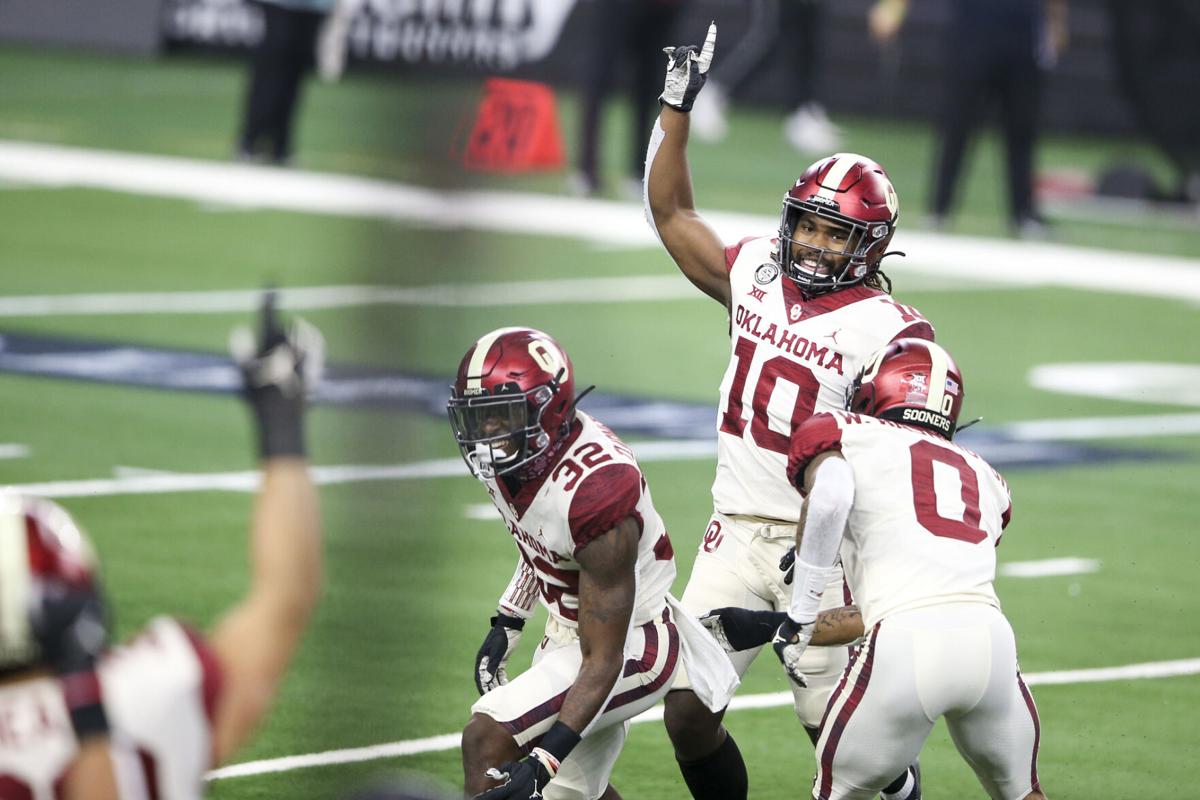 Young man vs. old machine.
That's how we tend to define college football. Amateur athletes at odds with the NCAA and its Death Star mechanisms.
That's how I tend to see it after this year particularly, fraught as it has been over issues related to player rights, voices and health.
And that makes a conversation with Oklahoma safety Pat Fields very interesting.
"A lot of times the NCAA gets thrown under the bus or they get put under a negative light. It's actually the opposite," he says. "Typically people don't understand all of the things that go into their decision-making or all of the things they have to deal with."
What makes Fields qualified to play devil's advocate? He has served on the NCAA Division I Football Oversight Committee since June of 2019.
FOC meetings notes list 21 members. All but Fields and Rutgers tight end Ryan Cassidy are conference commissioners, university athletic directors or football coaches.
There are occasionally as many NCAA staff members and liaisons in attendance. That's a lot of machinery.
When asked for the biggest takeaway from his two-year term on the committee, Fields says: "These people are really on our side."
"The thing I've noticed the most is a lot of these people are advocates for athletes more than we think," Fields says. "A lot of them promote rules that protect us."
Take the FOC's recent decision to recommend cutting full-padded preseason practices from 21 to eight. Fields said that actually required a little pushback.
"Sometimes they'll take it so far that we'll ask them to relax a little bit," he says. "At the end of the day we're still athletes. We still need time to prepare. They'll be pushing to try to protect us... It's kind of like a mother figure."
Fields appreciates the thought process. The recommendations came after the NCAA commissioned a study showing too large a percentage of head injuries occurred in practice, preseason included.
COVID-19 was the committee's biggest health and safety topic last year. The biggest topic period.
"None of us knew how to navigate it so we were trying to figure it out," Fields says. "OK, can we do virtual meetings? Can we do virtual workouts? That was probably the most difficult thing and the thing I provided the most insight on."
If the committee erred on the cautious side, Fields might nudge members toward the need for supervised fitness and training, or in-person contact with coaches.
"I'd use him as a sounding board at times of 'What are athletes thinking?,'" says Shane Lyons, the West Virginia athletic director and FOC chair. "When he speaks, Pat doesn't just talk the talk. He's had the opportunity to speak up and give the student-athlete's point of view, which is important."
Fields, in turn, appreciates the administrative point of view on several front-burner topics.
"I'm still learning about all of the different committees within the committee," he says. "We have groups that talk about recruiting and name, image and likeness. We have groups that talk about sideline issues or health and safety."
"All the different perspectives," Fields says. "A coach who's trying to organize and connect the team. A commissioner who's trying to organize an entire conference. The athletic directors with the financial aspect of it all.
"For instance we would talk about (how) COVID impacted things and I'd be thinking about a Big 12 perspective, but you have to take into account how this affects FCS schools who don't have nearly as much revenue.
"Whenever I first got there I was like, 'I'm speaking from the privilege of being at a Power Five school and the privilege of being at OU.' I quickly realized everybody doesn't have all the resources we do at OU, the financial resources or the facility resources and those things."
As Fields sees it, everyone did their level best to come to reasonable terms.
The committee didn't solve every problem. Lord knows the NCAA still has its share.
But isn't it interesting to have a young man with a heavy stake in the game give us a peek inside a process we tend to ignore, and show us there is more to the narrative than players fighting Mark Emmert for every baby step forward.
I'm guessing we still see Emmert as more Darth Vader than NCAA president, and his institution as too hard-wired for its own good.
Now we can also accept the idea there is some genuine effort in play, in one consequential committee at least, thanks to perspective from the inside.
"It's very easy, especially if you go on social media, to buy into the narrative of the student-athlete vs. the NCAA. I understand where that comes from," Fields says. "But when you're actually in the same conversations and same meetings, you gain a different type of appreciation for how much they're doing for us...
"There are a lot different variables that go into things that people typically don't consider."