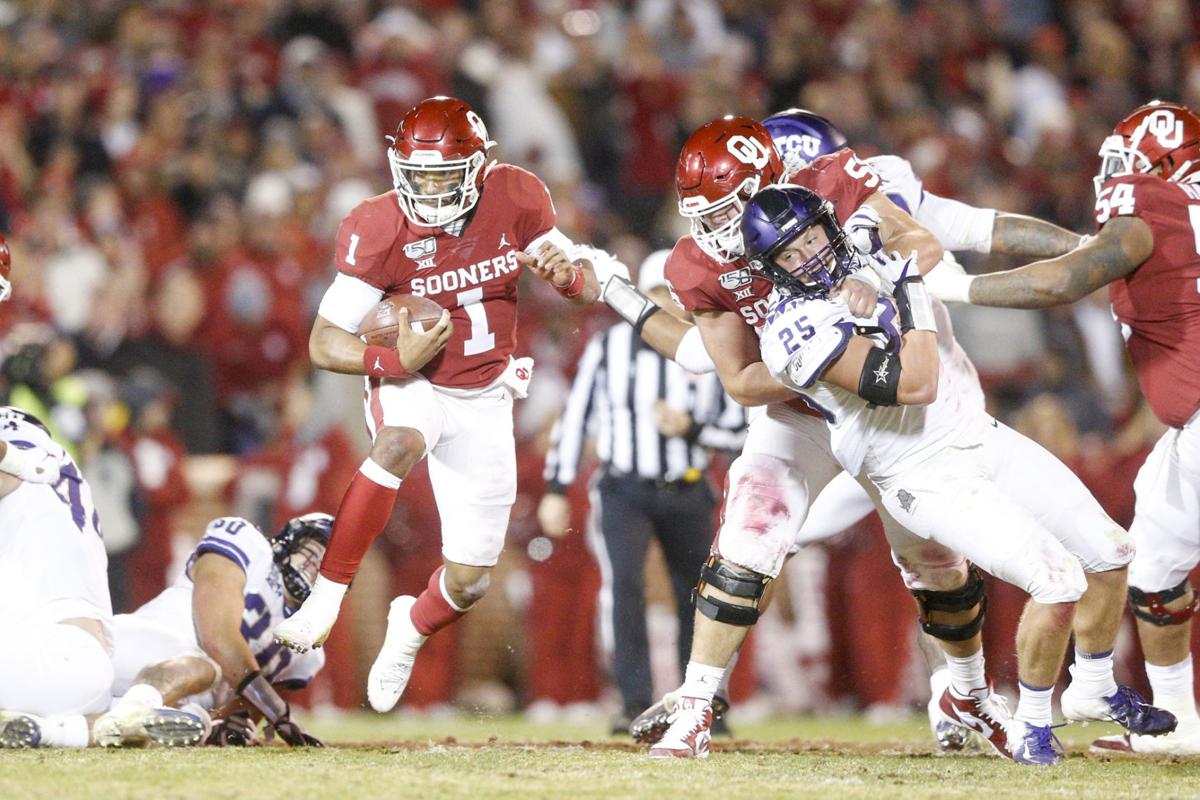 Master psychologist or truth teller, Mike Gundy got straight to the point when sizing up Oklahoma's offense this week.
"It's a one-man show," the Oklahoma State coach said three different times during his Monday news conference.
Gundy sounds like he admires Jalen Hurts — "You've gotta give the guy credit. He's taken hit after hit after hit." He just can't get over Hurts' grip on OU's throttle.
"Four hundred forty-nine of their plays have been him either throwing it or carrying it," Gundy said. "The next closest guy on their team has 114."
That's a fact. So is this: Hurts' total yardage average eclipses 42% of other Power 5 teams. And this: Hurts has accounted for 47 touchdowns with three games to play. OU's single-season record is 55, set by Sam Bradford in 2008.
And this: Hurts rushes the ball more every game. He has gone from 19 runs at Kansas State on Oct. 26 to 22 against Iowa State to 27 at Baylor to 28 against TCU last Saturday.
"This is a triple-option team; it's just disguised as a spread," Gundy said. "You've gotta tackle (Hurts). You've gotta make plays on him. I mean, it's a one-man show."
Considering that Hurts has also thrown the ball 115 times over his past four games, it is hard to argue Gundy's declaration. He spoke some truth Monday.
In doing so, he simultaneously preyed on some fear within OU's following, where fans wonder whether this offense, whatever you want to call it, can get the Sooners where they want to go.
Baker Mayfield and Kyler Murray had the ball a lot the past four years, but they still found ways to distribute it to Samaje Perine, Sterling Shepard, Joe Mixon, Dede Westbrook, Rodney Anderson, Marquise Brown, Kennedy Brooks and CeeDee Lamb.
Hurts had a stretch of the season where he wasn't handing off to Brooks. That problem has been corrected the past three weeks, but now Hurts is coming off a game where he completed two passes to Lamb, one of the three Biletnikoff Award finalists.
Hurts is coming off a game where he threw an interception returned for a touchdown to stop what seemed a sure TD drive, and fumbled to thwart another. That ran his turnover count since the K-State game to seven.
"Those things are going to happen," Hurts said when asked about his turnovers this week. "It's about learning from them and moving forward."
Moving forward, Hurts is going to have the ball just as much.
OU coach Lincoln Riley has settled on an offense in which Brooks leads Hurts into a hole as often as he carries the ball into one himself. There are fakes to backs mixed in — thus Gundy's "triple option" tag — and some passing game, as well. The offense has helped Hurts eclipse 3,000 passing yards and threaten Jack Mildren's school single-season quarterback rushing record.
It has also worried a Sooners fan base unaccustomed to being so dependent on one player heading into the most important time of year. Bedlam is about to happen.
"We've gotta stop the quarterback," Gundy said by way of stripping down OSU's defensive task. "We've gotta tackle him. We've gotta get him down."
Gundy is certain of this from film study.
"The more I watched it, I kept thinking, 'There's only one guy that ever touches the ball. And it's him,' " he said about Hurts. "It's a one-man show."
The more OU followers watch, the more they agree. The more nervous they become.
Be the first to know
Get local news delivered to your inbox!