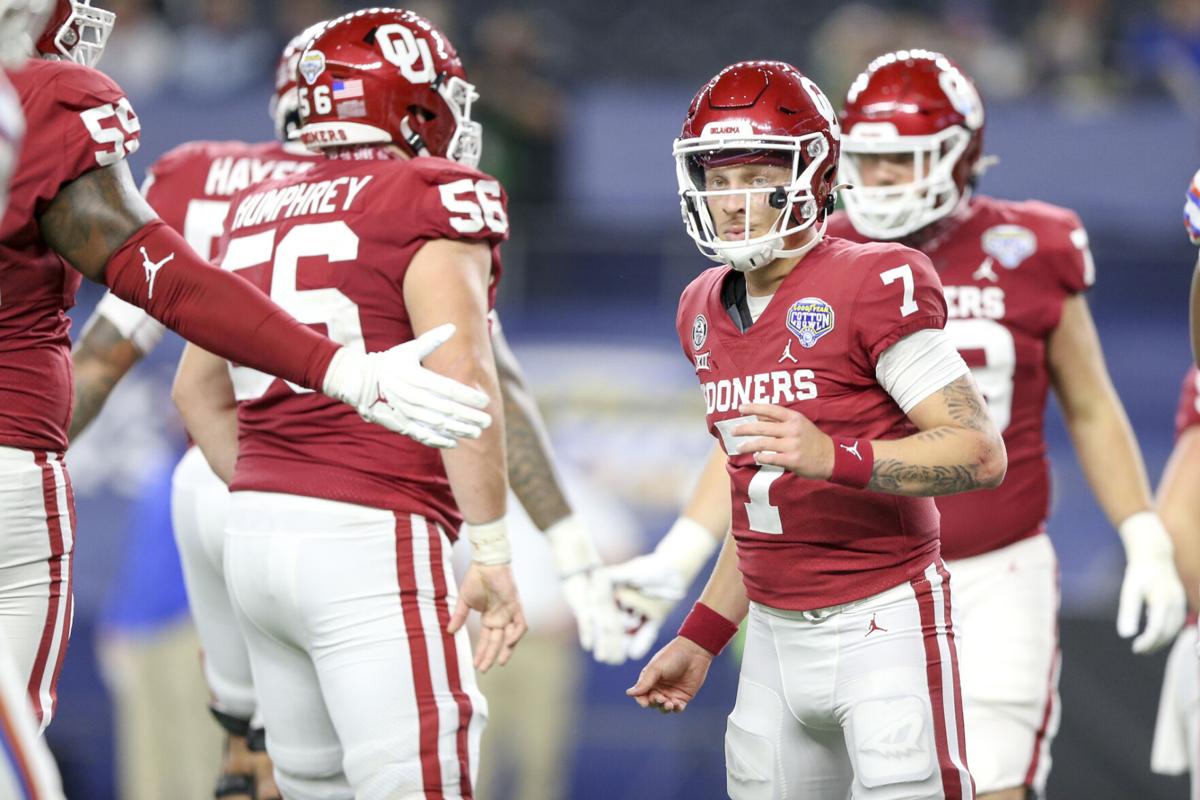 There are legitimate complications that come with college athletes' sudden ability to monetize their name, image and likeness. An athletic department's compliance officer can rattle off 50 of them.
Jealousy and resentment should not be not among them.
The idea by way of example...
Quarterback Spencer Rattler makes a duffel bag of money off his autograph signing at the National Sports Collectors Convention later this month. He returns to the Oklahoma locker room, a couple of his offensive linemen see his take and they get miffed that the best they can do is $50 for a day's worth of signings at the Lake Thunderbird bait shop.
Now Rattler must worry about hard feelings. So must Lincoln Riley, since college coaches always sweat team chemistry and coaches of national championship contenders sweat that twice as much.
A conceivable scenario? I suppose. We're all new to the NIL era. Anything is possible until we learn otherwise.
A likely scenario? No. Not to the point Riley, Mike Gundy and Philip Montgomery must unite their football teams after every August practice for group hugs.
These men have always coached in caste systems, have always coached teams with headliners and role players. Until now the headliners got most of the publicity. The role players, whether blocking linemen, screen-setting forwards or bunting utility infielders, have always accepted this because they have always thrived on team results.
You know what's going to cause the most friction in locker rooms during the NIL era? The same thing that always has.
If Rattler quintuples the NIL revenue of his entire offensive line over the course of this season and still does his job as quarterback, which is to lead the Sooners to a bunch of wins, I can't see guards Tyrese Robinson or Marquis Hayes giving Rattler the stink eye in the locker room.
You remember any jealousy of Kyler Murray in 2018 when he quarterbacked OU after receiving a $4.66 million signing bonus from the Oakland Athletics? Dude won a lot of games plus the Heisman Trophy. That seemed to resonate with teammates more than any designer clothing he wore around the Switzer Center.
Here's the only place resentment potentially creeps into the locker room under the aforementioned scenario: Rattler doesn't win.
He spends too much time developing his NIL brand and too little studying film and working on his reads. He keeps the money rolling in but the Sooners suffer as a result of his wandering mind.
This is worrying about a problem that doesn't exist yet. My sense is it will hardly exist moving forward, at OU or any other college program.
My sense is NIL opportunities will be on everyone's minds in football and other college sports, because everyone can take advantage. Notre Dame's offensive line has already publicized deals with pizza and barbecue outlets. Why should OU's, OSU's or TU's be any different?
That the linemen split a pot that isn't as golden as their quarterbacks'? They're linemen. They get it. They have always gotten it, same as the basketball screeners and baseball bunters. They just wanna win, man.
Locker room dust-ups in these sports always occur. Almost all of them are rooted in something trivial. "Mahomes can't carry Brady's jock." "I saw her first." "Captain America would straight-up whoop Iron Man." "When's the last time you showered?"
The bickering stays trivial unless it gets in the way of these athletes' flaming desire to compete. If they didn't burn so hot to win, they wouldn't be there to begin with, among the 6% of high school athletes to advance to college sports.
Coaches risk losing locker rooms when their players start losing games.
Right now I don't see how name, image and likeness has much to do with that.