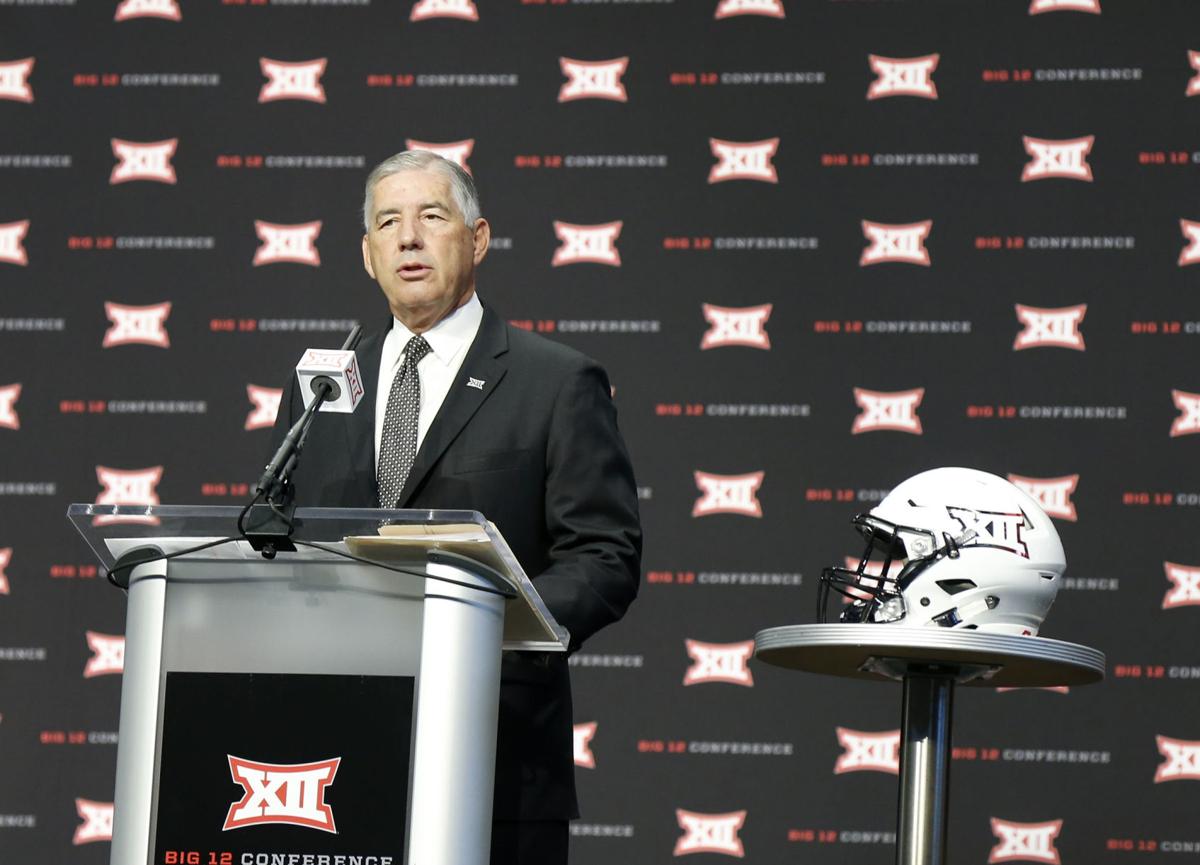 As the Big 12 continues its pursuit of football, a development first reported by SoonerScoop.com and confirmed by multiple national outlets Tuesday, I am most pleased for the players who wish to fight on. They are the most organized and committed people in their sport currently.
I am pleased for the coaches, whose backing for their players is genuine. They have the capacity to love those kids like their own. They don't have to break those kids' hearts just yet.
I am relieved for the athletic departments to the extent they can hold off on those garage sales to preserve their non-revenue Olympic sports.
And if we're being honest, I am relieved for myself and my Oklahoma sports media peers, panicked and depressed as we've all been over the potential loss of our livelihood the past several weeks. The Big 12 bought us another day, too.
So this column comes with a long, cleansing exhale. But no celebration.
It's still a long way to the scheduled opener, whatever date that is. This is an extension of hope is all, like it was for the ACC and SEC on Tuesday. Not that we won't take hope at the end of a generally hopeless day for college football.
The Sooners and Cowboys proceed as their old friends, the Huskers and Buffaloes, do not. You remember Nebraska and Colorado, don't you? They had their spirits crushed Tuesday.
Imagine Lincoln right now. Or Columbus. Eugene. There are good people there, which I can tell you from meeting them at their place and when they visited Norman.
I'll bet you met the same. I'll bet you are as gutted as I am for Buckeyes, Ducks, Wolverines and Trojans fans and players. Heck, I'm gutted for the kind folks I met covering Oklahoma State at Oregon State last year.
The ties that bind college football, whether you play, coach, cover or cheer the sport, cross cultures and regions. We watch each other's games for 12 hours every Saturday, the Big Ten waking us up, the Pac-12 tucking us in.
How do we reconcile what happened to those two conferences Tuesday?
How do we reconcile what happened to Dax Hill, the Booker T. Washington alum at Michigan, and Josh Proctor, the Owasso alum at Ohio State?
How do we reconcile the bind that disintegrated Tuesday?
It's a Power 3 moving forward, not 5. It's six FBS conferences still in play, not 10.
All of the talk of unity from the likes of Bob Bowlsby and Joe Castiglione at the onset of the pandemic as is useful as a Rose Bowl ticket right now. Pandemics are choppy to navigate, I get that, but college football has made quite a mess nonetheless.
The only ones with their reputations fully intact are the players. They have shot us straightest all along.
And what about moving forward? We're on to Wednesday, but beyond that? Did you read the Pac-12 Medical Advisory Committee report that accompanied the league's shutdown?
A 24-member group of physicians, infectious disease consultants and athletic trainers both inside and outside Pac-12 schools, said it wasn't safe to keep practicing, let alone playing. The committee was concerned with the prevalence of COVID-19, a lack of understanding of long- and short-term effects from contracting the virus, and a lack of testing capacity necessary to fully monitor contraction.
How does one league's medical advisory board find it OK to proceed while another's determines enough is enough? What kind of message is that sending to players who have made it clear they want to play, but also that there be universal mandated health and safety measures to that (see: the first stipulation of the #WeWantToPlay movement)? What are their moms and dads thinking?
What is the end game now? How does the College Football Playoff manage? How many bowls suspend operations?
What about the players in the Unplugged 2? What about their scholarships? Their access to medical care and training? Their access to the transfer portal and any league that plays on?
What about kids you know, like Proctor and Hill? What about players you have cheered, OU-to-Ohio State transfer Trey Sermon among them? What about the budgetary shrapnel the Big Ten and Pac-12 must now absorb along with the Mid-American and Mountain West?
So many questions after a terribly disjointed Tuesday, and just a few indefinite answers.
Yes, the Cowboys and Sooners advance with the rest of the Big 12, however cautiously. Yes, this counts as a positive development in a sport desperately seeking welcome news.
But no, I do not believe it is anything to celebrate.
Let's just give thanks, take that breath and see if college football, a pastime we care about beyond the Big 12, can clean up a little tomorrow.
Big 12 announces 2020 football scheduling plan
---
2020 Big 12 Football Media Preseason Poll
Guerin Emig
918-629-6229
Twitter: @GuerinEmig
Be the first to know
Get local news delivered to your inbox!