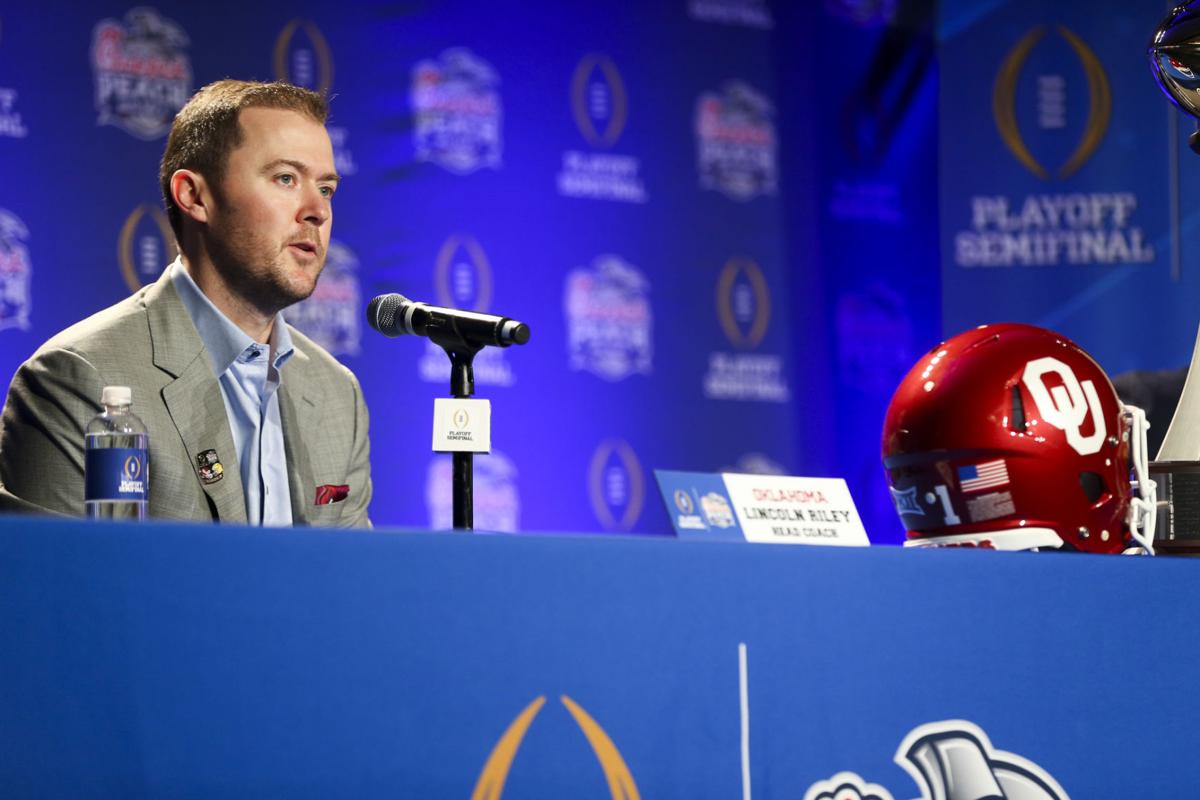 For Bud Wilkinson, for Barry Switzer and for Bob Stoops, Season 5 of each coach's' OU football run was eventful.
Wilkinson was an OU assistant in 1946 and became the head man before the 1947 season. In his fifth year in the program and his fourth as the head coach, the 1950 Sooners – captured the first national championship in school history.
In 1977, Switzer's fifth team contended for the national title but stumbled at the finish line.
In 2003, Stoops' fifth team was 10-0 after a 77-0 obliteration of Texas A&M. Through 10 games, that OU team was a machine. Unbeatable, it seemed. Ultimately, however, those Sooners faltered against Kansas State in the Big 12 Championship game and against LSU in the BCS Championship game.
The 2021 season will be Lincoln Riley's fifth as the Oklahoma head man. Every year, Sooner fans expect a Big 12 title and at least a credible bid for the national championship. Spencer Rattler is considered elite and could be the top pick in the 2022 NFL draft, and the Sooner QB is complemented by a defense that actually might hold up against College Football Playoff-caliber opposition.
The season doesn't begin to roll for four months, but great expectations extend beyond the state of Oklahoma.
This week, after having conducted a post-spring practice examination of college football's big dogs, ESPN formulated a current Top 25.
At No. 4 is Clemson. At No. 3 is Georgia. At No. 2 – defending national champion Alabama.
Riley is 4-for-4 on scoring Big 12 titles, but OU hasn't been the national champion since 2000. The 21-year drought is the program's longest since Wilkinson got that first title in 1950.
Separating Wilkinson's 1956 championship and Switzer's 1974 championship were 17 non-title seasons. Separating Switzer's 1985 championship and Stoops' 2000 championship were 14 non-title seasons.
During Riley's Zoom on Thursday, each of nearly 40 participating media members wanted to ask smart, solid questions. I had no delusions about my question related to the value of the ESPN ranking. I knew Riley would downplay the significance.
"We never shy away from high expectations and wanting to do well," he said. "It's just making sure we're putting in the work behind it. That's our biggest deal here.
"We've never shied away from those things, but we also understand preseason rankings are completely meaningless. (We) appreciate that some people out there have respect for our team and the guys coming back."
If it's possible to both agree and disagree with Riley, that's how I feel about the ESPN ranking. It has no bearing on anything that occurs in September or beyond, but to call it meaningless – I can't go there.
Being No. 1 in any context has to be an energizing motivator during offseason conditioning sessions. Plus, it sends a signal to Alex Grinch's defensive personnel that their improvement elevates the entire program.
It's also a tremendous marketing chip. It's easier to sell season tickets when you're No. 1 than when you're 19th in any ranking.
Somehow, some way, the ESPN ranking will be conveyed to recruits. Some of those five-star defensive prospects who always seem to learn toward Alabama, Ohio State and Clemson – maybe they'll notice the ESPN ranking and decide to give OU a good look.
In a 1977 clash of the second-ranked Sooners and fifth-ranked Longhorns, Switzer's fifth OU team was beaten 13-6 by Earl Campbell and Texas. The Sooners got hot after that, bashing Oklahoma State by 33 points, Colorado by 38 and Nebraska by 31.
When previously undefeated Texas was rocked by Joe Montana and Notre Dame in the Cotton Bowl, it resulted a few hours later in a tremendous opportunity for OU: if the No. 2-ranked Sooners could defeat Arkansas in the Orange Bowl, they likely would secure the national title.
OU was a 24-point favorite. Arkansas prevailed 31-6. In one of the more infamous games in OU program history, there was an inexplicably terrible performance. The Sooners were minus-3 on turnovers.
Switzer won national titles in 1974 and 1975. If not for the Orange Bowl collapse against Arkansas and, the following season, the Billy Sims fumble at Nebraska, Switzer's 1977 and 1978 teams also could have been national champions. OU might have had four titles within a span of five seasons.
The 1977 Sooners were No. 1 in the Associated Press' preseason poll. I don't know what Switzer had to say about it at the time, but he knew that his fifth OU team wouldn't finish No. 1 unless it beat Nebraska, won the Big Eight title and got an Orange Bowl victory.
Voters today are conditioned to go with Alabama at No. 1, and I expect that to happen again when the AP preseason poll is released in August. OU currently has a great deal of perception momentum, which could result in the No. 2 preseason position.
In advance of his fifth season, Riley isn't celebrating an ESPN ranking because it won't help him beat Texas, Iowa State or Oklahoma State, or finally get beyond the semifinal round of the College Football Playoff.
What the ESPN ranking does say, however, is that Riley in his fifth season seems to have a chance to do what Wilkinson, Switzer and Stoops did in their fifth season – make a real run at the national title.
OSU, OU and Tulsa combine for 10 draft picks in the 2021 NFL Draft
Three of the four OSU players taken in this year's draft were selected on May 1. Three of the five OU players drafted were also picked May 1. The highest-drafted area athlete taken this year was Tulsa linebacker Zaven Collins at No. 16 overall to the Arizona Cardinals in the first round on April 29.
Take a look back at each's career so far here: