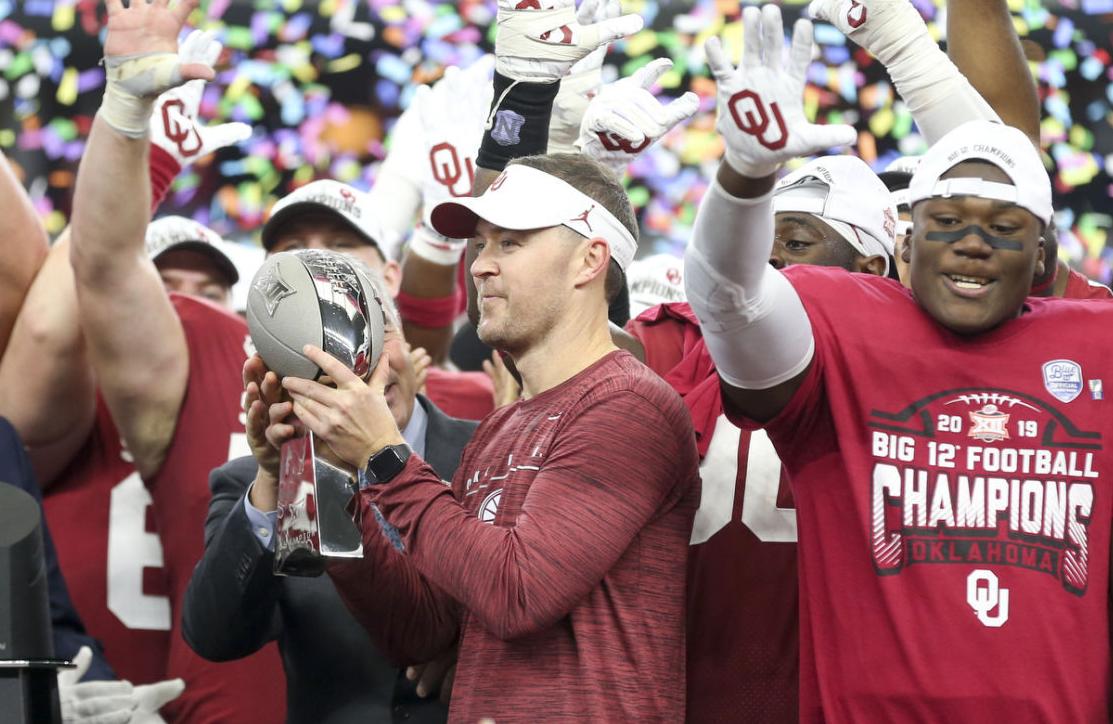 If you access the live feed from SoonerSports.tv or any of the SoonerSports apps, the Missouri State-OU football pay-per-view cost is a whopping $54.99.
Other recent OU football pay-per-views also went for $54.99, but those telecasts did not occur at the six-month mark of a pandemic that has impacted the income of tons of Oklahoma households.
Most fans happily would pay $29.99 to see a 63-6 type of mismatch. In 2020, a lot of those fans may be unwilling or unable to part with $54.99.
Last year's South Dakota-OU pay-per-view was priced at $54.99 on SoonerSports.tv. So was the Akron-OU 2015 pay-per-view. The 2013 opener matching OU and Louisiana-Monroe was a $40 pay-per-view.
The attraction in 2015 was that Baker Mayfield made his first start as the Oklahoma quarterback. The attraction on Sept. 12, for the 6 p.m. meeting of the Sooners and FCS Bears, is that Spencer Rattler makes his first QB start for Lincoln Riley.
If you're a Cox Communications cable subscriber, you won't have to pay $54.99 for Missouri State-OU. The Fox Sports-produced telecast is available to Cox customers for $39.95. For Tulsa- and Oklahoma City-area subscribers, the game is carried on channel 505.
If you're a DISH or Sling customer, you're out of luck. OU reports neither of those providers will carry the Sooners' opener.
Thirty minutes after the Missouri State-OU kickoff, there is the University of Tulsa-Oklahoma State matchup on ESPN or ESPNU.
After 15 months of hosting the Sports Animal Tulsa's 9 a.m. show, RJ Young resigned last week. His successor is Mike Steely, a former longtime morning host for Oklahoma City's Sports Animal and Franchise sports-talk stations.
Young has joined the ESPN Radio staff and will be a presence on the "Game Night" show that airs on Saturdays from 8 p.m. until midnight.
"(ESPN) made what I thought was a cool offer," explained Young, who will continue to upload fresh content onto his YouTube channel while working on a book about the Tulsa Race Massacre.
Booker T. football
For the first time in several years, the Booker T. Washington football program has a radio partner. Hornets games will be broadcast by the Sports Animal Tulsa on the 97.1 FM signal, on the station's app and on sportsanimaltulsa.com.
Kevin Ward provides play-by-play. His analysis partner — Quentin Liggins — is a radio rookie but had a nice debut last week as Booker T. Washington prevailed 28-10 over Southmoore.
Having played high school football in Minnesota and college football at Holy Cross (2006-09), Liggins' great uncle is Bobby Grayson, who played high school football at Beggs and in 1978-81 was an OU wide receiver.
Scheduled for 7 p.m. Friday, the Cox cable Yurview Game of the Week is Union-Broken Arrow, with Mike Ziegenhorn on play-by-play and Rod Thompson on analysis. The telecast can be seen on Cox channel 3.
An incredibly compelling game will be played in Bixby as the Spartans, with a 26-game win streak, host Jenks for a rematch of last year's shocker — Bixby's 57-7 road rout.
Priced at $18, a Jenks-Bixby live stream may be accessed at bixbyathletics.org. On radio, KFAQ-1170 carries the Jenks broadcast (Don King, Eric Fox). The Bixby broadcast, with Shawn Tiemann and Mark Wozniak on the call, is presented on KTBZ-1430.
Fowler and Herbstreit
The 2020 season is the 25th of the partnership of Chris Fowler and Kirk Herbstreit. Their run started in 1996, on the College GameDay show, and since 2014 they've been ABC/ESPN's top game duo with Fowler on play-by-play and Herbstreit as one of the better analysts in all of sports television.
Their voices have become synonymous with the College Football Playoff, but on Sept. 14, they'll tackle something they've never before tried.
In recent years, ESPN has presented a Monday Night Football doubleheader that caps the first weekend of games. For the 6:15 p.m. opener matching Pittsburgh and the New York Giants, Fowler and Herbstreit for the first time will work a pro football assignment.
The late-game telecast — Tennessee at Denver — will feature the debut of ESPN's new Monday Night lineup: Steve Levy on play-by-play, with Louis Riddick and Brian Griese as the analysts, and Lisa Salters working the sidelines.
Bill Haisten; v918-581-8397
Twitter: @billhaisten
Be the first to know
Get local news delivered to your inbox!