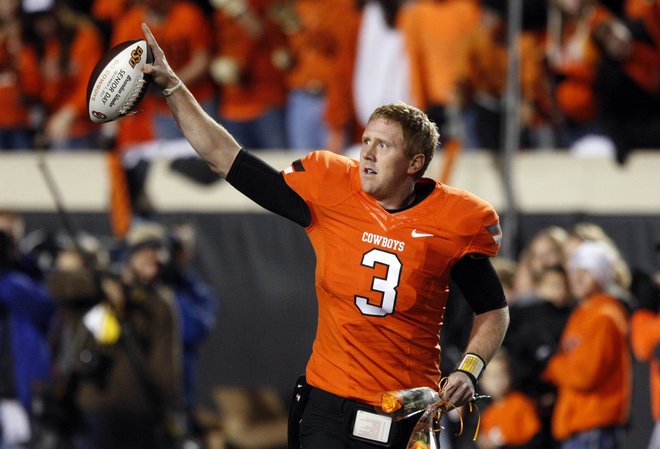 STILLWATER — In the backdrop of a Las Vegas bachelor party earlier this year, Brandon Weeden got a phone call from his agent, Sean Howard. He let it go to voicemail. Then Howard called again, so Weeden answered.
"He said ESPN had asked if I was available on the 4th, 11th and 18th of September to call some games," Weeden, the second-leading passer in Oklahoma State history, recalled. "It kind of just fell into my lap."
Weeden's latest step in life after the NFL is into the broadcast booth, beginning Saturday when he'll join Courtney Lyle (play-by-play) and Shane Sparks (sideline) to broadcast Oklahoma State's opener against Missouri State on ESPN+. Next week, he'll be on the call at Kansas State.
Last on an NFL roster in 2018, Weeden now resides with his wife and two young sons in Edmond. He's invested in a number of businesses and gets out onto the golf course a few times a week. Weeden made a first attempt into broadcasting late in 2019, and earned an invite to the NFL Broadcast Boot before COVID-19 scrapped his plans. This weekend, Weeden gets his shot and he's ready to see where it goes.
" I think the plan, as long as I do halfway decent and ESPN likes what they're getting, it'll continue," he said.
Ahead of his broadcast debut, Weeden spoke to the Tulsa World Thursday morning. From a car wash in Edmond, he discussed his jump to the booth, the offer he'd need to consider coaching, his feelings on Oklahoma and Texas' exit and the future for Oklahoma State, and what the 2011 Big 12 championship team still means to him.
This interview has been edited for length and clarity
Tulsa World: How did you end up in the broadcast booth for Saturday's game?
Brandon Weeden: "I knew I was going to have to do something to keep me busy (after football). This is something I love — I love college football. I'm very passionate about it. I love studying it. I love talking about it. I just thought it would be a natural fit. When I was done playing, I didn't see myself sitting in a cubicle from 8-5. I think I'd pull my hair out. This gives me an opportunity to go out and watch football, talk about it and kind of be a part of college football again. I've missed it."
Is being on the call — putting your face and voice out there — something you're naturally comfortable with or will it take time to adjust?
"You can sit in front of the mirror and practice, but until you get that headset on it's hard to know how it's going to go down. I wouldn't say it's natural. It's going to take some work. But fortunately I've got a good partner in Courtney Lyle. She's extremely smart and prepared. Hopefully I can teach a little football along the way and just kind of see the game through the quarterback's lens. I think that's the perspective I'm going to have to approach it with. That's all I really know."
There's a lot of former quarterbacks jumping into the booth these days. Mike Gundy said he thought you might have a little bit of your former teammate Tony Romo in you. Who are the broadcasters you appreciate listening to?
"Tony's got a completely different personality than I do. He's got the gift of gab and he's carved out a niche. I think Troy Aikman does a really good job. Him and Joe Buck are a good tandem in my opinion. Troy just calls it how he sees it. He doesn't get too, too excited. He tries to explain the game in a football 101, simplified way. I think he delivers a good message. He's really professional and I've always had a lot of respect for him."
Have you talked to Tony ahead of your new gig?
"You know, I haven't. It's been a few months since we talked. He'd be a good guy to reach out to."
Is this the closest you've felt to preparing for a game week since you were playing?
"I just told (OSU radio voice) Dave Hunziker, I've got butterflies like I'm playing on Saturday. I still feel like I'm preparing for a game. It's just a different role. I'm taking notes like I did when I played. I've got 12 or 14 pages of notes just on players. Ideas of things that'll come up on Saturday. It's very similar to preparing for a game."
I heard you get onto the golf course often in semi-retirement. What's your handicap right now?
"There's some weeks, especially with the kids back in school, I get out three or four times. That's a good week. With the broadcasting stuff, it's going to be a bit tougher to get out. I've been playing some of the best golf I've played the last few years. I think I'm a +1.1 right now. Golf has always kind of been my escape. I don't get stressed out on the course. I just like to go out, have a few beers and relax."
You're 37 right now, the same age Mike Gundy was when he became head coach. Is coaching anything you've ever considered?
"I don't know. I wouldn't close the door on it. I've been away from the family for so long when I was playing, so it's nice to be home. It would have to be the perfect opportunity. If Gundy called me and asked me to come coach I'd have to think really long and hard about it. If I enjoy this broadcasting thing as much as I think I'm going to, I'll ride this out as long as I can."
You were one of four quarterbacks drafted in the first round in 2012. Only Ryan Tannehill is still playing; Robert Griffin III is now a colleague at ESPN. When you look at players such as Patrick Mahomes, Lamar Jackson and Josh Allen, how different is the position from when you were drafted?
"It's changed. It's definitely changed. Lamar has such incredible athleticism. Josh Allen is pretty mobile and athletic, too. Those guys are unbelievable players. There's not a lot of Peyton Manning's left. Tom Brady is one of the few who can still stand in there. Drew Brees is done. Philip Rivers is retired. All these new guys are cerebral, they're smart. They'll beat you with their brain and their arm throwing the ball accurately. The position is changing."
What was your reaction when you heard that Oklahoma and Texas were planning to leave the Big 12?
"Like a lot of people I was shocked. When I really started thinking about it I understood. I get it. It's college football. It changes almost daily. We'll look up in a year or two and it's going to be completely different than it is now. It's just such a business and there's so much money involved. That's what this is all about. From a business standpoint, I can't say I blame Oklahoma and Texas for doing what they did. But selfishly, being an OSU guy who enjoys rivalries, it's going to be weird for a while."
I won't ask you to speculate, but what's your view on the future for Oklahoma State?
"Where do they end up? Your guess is as good as mine. But I think Oklahoma State adds value. I think they add a ton of value. So it wouldn't surprise me to see them land on their feet, maybe better than some other schools in the Big 12. I hope I'm right about that.
This season marks 10 years since you were a part of that Big 12 title team. Does it feel like a decade has gone by?
"It's crazy it's been 10 years. Some of it feels like it was just yesterday. I went to practice on Tuesday and you just look back at these teams. Our team had a bond. The locker room was one of the best I've been in. We were such a tight-knit group. It was an awesome team to be a part of."
In what ways does that particular season still live on in your everyday life?
"My seven-year-old is getting old enough to follow sports. He's starting to understand what dad did at OSU. I'm out and I'll sign autographs. He asked if he could watch me play so we've started watching some of those highlights from 2011. He knows who Justin Blackmon is. He knows who Joseph Randle is. He knows Josh Cooper. He was an afterthought in 2011, but now he's starting to understand. It's really cool."
I'll finish here: On Saturday you'll be back working at Boone Pickens, but in a very different role. What do you anticipate it's going to feel like?
"It's going to be a little weird that first quarter just watching the game from that perspective. I'm excited. I'm really just excited. I'm anxious to see this team. I think this defense has a chance to maybe be Gundy's best defense. Watching from that vantage point with a suit and tie is going to be a little weird. But we're going to have some fun."
OSU football: Here's how past seasons ranked in the preseason poll fared
2020 preseason ranking: No. 15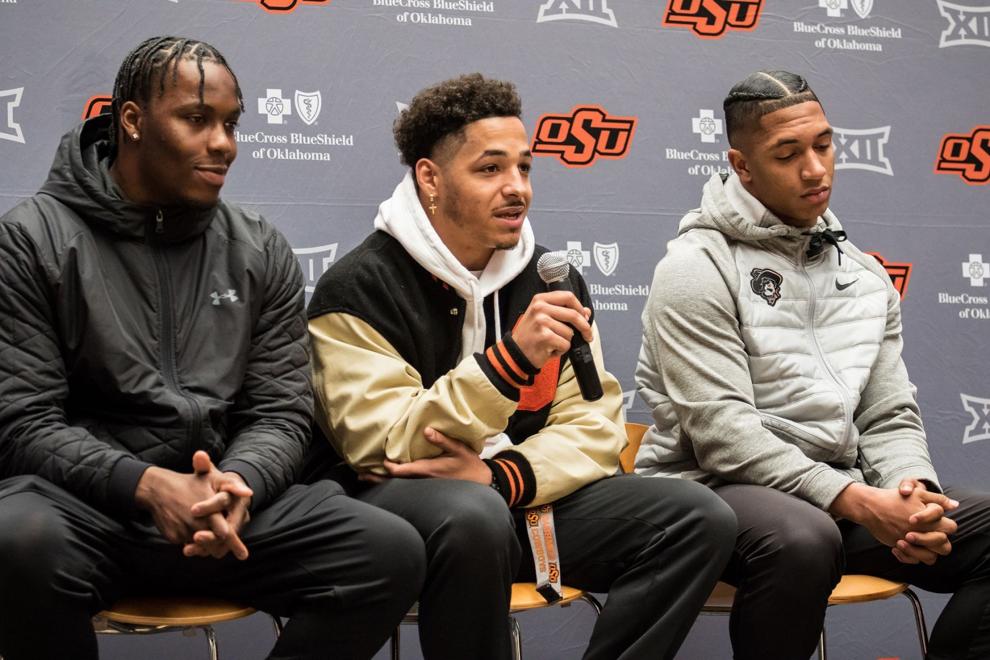 2017 preseason ranking: No. 10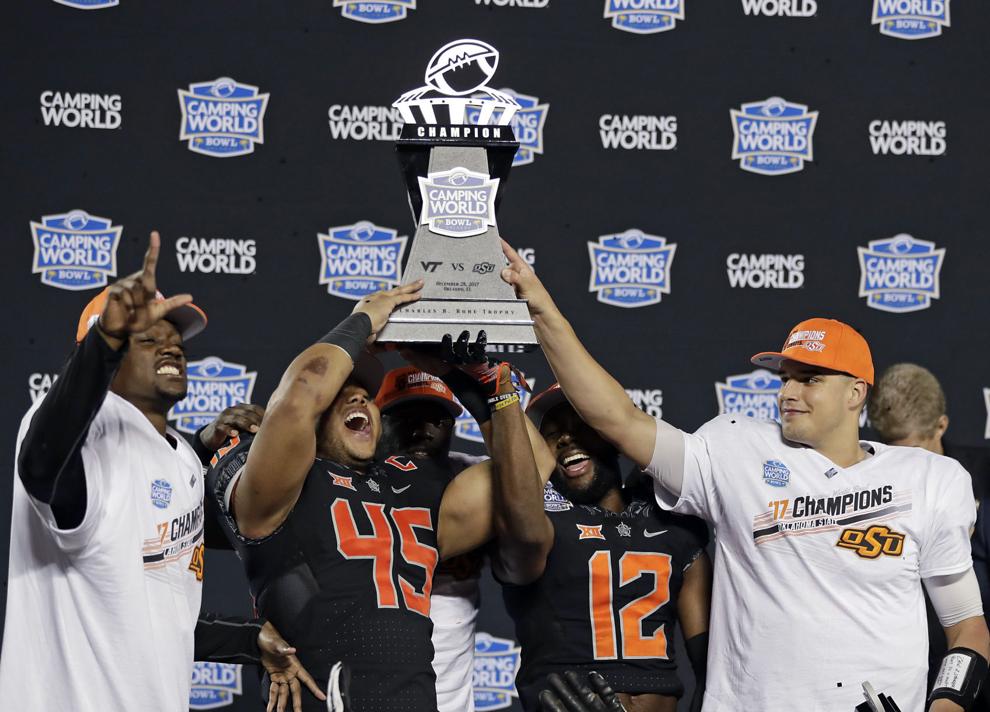 2016 preseason ranking: No. 21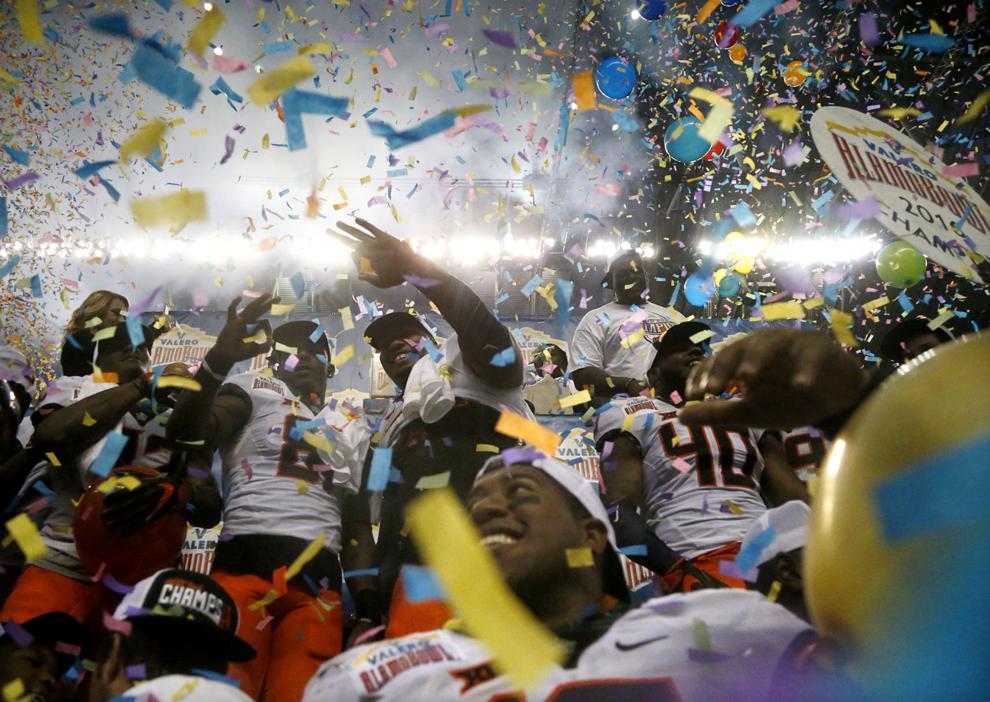 2013 preseason ranking: No. 13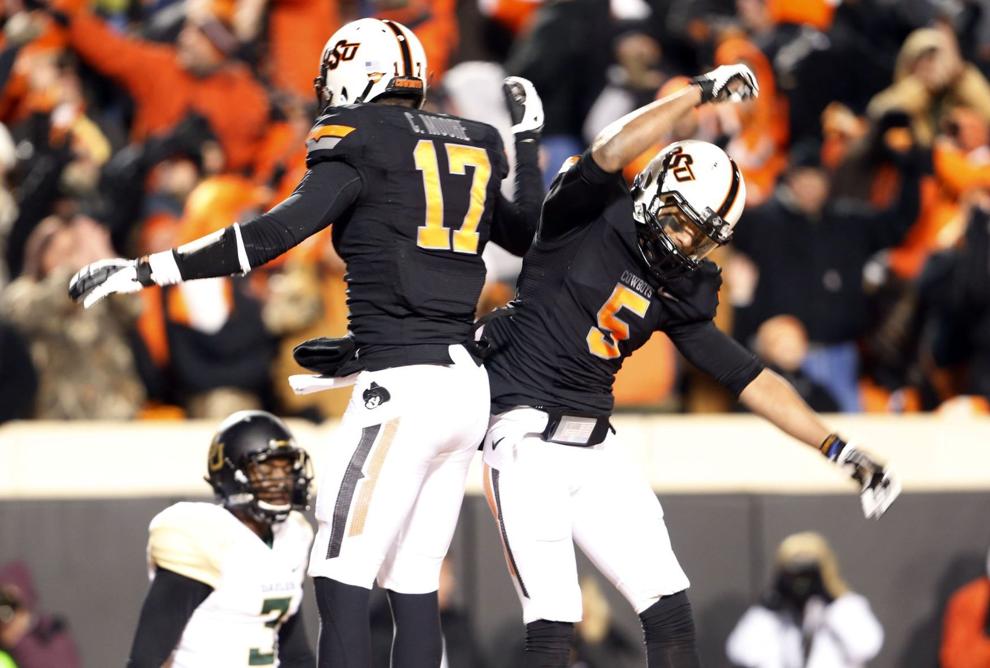 2012 preseason ranking: No. 19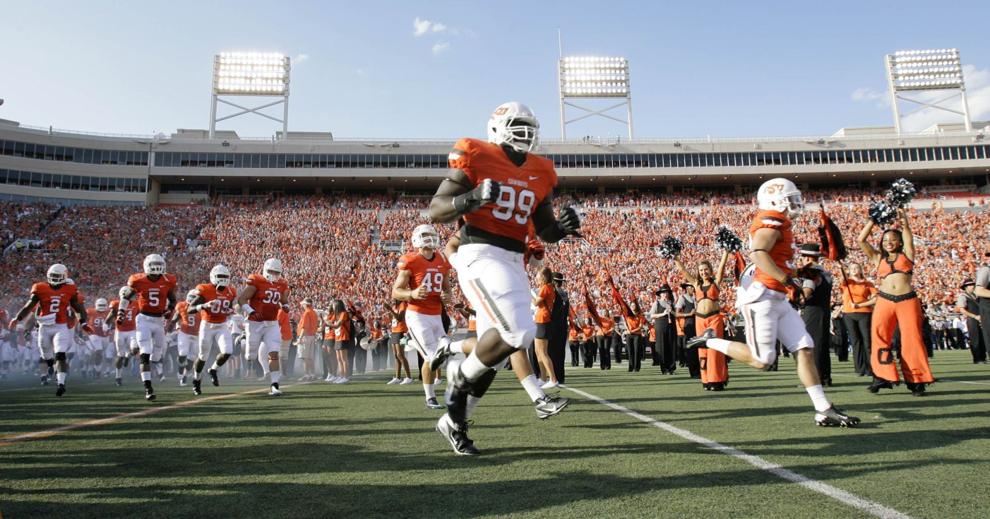 2011 preseason ranking: No. 9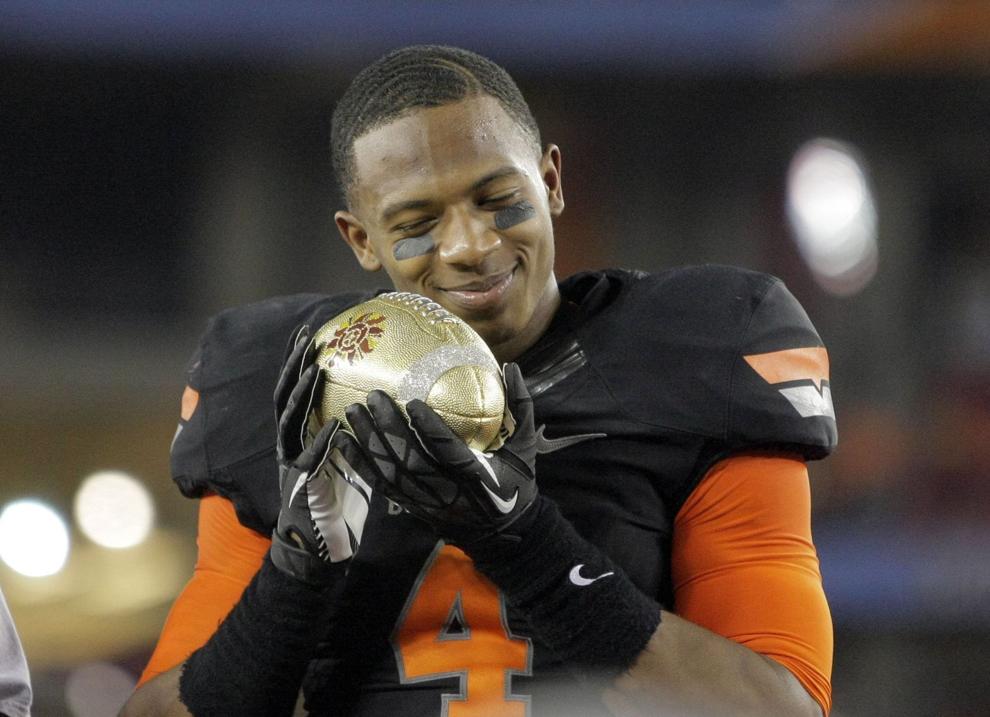 2009 preseason ranking: No. 9
2003 preseason ranking: No. 24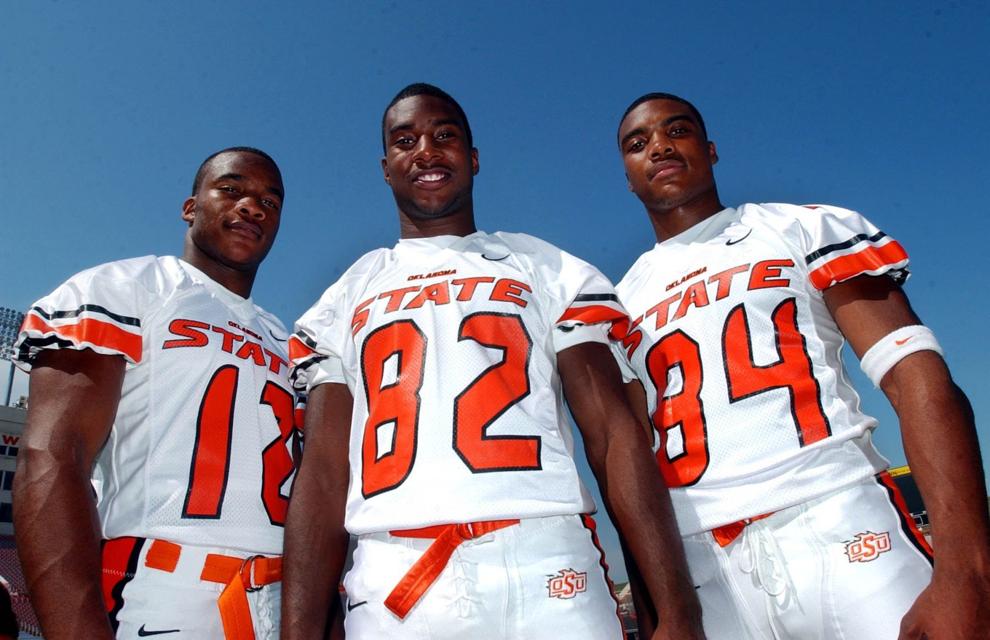 1985 preseason ranking: No. 16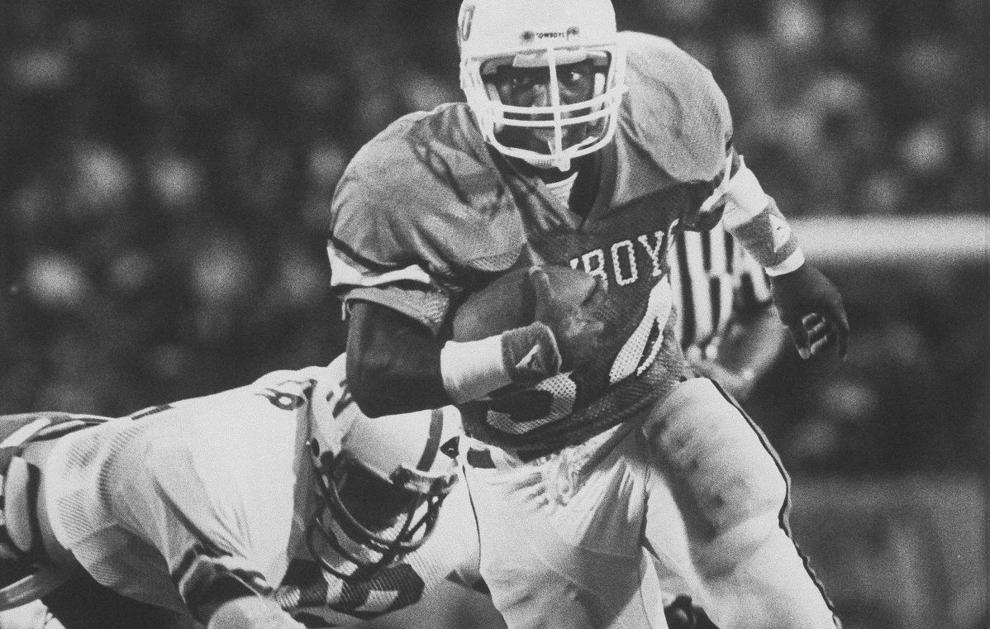 1977 preseason ranking: No. 20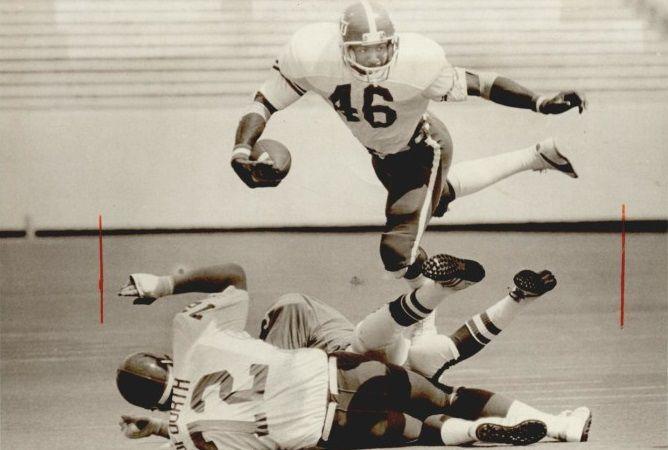 1945 preseason ranking: No. 14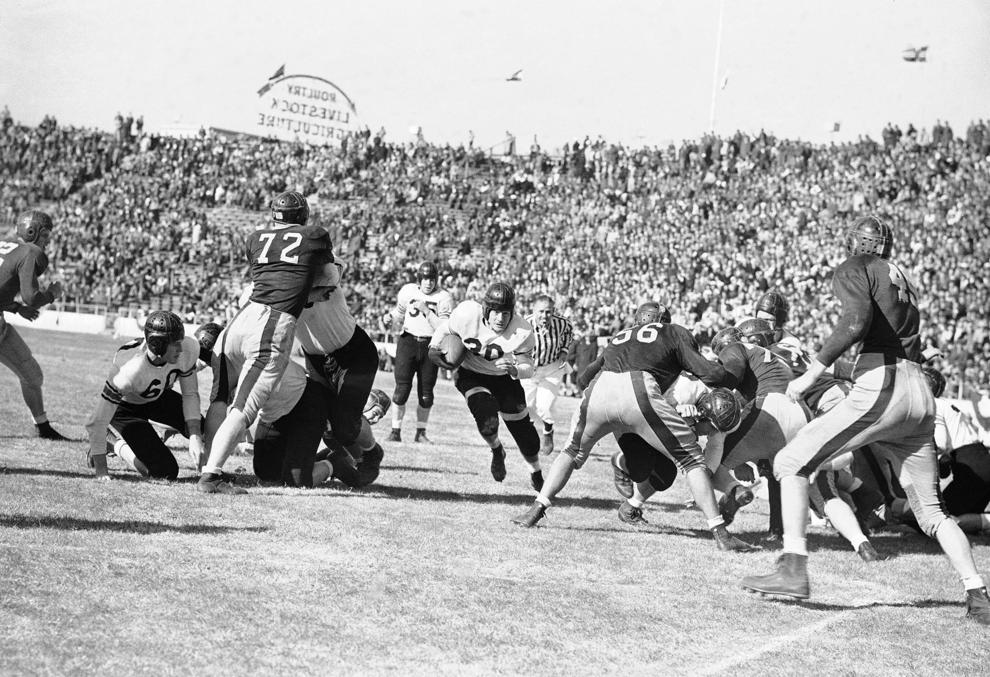 Labor Day sale: $1 for six months