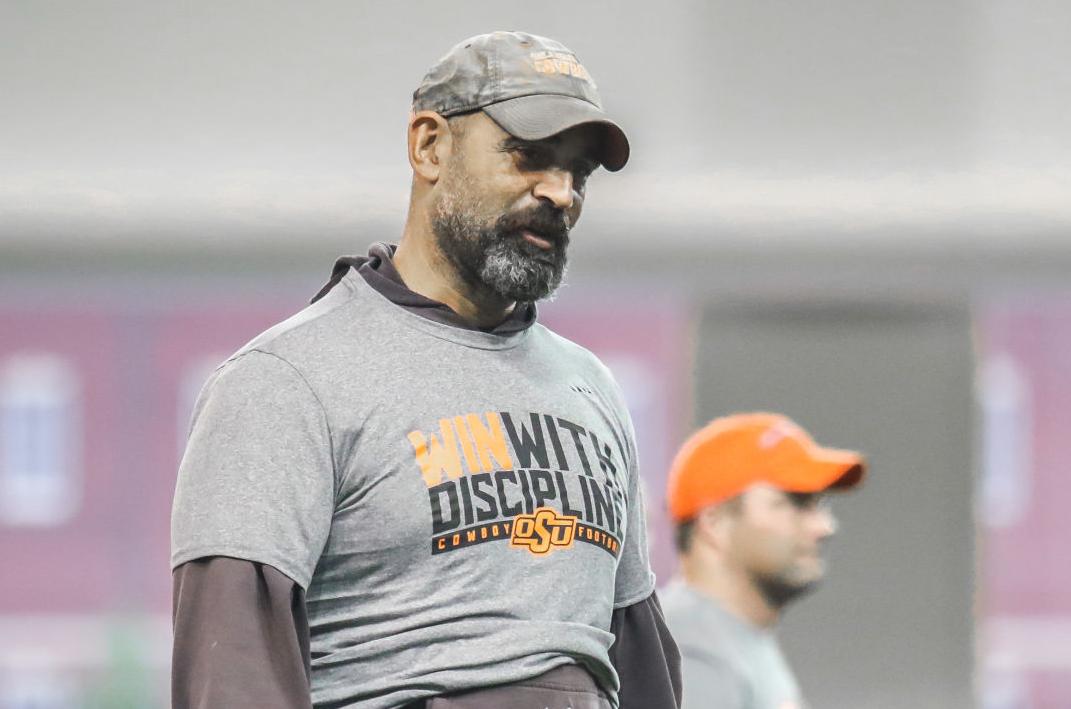 STILLWATER — The circumstances of the 2020 football season — COVID-19, injuries to key playmakers and a rotating cast of offensive linemen — forced Oklahoma State's offense to play things "close to the vest,", offensive coordinator Kasey Dunn explained Sunday.
In 2021, his second campaign in charge of the OSU attack, Dunn has no plans for a repeat showing. He and the Cowboys are prepared to let it fly.
"Do we want to open (the offense) up more?," Dunn asked aloud in his first press conference of fall camp. "Damn right we do."
With redshirt junior Spencer Sanders back at quarterback and surrounded by a deep stable of running backs and a collection of talented pass catchers, Dunn plans to expand the OSU offense this fall in ways he couldn't in 2020.
After nine seasons coaching wide receivers, Dunn took over the offense in January of 2020, but his first season proved limiting.
Sanders, running back Chuba Hubbard and wide receiver Tylan Wallace all missed time due to injuries. The offensive line grew thin on injuries, opt-outs and transfers. COVID-19 impacted every step.
"Who's playing from week to week?," Dunn said. "Who is going to get contact traced on a Friday? Those were all the things that factored in and changed how we game planned."
The Cowboys still managed the fourth-most yards in the Big 12 and finished 18th in the nation in first downs.
Yet entering Year 2, Dunn sees very little to take from his first season as coordinator, a year he called unlike any "I've ever been a part of."
"When you go back and look at it, I don't know how much it would carry over for us," Dunn said. "What we did offensively wasn't necessarily what we wanted to do. I'll say that."
What Dunn wants to do in 2021 is spread his offense out and score points. And across the offensive depth chart, he believes he has the playmakers he needs to do it.
A running game that averaged 181.1 yards per game in 2020 (fourth-best in the conference) will be boosted by a line that includes transfers Caleb Etienne and Danny Godlevske. Both Dunn and coach Mike Gundy have emphasized the Cowboys' deep cast of running backs as a strength in the early days of camp.
Missing a lead back like Hubbard, the Cowboys will spread carries between veterans LD Brown and Dezmon Jackson, transfer Jaylen Warren and underclassmen Dominic Richardson and Zach Middleton, with Dunn expecting more explosive plays from his group of rushers.
"It lets us get out there and play our hardest," Brown said. "...we have people who can come in and do the same thing. That depth keeps us fresh and keeps everybody on their toes."
Dunn noted the maturity of redshirt senior wide receiver Tay Martin, who has embraced his role in replacing Wallace at the Z-spot, and spoke of the progress sophomore Brennan Presley has made.
He also shined a light on freshman twins Bryson and Blaine Green as players who could carve out roles in 2021. They gained experience in the spring as early enrollees, and are in the competition for a starting spot.
"They're going to factor into this season," Dunn said.
Jim Knowles, Dunn's defensive counterpart, is excited about depth. OSU brings back four returners in the secondary with proven talent in front of it, highlighted by redshirt senior Malcolm Rodriguez and junior Trace Ford, last year's second-leader pass rusher.
"I feel like we have a starting group that I feel is fairly well cemented," Knowles said. "...then we have a lot of guys who have played a lot of reps now in the spring — guys with 600 reps who are not starters — because we were able to pull back on those guys because they know what they're doing. We were able to build up our depth."
There remains competition for the second cornerback role opposite senior Jarrick Converse-Bernard, with redshirt senior Christian Holmes and sophomores Korie Black and Jabbar Muhammad the expected frontrunners for the spot.
Beyond that, Knowles knows what he has on his hands and is focused on continuing the momentum built in 2020, when OSU's defense, not its offense, carried the Cowboys.
"That's really on me to maintain that level of being demanding," Knowles said.
Season in review: Was 2020 season a success for Oklahoma State?
Watch Now: Frank Bonner breaks down OSU's 2020 season
Can the 2020 season be considered a success?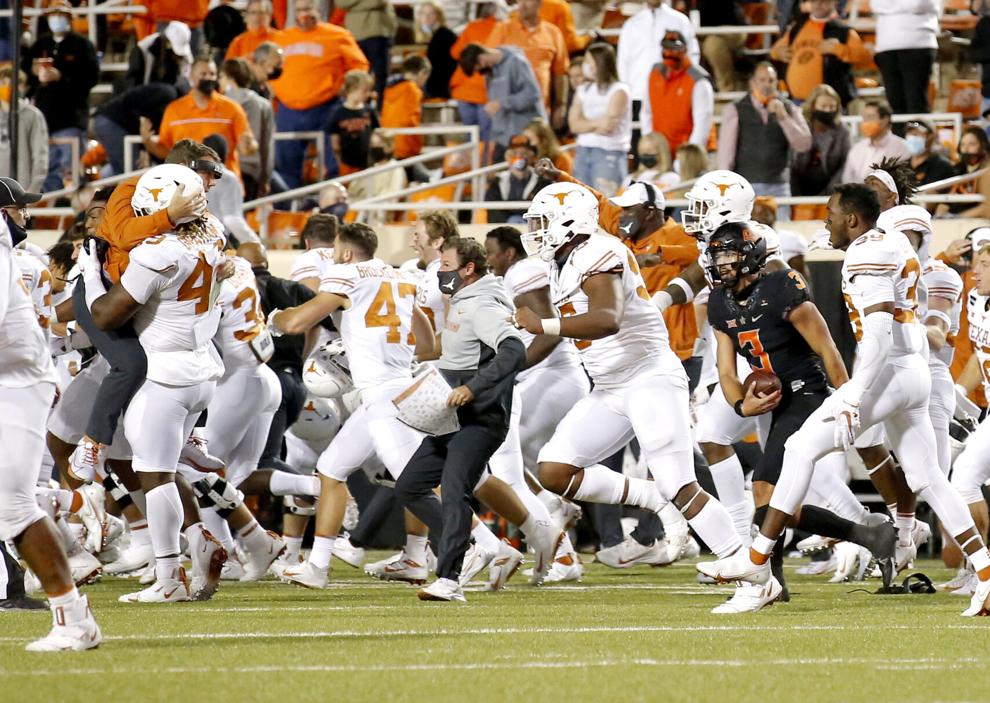 Offensive MVP: Tylan Wallace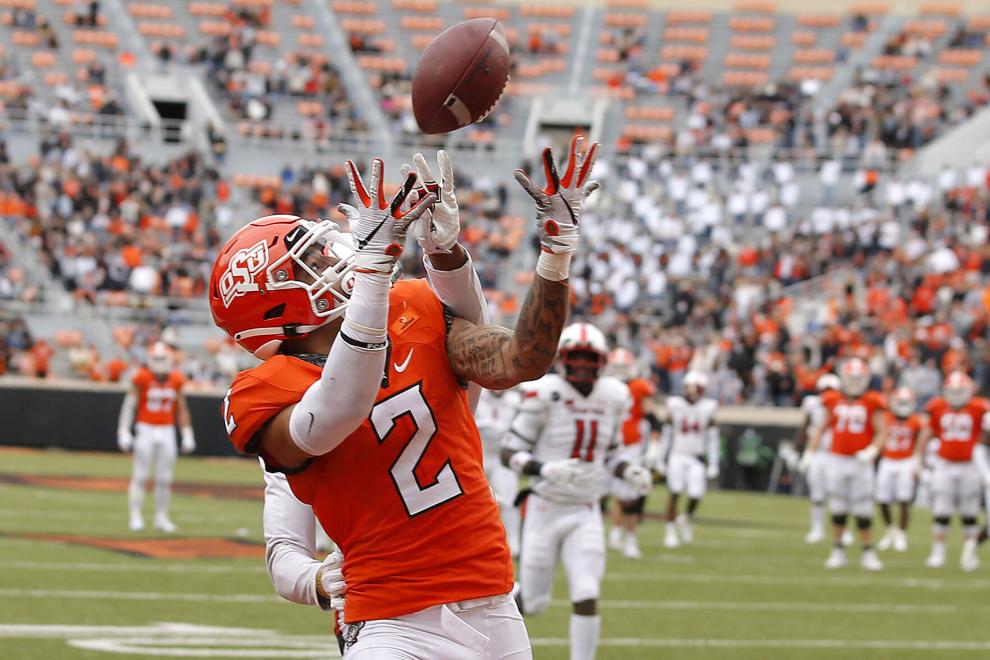 Defensive MVP: Amen Ogbongbemiga
Offensive grade: C -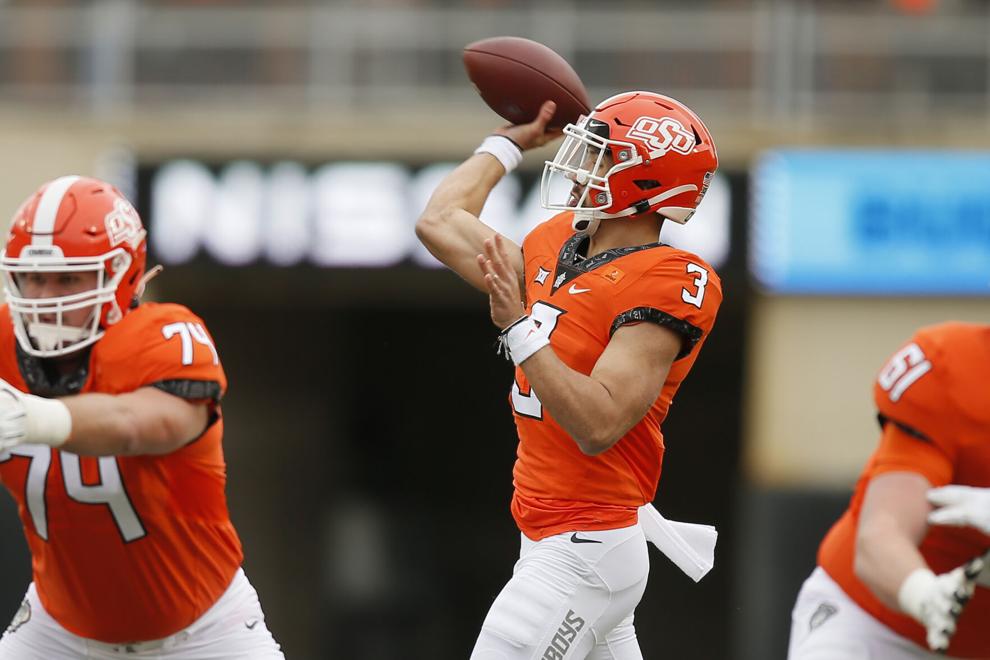 Defensive grade: A -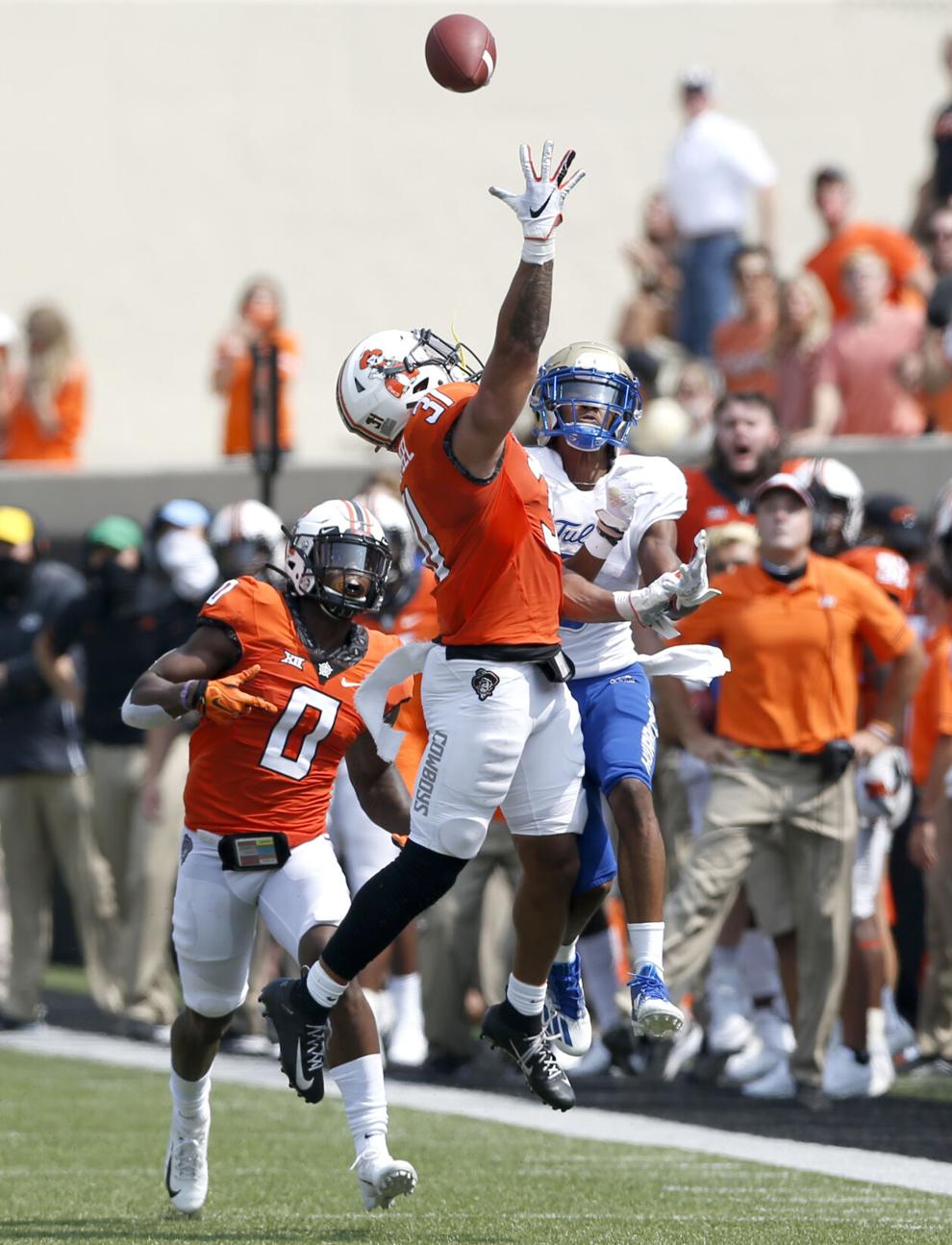 Special teams grade: B +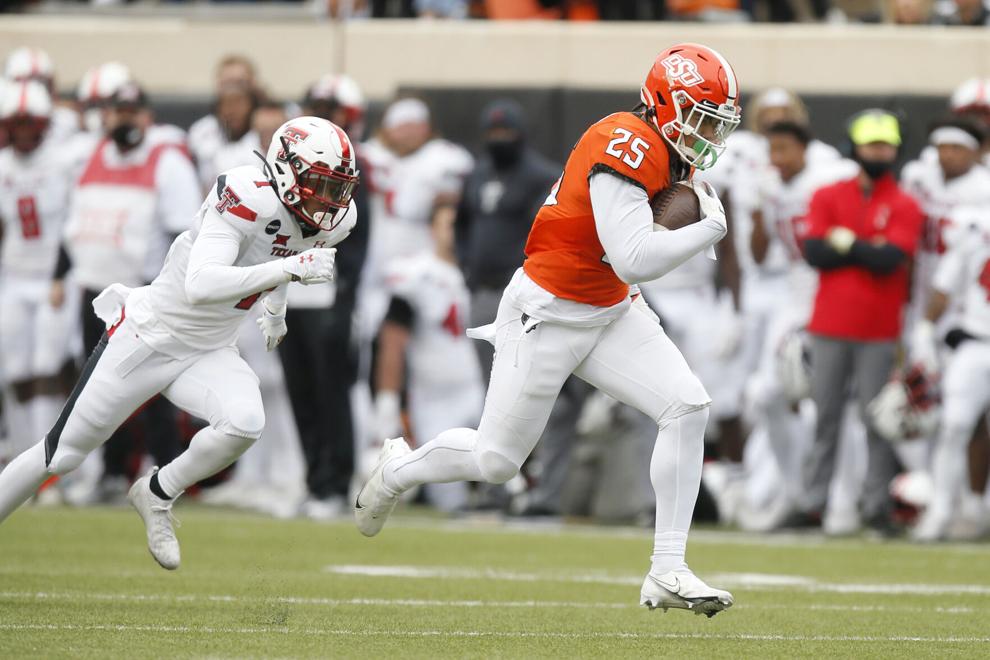 Top three wins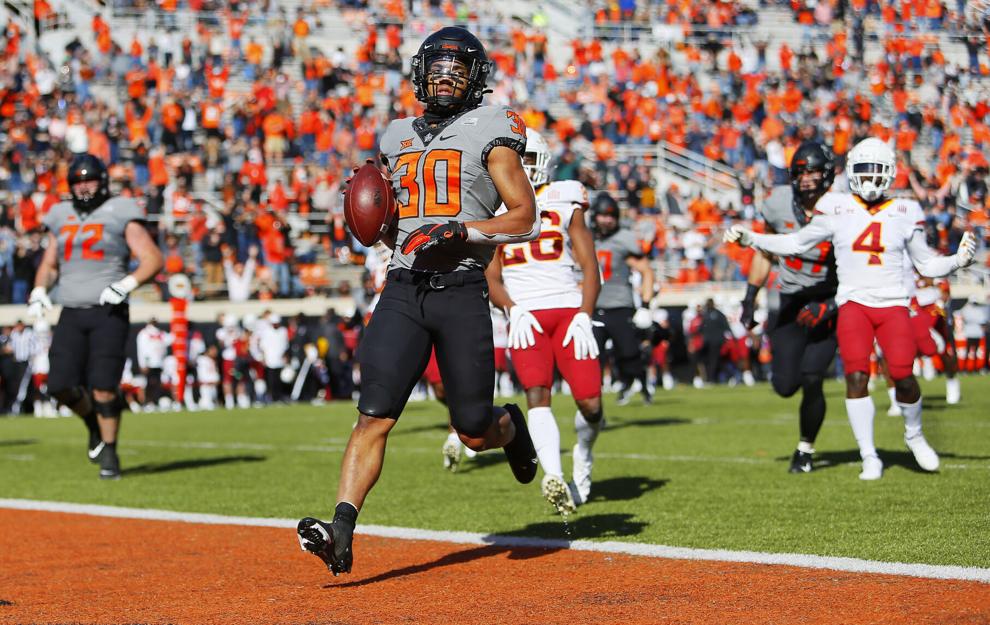 Worst three moments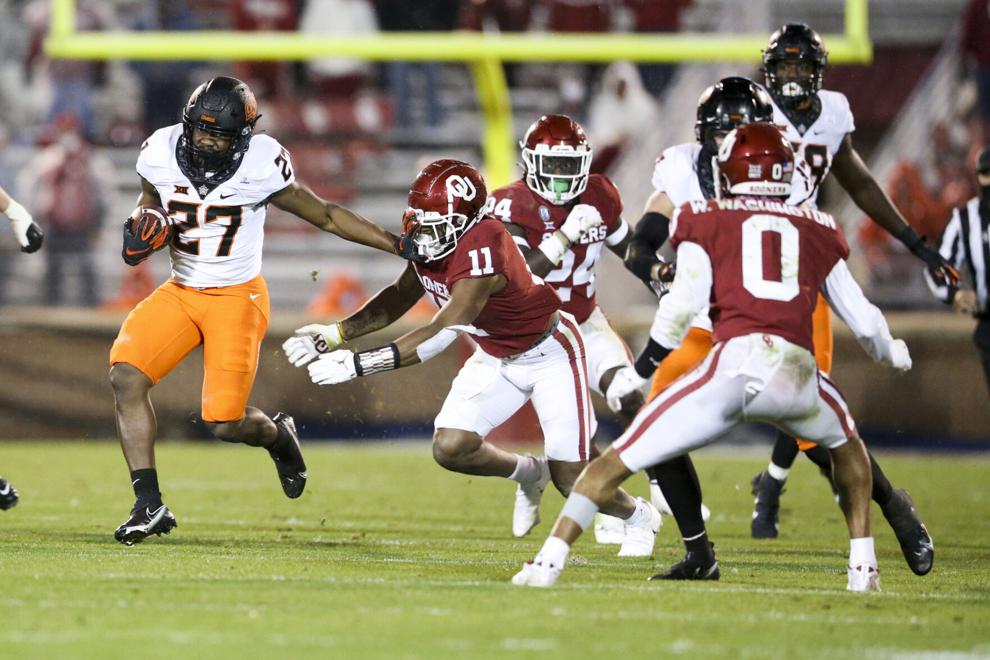 Three questions entering 2020 (and what the answers turned out to be)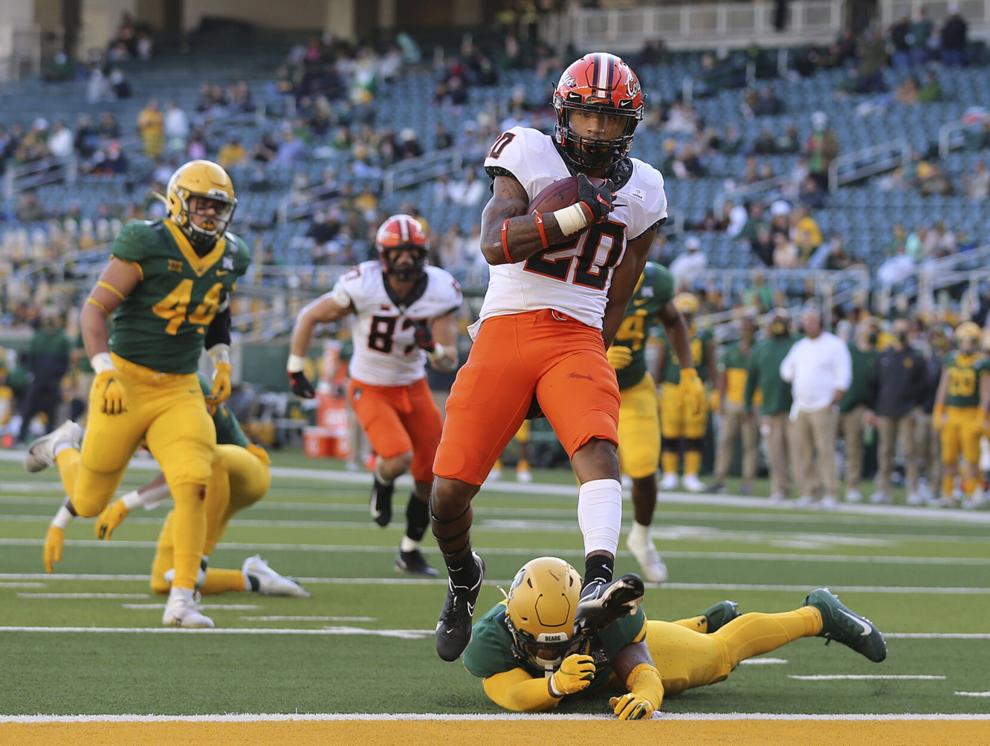 Top question entering the 2021 season