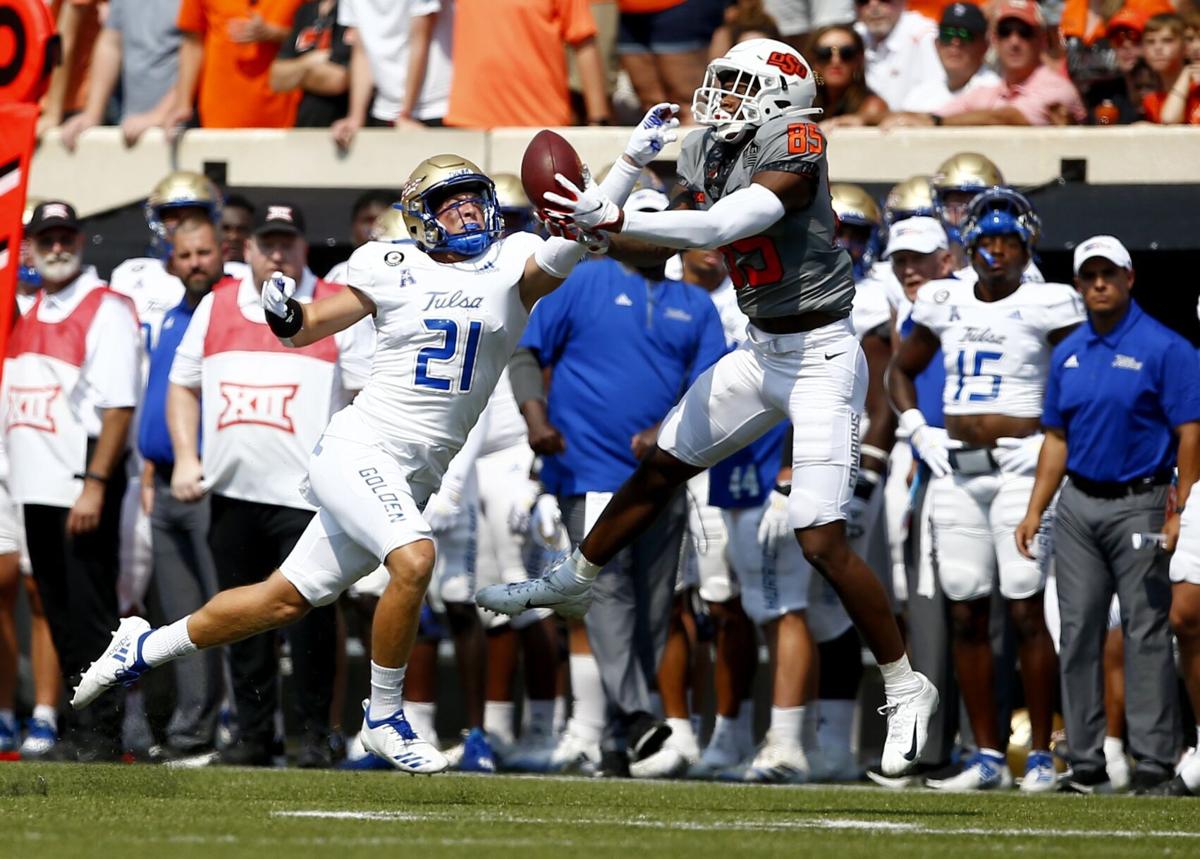 Tay Martin, Braydon Johnson and Jaden Bray all missed the trip to Boise State due to injury, and Oklahoma State lost Bryson Green to a hand injury in the 21-20 win over the Broncos.
On Monday, Mike Gundy offered little indication if any of them might return in time for this weekend's visit from Kansas State.
"We'll know more Wednesday," the Oklahoma State head coach said.
Spencer Sanders completed six passes for 87 yards working with a thin group of receivers in the road victory, marking only the sixth time OSU has finished a game with fewer than 100 yards since Gundy took over in 2005.
In addition to Green, Martin, Johnson, and Bray, the Cowboys have been without pass catchers Langston Anderson and Blaine Green in all three games, leaving OSU without six of its top-seven projected receivers from the start of the year.
"I've never, ever, that I know of in 31 or 32 years as coach, started two true freshmen at one position and we've done it a couple of times this year," Gundy said. "So I've never been in this situation."
Cowboys have depth at safety despite Sterling injury
With safety Tre Sterling out for the remainder of the season, redshirt junior Jason Taylor II is expected to take on a starting role within Oklahoma State's safety trio. And behind Taylor, who blocked Boise State's potential game-winning field attempt Saturday, Gundy believes the Cowboys have depth at the position, too.
Thomas Harper, Sean Michael Flanagan, Trey Rucker and starting cornerback Jarrick Bernard-Converse are among those who can fill the void along with Taylor in the absence of Sterling, the two-time All-Big 12 honorable mention.
Harper, a junior with 26 games under his belt, has tallied six tackles over the first three weeks of the season. Like Harper, Flanagan carries experience as a redshirt junior who appeared in a combined 21 games over the past two seasons.
Rucker, a junior, joined OSU as a transfer from Wake Forest this season.
Bernard-Converse spent two seasons as a safety for OSU until last fall when he transitioned to cornerback, where he now starts opposite Christian Holmes. He could return to his original role if needed.
"We have some flexibility there," Gundy said of the safety position. "And we have some depth there unlike at wide out. We've got some maturity and depth so we can move those guys around a little bit."
Hale working through technical issue
Cowboys kicker Alex Hale missed a 41-yard field attempt Saturday, his first failed attempt of 2021 coming two weeks after he missed an extra point in the season opener against Missouri State.
"He's got a technical issue," Gundy said of Hale. "We've identified it now. It's a matter of getting enough reps to get it cleaned up. It should solve the problem."
Hale, a redshirt junior, returned this fall after suffering a season-ending knee injury during warm-ups ahead of OSU's 41-13 loss to Oklahoma on Nov. 21, 2020. Prior to his injury, Hale was 13 of 14 on field attempts and a perfect 18-for-18 on extra points.
So far in 2021, Hale has hit all but one of his 10 extra points and converted a 35-year field goal against Missouri State, his only other attempt before the miss in Week 3.