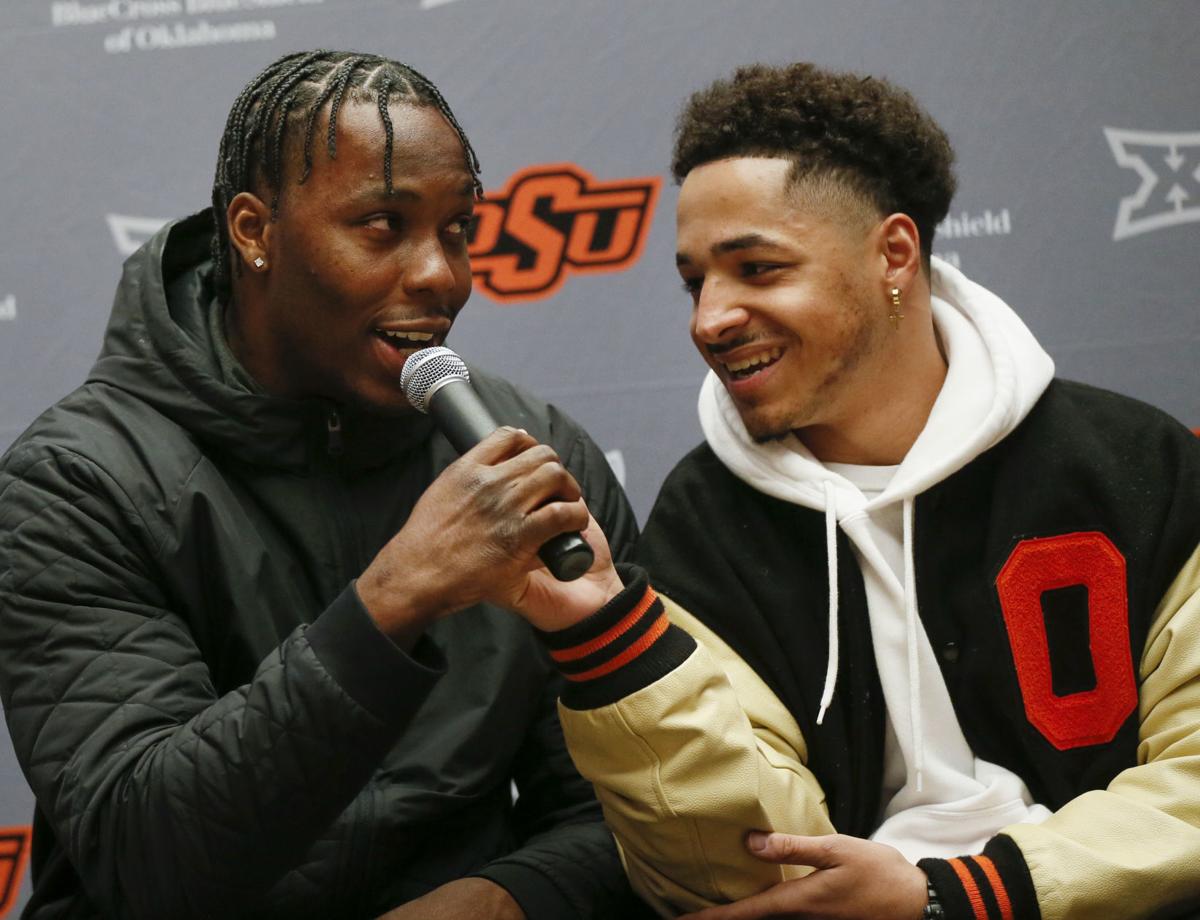 On June 2, Oklahoma State linebacker Amen Ogbongbemiga posted a tweet that sent a shock wave of concern and media attention his way.
Ogbongbemiga tested positive for COVID-19.
"Sometimes I regret kind of putting that out publicly, but it is what it is," Ogbongbemiga said during a Zoom call with media on Wednesday. "The first day was just crazy."
The fifth-year senior from Canada was with running backs Chuba Hubbard and LD Brown and linebacker Devin Harper when he got the call from the health department.
"I kind of hung up the phone slowly and they were all looking, like what happened," Ogbongbemiga said. "I was like get away from me and they all like splurged and ran like roaches when the light turns on. They ran and started spraying everything. They were like, bro you got to go, you got to go. … They were spraying everything and I was just scrambling because I didn't know what was going on."
Ogbongbemiga was moved to separate housing and tweeted the news the same night.
"The same night, I put something out just to keep the awareness because I think I was the first college athlete to get confirmed with it," Ogbongbemiga said. "I kind of just wanted to put it out that it's still out there. People were kind of getting lackadaisical of protocols and wearing their mask and everything, and I personally probably was too. ... I wasn't taking it as seriously as I probably should have. I kind of wanted to reiterate the seriousness of it."
He was one of the first athletes to test positive, and Ogbongbemiga referred to himself as the test dummy after going through several medical tests.
Ogbongbemiga's phone continued to ring the following day. News outlets as far as England and France were reaching out trying to speak with him. He asked the OSU media staff for advice on how to handle it.
"I felt bad because my family members were calling me and I don't want to ignore them," Ogbongbemiga said. "A lot of people were telling me it was best for me to just turn off my phone. But for me personally, I want to try to acknowledge everybody that was trying to reach out to me. That's just the kind of person I am. ... The next day I think I just turned my phone off because I was like, I can't do that again. I was all worked up."
The ESPN documentary series on OSU football, "Our Time," noted Ogbongbemiga's experience. He gave a quick tour of his quarantine apartment and he talked about his loss of taste and smell. Ogbongbemiga was also seen sweating while talking on video at one point in Episode 1.
"From the day I first got there, I was asymptomatic and I was like, OK, this is just going to be a breeze. I'm going to be fine," Ogbongbemiga said in Episode 3. "But it caught up to me. The craziest thing to me is my loss of taste and smell. I would cook chicken and season it all the way up and I would eat the chicken and all I would taste is salt and that's it. And I've had like a really strong candle or lotion and I'd put it on my hands and be, OK, I know what this smells like and I'd smell my hands and I couldn't smell a thing. I think that kind of freaked me out the most because I was like what if I could never smell or taste anything ever again?"
After being in quarantine for about two weeks, Ogbongbemiga was able to join his teammates again. He said there were no lingering effects, but it was a little harder for him to get back in shape. Ogbongbemiga said he is starting to get back to his full form after the first two games against Tulsa and West Virginia. The Cowboys face Kansas at 2:30 p.m. on Saturday.
Frank Bonner II
918-581-8387
Twitter: Frank_Bonner2
Be the first to know
Get local news delivered to your inbox!